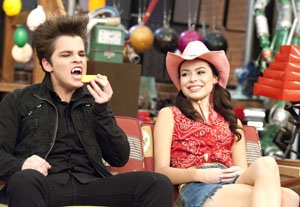 Since 1999, Sharon Lieblein has cast or supervised the casting of several hit Nickelodeon series and movies, including "iCarly," "Big Time Rush," "Victorious," and "The Boy Who Cried Werewolf." For the past six years, she has been vice president of talent and casting for Nickelodeon, where she casts or oversees the casting of all live-action pilots, movies, specials, interstitials, and current series in production.
Lieblein also works closely with Nickelodeon's and TeenNick's development departments, legal teams, brand marketing, and publicity. Previously she was a casting director at Witt/Thomas Productions and worked on TV programs such as "Brotherly Love" and "Pearl." As a freelancer, she has cast several pilots for Fox, television movies for NBC and CBS, and independent features.
First Contacts
Most of the time, I look at solicited submissions. The only time I would consider something unsolicited is if I was having a difficult time casting a role. In that case, I might post an open call or send out the breakdown via Actors Access. I have seen unrepresented actors, though, if they're recommended by an acting coach or any other professional I know and respect. If you want to send me an unsolicited submission, then that should be physically mailed. Actors should not email me unless they know me or I've asked them to do so.
Always use common sense when contacting a casting director. Talent should know their boundaries and use proper etiquette. Once, an actress sent me her picture and shoe with a note saying, "Just trying to get my foot in the door." Although clever, it wasn't necessary.
If you have a good picture, résumé, and cover letter that represent you well, then you're on the right track. If I receive those things in the mail but I don't have a role that fits you at the time, they might be discarded, which is unfortunately the reality of the business. That's why I really encourage actors to send postcards instead of pictures, to save money. And only send postcards when you have news to share. For example, "Watch me in next week's episode of 'CSI' " or "I'd love for you to see me in a showcase next week." Once, I received an actor's postcard on the same day I was looking to cast a role that he would fit. Luck and timing were on his side and he got a call to audition.
Pix and Résumés
A headshot really needs to represent you. You're marketing yourself; you have to look in the mirror and be realistic. Watch television and movies and try to figure out which roles are best for you. If you look like a character actor rather than a lead, that's okay, but know what you're selling. Once you're more in tune with yourself physically and mentally, you're more likely to succeed.
What I look for in a résumé varies depending on the role and the age of the actor. For a young actor, I normally see if they're training and have worked with other actors. Even if it's only in school plays, that tells me something. I don't expect young actors to have a slew of credits, and I'm happily surprised if they do.
If you're an adult actor, you should try to get as many credits as you can under your belt. The older you get, unfortunately, the more difficult it gets. If I'm casting a guest-star role, it's important for me to at least see co-star or guest-star roles on one's résumé.
Tech Preferences
Personally, I like to see a combination of comedy and drama on a reel. If you have a really juicy dramatic role that you can tell will impact the person auditioning you, use that. Overall, leaving somebody happy is better than leaving them sad or disturbed. If you can, have a laugh at the beginning and the end. Short and sweet is definitely the key.
Please do not contact me on Facebook or Twitter. The actors who are on my social networks are people I have known in the industry for years. Everyone has become so familiar with technology, but the same rules of etiquette still apply. It's inappropriate to reach out to a casting director via Facebook if you don't know them, and actors should know their boundaries. During a recent panel, another casting director and I explicitly asked actors not to friend us on Facebook. After that event, we received at least 30 friend requests. It was shocking.
At Nickelodeon, we have a Nick Casting Twitter account (nickelodeoncast) and a Nick Casting Facebook page (Nickelodeon Casting). Actors should follow those because, if we were to have an open call, we would post them there.
Be Prepared
Come prepared with as much understanding of the character as possible and make strong character choices. Even if you make the wrong choice, I'll redirect you if I think there is something there. There is nothing worse than an unprepared actor coming into an audition. It gives the impression that they are not serious and they don't respect either of our time.
Please remember that there are so many reasons you may not get a callback that have nothing to do with your acting skills. Kids especially need to understand this. Give 110 percent at an audition and walk out knowing you did your best. If you don't receive a callback or get cast in the role, it isn't always a reflection of the work that you did in the audition. For example, you may have had a great audition but you may not look right for the role, or you might look like someone who was just cast for another part. You should only worry about what you can control—a good audition.
On the other hand, there are times when a person comes in for an audition and, despite not fitting the character's description, they really nail it. For example, there was an actress who read for a role on "Zoey 101," but she didn't fit the character that we brought her in for. The actress was funny and had something very special about her, so I brought her back for the producer, and he ended up writing a new character just for her. A major part of a casting director's job is not only finding new talent, even if that person may not fit the role as written, but seeing the actor's capability beyond the immediate audition.
Also, if your audition is scheduled for, let's say, 3 o'clock, please arrive at least 15 minutes early. Don't be late. Give yourself those extra 15 minutes to relax and focus. When sitting in the waiting room, use those moments as quiet time and prepare yourself for your audition.
Finally, I've noticed that thank-you notes and handwritten notes have become less common today. It's okay to send a thank-you note to a casting director if they have brought you in several times, introduced you to producers, or have done anything special for you. I tend to remember actors who send them.
Kids' Stuff
In my opinion, with kids it's very clear in an audition if they have "it" or not. The talented ones definitely stand out. Sometimes when I'm casting adults, I ask myself, "Are they good?" "Am I missing something?" But with kids, I can just feel it. I usually know it when they walk in the door. If the audition doesn't go well, though, it doesn't mean the child should give up. I've seen young actors completely change after six months. So I definitely give kids a chance to come in again and again, even if they haven't had good auditions in the past.
I appreciate it most when parents know their primary role is to be a parent. Their job is to be an advocate for and protect their child. Parents should let agents and managers do their job, and they should focus on their children and what's good for them. Parents who focus on their kids' well-being and make sure their children are cared for are often the ones with the most well-balanced kids.
At the end of the day, the most important piece of advice I can give young actors is to love what they're doing. Kids can do anything. But if they choose to pursue a career in acting, they have to love it with a passion.