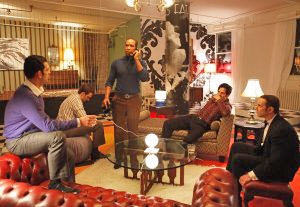 Alan Filderman has his own casting company, Alan Filderman Casting. His Broadway credits include the musicals "Once on This Island," "Grey Gardens," and "Marie Christine," and the play "33 Variations," starring Jane Fonda. His Off-Broadway work includes the current Transport Group revival of Mart Crowley's "The Boys in the Band," "Langston in Harlem," William Finn and James Lapine's "A New Brain," "From the Mississippi Delta," "Sin," "Listen to My Heart," "Here Lies Jenny," "Miss Evers' Boys," Edward Albee's "Three Tall Women," "Song of Singapore," Stephen Flaherty and Lynn Ahrens' "Dessa Rose," "The Sum of Us," and "A Beautiful Thing." He has worked in regional theaters across the United States and on the films "Ice Age," "Broadway Damage," and "Anastasia."
Pleasing the Gods
There are no rules. If there were rules, everybody would follow them and everybody would be a star. An actor can come in and audition, and one person behind the table thinks they're brilliant and another person thinks they're terrible. Aside from always being on time and always being thoroughly prepared and doing your best, it's kind of up to the gods. The rest you have absolutely no control over. After, you wait to hear from us. Unfortunately, that's the gig. You don't call the office; you don't call and ask if you got the role. You wait to hear from us, and either you will or you won't.
Don't Miss Due to Demeanor
Some actors are a little chilly, which does not help. Some are overly chatty, which does not help either, and others hit it exactly right. Actors come in and say, "Do you have anything you want to tell me before I start?" The director says, "No. Just go ahead and do what you want to do." That's your clue to start. If after that the actor starts with, "Well, you know, because I worked on it this way and I worked on it that way, I can give you this version or I can give you that version," it's too much. Basically, we want to see what you've prepared and what you want to do. It's one thing if you need help with pronunciation of certain words or if you need specific things answered—that's fine. But sometimes actors, either out of nerves or lack of preparation, just ask too many questions, and the director can get scared off.
I think all casting directors are also very clear about their "don't call or visit" policy. Some actors ignore that and just walk in the door and expect you to be available to sit and chat with them. Actors just call and have all these questions. I had an actor call me just last week and ask me, "Can you please tell me what you're working on now?" I don't like to be mean or rude, but I said, "No!" and I hung up the phone. I'm supposed to stop my projects for a stranger who calls? It's not because we're mean. It's because we're busy.
If at First You Don't Succeed…
Actors get turned down for roles all the time and get called in for another role by the same director and get it. If an actor comes in and he's drunk or mean or abusive, I won't call him back. But if an actor comes in and simply doesn't get the role, it doesn't discourage a casting director from bringing them back in.
I don't know how to define talent. It just needs to be a good audition! I'm just interested in charismatic, interesting actors who are very much in touch with themselves emotionally. I want them to understand who the character is. I wouldn't want them to come in costume, but I would like them to suggest in the dress that they understand whom they're auditioning for. It makes absolutely no difference to me if an actor comes through an agent or a manager. For nonunion actors, I don't see that as a barrier either. I come across a lot of unrepresented actors through schools, show-
cases, classes, and Equity principal
auditions.
Know Your Stuff
If you're trying to get things moving along in your career, there is a whole world of things actors can do. A lot of actors get together with friends and rehearse. They create theater companies. They do showcases and workshops and readings. They produce things themselves. Keeping an eye on breakdowns is always good. Submitting a résumé and picture for roles that you think that you're right for is also another way to promote yourself effectively and aggressively.
Send a post card to the casting director's office when you really have something to say. It's more than just saying hello. Sometimes people don't know the difference between a casting director and an agent, and they send me a résumé that says they're seeking representation. That's a major cause of résumés and headshots hitting the trash can.
I believe in education and training. I do recommend that people go to grad school and get degrees. If I'm casting Shakespeare, then I look for classical training. If I'm casting Neil Simon, then I'll look for comedy training. It kind of depends on what I'm doing, but like I said, I do believe in education and training, so I pay attention to that. But in the end, all that matters is how good the actor is when they're standing in front of you and auditioning.
Workshop Wisdom
Casting directors' workshops are also good ways to get exposure. But it's really up to the actor to choose which ones to go to. They should look at which casting directors come and teach classes, how the place is run, and where they feel most comfortable. They should not be pressured into signing anything.