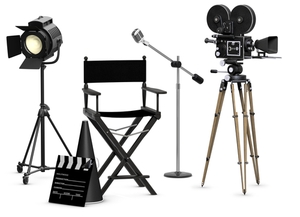 Walking out of the casting office, your stomach turns. You know that you will never hear back about the project you just auditioned for. That is until it premieres on your TV a few months later. When you watch it, you can't help but scoff because the final product is so far beneath your talent anyway. Sound familiar? This is a sad, but common cycle for the undiscovered genius. But wait… there are lights at the end of the tunnel. And a camera. And action!
You no longer have to be enslaved to bad content. Or wait for someone else to greenlight your career. The barrier of entry to create/execute a concept and get it in front of an audience has never been lower. With a little planning and know-how, you can custom tailor something that showcases your tastes and abilities and finally prove to the World [Wide Web] that you are the auteur you've always known you were.
The web series format is proving itself to be a viable outlet to get discovered. Take "Tiny Apartment" as a case study. After a few years of consistent, quality work (this is key), these guys are producing a pilot for Comedy Central.
"Okay great. How do I get started?" So glad you asked. This week, we will focus on...pre-production.
1. Choose your concept. (And keep it short!)
It's for the web, people. No one is expecting you to make "Gone With the Wind" here. Just create a dynamic character or two and put them in a quirky situation. Producing a script usually clocks out at about a minute per page. Most online viewers' attention spans don't last more than 3-5 minutes, so keep your story tight!
2. Now you're the casting director.
If you get this right, everything else will fall into place. Ask any established director. If you live in NYC, you have the best talent pool in the entire world at your fingertips. Put out an ad. Hold an audition. Or cast yourself. You can create the perfect part for your strengths.
3. Recognize your budget limitations. (But don't let them stop you!)
You may not have a lot of $$$, and that's okay. Instead of scouting for some elaborate location, set it in your apartment. Technology is now cheap enough for anyone to have decent production value. Chances are you know someone who owns a Canon 5D and Final Cut Pro. There's probably a budding film school student on ShootingPeople.org who is eager to make something. "But I can't afford to pay anyone!" As long as you're willing to keep everyone well fed and give them credit, most of the time people are happy to come together to collaborate for a weekend.
Next time, we will continue with what to do once all your ducks are in a row. Until then, check out this web series episode that I directed for some inspiration.
Matthew Perkins is a filmmaker living in New York City. Follow him on Twitter @_MatthewPerkins