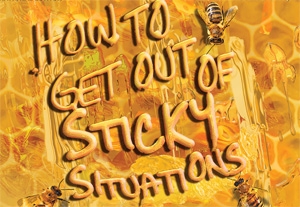 Dear Readers,
This week's issue we devote to those times—and we've all had them—when you're caught in an uncomfortable predicament and you're not quite sure how to gracefully get out of it. You know, those sticky situations that require some modicum of tact on your part in order to move forward with your head held high. Whether you're stuck in an audition waiting room with a Chatty Cathy—or worse, an actor who is purposely trying to throw off your game—or you have the fortunate opportunity to land a part in a hit film franchise or a pilot that turns into a longtime series but your pay is not commensurate with what you believe you are now worth, this week's issue addresses that and so much more. We even ponder a literal "sticky situation"—when an actor has to work with buckets of blood. After all, vampire stories are the current hot ticket.
Feel free to share your own sticky situation stories by emailing me at
jyoung@backstage.com
. We'll publish the best of the bunch in a later issue.
This week also features a
Spotlight on Dance
, in which our columnist Lisa Jo Sagolla tackles the topic of characterization in dance. Indeed, characterization is something that all successful performers must master, whether you're a dancer or a just an actor with two left feet.
Sincerely,
Jamie Painter Young
National Editor-in-Chief, Back Stage
Looks Bad on Paper
When it comes to lying on your resume, be it a slight exaggeration or a full-blown falsehood, we can offer but one piece of advice: Don't. Not only does it irritate the casting director but there's no need for it.
When the Shoe's on the Other Foot
You've auditioned for a role, and it looks like you are going to get it. But maybe it gives you the creeps or perhaps it's downright terrible. The bottom line is you don't want to appear in it. What do you do?
The Big Renegotiation
Charles de Gaulle said, "Treaties are like roses and young girls; they last while they last." The same can be said of entertainment contracts.
No Excuses That You Know
There are times when an excuse might get you out of a sticky situation. However, in the audition room, 'fessing up to mistakes might be your best bet. Here are some such blunders and ideas on how to handle them.
Turn the Beat Around 
The adage "You don't get a second chance to make a first impression" is undoubtedly true. But although second impressions may not eradicate a lousy first one, they can go a long way in the art of damage control.
Should I Stay or Should I Go?
What happens when actors fall ill the day of their audition? Should they call their agents or the casting office and try to reschedule or just put on their best healthy face and go anyway?
'Can I Start Over?'
Picture it: You're in the midst of a stellar audition. Then the unthinkable happens: You flub a line. What to do next?
Lobby, No Heroes
Although actor sabotage doesn't seem to be the norm, it happens, and it can be jarring. How can serious actors stay on their game while minimizing distractions around them?