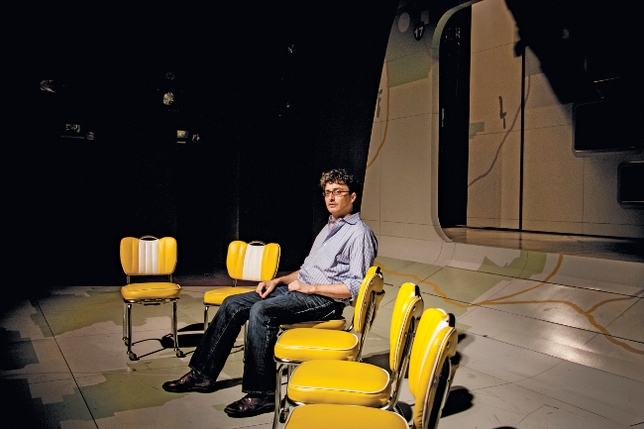 Beowulf Boritt is a Tony Award–nominated scenic designer who has designed sets for "The Scottsboro Boys," "Grace," "Chaplin," "Rock of Ages," and more. He designed the set for the musical of "Little Miss Sunshine," which is playing at Manhattan's Second Stage Theatre.
How did you come up with the design concept for the "Little Miss Sunshine" musical?
Every musical has a traveling scene that you have to deal with, but for this one it's half the show. So that was the first challenge: How do we deal with the fact that a lot of the show takes place in a VW bus? We started with the idea of car seats rolling around the stage and pared it back to just kitchen chairs that become the bus. I think once we had settled on that, it freed us up. If six chairs are going to be a bus, then the rest of the set has to be relatively abstract, too.
You're known for abstract scenic concepts. Was there an inspiration here?
The metaphor of the show—and that's what I usually try to link in with the visuals—is sort of the journey through life. This family goes on a literal journey that teaches them how to be a family and how to be close to each other again. The set is trying to evoke that. What was fun in the [rear projection] videos is I went at a lot of it as if it's from Olive's POV, the way a little kid might see it. That was one of the things that helped ground me in picking out what the visuals were. We just kept stripping it back as we went along. We very quickly found we didn't need much more than six chairs, and it's more fun and theatrical to tell the story that way.
Do actors want more scenery?
I think they do, actually. Props are sometimes a solution to acting problems. In a very spare set, you can't suddenly just add a table because it doesn't work. The group in this show, they've all been great. They're very game to try stuff. Stephanie J. Block learned how to run a fog machine this afternoon because when the van breaks down, it has to come out of one of the chairs they're sitting in.