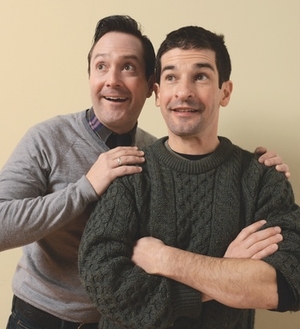 When not penning blockbusters such as the "Night at the Museum" movies, Thomas Lennon and Robert Ben Garant are the pair known for writing, directing, and starring in the cult series "Reno 911!" and the new film "Hell Baby."
"Hell Baby" has an all-star comedy cast of people you know and have worked with before. Did anyone audition for the film?
Thomas Lennon: No. This was the first time we just filled a movie with people we wanted, no auditions.
Robert Ben Garant: It's great to do that. Like on "Reno," we got to just give great roles to very funny people who are usually the 19th banana on a sitcom.
What advice do you have for people who do audition for you?
Lennon: The thing I always appreciated on "Reno" was people who were unbelievably prepared but then [would] be completely spontaneous and off-the-cuff. That sounds hard because you're asking people to prepare so much they can then step outside of themselves and relax.
Garant: When people came in with very planned things, it's never worked. If you can truly be in the moment and let something fun and interesting happen, that, to me, is interesting.
What's the secret to a long, healthy partnership?
Lennon: I would say the trick is, don't have an ego about stuff. If someone writes something better than you, say, "Great! This is one for the team."
Garant: And you have to remember there's a difference between thinking up jokes and actually making them work. One is fun; the other is work.
Lennon: We maximize the creative fun parts and then do the tedious parts alone. We never write together.