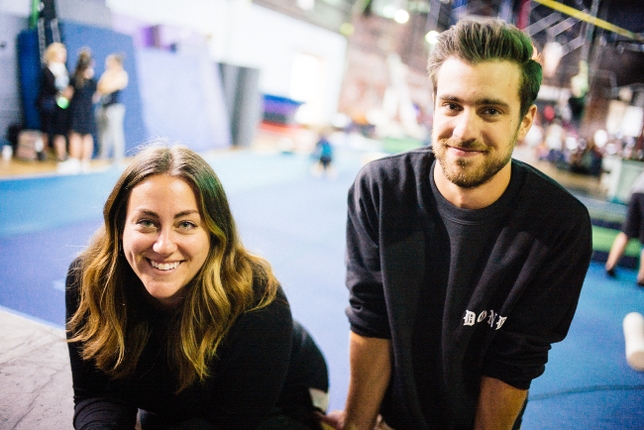 "Slumber," the new show from Hideaway Circus, running now through Nov. 6 at Brooklyn's House of Yes, touches on many genres: circus, theater, horror, comedy, and choose-your-own-adventure. Co-founders Josh Aviner and Lyndsay Magid met in Columbia University's theater management program, where they combined Aviner's circus background and Magid's passion for theater to make a different type of art form.
How do your different backgrounds help you?
Josh Aviner: We're both attracted to shows with strong characters and story. That's not uncommon in musicals, but it can be in circuses. But circus has this really visceral emotion, and we want to combine the facets of those two shows.
Why is it important for artists to collaborate in new genres?
Lyndsay Magid: Coming from traditional theater, people have a strong notion of what appeals to them and what doesn't. But going to Columbia allows you to meet all these people who are interested in different things. It opened up my eyes to what theater could be and what circus could be. Being open to different types of art that you don't initially respond to is so important. It doesn't matter where the best idea comes from, but just that you're open to it.
What have you learned from each other?
LM: Circus [gives the] freedom of not having to conform to what's traditionally done... and, as a woman, to have a strong, confident voice. JA: With musicals, it's so well-defined, but circus is so nebulous and you can pull from so many different things. The lack of a structure is definitely a benefit. LM: Coming from a circus background, I think [Josh] learned the importance of the emotional connection a story can make.
JA: I grew up with circus, and the way that a show is developed and created is something that we're trying to bring to [Hideaway].
What advice do you have for actors auditioning for a multidisciplinary show?
LM: You can't not do something just because you think you can't do it. The biggest thing with collaboration is having faith in yourself during the process.
JA: Lead with your best foot forward, even if you can do many things. Include your various skills but lead with what you specialize in. We got a lot of acting submissions, and there were some people who we didn't know if they could act because we only saw their circus skills.
How can actors get involved with Hideaway?
JA: We're looking for actors who are talented, skilled at improv, and can perform highly physical roles.
LM: [Interested actors] should send their résumé, headshot, and any reels or videos they have of their performance work to hello@hideawaycircus.com with the subject line "Actor Submission."
Inspired? Check out our theater audition listings!