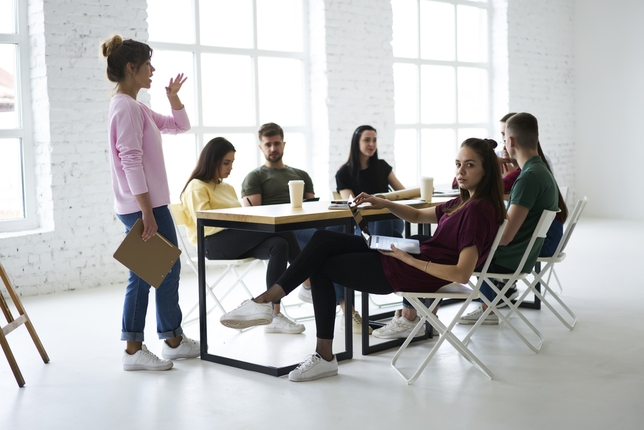 Freddy Elletson is a Guildhall-trained actor who last year appeared in "Wonder Woman" and has just been part of Squint's research and development for their upcoming project "Fear and Loathing". The new London-based writing company travelled the UK and flew over to the US following the campaign trail of the 2016 presidential election. Freddy joined the team when they arrived back in London and developed their material with a cast. We caught up with him to discuss what an R&D is and find out more about what it's like to be an actor within the process.
What was your understanding of a research and development process?
I hadn't been part of an R&D before and two friends I spoke to had very different experiences. One was focused on improvisation and character development, the other was centered on table reading and feedback. All that I knew was that R&D stood for 'Research and Development'!
What were your expectations prior to starting?
Before we began I had done a few days of soundboarding with the writer and director. Though they didn't call this R&D, it certainly gave me an expectation of what we might explore. The project was dealing with recent political events in the US using verbatim recordings from Britain and America. Initially, I listened to the stories that the writer was interested in telling and read some verbatim text aloud so the creative team could hear what they had so far. The R&D, I assumed, would get some of that material on its feet and add some physical shape to it.
What was the purpose of the R&D?
In a nutshell, we attempted to answer and investigate a handful of questions the play wanted to ask of audiences. The team told us this on the first morning. Although the ways in which we went about trying to do this changed radically, that aim was the centre of the process.
What sorts of exercises did you do and what were the results?
The exercises ranged from very abstract physical improvisation to just reading and talking. Improvisation was the heart of the process. One evening the writer stayed late to type up an improvisation and the next morning we read it aloud. It was fascinating to hear what worked again and what didn't.
READ: The U.K. Actor's Guide to the Internet
Why did this all take place in London?
The project came out of conversations with American voters, it's set in America and three of the six actors were Americans living in London. Having a room of mixed ages, backgrounds, races, religions, and gender was incredibly important to contextualise and balance some of the topics we were exploring. Without the access to all these factors, I think it would have been difficult to achieve an unbiased and open approach.
How did you finding working in a process without a performance outcome? Without an audience?
I tried to treat it like a rehearsal process which would at some point reach an audience. We had a showing to the creative team on the last day of the process which was a great way to end.
What do you feel you contributed that no one else could?
The director had seen me in something and we'd met through a mutual friend. When he told me what he was working on, I knew I wanted to be involved. The chemistry I had with the director and my enthusiasm for the project meant that I could throw myself into some of the stranger things that we were being asked to explore, like imagining what Betty Crocker's signature wrestling move might be.
Does drama school equip you for an R&D?
I worked with directors that use improvisation at Guildhall. That perhaps helped me contribute more than others. In terms of experience, I hadn't done anything like this before and even the themes and topics were a little alien to me. Naturally, you eventually find common themes in everything.
What did you learn from the process?
It's like opening a can of worms, once you begin to explore using different techniques the opportunities are endless. Most importantly I learnt the language of the room and that feeling safe and free of judgement is paramount to creating the atmosphere that allows a process to thrive.
What advice would you give to actors doing R&D?
Be honest. Often your point of view or opinion can solve a problem or lead on to a more interesting question. Being brave enough contribute, to commit to the process and subject you are exploring is vital. It's exactly what R&Ds are for.
Check out Backstage's London audition listings!