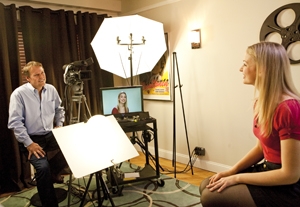 1. Quality Is Key
This is the No. 1 rule; everything else is secondary. In the age of HDTV, Hulu, and digital photography, a Flip cam or webcam video screams "Amateur!" Especially in industries like performing arts, entertainment, advertising, and media, your video has to be the best quality available on the market: high-definition with clear audio.
2. Be True to Your Personality and Product
Unless you're taping a film audition, this is not a time to play a character or try to be who you think they want. Show your authentic self, and make sure your video-shoot environment is comfortable so you can be fully present.
3. Engage your audience
Tell a story, laugh, smile, give thoughtful answers. It's painful to watch someone who is self-conscious or overthinks his or her answers. Which brings us to…
4. Edit
Feel free to giggle or mess up or answer questions twice during your shoot—as long as you have a professional editor doing postproduction. The final product should only show the best clips, especially in the first 10 seconds.
5. Get Professional Help
"Why can't I do it myself?" This is the question I hear most often. The answer is twofold: quality and perception. We've already covered how important quality is for putting your best foot forward. But remember, the way you see yourself isn't objective; you need a third party to help capture what's most marketable about you.

6. Own Your Video
When hiring someone to shoot your professional video, make sure you will be able to get the video itself and/or a link to where it's hosted online, and that the rights allow you to use it as you see fit. Note that to keep you video on your YouTube or Facebook page, you need the whole file, not just an embed code.
7. Don't Overdisclose
Nothing makes a viewer cringe like a TMI moment. As with your Facebook status, you never know who might see your video, even years down the road, so keep your secrets to yourself.
8. Keep It Brief

No matter how much work you put into your video, more than half the viewers will stop watching after the first 15 seconds. A video résumé should never be more than three minutes; best to keep it around 60 seconds. Keep 'em wanting more.
9. Know the Top Places to Post
This varies depending on your goals, but many sites that show job listings now give you an opportunity to add video. This is sure to give you an edge over the (yawn) same old résumé and picture approach.
10. Update Often
If you work on a new project every few months, consider re-shooting your video once a year. This shows that you take your career seriously and that you're in demand.
Brad Holbrook is an Emmy Award–winning TV journalist who founded ActorIntro.com after 20 years in TV journalism and five years as a professional working actor in New York City. He also founded ActorIntro.com. You can see examples of video interviews at www.actorintro.com/actors and www.authorintro.com/samples.