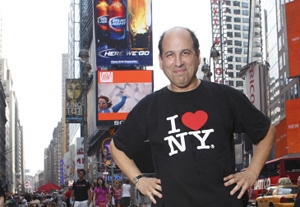 "Who wants to live in New York? Who wants the worry, the noise, the dirt, the heat? Who wants the garbage cans clanging in the street?  Suddenly, I do!"
—
Stephen Sondheim
, "Opening Doors" (from "Merrily We Roll Along")
Whenever show folks address the subject of moving to New York, there's a tendency to emphasize the negatives, the challenges, the warnings.
Unless you've been living under a rock, you know New York is expensive, competitive, and can really take it out of you; that only a naive and foolish actor makes the move expecting to earn a living; and that the transition—adjusting to the constant schlepping, the crowds, the weather—can be notoriously hard.
But there's another side to the story, a side that emphasizes the adventure, the excitement, and the love affair that stage actors have with the city that is, inarguably, our mecca, a beacon that draws us from all over the world. Every year, actors move here by the hordes, each with his or her own story. Now, I have one of my own.
I was born and raised in Manhattan, a fact of which I've always been proud. Like many New York actors, at a certain point I decided to give Los Angeles a try. That six-month experiment turned into 20 years and a very successful television and stage career. Then, last fall, without warning, my alarm went off, as I like to put it, and it was suddenly, and very clearly, time to plan my return. Though I was working a lot, the work had become repetitive: mostly guest-star roles playing lawyers. I longed to be a New Yorker again, and to pursue a lifelong dream: I'd done two Broadway tours but never played the mother ship. Besides that, I was feeling restless. Call it midlife crisis, gypsy wanderlust, or just plain foolishness; regardless, it was time to go home.
I decided the sensible thing would be to stay in L.A. for one more episodic season (when I tend to work the most) and one more pilot season (to see if I landed my next series), and then, if nothing changed, to point my car east and not look back. Nothing changed. I played my usual parade of guest lawyers, doctors, and teachers. Then, during pilot season, nothing. Meanwhile, the strong, clear instinct to leave persisted. And so, with the excitement of a novice, I packed up and drove cross-country. As of July 3, I'm a New York actor again, and I couldn't be happier to be back.
It's odd, being both native and newcomer at the same time. So, to help myself get re-acclimated (and because Back Stage asked me to write this article), I interviewed a slew of fellow transplants, who were happy to share their stories, observations, philosophies, and advice. When asked what they'd tell colleagues preparing to make the same move, most offered the usual caveats: Plan ahead, visit first, make getting a day job your first priority.
"Unless you're just looking for adventure, don't come to the city blindly," warns Tom White, who moved from Cleveland. "Visit first, to get the lay of the land," suggests L.A. transplant Mary Van Arsdel, currently touring in "Mary Poppins." Perhaps Dreagn Foltz put it best: "It's kind of an expensive place to be clueless."
But these new New Yorkers also shared a great affection for their new home.
"I love this city!" enthuses recent arrival Max Danesh. "I don't understand how anyone can choose somewhere else—the pace of life, the diversity you see on the street every day, there's art everywhere you look, the falafel!"
Courtney Merrell of St. Louis cites that diversity as her favorite thing about New York: "I'm astounded by the different stories and experiences that exist in a single subway car. It's great to have those random connections with strangers who you never would've met anywhere else in the country. I was most surprised by the number of non-native New Yorkers who live here. Sometimes I feel like it's a rare experience to meet a born-and-bred New Yorker."
Buffalo, N.Y., transplant Gordon Tashjian agrees about the population. "The thing that I most love about New York is the number of people," he says. "Not the crowds of people that I have to muscle through to get to a subway, or the crowds of infuriatingly slow walkers that are always blocking whichever sidewalk I've decided to walk down, but the people I meet, daily, just like me, who work a job so they can eat but are always doing something on the side. Actors, painters, musicians, writers, dancers—it seems like everyone under 30 is here to follow a dream. Far from being discouraged by the competition, every new artist I meet is new reason for hope and possible collaboration—a giant pool of artistic possibilities."
"I absolutely love it so far," says Nick Flatto, a recent graduate of Muhlenberg College in Allentown, Pa., who decided to make the move when his cousin texted him about an available room in his apartment. "I live in a closet of a room and have been sleeping on a couch. Some people find me crazy, but I wanted to live here as cheaply as possible. The thing is, there is so much Manhattan has to offer. I think it's more about being here and taking advantage of everything around you and less about a glorious bedroom that you won't spend a lot of time in."
$1,000 and a Dream
Last month, Lauren Anne Martin celebrated her first anniversary as a New Yorker. "It's brought up a lot of memories," she says. "I moved to NYC with a little over a thousand bucks and one suitcase." She spent 300 of those bucks on her Actors' Equity card, so she could audition for union theater, and scoured Craigslist for any decent paying job she was capable of doing that started immediately. "I needed a job fast, and so I searched every day and finally got an interview at a great restaurant, working as a hostess. I used my last $100 to buy a sports jacket—tags still on, of course. I got the job, took the tags off, and started working."
A year later, still at that same job, Martin feels like she's barely scratched the surface of her New York adventure: "I've only been here a year, and a year used to feel like a long time, but it most certainly is not. I have a lot more to learn, not only about auditioning and staying afloat, but also about myself as a person. My greatest lesson is giving in to whatever life throws at me and being as flexible as possible."
We've all heard horror stories about how hard it is to get a break here. They're all true. And it's important to be aware of the high level of competition and scarcity of gigs. But there are encouraging, odds-beating success stories too.
Hunter Ryan Herdlicka arrived only recently, after graduating from Carnegie Mellon. He booked the first thing he auditioned for and is currently on Broadway in "A Little Night Music." A common occurrence? Certainly not. But it does happen. "I truly love everything about living in New York," he says. "I visited here a lot growing up and knew that New York and I were a perfect match. Most people think of New York as an overwhelming city in which one could get lost, but oftentimes it feels like the smallest town on earth. No matter where I go, I constantly run into people I know."
"I'm 53 years old and just moved here to become a professional actor," reports Bob Pritchard of Jacksonville, Fla., who, after 100 auditions, landed a national tour of "Fiddler on the Roof." "I am very happy I moved here. How would I feel if I didn't get the tour? Still glad. This is what I wanted, my choice."
My L.A. colleague and friend Justin "Squigs" Robertson moved here mere months before I did. While he's continuing his acting career (he's a first-rate triple-threat performer), his story is unusual in that his move east represented a new emphasis on what used to be a sideline and has now blossomed into a major career. Squigs is a caricaturist whose Al Hirschfeld–like sketches have already graced New York theater marquees and will soon promote Broadway Cares/Equity Fights AIDS's annual flea market. "Hard work in that arena has paid off with some wonderful opportunities," he says, "including a weekly illustration column, Broadway Ink, on Broadway.com. It's a city of opportunity. Be creative. Be open to trying new things. And be curious and willing to learn."
Learning and Re-learning
I've certainly been learning—or re-learning—some things since my return. I'd forgotten about the heavy shoulder bag to carry all the day's outfits, the sore feet from all the walking, and having to find a way to kill time between appointments. But that's all part of the experience; it feels good to work this hard.
"I've told people that I can have the worst day of my life and the best day of my life on a Monday in New York," explains Lindsay Iuen, a Wichita, Kan., native who'd always dreamed of living here. "If you don't know the subway or bus routes, good luck getting around. The noise can be overwhelming. The buildings block the sun. I know I just got here, but: tourists—arrgh! Who thinks it's okay to stop in the middle of the street and take a picture in oncoming traffic? The rain. The rent. The hustle. It can get exhausting. That being said, I'd rather have a bad day in New York than a great day anywhere else. There's always something to do in New York for any budget. You're close to the water. The skyline is beautiful from Jersey City. Every holiday is an excuse to celebrate. There is always a parade or protest. Food, glorious food! Being different is considered normal."
Iuen has also been surprised by the kindness of New Yorkers: "Someone helping you when you're lost or saying 'Excuse me' when they run into you in Times Square, someone giving you a seat on the subway or helping a mother with her stroller—for as tough as this city seems to be, there are a lot of kind souls out there."
George Joseph Saulnier III, of Boston, was also surprised by the kindness of New Yorkers, or, more specifically, "the friendliness of other actors," he says. "One hears about the competition, and it sounds very scary from outside. Once here, however, it seems as though everyone is all in the same boat, wanting to get to the same place and all facing the same obstacles. Everyone I've met has been helpful in recommending websites to find work and the like."
"I have numerous friends who are successful working actors, and I've found nothing but amazing support from them," agrees Squigs. "I've gotten advice and recommendations and general moral support, and I'm so grateful. The city can feel big and lonely sometimes, but if we all help each other out, the place feels a lot more manageable."
Useful Resources
Speaking of recommendations, I asked my interviewees to share some of their favorite resources for adapting to the city.
"After graduating from college, I had the privilege of being a part of the SpringboardNYC program with the American Theatre Wing," says Danesh. "You spend two weeks straight in a marathon, focusing on everything dealing with a career as a professional actor up here, as well as establishing a life in New York City. You realize that surviving and thriving here is entirely possible. This is the best program you can find in the city."
"I highly recommend checking out the Actors Work Program, connected to the Actors Fund," says Van Arsdel. "It's an incredible organization which respects actors and helps them with job searches and referrals, computer training, networking, résumé drafting, and all-around support—all for free! Many actors aren't aware of this organization, but it is a terrific resource for those new to the city, as well as for those who are struggling."
"Actors who have just moved to New York should definitely know about the Actors Fund—to explore all of our programs and services," says Kathy Schrier, national director of the Actors Work Program. "AWP's programs include a weekly Network Now meeting where newly arrived actors get to network and share resources with other actors who have been working in the city for years and know a lot about the ins and outs of making it work. People can join AWP by coming to a Monday orientation at our offices." Not one to pass up a good resource, I attended that orientation myself and was genuinely surprised by all the Fund has to offer. There are eligibility requirements, so visit www.actorsfund
.org for more information.
There's also Actorscomfort.com, a site that provides resources and assistance to actors new to New York City. "Actorscomfort was created to steer those making the transition to the city in the right direction," says operations manager Steven Leon. "The aim is to provide a sense of comfort and confidence to all actors planning to call the most exciting city in the world home."
And, lest we forget, "Back Stage," says Herdlicka. "It's one of the best tools for actors to keep up on the business of the business, breaking news, interesting stories, and, most importantly, auditions."
If you're thinking about making the move here, by all means do the research and heed the cautionary advice. But also be open to falling in love with this wonderful, artistic city, as we transplants and returnees have.
"Don't be scared of it," says Flatto. "I'm confident that anyone can be successful and comfortable in New York if they work hard to make any connections possible."
"Nothing will happen the way you plan, but have a plan anyway," adds Iuen. "It will be hard. You will have a meltdown, and when it happens, just know it will be the first of many. But you're in New York! And you're an actor! It doesn't get much better than that."