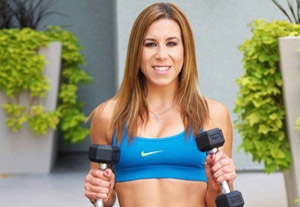 This is useful not only before a workout but also afterward, for breakfast, a sweet fix, or anytime you're starved and short on time. It provides a good balance of natural protein and carbs, antioxidants, and optional caffeine for those needing to perk up. I've been adding a dash of cinnamon, since this spice is not only being hailed as having cancer-fighting properties but is also linked with lower blood-sugar levels, stomach soothing, and improved memory function. The recipe below yields a slightly smaller smoothie for the (obvious) intention that you not vomit during your workout, but feel free to add more ice and green tea for more volume. If you prefer to use ripe berries, be my guest, but your smoothie will be more watery. Add more ice to get the satiating thickness of the original.
Ingredients:
1 medium banana (ripe or past ripe with brown spots; they're sweeter and easier to blend)
1 cup frozen blueberries or blackberries
1/2 cup fat-free Greek yogurt or unsweetened rice milk (if you're lactose-intolerant)
Dash of cinnamon
3/4 cup chilled concentrated green tea*
5 large ice cubes or 1/2 cup crushed ice (if you're working with a subpar blender)
Directions:
Put the ingredients in your blender, ideally in the above order; the banana hitting the blade first seems to lube it for crushing the ice and berries. Blend. Add a bit more liquid if the blades get stuck.
*If you are sensitive to caffeine or it's too late in the day, use decaffeinated green tea bags. You will still get the antioxidant benefits of green tea. To make the concentrate, cover 2–4 green tea bags in a heat-safe mug or bowl, and cover with 3/4 cup boiling water. Steep for 5–10 minutes, then press and remove the tea bags. Cover and chill in the fridge.
Whitney M. Cole is a personal trainer, Pilates practitioner, and nutrition counselor; health and fitness editor, Dimensions Weekly; and fitness expert, Diet.com and Wellsphere. More recipes and fitness and nutrition tips can be found at www.whitneymcole.com/blog. whitney@whitneymcole.com.