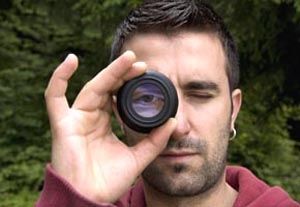 What do you expect from actors when they show up on the set? What are their responsibilities?
Ang Lee
New York; "Taking Woodstock," "Brokeback Mountain"
I think being available is very important. Sometimes you have to dial yourself down to zero, so you're available for the character, for the director's directions, for the scene to happen. Make yourself available to react to people's actions. I think that's very important. At least for me, from the director's point of view, they have to be available to us. Most actors are playing certain lines and certain actions so that they can be watched certain ways; they choose what people see of them. To me, that's not a good way of acting. The best way of acting, to me, is make yourself available so things can happen. Just empty yourself. It's more than just chilling out. It's actually a very hard thing to do. The more skill you have, the harder it gets sometimes.
Rebecca Miller
Ireland; "The Private Lives of Pippa Lee," "The Ballad of Jack and Rose"
I expect an actor to have really come up with a characterization, to have a full backstory, to be completely committed, to leave their BlackBerry somewhere else, to not read scripts of other shows, to be on set, to be just completely and utterly in the moment, committed to what they're doing. Robin Wright is a joy to work with as an actor because she's all of those things—she commits completely and she is very brave and she is very detail-oriented and very interior as an actor.
James Mottern
Los Angeles; "Trucker"
When actors show up on set, I want them to be prepared to allow themselves to be completely naked in their emotionality. I realize it is a difficult thing to achieve. I want them to feel that although I have certain ideas about a character, they themselves are on a journey to find the core of the character, and in that search they may discover a greater truth that they can share with me and everyone else. I may be the mapmaker, but the actor must dig up the treasure.
Drama or comedy, great actors allow themselves to perform without self-judgment, while being completely and brutally judged from head to toe by the entire world! It is a great and terrible gift to be able to touch that part of yourself at moments that are without hubris or cynicism, knowing that you are laying yourself bare. It's not that I want my actors to be exploited—that's not what I mean in any way—but an actor is an implement of humanity; he or she exists to glorify and vilify and unify a shared experience. So when they show up, I want them to have fun and feel safe and make money, but I also want them to know, or at least to have a sense, that I hold them in exceedingly high regard and that they are there for an important, profound reason, and it usually has to do with the truth.
Kevin Tanchaeroen
Los Angeles; "Fame"
Hands down, I expect them to know their lines completely. But I also expect them to have ideas on how to make it theirs. Because I don't want them to be robots. When we were on "Fame," a lot of the dialogue ended up shifting into something that felt like it was unique and in their own voice. So instead of trying to figure that out on set, I really like it when actors memorize everything, know it, but also have ideas how to make it feel better with them. And then we can talk about it. So come with ideas, but also come with your lines. If you walk on set and you're not prepared, you're wasting dollars and time, and it's just not a good thing.
Additional reporting by Jenelle Riley and Jamie Painter Young