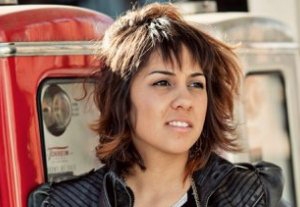 What's the best piece of acting advice you ever got?
Traycee King
Los Angeles; 'He's Just Not That Into You,' 'Eleventh Hour'
A few years ago, I had this acting coach who was very honest with me. He used to tell me to just "let go," and what he meant by "let go" was forget everything I was taught and "become" whoever I was trying to portray. Because if I got caught "acting," everyone would know and my performance would be known as a lie.
He also said that it shouldn't be called "acting" but "becoming." We have to allow ourselves to let go and be vulnerable and allow people to question our sanity. Then the audience will forget they're watching a performance and feel guilty about intruding in our personal lives, and that's what you want.
It was the best advice I was given, because up until then I had been taught a lot of heavy technique, which is wonderful, but now I know how to just let go. People tend to think I'm completely insane, crazy, funny, zany, wild, and sometimes believe that I'm just acting like myself—but little do they know I practice "letting go" every day.
Erika Latta
New York; WaxFactory's 'Quartet v.4.0' and 'Blind.ness,' both at Abrons Art Center
They never see backstage, so all of your little problems or what happened to make the show, no one will ever see or know—and they don't care. Get out there, get out of your own way, and give.
Never give them everything. Keep the mystery 3 inches behind you and leave the audience to finish your part with their imagination. Don't draw all the lines connecting the dots in your performance, so you can leave room for the audience's imagination.
The stage is sacred. It is where you lay the landscape of your imagination, where God is in the details, and where life and death and all of one's happiness can exist and not exist with a single gesture.
Theater is not just about the actor and the text; it is about the light, the sound, the stage, the audience, the story—it is this combination of art forms that makes the story alive. You are painting with your body, text, mind, and spirit on stage, and it will always be bigger than yourself.
This advice comes from various sources, including my parents, who are both visual artists, and I have mixed them in my mind over the years. I remember Robert Wilson, Tadashi Suzuki, Anne Bogart, Robert Woodruff, Kate Valk, and fellow actors whispering advice and in some cases screaming it until the words entered into my work as an actor and director. It is the best advice, as it comes from people who have directed or "stepped out into the dark arena," as Heiner Müller writes in "Quartet."
Okwui Okpokwasili
New York; 'Sounding' at Here Arts Center, 'Lear' at Soho Rep
Here are some gems: "If you're afraid to look stupid, acting isn't for you." "If there's something else you can imagine yourself doing, do it." "Acting is reacting." "In a play, don't forget to play." "Acting is living truthfully under imaginary circumstances." "Acting is living in the present." "Act in service of the writer." And "The best actors are great listeners."
Bits of all of it resonate with me now. And that makes me remember that someone once told me (but not in a pithy, memorable, short phrase) that I don't have to choose one method or style of acting; I should hold on to what resonates for me and what makes me more alive in the work. Creating my own way out of all of these methods keeps me curious and my imagination active. And never hesitate to discard methods that no longer resonate and begin the search for something that does.
For me, the search goes further than text, character arc, character relationships. What are the methods and systems of movement that might help me shape or see a character more clearly? How does the design of the set or a costume reflect the world of the characters? How do light and shadow in the space deepen the imaginary world of a piece and become something to play with? How does the sound in the piece reflect my character's emotional narrative? How does it play against it? And of course, actual life is a treasure of research into a character, a particular story, and a world.
Janet Varney
Los Angeles; 'Bones,' 'Entourage'
I sat here trying to think of one specific anecdote or memory that had some clever, entertaining story attached, but the thing I keep coming back to is, inarguably, the same simple piece of advice that actors are told over and over: "Listen."
It seems like it should be the easiest thing in the world, the first thing you would do—a thing you would have to try not to do, it's so organic. And yet it's often the first thing to go when the cameras start rolling. You start thinking about your lines, or whether the director likes you, or wondering if the fake eyelashes they put on you are making you look as much like Alex in "A Clockwork Orange" as you're afraid they are, and any shred of humanity and being present in the moment just utterly disappear. And you're not doing your job.
That's when I have to pull back, let all that other stuff go, and check in with what I've been hired to do. When I start breathing, and listening, the responses become so much more fluid, and hopefully there's some honesty in what I'm bringing to the table. And then, what's extra great about advice like that is how it carries over seamlessly into the rest of your life. How can you not benefit from listening more to the people in your life? It goes a long way toward getting out of your own head (and the embarrassing self-absorption quagmire we all fall into sometimes), checking in with the world, and being a better part of it.