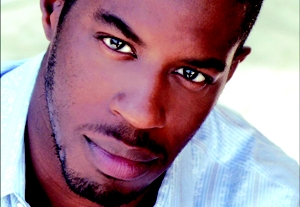 Ahmed Best
Los Angeles; 'Star Wars, Episode I: The Phantom Menace,' 'Robot Chicken'
The biggest lesson I've learned from the careers of other actors is to not follow their careers. There is no magic formula. There is no pill you can take that will transform you into Tom Cruise (although there is a test you can take, but that's another article). Everyone's path is personal. I can't have thoughts like "If I had a posterior like Kim Kardashian's, I'd be where I want to be in the entertainment world." If I had her posterior, all it would mean for sure is that it would take me 30 minutes to get into that favorite pair of jeans and I'd have many black millionaire man friends.
As for what you can learn from me, I had the pleasure of working in a movie with a man named John Knoll. John Knoll is a visual-effects supervisor at ILM (Industrial Light and Magic, for those who aren't as geeky as I am). John and his brother Thom were working on a piece of software for the film industry that would make image correction easy to do on the computer. It was John and Thom in a garage. At the same time, all the large film companies, such as Kodak, had a great many more engineers working on the same type of software. John and Thom had no real idea of their competition. In John's words, they kept their heads down and made something they loved. In the end, Kodak and all the others abandoned their attempt because of labor, cost, and time. John and Thom sold their idea to Adobe and invented Photoshop. What you can learn from my career and me is what I learned from John Knoll: Keep your head down, do your work, and if you're smart enough and lucky enough, you'll invent Photoshop.
Colleen Broomall
New York; 'The Winning Season,' 'Law & Order: Criminal Intent'
I feel like I learn something new every time I speak to or read an interview with another actor. Most recently, I've learned how important it is to create your own opportunities. The worst thing actors can do is get discouraged by a lack of auditions and cross their fingers that one will happen soon. Be proactive! Use your talents and creativity to cultivate your own projects. Our generation of actors is so lucky to have the Internet and websites like YouTube and Facebook that can help us reach millions of people, just from our laptops. And even if nothing materializes, you'll find yourself ahead because you've built both on-camera experience and self-confidence.
In regard to my career, I've most recently found that all of my life experiences, not just my training, have helped me get jobs and auditions. For example, I grew up playing basketball in both elementary and high school. Last year, I booked a part in a movie with Sam Rockwell where I play a teen basketball player. I know that it never would have happened had I not spent so many years on the court.
Furthermore, before I got back into acting (I was a child actor and left the business for several years to pursue my education), I worked as an editor at several teen magazines, interviewing pop stars on a weekly basis. Well, my most recent audition was to host a new MTV show, and I'm sure it helped that my manager was smart and caring enough to inform them about my journalistic background. I guess my point would be to live your life and to embrace all of the experiences it has to offer. Not only will it enhance your life, but it might also elevate your career!
Laurie Naughton Okin
Los Angeles; 'The Office,' 'Samantha Who?'
Looking at other actors' careers can really help you hone in on your specific goals and on what makes you unique. I have been able to articulate the trajectory I want for myself by taking what I consider to be my strong points and comparing my path to those of actors whose work I respect and who have what I consider to be strengths similar to mine. Taking this idea one step further, I can constantly endeavor to improve these skills, with the same clarity of purpose, using these role models to sharpen my focus—not to imitate, but to have a clear standard, from which I can deviate as my personality dictates for my own "toolbox."
Conversely, I can also study what doesn't work in others and why. In my opinion, the more an actor has a bird's-eye view of the craft of acting, the more he or she can treat it as a true craft, picking and choosing what works and what doesn't and practicing as you would any other instrument. Beyond the techniques, the endless material, and ourselves, we have each other to study. We are part of a living, breathing industry, and I find that the more I engage with my peers in it, the better off I am in the knowledge department.
I would hope that others could learn, from studying my career, the same sorts of things I learn from them. I also feel that my experience is a good example of staying the course over a long period of time, while also finding a way to honor other priorities—which, ultimately, actually feed the machine and make it possible to continue with stamina. Life is too short to have tunnel vision!