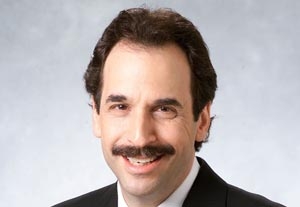 Marc Hirschfeld, who heads Marc Hirschfeld Casting, knew from an early age that he wanted to do something in the industry, without knowing precisely what it would be. He launched his showbiz career as a production assistant for Norman Lear and within short order was working in the casting department. He served as executive vice president of casting at NBC Universal Television from 1999 to 2008. He oversaw the original casting of such NBC series as the Emmy Award–winning "The Office," "30 Rock," "Heroes," "My Name Is Earl," and "Southland." On cable, he supervised the casting of the USA Network shows "Psych," "Burn Notice," "In Plain Sight," "Royal Pains," and "White Collar." He is currently casting "Love Bites," a romantic-comedy anthology for NBC that will bow in early 2011, and supervising casting for the Starz and CMT networks, which are both busy developing scripted dramas and comedies.
Your Submission Package
I will look at unsolicited submissions from unrepresented actors, as long as they arrive through regular mail. The submission should consist of a headshot, résumé, and cover letter, which should be simple, professional, and specific. The actor should not say, "Hey, think of me for whatever you're doing" but rather "I know you're casting a romantic comedy and you're looking for a young leading man who is strong in comedy—and that is my strong suit."
The headshot—full face or three-quarters, not profile—should show what the actor really looks like. If he's a character actor, he should look like a character actor. I don't want an actor to come in here and not resemble his headshot.
On the résumé, I want to see the actor's most recent work. If he's done a recent guest shot on a TV program or appeared on stage, it should be on the résumé. With computers today, there's no reason to send out a résumé that is not completely up to date.
There's no particular training I need to see. If you don't have a lot of TV or film work, you want to lead with the best foot forward, which could be training or Off-Off-Broadway theater. But as you add more TV and film credits, training and stage work will become less important—at least for me, because I'm primarily casting TV and film. There are no special skills I need to see either, though it's useful for me to know if you're fluent in a foreign language or can do accents. However, if you say you're fluent in a foreign language or can do an accent or dialect, you must be able to do it on the spot.
Mentioning background work on résumés is fine if you have no other credits. But you need to identify it as such, not claim it was a featured role. I'm not going to call and check, but if an actor says he was featured on "Seinfeld" and I cast "Seinfeld" and know that his claim is not true, this does not endear him to me, and I will question the rest of the résumé. As for listing student films, once again, if there's nothing else that can be noted, it's all right. But these credits should be de-emphasized as you build your résumé.
One thing is important: If you've done student films, you should have the films in hand, if for no other reason than to be able to copy the good parts for a demo reel. As always, as you build more-professional credits, you use those to replace the student-film clips on your reel.
I prefer to be the one soliciting the reel, but frankly, if an actor doesn't have an agent, he should have a reel that's posted on a website like Now Casting or Actors Access. I have often brought actors in based on demo reels that I've seen on such websites. If I like someone's look, the résumé is decent, and the actor has a demo-reel link that's highlighted on the résumé, I'll watch it.
The content on a demo reel needs to show you as a professional. If you don't have TV or film clips and you're doing a scene with another actor, then it's got to be good. It can't look as though it's being shot in your bedroom. It may be self-produced, but it has to look professional, and that's easy these days with high-definition cameras or HD Flip cameras and using iMovie editing.
I'll look at actors' websites, but I like them to be nice and clean, no bells and whistles. Headshots, résumés, links to demo reels, and contact information should be easy to find. I don't like it when an actor contacts me on Facebook or Twitter. It's not acceptable and, frankly, makes me angry. There should be respect for my privacy and the separation between my personal life and my professional life.

Stepping Up to the Plate
At the audition, what's most likely to lead to a callback is preparation and originality, though I don't want to see off-the-wall choices. They need to be based on the material. Generally, I don't like actors asking questions in the audition room. I recommend that if they have questions, they should be answered before they come into the room. There are actors who ask questions to extend the audition process. They believe the longer they stay in the audition room, the better shot they have at getting a job. In fact, it's the reverse. I also prefer actors not to stop an audition midstream to start again because they don't think they're doing it as well as they can. Ninety-nine percent of the time, if an actor stops and says, "Can I do it again?," the second time is not as good as the first or there is no change at all. If at the very top of the audition an actor says, "Let me take it again," that's okay. But if you're on Page 4, keep going.
Actors should not come to auditions dressed in costume. I don't need to see an actor playing a doctor wearing a lab coat and stethoscope. Just suggest something about the character. Clearly, torn jeans and a flannel shirt wouldn't be appropriate for a doctor, but a nice, nondescript suit would be fine. Recently we were casting a frumpy, plain Jane character. The actresses wisely came in with no makeup, dressed down, looking very real, average, but without overstating it.
There is the belief that if you've been turned down by a casting director for one project, you won't hear from that casting director again, and even if you do, he or she is never going to cast you. That's just not true. It's all about at-bats and getting up to the plate. Eventually you will get a hit. I wouldn't be discouraged if you've been in my office three times and haven't booked. The fact that I've had you back three times should be a good indication that I'm a fan.
Thank-you notes are not necessary, even if I've cast you in a role. Follow-up postcards are fine, but only if you have something to say: "Just got a guest shot on 'CSI,' " "Appearing in a play at Second Stage," "Just finished a play on Broadway." But to get a postcard that says, "Hi, I just want to put my face in front of you," that's not interesting to me. If you're a working actor, that interests me.