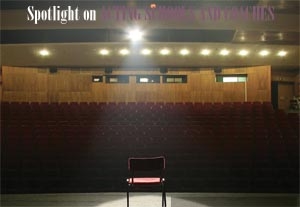 The following individuals or companies specialize in one-on-one acting coaching. Private coaching is also available from the majority of those listed in the "Acting Schools and Classes" category. Coaches in other specialties, such as musical theater, voiceover, or young performers, are listed in those categories.
JULES AARON
(323) 660-7342
Aaron, the former head of of graduate programs at CalArts and U.C. Riverside, is an award-winning director and acting teacher. He has won numerous directing awards. By audition only.
PHYLLIS APPLEGATE
One-On-One
(323) 655-5167
The Emmy-nominated Applegate studied at the Lee Strasberg Institute on scholarship and offers ongoing individual performance coaching combining Strasberg's methods with her own.
THE AUDITION COACH
West Hollwood,
www.audition-tape.com/dinoladkicasting
(310) 289-4962
The former head of casting of scripted series at MTV, Dino S. Ladki offers perspective from "the other side of the ropes." Ladki's coaching is designed to let actors in on what casting directors and producers are likely to be looking for.
ROBERT BEECHER
Stage 13
10749 New Haven St., #15
Sun Valley, CA 91352
www.stage13.com
(818) 768-5574
4 students per class; all levels; ongoing.
Beecher's Stage 13 offers four weeks of coaching in scenes or commercials for $60. For beginners or professionals alike.
JAMES BOLT
(323) 559-9466
Bolt describes his approach to coaching actors as "honoring the character's experience." He is currently available by appointment to coach actors for specific auditions and acting jobs.
JIM BONTEMPO
jvb_coach@yahoo.com
(323) 383-4444
Class size varies, semi-private coaching available; all levels welcome; auditing by special arrangement only.
Bontempo is a graduate of the Neighborhood Playhouse School of Theater under Sanford Meisner. He trained in Los Angeles with Nina Foch. Bontempo has privately coached actors, directors, and writers for numerous projects for more than 20 years.
CARMEN MILITO
info@carmenmilito.com
www.carmenmilito.com
(818) 760-2448
Private coaching.
Actress, coach, teacher, writer, and director, Carmen is a member of The Actors Studio Playwright/Directors Unit, The Lincoln Center Directors Lab West, and Women In Film. She has taught scene study and script analysis and coaches privately.
SANDRA CARUSO
(310) 476-5113
Caruso, a current professor in the UCLA School of Theater, Film, and Television, offers private coaching and audition preparation. She studied with Meisner, Strasberg, and Hagen, graduated from the NYU Theater Department, and holds a master's degree from UCLA.
SHAWNA CASEY
hoppinjohns@earthlink.net
www.nowcasting.com/shawnacasey
(310) 390-5984
Free consultation.
Casey, an award-winning actor, coaches actors for auditions. She is also experienced in english as a second language and in accent reduction.
MARK CHAET
chaetmark@sbcglobal.net
www.markchaet.com
(818) 547-9018
Chaet teaches business for actors through private instruction. He focuses on goal-setting and methods for organizing and advancing one's career.
CHARLOTTE CORNWELL
(310) 383-0910
A member of the USC School of Theater faculty, Cornwell is a classically trained English actor with more than 30 years experience in film, TV, and theater. Her coaching is "a direct and simple approach to the craft of acting."
LAUREN DICKEY
5455 Wilshire Blvd., Ste. 2124
Los Angeles, CA 90036
coaching@laurendickey.com
www.laurendickey.com
(310) 927-7754
Dickey's philosophy is that an actor only has a few minutes to dazzle the casting director, producers, or director, and to make the most of that time is key.
PIERO DUSA
Promenade Gateway, Ste. 608
1453 Third St. Promenade
Santa Monica, CA 90401
www.pierodusa.tv
(310) 393-9378
Private coaching.
For more than 21 years, Piero Dusa has trained many well-known working actors. He co-founded the Piero Dusa Acting Conservatory and Promenade Playhouse in 1996. Dusa also created character preference, character expression, character pathology and co-created Character Matrix-techniques.
MARJORIE GAINES
(818) 481-4466
Private coaching; ongoing.
Gaines has taught acting for theater majors at Cal State Long Beach and Pasadena City College. She offers private coaching in audition preparation and basic technique.
BARBARA GANNEN
(323) 793-6959
No auditing; ongoing.
Gannen teaches at the Margie Haber Studio and at Santa Monica College. She is located in the West Hollywood area and is available for private coaching.
JAMES HARPER
(818) 749-4678
No auditing; ongoing.
Juilliard graduate Harper, also an award-winning actor, has taught for more than 25 years at universities across the country, including USC. Harper specializes in audition coaching.
HELENE KRESS - HOLLYWOOD ACTING CLASS
aktorchick@yahoo.com
(323) 225-1962
No auditing; ongoing.
Helene Kress, star of VH1's "I Know My Kid's a Star," offers private acting lessons that focus on fully understanding character, mastering an audition, and booking the job.
JACK HELLER
(323) 850-6328
Private coaching.
Jack Heller is an award-winning director and a working actor. He studied with Harold Clurman, Robert Lewis, and Uta Hagen.
CHRIS JORIE
cjdirects@earthlink.net
www.chrisjorie.com
As a director, writer, and acting teacher, Jorie has worked with a number of distinguished talents in his over 35 years of experience in television, film, and theater. He has been an acting coach on shows for Disney, Nickelodeon, Buena Vista Television, and ABC, and has taught acting extensively throughout the United States. A native New Yorker, he has directed the regional premieres of "Wit," "Proof," "The Guys," "Having Our Say," and "Picasso at the Lapin Agile," as well as the Off-Broadway premiere of Anne Nelson's drama "Savages." Academy Award-nominated actor Mary McDonnell ("Dances With Wolves," "Passion Fish") who recently starred in television's "Battlestar Galactica," says, "Chris Jorie provides an avenue to the truth." Jorie has worked with Ryan Gosling, Christina Aguilera, Shawn Pyfrom ("Desperate Housewives"), and Nikki Deloach ("Windfall"). He is accepting a limited number of students for private coaching in Los Angeles.
JUST BREATHE
Barbara Beneville
(323) 969-4944
Limited; all levels; ongoing.
Coach Barbara Beneville believes actors should "get comfortable with silence, and transcendence will follow." Her class consists of all phases of study: auditioning, character development, cold reading, improv, Meisner exercises, monologues, scene study, and script breakdown.
KAREN KALENSKY
lostinlatheater@aol.com
(818) 481-2244
Private coaching.
Kalensky teaches at Cal State Long Beach and is the consulting artistic director of the Interplayers Theater. A former casting director, she has won a number of directing awards and understands well what agents and casting directors look for in the audition process.
BRUCE KATZMAN
(818) 613-5252
Limited in size; ongoing.
Katzman has been teaching since 1988. His classes focus on the major plays of Anton Chekhov and other great playwrights. He also offers private coaching in Shakespeare, modern plays, preparation for auditions, and coaching for film.
JUDY KERR
www.actingiseverything.com
(818) 505-9373
All levels; ongoing.
An acting coach for more than 25 years, Kerr is the author "Acting Is Everything: An Actor's Guidebook for a Successful Career in Los Angeles." She coaches privately, covering acting and film techniques for the camera, and show-business techniques to boost careers. Beginners are welcome.
MARLA LADD
atheaterdirector@yahoo.com
www.mysteriumshop.com
(714) 501-8215 or (714) 771-5436
Small class size for individual attention, private coaching also available; all levels; call for auditing policy.
Ladd is the artistic director and owner of Mysterium, where she is an Orange County acting coach, specializing in audition preparation and last-minute coaching. She offers scene study classes, improv work, and monologue-perfecting. Headshot and résumé supervision is available.
DAVID LEHMAN
filmactingcoach@yahoo.com
www.filmactingcoach.com
(818) 845-1549
12 person maximum.
Lehman has been teaching for more than 26 years and studied under Charles Conrad. His classes cover cold reading and more.
LIFEBOOK ACTING ACADEMY
Allen Levin
The Space Theater
665 N. Heliotrope Dr.
Los Angeles, CA 90004
www.lifebookacting.com
(818) 557-7700
Ongoing.
Levin has been teaching for more than five years and offers scene study, improv, and cold reading classes.
ART MANKE
(323) 667-1231
Also available for on-set coaching.
Manke is an award-winning actor and director with more than 20 years' coaching experience. He trained at the American Conservatory Theater and is a co-founder and former artistic director of L.A.'s A Noise Within.
MARJO-RIIKKA MAKELA - INSPIRED ACTING FOR THE PROFESSIONAL: THE MICHAEL CHEKOV TECHNIQUE
www.chekhovstudio.com
(917) 520-4647
Actress, director, and coach Marjo-Riikka Makela teaches students how to embrace the moment, combat anticipation and stage fright, and live truthfully under the imaginary circumstances an actor creates, not only in their own head, but viscerally with the help of an actor's physical imagination and spatial awareness.
MARKETING THE ACTOR
15303 Ventura Blvd., 9th fl.
Sherman Oaks, CA 91403
www.marketingtheactor.com
(310) 922-6821
Created by Jason Buyer, Marketing the Actor is an audition coaching and consultation service specifically designed to provide actors with the fundamental career-building knowledge of the industry.
FRANCO MASSIMO
(323) 850-8580
Massimo, also known as Rik Martino, is an acting coach who works in Italian and English. He specializes in improvisation in front of the camera.
CHAD McCORD
717 N. Highland Ave., Ste. 24
Los Angeles, CA 90038
chad@chadmccord.com
www.chadmccord.com
(323) 868-9225
New client consultations are free.
McCord offers weekly classes specializing in comedy for actors. All classes are on-camera, using current pilot, film, and TV material only.
MARILYN McINTYRE
marosemc@yahoo.com
www.speedreels.com/talent/mmcintyre
(818) 601-1463
McIntyre, who teaches at the Ted Brunetti Studio and Cal State-Northridge among others, specializes in personalization, a technique that "safely helps the actor discover and explore what effectively allows them to access and bring their most personal, authentic, and unique self to the work."
FABIANA MEDICI
fabianadmedici@yahoo.com
www.theactorstemple.com
(323) 930-8986
Medici has coached directors, theater companies, and television casts, internationally and in the United States. She helps actors develop their own method of work, aiding in their self-confidence and empowerment.
MICHAEL E. RYAN ACTING CLUB
www.michaeleryan.com
(323) 839-5461
All levels welcome; ongoing.
Ryan formed the acting club "for actors who love the craft." He facilitates tools, techniques, and Method approaches, with group members gathering in a theater to work on exercises and projects.
ANTHONY MONTES
mattiedaisy@sbcglobal.net
(818) 400-2270
For more than 20 years, Montes has been offering actors private coaching. This award-winning actor-director has produced 70 plays and coached actors who have gone on to television series and starring roles in film.
TONI MOSS-TRENTON
(213) 252-0830, Fax: (213) 389-1856
Small classes and private coaching; all levels; ongoing.
Moss-Trenton has an extensive background in theater and film and has been teaching Method acting for over 10 years. She also accepts private students on a sliding scale basis.
BRIAN MULLIGAN
(323) 719-2545
Mulligan, a former instructor at NYC's Riverside Shakespeare Academy and founder of NYC's Impro!, offers one-on-one coaching for TV, film, and theater auditions.
ALLEN NELSON
scene2@earthlink.net
(818) 786-7154
Nelson was the coach-administrator for 21 years at the Tracy Roberts Actors Studio, and was recently featured in two documentaries. Nelson coaches privately for auditions and monologues, and works in-depth with actors who need to learn or strengthen their technique.
NICOLAS COSTER STUDIO
www.nicolascoster.com
(213) 952-5685
Coaches privately; all levels.
Coster's credits include nine Broadway shows, 24 Off-Broadway, 35 feature films, three prime-time leads, 75 guest-star appearances, nine MOWs, nine leads on soaps, three Emmy noms, and a Soap Opera Digest Award. He trained at the Royal Academy of Dramatic Art and the Neighborhood Playhouse, and with Lee Strasberg, Sanford Meisner, Milton Katselas, and Frank Silvera. He currently is an adjunct professor at the University of Georgia. Eighty-five percent of students worked in 2008. Coster spends his free time teaching disabled veterans how to scuba dive, snorkel and sail, and is the founder of Challenges Foundation (www.challengesfoundation.org). He coaches privately.
JIM OTIS
(818) 543-7479
No auditing; flexible scheduling.
Otis has taught a wide range of talent, from Second City actors to the grandmother auditioning for her first commercial and offers two private courses: a TV/film intensive, covering TV/film, commercial auditioning technique, cold reading, and business strategy; and a monologue intensive.
ALLAN RICH
www.allanrich.com, www.aleapfromthemethod.com
(323) 465-4007
Rich offers private coaching and teaches serious professionals the same "organic technique" he uses in his own work. Rich's newest book is "A Leap From the Method: An Organic Approach to Acting."
MEL RYANE
www.melryane.com
(310) 391-8542
Ryane studied with Uta Hagen for 10 years and offers private coaching that expertly guides actors in technique, audition prep, scene work, and monologues.
TIM SIMEK
www.slowchildrenimprov.com
(213) 212-9921
A working actor and improv comic, Simek has more than 14 years experience in film and television and is the founder and director of the L.A.-based comedy improv group Slow...Children at Play.
MARCIE SMOLIN
marcie@theactorscircle.com
www.theactorscircle.com
(310) 837-4536
Smolin began as a child actor and was a regular on two TV series, as well as a guest-star on several shows. She holds a bachelor's degree in theater arts and a master's in screenwriting and has been a coach for over 18 years.
STEVE TRUITT COACHING
stevetruitt@verizon.net
www.stevetruitt.com
(310) 463-9056
Private coaching available; no auditing; ongoing.
Truitt is a working host as well as a certified life coach and NLP practitioner. He coaches actors in hosting, standup, copy interpretation, and guides them to discovering the keys to success.
DIG WAYNE
www.digwayne.com
(213) 793-1864
20 students maximum per class; auditing is on a pre-approved basis.
Wayne is a former instructor at the Lee Strasberg Institute and a life member of the Actor's Studio. The winner of Britain's Olivier award for "Five Guys Named Moe," he has acted in numerous film, television, and stage productions. He won an NAACP Theater Award for Best Supporting Male in August Wilson's "Fences," and was an Ovation award nominee for the role as well. His ongoing classes focus on the study and practice of the Method, stressing relaxation, animal work, and sensory exercises. Actors are guided to discover the person they really are and trained to bring that person to any given stage, film, or television role.
CLIFF WEISSMAN
(661) 803-5038
A New York-trained theater actor, Weissman studied with Margie Haber, Tim Phillips, and Caryn West. He teaches and coaches audition and cold-reading workshops.
ACTING SCHOOLS AND CLASSES
This, the biggest and most broadly defined listing, includes all kinds of class types, sizes, and approaches, from Stanislavsky nuts-and-bolts to cold reading and audition prep. What unites them is that while many offer specialized classes, all offer some class or other that could simply go under the heading of "acting." Many also offer private coaching; for a list of those who offer only or primarily private acting coaching, see "Acting Coaching."
AARON SPEISER ACTING STUDIO
1644 S. La Cienega Blvd.
Los Angeles, CA 90035
info@aaronspeiser.com
www.aaronspeiser.com
(310) 399-4567
Offers career counseling and private coaching; one audit is allowed in most classes after interview; ongoing.
Speiser has been a trainer and coach in the industry for over 25 years, having worked with numerous acclaimed actors including Will and Jada Smith, Virginia Madsen, Jennifer Lopez, Gerard Butler, L.L. Cool J., the Wayans brothers, Shannyn Sossamon, Mandy Moore, Dwayne "The Rock" Johnson, Brooke Shields, and Jeff Foxworthy. Several of his actors, including Madsen and Smith, have gone on to be nominated for Academy Awards and other notable recognition. He has worked with several directors and producers as well including F. Gary Gray of "The Italian Job," Michael Mann of "Public Enemies," Francis Lawrence of "I Am Legend," Neal Israel of "Finding Neverland," Oliver Stone, Adam Shankman, Wayne Wang, and Peter Berg. Speiser's approach is "specifically designed for professional actors, or actors who want to be professional, it's very specific and no-nonsense." The studio specializes in on-camera acting for film and television. Ongoing classes include beginning technique, cold-reading, police tactics for actors, voice, dialect and accent, intermediate and advanced scene study, an invitation-only master class, and casting director, business of acting, and comedy seminars. A comprehensive teen program is also offered. Private coaching for auditions, career counseling, and image consulting are available.
THE ACTING CENTER OF LOS ANGELES
5514 Hollywood Blvd.
Hollywood, CA 90028
www.theactingcenterla.com
(323) 962-2100
From 20 to 50 students per class; all levels; no auditing.
The founding partners of The Acting Center of Los Angeles have researched, developed, and tested a new technique designed to help actors reach their full potential. The class is composed of exercises, cold reading, and scene study. Open lectures and seminars available to all; private coaching available for Center students only. Interview required for admission. Classes are offered 7-10 p.m. Mon. & Wed. and Tues. & Thurs., as well as Sun. from 1 to 6 p.m. $280 per month. Gated parking available.
THE ACTING CORPS
5508 Cahuenga Blvd.
North Hollywood, CA 91601
www.theactingcorps.com
(818) 753-2800
Small class size; ongoing.
Short-term acting conservatory that favors a daily concentrated approach. Acting Corps offers the original four-week, every day, Meisner-based program, that not only teaches the legendary technique but also applies it to cold reading and scene study.
THE ACTOR SPACE
www.theactorspace.com
(818) 754-4442
see Joe Palese
ACTOR'S ART THEATER
6128 Wilshire Blvd., Ste. 110
Los Angeles, CA 90048
info@actorsart.com
www.actorsart.com
(323) 969-4953
Private coaching also available; ongoing.
Jolene Adams and the Actor's Art Theater offers private classes and workshops in acting technique, script analysis, directing, play and solo show development. All classes are available in private or semiprivate sessions.
STAN ROTH
sandbroth@att.net
www.stanroth.com
(323) 930-2424
2 students per class, private coaching available; all levels; no auditing.
Roth teaches two-person cold reading/scene study classes and audition coaching at his studio in the West Hollywood area. Classes meet Monday-Friday at 11 a.m., 1 p.m., or 3 p.m.
THE ACTOR'S LAB
J.D. Lewis
(310) 621-3900
Acceptance is by interview/audition.
J.D. Lewis, known for coaching many well-known working actors, offers ongoing cold reading, scene study, and career guidance classes.
THE ACTOR'S PLAYPEN
1514 N. Gardner
West Hollywood, CA 90046
hrach@theactorsplaypen.com
www.theactorsplaypen.com
(323) 874-1733
All levels; ongoing.
The Actor's Playpen offers comprehensive acting instruction that includes classical training, technique, and actor development. It is a place for actors to practice, polish, grow, and play.
THE ACTOR/ARTIST GROUP WORKSHOP - PETER HENRY SCHROEDER
PHS Productions
8447 Wilshire Blvd., Ste 401
Beverly Hills, CA 90211
peterhenryschroeder@gmail.com
www.actorartist.com
(310) 407-3530 or (310) 277-2355
Small class size, private coaching is available; observation is welcome; ongoing.
Peter Henry Schroeder teaches progressive and unique workshops that focus on relaxation and concentration techniques, as well as audition preparation, cold reading, and scene study.
THE ACTORS CENTER
Michael Scott Butler
www.actorscenter.com
(310) 459-5064
Small classes; intermediate and advanced; auditing not permitted; ongoing.
The Actor's Center, led by Scott Butler, creates an atmosphere that gives an actor "the inspiration to explore the depth and range of human experience." Butler believes "training is more than a matter of technique," and the Center's goal "is to get you working at a level of excellence."
THE ACTORS CIRCLE
Marcie Smolin
4475 Sepulveda Blvd.
Culver City, CA 90230
workshops@theactorscircle.com
www.theactorscircle.com
(310) 837-4536
8-14 per class; all levels; no auditing; ongoing.
Led by director and founding member Marcie Smolin, the Actors Circle offers television and film acting workshops for children, teens, and adults, in scene study, cold reading, improv, character development, and interview technique. Classes develop and foster confidence, focus, self awareness, creativity, sensory awareness, choice-making, memory and sequencing skills that give actors the necessary tools for taking direction and maintaining the stamina necessary for filming, taping, or live performing. Students have included four Emmy winners, nine Emmy nominees, and dozens of others in starring roles. Classes and private coaching are available. Professional demo reels and audition filming are offered.
ACTORS CREATIVE WORKSHOP
2703 W. Olive Ave.
Burbank, CA 91505
info@actorscreativeworkshop.com
www.trulyacting.com
(818) 752-1922
Limited size, private coaching available; all levels.
Led by two guiding principles, integrity and passion, the Actors Creative Workshop offers reel development, standup classes, and audition technique, among others. Its staff consists of qualified industry professionals that have worked both in front of and behind the camera.
THE ACTORS SANCTUARY
www.dhtcb.com/actorssanctuary.html
(818) 506-6194
Free one-time audit available; ongoing.
Actor David Hall has worked in film, television, and stage with some of the most respected filmmakers in the entertainment Industry including Mel Brooks, John Frankenheimer, Terrence Malick, Garry Marshall, Gordon Parks, Aaron Spelling, and Gene Wilder. He is also a director for television and stage. Hall's Actor's Sanctuary, a scene-study/monologue class, begins each week with an exercise that often consists of cold-reading, and audition technique work. The purpose of this work is to prepare the actor for the interviews and auditions that are at the heart of the audition process. The second half of the class is devoted to scene-study and monologue work. This is scripted material that the actor has memorized and rehearsed and is performed without a script. Hall believes monologues are also a tool through which the actor, without a film demo, can, if the opportunity presents itself in a casting session, perform something right on the spot.
ACTORS THEATERCRAFT WORKSHOP
Rick Walters
(323) 876-1100
Private coaching also available; ongoing.
Since 1961 Rick Walters has taught actors to tap into their own unique experiences to reveal more natural responses of character. His classes include cold reading, scene study, improvisation, audition scenes, and monologues.
THE ACTORS WORKOUT STUDIO
4735 Lankershim Blvd.
North Hollywood, CA 91602
info@actorsworkout.com
www.actorsworkout.com
(818) 766-2171
Small classes; all levels.
Fran Montano, an actor for more than 25 years and a teacher for over 20, specializes in "troubleshooting actors' blocks." To that end, he says, classes are small, "very individualized, and it's very much an intense workout where everyone works every class." His classes, based on Meisner technique, include exercises, improv, cold reading, and scene study. Montano is also the artistic director of the Actors Workout Studio, where class members regularly mount performances and industry-invited scene nights. His ongoing weekly workshops divide into beginning and advanced, and he requires an interview and audit.
ACTORS WORKSHOP STUDIOS
5703 Oberlin Dr., Ste. 210
San Diego, CA 92121
www.actorsworkshopstudios.com
(858) 587-6666
15 students maximum; auditing permitted.
Established in 1989, the Actors Workshop Studio provides on-camera training in film and television acting and audition techniques based on the Meisner approach.
THE ACTORS WORKSHOP
info@theactorsworkshop.com
www.theactorsworkshop.com
(949) 855-4444
All levels; no auditing.
This film-television workshop, which began in Hollywood in the early 1970s, moved to its present O.C. location in 1980. Under the direction R.J. Adams, workshops are held twice weekly with an emphasis on film and TV audition techniques, cold readings, on-camera scene work, and marketing and imaging guidance.
ACTORS' ATELIER
Susie Thomas
5714 Lankershim Blvd.
North Hollywood, CA 91602
info@actors-atelier.com
www.actors-atelier.com
(818) 308-7981
14 students maximum per class; all levels; up to two free audits; ongoing and by session.
Actors' Atelier was created because its founders believed something was critically lacking in Los Angeles acting schools: community. Consequently, the Atelier offers a supportive place where students can find answers to their questions, where fantastic, professional teachers who are experts in their field offer encouragement, and where students can also find collaboration among their peers. Students are encouraged to rehearse together outside of class (in Atelier's space for free), to spend time in the library and resource center (where free wi-fi is available), and to work hard and have fun. Atelier believes no one actor succeeds without others. Atelier offers three types of classes; term classes, professional, and workshops, for children, teens, and adults. Courses and workshops include script analysis, cold reading, improv, musical theater, scene study, acting from the writer's perspective, and more.
THE ACTORS' PRACTICE FIELD - KIMBERLY K. WILSON
rainbowchaser2758@msn.com
www.maggieandannie.com
(310) 375-2724
Private coaching available; one free audit, call for interview.
Writer-director Wilson has 15 years' experience as acting coach in the "Meisner-Conrad-No Acting" approach. Courses, taught in Hollywood, include TV/film audition workout, scene study, and cold reading/on-camera.
AIA STUDIOS
1918 W. Magnolia Blvd.
Burbank, CA 91506
www.aiastudios.com
(818) 563-4142, Fax: (818) 563-4042
Audition and interview required; ongoing.
AIA Studios is a career-development actor's studio focusing on the art and business of acting. Consultants show actors the concrete steps needed to develop and manage their careers.
AIDA-AUSTRALIAN INSTITUTE OF DRAMATIC ARTS
The Complex Theater
MC Studio
6742 Santa Monica Blvd.
Hollywood, CA 90038
admin@aidaacting.com
www.aidaacting.com
(323) 463-3261
10 students average per class; all levels; auditing is permitted; ongoing.
Artistic director Paul Parker's mission is to train and coach aspiring and seasoned actors in the renowned Australian technique. Focus is on helping actors access their full emotional range and broaden their artistic palette.
ALAN FEINSTEIN & PAUL TUERPÉ ACTING STUDIO
oneactone@aol.com
www.feinstein-tuerpe.com
(323) 650-7766
Private coaching available; admission by interview only.
Feinstein and Tuerpé, both veteran working actors, offer five ongoing classes which cover scene study from beginning to advanced, fundamental and emotional exercises, on-camera cold reading, and the newly added voice training. Feinstein says of their teaching: "I call the classes 'emotion into action.' The classes emphasize freeing the actor's emotions for maximum creative results in a safe and supportive environment." Admission by interview only.
ALEXIA ROBINSON STUDIO
2811 W. Magnolia Blvd.
Burbank, CA 91505
www.alexiarobinsonstudio.com, www.arskids.com
(818) 779-1118
Free audit of the scene study class is offered.
Students learn how to get results with award-winning actor Robinson. With more than 20 years of industry experience, this protégé of legendary coach Roy London has been teaching for more than 10 years and offers scene study, commercial workshops, and cold reading/audition technique for adults, teens and kids.
AMERICAN MUSICAL AND DRAMATIC ACADEMY
6305 Yucca St.
Los Angeles, CA 90028
info@amda.edu
www.amda.edu
(323) 469-3300 or (866) 374-5300
For more than 40 years, AMDA has led the way in performing arts training because of its challenging, performance-based curriculum. Actors come to AMDA to train with, and learn from, a premier faculty comprised of accomplished actors, directors, choreographers, dancers, designers, and educators who inspire and work with students on an individual basis. AMDA offers two-year conservatory programs in Acting (Studio Program) and Musical Theater (Integrated Program), as well as BFA programs in Acting and Musical Theater. AMDA New York is located at 211 West 61st St., New York, NY 10023, (800) 367-7908 or (212) 787-5300.
AMERICAN NATIONAL ACADEMY OF PERFORMING ARTS
10944 Ventura Blvd.
Studio City, CA 91604
(818) 763-4431
Audition required.
The Academy, directed by Dorothy Barrett, is a nonprofit organization chartered by the state of California. They offer year-round classes in acting, ballet, modern jazz, tap-dancing, improv, cold reading, scene study, observation, pantomime, stage presence, musical comedy, and auditioning.
AMY LYNDON'S COLD READING/BOOKING CLASSES
www.coldreadingclasses.com
(818) 760-8501
No auditing.
Lyndon has six cold reading/booking classes that she says help the student break through into the 1 percent booking category by providing a 15-guideline map to booking. Lyndon has three ongoing advanced classes, two technique classes, and one master class.
ANDREW BENNE STUDIO
4930 Lankershim Blvd.
North Hollywood, CA 91601
www.andrewbenne.com
(818) 386-5867
All levels; auditing is permitted.
The studio specializes in developing professional actors, with a focus on each actor's individual training needs to book paid acting work. The intense training process is rooted in moment-to-moment work with an emphasis on human behavior, realistic relationships, and emotional preparation.
ANDREW UTTER - MOTHER OF INVENTION ACTING SCHOOL
actbetter@utteracting.com
www.utteracting.com
Andew Utter brings the acting technique learned at the Yale School of Drama to his courses and workshops. Technique is presented through exercises, discussion, and scene work. Exercises are carefully crafted, purposeful, exciting explorations that are designed to give actors an experiential grasp of the elements. Discussions elaborate on the principles presented in the exercises. Additionally, the technique portions of classes include a bodywork component, designed to help the actor build awareness of habitual physical tensions and the ability to let those tensions go. Utter has worked at several theaters and institutions including the Magic Theater, Playwright's Center of San Francisco, the Yale Repertory Theater, Manhattan Class Company, Mabou Mines New York, Schaubuehne am Lehniner Platz, Odyssey Theater Ensemble (Los Angeles), and Fordham University. He has also directed productions of plays by William Shakespeare, Maria Irene Fornes, Peter Handke, Edward Albee, Eric Overmyer, Wallace Shawn, John Guare, John Webster, Kander and Ebb, Liz Duffy Adams, and Julie McKee, among others. Utter likes to say what he teaches is a leaner, meaner Stanislavsky.
ANTHONY MEINDL'S ACTOR'S WORKSHOP
www.metatheater.org
(323) 852-6963
With his holistic approach to the study of acting, Meindl provides ongoing classes to performers of all levels and diverges from traditional techniques, requiring the actor "to use the totality of who he or she is, to first embody, then transform." The actor learns how to expand consciousness when approaching a character and simultaneously propels growth and healing through elevated self-expression.
APPROACH STUDIO
Tom Ardavany
517 Ocean Front Walk
Venice, CA 90291
www.theapproach.net
(310) 450-2848
Mostly small, intimate classes; free orientation classes are held every week.
Tom Ardavany has been assisting actors professionally for 10 years. The Ardavany Approach is a unique method to enhance perception and creative expression for actors. By utilizing "The Approach," the actor connects to his inner 'present' power source for maximum impact on-camera and on-stage. Ardavany's insightful and advanced approach helps actors define/perform the right action every time. The Ardavany Studio, located in Venice Beach, provides an open, inspirational environment for actors to develop their craft. Approach actors have gone on to win three Emmys and two Golden Globes.
AQUILA/MORONG STUDIO FOR ACTORS
1680 Vine St., Ste. 806
Hollywood, CA 90028
erin@aquilawood.com
(323) 460-6292
Private coaching available.
Successful casting directors Deb Aquila and Donna Morong recently formed their new Aquila/Morong Studio for Actors in Hollywood. Aquila offers master classes based on the teachings of Stella Adler. Morong offers Meisner based technique and scene study classes for professional teens and young adults. Interviews are currently being held.
THE ARTIST THEATER GROUP
Anthony Montes
MB Studios
26560 Agoura Rd., #111
Calabasas, CA 91302
mattiedaisy@sbcglobal.net
(818) 400-2270 or (818) 705-4364
Auditing of the first class is allowed.
The Artist Theater Group, under the direction of Anthony Montes, has been teaching actors, writers, and directors since 1987. ATG offers acting technique and scene study, and encourages students to take the work out of the classroom and create their own opportunities.
CYB BARNSTABLE
cbarnstable2@aol.com
(818) 501-4734
Small classes, private coaching also available.
Barnstable, who studied at Herbert Berghof Studio in New York and has been teaching for over 15 years in Los Angeles, offers a positive, supportive, and challenging environment for the actor.
THE BERG STUDIO
c/o The Hayworth Theater
643 Carondelet St.
Los Angeles, CA 90057
contact@thebergstudios.com
www.thebergstudios.com
(323) 666-3382
Private coaching available; all levels; audition required.
Gregory Berger-Sobeck teaches the Yale School of Drama technique, which has trained Meryl Streep, Edward Norton, Sigourney Weaver, and Jodie Foster. Classes cover scene work, commercial and theatrical audition on-camera, and cold reading, and meet twice a week.
BERNARD HILLER ACTING STUDIO
13816 Califa St.
Valley Glen, CA 91401
berniehiller@aol.com
www.bernardhiller.com
(818) 781-8000
Class size varies, private sessions are available; introductory private lesson required; ongoing.
Bernard Hiller's techniques are based on a combination of "The Method" (Lee Strasberg) and Stella Adler and help actors resolve problems with auditions and performance, find their unique inner quality, and train them how to be public with their private emotions. Group classes held at 14370 Ventura Blvd., Sherman Oaks, CA 91423.
BEVERLY HILLS PLAYHOUSE
254 S. Robertson Blvd.
Beverly Hills, CA 90211
interviewer@bhplayhouse.com
www.beverlyhillsplayhouse.com
(310) 855-1556
No auditions, but an interview is required for admission.
"The BHP is one of L.A.'s oldest and most respected acting schools," says executive director Allen Barton. The BHP offers ongoing intensive scene study classes to instruct aspiring professionals in the areas of acting, career administration, and attitude. "Instruction focuses on identifying the goal of honest, authentic, moment-to-moment, behavior-oriented acting work, and finding each actor's individual way into that work, rather than on rote enforcement of a certain school of acting technique," says Barton. "High-quality, well-rehearsed scene study is emphasized, with exercises few and far between."
BILL HOWEY ACTING WORKSHOP
855 N. Hollywood Way
Burbank, CA 91505
info@billhowey.com
www.billhowey.com
(818) 433-7445
14 per class, private coaching available; intermediate to advanced, age 18 and up; auditing with approval beforehand.
Howey's workshops train actors to bring their own personality to their characters. Workshops are based on the principals of his book, "The Actor's Menu: A Character Preparation Handbook."
BLACK NEXXUS STUDIO
6440 Santa Monica Blvd.
Hollywood, CA 90038
blacknexxus@sbcglobal.net
www.blacknexxusinc.com
(323) 467-9987
All levels; ongoing and by session.
Susan Batson, who created the Black Nexxus process, says it is aimed to prepare the actor for today's challenges in the workforce and to respect acting as a primary art form. "Black Nexxus was created by the actor, for the actor," she says.
IVAN BORODIN
van@ivanborodin.com
www.ivanborodin.com
(323) 882-1268
Private coaching also available.
Borodin, who studied with Uta Hagen, Lee Strasberg, and at NYU, teaches "intense acting" based in the Method, sensory work. Classes are geared toward heightening actors' individual personalities, resulting in a unique blend of solid training and great instincts.
BRIAN REISE ACTING STUDIOS
7954 Fountain Ave.
Los Angeles, CA 90046
www.brianreise.com
(323) 874-5593
An orientation session is required for admission.
Reise's classes specialize in cold reading for beginners through professional levels. The focus of the classes is on the reality of the acting business; teaching actors how to develop their skills so they can audition more effectively, book jobs, get agents, and guide themselves in their careers.
BOB BURGOS
bobburgos@ca.rr.com
(323) 653-5947
Private coaching.
An award-winning writer-director, Burgos has worked on and Off-Broadway and in theaters across the country. He has taught at NYU, and the Art Center in Pasadena, among others, and has been an on-set acting coach on numerous films and television shows.
DIANA CASTLE
2100 Square Feet
5615 San Vicente Blvd.
Los Angeles, CA 90016
(323) 936-6818
30 students per class maximum, with private coaching available; no auditing, interview required.
Artistic director of 2100 Square Feet, Castle has been teaching and coaching actors for over 15 years. Her ongoing scene study class emphasizes "a creative state of mind and the use of imagination."
CATLIN ADAMS ACTING LAB
catlinadams@sbcglobal.net
www.actinglab.com
(323) 851-8811
Limited class size, private coaching is available.
An award-winning director and actor, Adams' classes focus on developing the actor's craft and cover improvisation, sensory work, camera technique exercises, monologue, and scene study.
CHANGING PERCEPTIONS - THEATER BY THE BLIND & PHYSICALLY DISABLED
Greg Shane, artistic director
www.changingperceptions.org
(310) 428-4696
All levels.
Year-round program of drama workshops and performances serving visually and/or physically disabled adults ages 18-plus. Weekly workshops in basic acting technique, improvisation, theater games, movement, voice, emotional strengthening and tuning, character analysis, and script interpretation are offered free of charge. Original works are developed and rehearsed by theater company members in weekly rehearsals. Theater company tours an original play designed to educate the public on disability issues with public performances each year.
SHARON CHATTEN
sharonchatten@aol.com
www.sharonchatten.com
(213) 486-4229
Private coaching available.
A member of the Actors Studio and the Ensemble Studio Theater, Chatten teaches ongoing classes for committed students looking for an acting class as a workroom for their craft.
DANIEL CHODOS
chodos@sbcglobal.net
www.danielchodos.com
(323) 422-5013
Chodos is a veteran of regional theater and Hollywood and has taught at Dartmouth College and Temple University. He offers traditional scene study focusing on stage technique and on-camera technique, with periodic showcasing.
DIANE CHRISTIANSEN
actupdi@yahoo.com
www.dianechristiansen.com
(818) 523-8283
Private and on-set coaching available.
Christiansen is an acting/life coach who recently appeared on the reality show "Faking It" and was a recent guest director at CalArts. She offers professional classes for kids, teens, and adults in North Hollywood and Valencia, and life coaching sessions for actors and other artists.
CHRISTINNA CHAUNCEY ON-CAMERA CLASSES
10061 Riverside Dr., #489
Toluca Lake, CA 91602
info@oncameraclasses.com
www.oncameraclasses.com
(818) 720-3052
Limited class size, private coaching available.
Chauncey's Intensive On-Camera Workshop focuses on developing strong cold-read, audition, and on-camera skills specific to television. She has more than 15 years' professional experience in front of and behind the camera as an associate to a major casting office for pilots and series.
THE CIRCUS THEATRICALS STUDIO FOR ACTORS
P.O. Box 586
Culver City, CA 90232
www.circustheatricals.com
(310) 226-6144
admission by audition/interview only.
Jack Stehlin teaches an advanced scene study workshop with performance showcase that enhances the actor's ability to work anywhere; in theater, film, or television.
CLAY BANKS FILM ACTING STUDIO
137 N. Larchmont Blvd., #242
Los Angeles, CA 90004
www.claybanksstudio.com
(323) 578-1936
Can you hold frame? What is a film director ultimately looking for? Do you deliver effective emotional intensity in an ECU (extreme close-up)? This on-camera, no nonsense acting and audition technique is geared specifically for film acting.
JOEL COLMAN
actingworkshop@mindspring.com
www.professionalactingclass.com
(310) 454-1959
8-10 per class; auditing permitted by apointment.
Colman teaches acting from a working director's point of view, emphasizing comedy, voice correction, character analysis, timing, and auditioning.
CRAIG WALLACE AUDITION TECHNIQUE
www.wallaceauditiontechnique.com
(323) 960-7852
Wallace has parlayed his many years of experience as a producer, talent agent, and casting consultant into the creation of the "Wallace Audition Technique," which he says is a "rock-solid technique that ensures confidence and consistency in high-pressure audition situations," and allows actors to "convey their distinctive energy, own the room, and book the job."
CREATIVE COMBUSTION ACTING STUDIO
coach4actors@aol.com
www.ccactingstudio.com
(310) 285-6777
Private coaching also available.
Director and acting coach Joshua Finkel offers classes for actors and public speakers. All work is on-camera and taped.
LINDSAY CROUSE
lcwork@mac.com
www.lindsaycrouse.org
(310) 573-6288
Private coaching also available.
Crouse, an acclaimed star of film, television, and theater, offers classes that clearly define what the actor's job really is and show actors the high road - that acting is at heart a spiritual profession.
ROBERT D'AVANZO
rgd37@adelphia.net
(818) 508-0723
D'Avanzo describes his acting classes as "dynamic and thorough scene study classes where the actor works every week in a prepared scene." Work is based on the teachings of Uta Hagen.
DAVID KAGEN'S SCHOOL OF FILM ACTING
4854 Laurel Canyon Blvd.
Studio City, CA 91607
www.davidkagen.com
(818) 752-9678
Private coaching available; acceptance by audition; ongoing.
The Carnegie Mellon-educated Kagen has been teaching and coaching around the world and on movie sets for more than 35 years. His highly successful students include Ted Danson and Alec Baldwin, and he now offers ongoing on-camera classes.
DAVID LeGRANT STUDIO FOR ACTING
gwynn@studioforacting.com
www.studioforacting.com
(818) 506-0717
LeGrant has spent 60 years in show business. He accepts students by interview only.
ALBERT DAYAN
adayan@earthlink.net
(818) 314-7540
Dayan places an emphasis on craft and not industry concerns, and directs his actors to unsentimentally address their bad habits and expand their range.
THE DEE WALLACE ACTING STUDIO
www.dwsactingstudio.com
(818) 876-0386
Wallace's acting career includes memorable roles in such films as "E.T.," "Cujo," and "10," and work on such TV productions as "Sons and Daughters," "Crossing Jordan," "Cold Case," and "The Laci Peterson Story." Her classes have limited enrollment; loosely based on the techniques of Meisner and Charles Conrad, they focus on moving actors through blocks that stand in their way.
JUDITH DOTY-MORSE
(818) 766-5424
Private coaching also available; all levels; an interview is required.
Doty-Morse, a Stanford graduate and an actor with more than 150 roles on Broadway, Off-Broadway, in repertory, and in TV and film, has been a teacher for 30 years and a coach on numerous TV series and MOWs. She offers an ongoing weekly workout for professionals to refresh and develop their craft.
DOUG WARHIT ON-CAMERA COLD READING AND SCENE STUDY
dwarhit@aol.com
www.dougwarhit.com
(310) 479-5647
All levels; audits are welcome.
Warhit's classes are specifically designed to prepare the actor for work in film and television. Once a month an industry professional (agent, casting director, or manager) is invited to observe students' work and sit for a Q&A.
DUANE WHITAKER'S FILM ACTORS WORKSHOP
www.duanewhitaker.com
(323) 856-4767
Duane Whitaker brings years of practical experience as a working actor-writer-director to his workshop. The class is designed to teach a realistic and usable approach to the craft of screen acting.
WAYNE C. DVORAK
1949 Hillhurst Ave.
Los Angeles, CA 90027
www.actingcoachdvorak.com
(323) 462-5328
Free audit required.
Dvorak has been a teacher for over 20 years and holds a BFA and an MFA in theater. He teaches a full two-year professional level Meisner program.
EDGEMAR CENTER FOR THE ARTS
Michelle Danner And Larry Moss
2437 Main St.
Santa Monica, CA 90405
www.edgemarcenter.org
(310) 392-0815
Private coaching is available.
Beginner, intermediate, and advanced scene study and on-camera cold reading classes are offered Mon.-Sun. Also offered are voice, improv, and movement classes.
EILEEN-IVY
(818) 906-0935 or (818) 512- 5426
"For the Love of Acting" program with Eileen-Ivy, combines the dogma of Meisner, Hagen, and Adler, all of whom she has studied with. She is a 30-year veteran of TV, film, and theater, and was a regular on "The Waltons."
EITNER AND TAINI - SCENE STUDY CLASS
Don Eitner And Jayne Taini
5215 Lankershim Blvd., Studio B
North Hollywood, CA
jayne.taini@gmail.com
(323) 661-7885
16 students maximum, private coaching available; some experience required.
Don Eitner is the founder and artistic director of American Theater Arts Conservatory Theater and a member of the Directors Guild of America. Jayne Taini was a member of American Theater Arts and an associate artistic director of Triad Ensemble in Seattle. Class work emphasizes the development and personalization of characters, cold reading, play evaluation, and monologue.
ELEPHANT THEATRICAL - TRAINING LAB
elephantinfo@yahoo.com
www.elephantstageworks.com
(323) 962-1632
Elephant Stageworks provides a unique opportunity for a practical acting education. Actors are offered a professional and thoughtful approach to learning their craft.
ELIZABETH MESTNIK ACTING STUDIO
www.emasla.com
(323) 528-6280
Small classes; by interview only.
EMAS offers a variety of coursework while maintaining personal attention to each acting student. EMAS offers ongoing classes in the Meisner technique, scene study, and beginning acting.
ELLEN GERSTEIN - ACTING WORKSHOP
www.ellengerstein.com
(323) 852-0276
Small classes, private coaching available; all ages; interview required.
"Actors need to make their work as specific as possible-to create what goes on before they say the line, as well as the subtext," says actor-writer-director-producer Gerstein, a member of the Actors Studio's actors unit and the writer-director unit. Her classes and coaching include acting technique, scene study, cold reading/auditioning, and in-depth script analysis. Her professional classes are kept small, and students work every week. Actors are encouraged to make strong choices and to take risks. Students are accepted by private interview. Gerstein also teaches a children's class and offers private coaching for all ages.
VAN EPPERSON
ITA Workshop Academy
10820 W. Washington Blvd.
Culver City, CA 90232
vanepperson@sbcglobal.net
(310) 592-8675, (310) 839-8311 for reservations
Private coaching available; all levels.
Epperson has been a working professional actor for more than two decades, with extensive film, TV, and stage credits, as well as directing credits. He offers on-camera cold reading and audition technique classes
THE ERIC MORRIS ACTORS WORKSHOP
5657 Wilshire Blvd.
Los Angeles, CA 90036
www.ericmorris.com
(323) 466-9250
Private coaching available, small class size.
Morris' system is based on the Method, but, as Morris puts it, it "goes light-years beyond" the original Stanislavsky system. Morris is the author of five books about acting and teaches three classes each week; each is between five and six hours long.
J.D. FERRANTINO
www.screenactorsstudio.com
(310) 358-5942
See the Screen Actors Studio.
FIRST TAKE ACTING PROGRAM
Nancy Berwid
11967 Ventura Blvd.
Studio City, CA,
www.firsttake.org
(310) 364-0525
15-30 students per class; all levels; auditing is permitted.
Nancy Berwid's First Take Acting Program provides a holistic approach to acting. Along with a Method that students can use to hone their craft, Nancy provides a keen eye for logic, a sensitivity to human behavior as well as the human heart. She possesses a great understanding for the human experience, which she uses
to guide her students in performing their scene as true to life as possible. Belonging to a family closely involved in the Hollywood industry, students can benefit from learning the business aspects of acting as well, a knowledge imperative for any actor desiring to break into the competitive L.A. film and television market. Nancy's candor, coaching, and genuine interest in the careers, lives and well being of her students
have strongly contributed to the ongoing success and growth of her students. The First Take holistic approach prepares actors for work in film and TV by combining acting and audition technique, as well as instruction in the marketing and networking side of the business. Offers ongoing classes on scene-study and audition technique for all levels. Personal attention given to every student.
LESLIE FLEMING-MITCHELL
lesliefilm@yahoo.com
lesliefleming-mitchell.com
(310) 991-4162
2-6 per class, private coaching also available; interview required.
Fleming-Mitchell has worked extensively in front of and behind the camera as an actor, director, and casting director as well as acting coach. Small group classes address audition skills and scene work, with an emphasis on optimizing each actor's creative power.
NATALIE FORD
nfactingstudios@aol.com
(310) 428-1840
Small class size, private coaching available; interview required.
"So many acting classes cheat the actor, because all the teacher is doing is directing them," says Ford who teaches a foundation that gives the actor strength, courage, and imagination. She offers scene study technique classes and specializes in private coaching for auditions or set support.
MARILYN FOX
(310) 301-3971, ext. 10#, or (310) 820-7122
Marilyn Fox, artistic director of Pacific Resident Theater, offers classes on scene study, cold reading, improvisation, and strengthening imagination. Advanced classes focus on strengthening technique and ease in scene work, text analysis, and Shakespeare.
ELIZABETH GAMZA
studio@elizabethgamza.com
www.elizabethgamza.com
(818) 481-2774
Private and on-set coaching also available; auditing allowed.
Gamza says, "I have never met a human being who wasn't magnificent. If you're not as magnificent, full, and rich 'onstage' as you are offstage, something's not right." Classes focus on scene study, cold reading, and audition technique.
LAURA GARDNER
www.lauragardner.org
(323) 957-4764
Private coaching available; auditing is permitted.
Gardner trained with Carol Rosenfeld and Uta Hagen. Gardner teaches scene study and basic technique as well as interview/audition intensive workshops.
JOHN GEGENHUBER
(213) 248-9478
All levels.
Gegenhuber conducts intensive workshops in Spolin Improvisation, created by the visionary teacher Viola Spolin. A veteran of 20 years on stage, screen, and television, his classes emphasize applying improvisational techniques to scene work and audition technique.
GENE BUA - ACTING FOR LIFE
3435 W. Magnolia Blvd.
Burbank, CA
www.genebua.com
(818) 547-3810
Private coaching also available.
Bua offers ongoing morning and evening classes at his Acting for Life Theater in Burbank, that specialize in deep emotional work for those who "dare to become more powerful in their art and in their lives."
GLORIA GIFFORD CONSERVATORY
ggcreate@aol.com
www.gloriagiffordconservatory.com
(310) 535-4999 or (323) 465-4427
Private coaching available.
"We train professionals," says Gifford, a teacher for more than 20 years, and a working actor for over 30. GGC offers advanced scene study, intermediate, beginner, voice production, speech, cold reading on-camera, musical theater classes, and celebrity speakers and directors.
BRUCE GLOVER
(310) 398-2539
Private coaching available.
Glover recently completed his 71st film, playing father to his son Crispin Glover, and his 74th film, "Buffalo Bushido," in which he played three characters. Glover offers classes on cold reading, auditions, tapes, accents, and career counseling.
THE GOBETTI-ORMENY ACTING STUDIO
c/o Victory Theater Center
3326 Victory Blvd.
Burbank, AZ 91505
www.thevictorytheatercenter.org
(818) 841-4404
Maximum 16 students; free audit required.
Maria Gobetti, a working director, producer, and actor with over 25 years of teaching experience, is the co-artistic director of the Victory along with Tom Ormeny, and is a member of the DGA. The Gobetti and Ormeny classes include basic Meisner techniques, film and theater scene study, and an advanced character and comedy class with attention to on-camera techniques.
NIKOLAI GUZOV
12125 Riverside Dr.
North Hollywood, CA 91607
guzovclass@gmail.com
www.guzovactingstudio.com
(213) 448-7648, Fax: (818) 753-5203
Guzov, a Russian acting teacher originally from St. Petersburg, specializes in the Chekhov technique and offers private and group classes.
H2F COMEDY WORKSHOPS
Barbara Holliday and Dave Reinitz
3406 W. Burbank Blvd.
Burbank, CA 91505
www.comedycasting.com
(818)845-9721
All levels; no auditing permitted.
The H2F Comedy Workshops promote stand-up comedy as an art form, combining raw talent with technique. Classes focus on joke structure and building the basics of riffing, tagging, joke-writing, creating character, finding a voice, improv, sketch, and working the crowd. Additional workshops focus on emcee skills, breaking into the college market, producing live comedy events, and the business of comedy marketing and promotion. Founded in 1997, and operated by Barbara Holliday and Dave Reinitz, H2F began producing the American Comedy Festival's Comedy Contest at the Hollywood Athletic Club at Universal Studios City Walk, Los Angeles. Generating rave reviews, the contest evolved into its current incarnation, Uncle Clyde's Comedy Contest and has become the longest running and most successful comedy competition in Southern California.
HARRY MASTROGEORGE PROFESSIONAL WORKSHOP
600 Moulton St., Ste. 103B
Los Angeles, CA 90031
www.ameliaproductions.com
(323) 343-9102
The Harry Mastrogeorge Theater offers a professional workshop, as well as courses for beginners and intermediate-level students.
DANIEL HENNING
at The Blank Theater Company
classes@theblank.com
(323) 662-7734
Artistic director-producer of the award-winning Blank Theater Company, Henning teaches an ongoing scene study class that focuses on unlocking an actor's hidden potential through script and character analysis, voice and relaxation work, and skill work to get the job.
CANDY KANIECKI HERMAN
www.candykaniecki.com
(818) 753-5393 or (310) 656-7761
Free introductory audit is offered.
Longtime celebrity-coach Kaniecki Herman conducts audition technique and cold reading classes and offers private coaching. Semesters are 10 weeks, ongoing, with entry at any time.
BRUCE HERMANN
325 Vernon Ave.
2nd fl.
Venice, CA 90291
(310) 266-1930
Private coaching available.
Formerly of the Neighborhood Playhouse and winner of the 2005 Alumni Award for Distinguished Teaching at Ohio State University, Hermann offers scene study classes.
BASIL HOFFMAN
(818) 247-0302
Private sessions available.
Hoffman, a character actor and the author of "Cold Reading and How To Be Good at It," has worked with several distinguished film directors and is a longtime private acting teacher and lecturer at colleges and film schools including USC, AFI, and the Academie Libanaise des Beaux-Arts in Beirut, Lebanon. He offers classes on cold reading and professional acting.
HOLLYWOOD ACTORS STUDIO
Eric Stone
P.O. Box 570441
Tarzana, CA 91357
www.actingconnection.com
Studio: (310) 205-9219 Voicemail: (323) 460-2580
Toll-free: (877) 591-5400
Ongoing.
The Hollywood Actors Studio is a complete professional training ground that prepares actors for film, television, stage, voiceover and commercials. The studio also offers intensive private training and one-on-one workshops on cold reading scene study, performance, film and TV technique, in-depth character work, and improvisation.
HOLLYWOOD FILM & ACTING ACADEMY
1786 N. Highland Ave.
Hollywood, CA 90028
(323) 962-85554
The HFAA rogram is for beginning and advanced actors. Students who complete the program will be able to analyze scripts, find actions and objectives in their scenes, develop the sense of spontaneity needed to do improv, and develop self-presence. Actors will be able to build their character and be natural and believable in the process.
JAMES HONG
hongstudios@jameshong.com
www.jameshong.com
(323) 938-1490
Private coaching and consultation available.
With over 51 years in the industry, Hong, who played Lo Pan in "Big Trouble in Little China" and principal roles in "Blade Runner" and "Chinatown," offers intense training and analysis of acting, primarily Stanislavsky-based, including scene study and acting technique breakdown and improv.
HOWARD FINE ACTING STUDIO
1445 N. Las Palmas Ave
Hollywood, CA 90028
info@howardfine.com
www.howardfine.com
(323) 962-1488
An audit and industry referral are required.
Fine, who began his studio in 1985, is the former director of American Musical and Dramatic Academy's acting department. The studio curriculum includes comprehensive technique, and scene study.
ANNE HULEGARD
www.hulegard.com
(310) 621-6303
Private coaching available.
Hulegard is a professional actor, writer, director, and producer for stage, film, and television, with over 14 years' experience. Her workshops include: scene study, improv, monologue, commercial, stage, and the business of acting.
HULL ACTORS STUDIO
lorriehull@yahoo.com
(310) 828-0632
10 students maximum per class, private coaching available; free introductory class.
Mother-daughter team Lorrie and Dianne, offer classes and workshops for actors of all levels. They include relaxation, concentration, improvisation, sense memory, learning the role, motivating and justifying behavior, cold reading, audition techniques, and scene study.
INSTONE ACTORS STUDIO - NORA STONE
coach@instoneactorsstudio.com
www.instoneactorsstudio.com
(818) 888-3867
Private coaching available; introductory audit permitted.
Stone was the director of N.Y.F.A. film acting program and has been teaching since 1991. She offers technique, scene study, cold reading, and improvisation. For acceptance she requires an interview, a strong commitment, and coachability
THE IVANA CHUBBUCK STUDIO
7201 Melrose Ave., Ste. 206
Los Angeles, CA 90046
www.chubbucktechnique.com
(323) 935-2100
Auditing is available by appointment only.
Chubbuck has taught such actors as Brad Pitt, Jim Carrey, Charlize Theron, Matthew Perry, Jon Voight, Garry Shandling, Elisabeth Shue, Eriq La Salle, Kate Bosworth, Eva Mendes, Terrence Howard, James Franco, and famously Halle Berry. Her self-named technique guides actors how to use their emotions not as an end result, but as a way to empower a goal.
JAMES LEVINE TYPECASTING INC.
c/o 310 casting Studios
2329 Purdue Ave.
Los Angeles, CA 90064
www.typecastinginc.com
(310) 775-6616
Space is limited.
Levine is a 20-year veteran of commercials and owner of Typecasting Inc. He also works as a commercial director and teaches an ongoing commercial workshop that focuses on audition skills, improv technique, making better choices, and booking work.
JANET ALHANTI STUDIO
P.O. Box 17920
Beverly Hills, CA 90209
www.janetalhantistudios.com
(323) 465-7511
Private coaching available; students must be recommended.
Alhanti studied with Sanford Meisner and Phillip Burton. She teaches a professional 20-week technique class twice a year, in January and July, that involves exercises and scene work.
JEANIE HACKETT: SCENE STUDY AND AUDITION TECHNIQUE
The Deaf West Theater
5112 Lankershim Blvd.
North Hollywood, CA 91601
www.jeaniehackett.com
(818) 763-5933
Auditing is welcome.
Hackett, the co-artistic director of the Antaeus Company, and author of "The Actor's Chekhov" and "Toward Mastery," teaches a variety of classes in contemporary scene study and audition technique, as well as classical acting.
JEFF HARDWICK CASTING
12439 Magnolia Blvd. #296
Studio City, CA 91607
info@jeffhardwickcasting.com
www.jeffhardwickcasting.com
(818) 752-9898
Maximum 10 students, private coaching available; for professional actors only; no auditing; sessions three to four times a year.
A veteran agent and casting director with over 20 years experience, Hardwick offers intensive commercial and theatrical workshops that offer targeted techniques for auditioning actors to book the part.
JEREMIAH COMEY STUDIOS
www.jeremiahcomey.com
(818) 248-4104
All levels; auditing permitted with a fee.
Comey has been teaching film acting and training actors in Hollywood for the past 30 years. All classes are on-camera. He teaches his own approach called "The Art of Film Acting," which is also the title of his new book.
JILL PLACE BRANDACT BRANDING FOR ACTORS - COACHING AND E-BOOKS
The Acting Intuitive
1309 Montecito Dr.
Los Angeles, CA 90031
jill@actingintuitive.com
www.actingintuitive.com
(323) 225-9850
Place helps actors create their own personal brand and offers career consulting and headshot coaching. Place also publishes the e-zine Acting Magic and is a regular contributor to NowCasting.com.
JOANNE BARON/D.W. BROWN STUDIO
320 Wilshire Blvd., Ste. 200
Santa Monica, CA 90401
www.baronbrown.com
(310) 451-3311
The studio offers a variety of programs for the professional and select preprofessional actor, writer, director, and producer.
JOCELYN JONES
c/o The Macha Theater
1107 N. Kings Rd.
West Hollywood, CA 90069
jjonesstudio@aol.com
(310) 576-0545
40 students maximum per class, private coaching also available; all levels; no auditing; ongoing.
Jones is formerly of Milton Katselas' Beverly Hills Playhouse and a private coach to some of the best-known
film and TV stars in the industry. Class format is scene study with exercises as deemed appropriate for each particular student. Writers are also welcome.
JOEL ASHER STUDIO
13448 Albers St.
Sherman Oaks, CA 91401
www.joel-asher-studio.com
(818) 785-1551
Asher, who has been teaching and directing for over 30 years, offers three ongoing on-camera scene study classes ($250 per month), a cold reading class ($250 for six weeks), and an improvisation class ($250 per month). Class size is limited, so everyone works in every class. "I work with actors between classes at no charge," says Asher. "There are no limits to the time you can spend learning and doing, getting help with your career, or the techniques we use to get results." Asher's studio has produced the award-winning "Actors at Work" video series, "Getting the Part, Casting Directors, Agents, and Directors on Acting." Asher also produces state-of-the-art demo reels for actors. "I discover something new each time," says actor Nancie Rooney, a student of Asher's. "It makes sense to have many different tools. I am so eager to get to that next level."
JOHN KIRBY STUDIO
jkcoaching@sbcglobal.net
(323) 467-7877
Private coaching available.
One of Hollywood's most prominent acting coaches, Kirby has shared his expertise in all media and offers three intensive scene study classes as well as a new young professional's class that are disciplined and require strong commitment. Class focus is on Uta Hagen's fundamentals with emphasis on exploring a character, script analysis, and finding the human condition.
JOHN SUDOL ACTING STUDIOS
www.johnsudolstudio.com
(818) 505-1223
Private coaching available.
Located in Studio City, this is an industry-recognized training and career development studio for actors. It provides commercial and theatrical training, career guidance, one-on-one coaching, and the opportunity to build relationships and network with fellow actors in an intimate setting.
JROSE STUDIO
info@jrosestudio.com
www.jrosestudio.com
(323) 799-1183
Private coaching available; all levels.
Jamie Rose has been a professional actor in film, television, and theatER for over 25 years and has literally thousands of auditions under her belt. She has experienced it all, from generals and pre-reads to Network tests. In 2008 she added "Casting Director" to her resume when she cast a TV Movie for the SciFi channel and a Disney Web series. Her teaching methods are eclectic and practical, drawing from her 12 years of study with renowned acting coach Roy London, extensive study of Meisner technique, and professional experience. She offers scene study, audition workshops, and private coaching. Jamie understands the casting process from both sides of the table and gives students practical tools that take them from pre-audition to post-audition, and help book the job.
JUNE CHANDLER'S ACTORS WORKSHOP
at the Zydeco Studios
11317 Ventura Blvd.
Studio City, CA 91604
june.chandler@earthlink.net
www.junechandler.com
(626) 355-4572
Auditing is permitted.
Chandler and her staff of working professionals teach nearly 20 different classes allowing for individualized training programs and the development of well-rounded actors. Classes are "reasonably priced" with special referral credit, discounts, payment plans, and credit card options.
KATE McGREGOR-STEWART
Stage Light Inc.
6623 W. Olympic Blvd.
Los Angeles, CA 90048
herbalgirl7@aol.com
www.katemcgregorstewart.com
(323) 939-3384
All skill levels welcome.
McGregor-Stewart's acting technique and scene work (foundation and master classes) include style, characterization, script breakdown, and improvisation. She holds workshops in Denver, Vancouver, and New York, and is a sought-after media coach. She is a veteran Broadway-stage and screen actor, most recently seen in "Failure to Launch," "Nip/Tuck," and "Medium," and has worked with Nicole Kidman, James Gandolfini, Marisa Tomei, Woody Harrelson, and Oprah Winfrey, among others. She offers private coaching and will help select and direct monologues for auditions.
EDDIE KEHLER
www.eddiekehler.com
(310) 292-6163
Intermediate to advanced.
Kehler, who has been acting professionally for over 20 years, offers Stanislavsky- and Meisner-based classes that give actor tools and experiences to draw from and take command of their choices. Each student is guaranteed to work every class.
KEN LERNER STUDIO
www.kenlerner.com
(818) 753-7744
Private coaching also available; auditing by arrangement.
Lerner offers ongoing cold reading and scene study classes and private coaching in a challenging but nurturing style. Classes mix beginner to advanced, and cost $200-$250 a month.
KENT KLINEMAN ACTING STUDIO
3447 Motor Ave.
Los Angeles, CA 90034
www.kentklineman.com
(323) 665-6776
Private coaching available; free class audit.
Klineman studied with Sanford Meisner at the Neighborhood Playhouse and with Kristin Linklater as a member of Shakespeare and Company. He combines Meisner-based repetition and object work with Linklater voice work to enhance each student's creative impulses and produce truthful connection between scene partners.
JANICE KENT
janicekb@hotmail.com
www.janicekent.com
(818) 906-2201
Private coaching available.
With more than 30 years of experience as an actor, director, and coach, Kent designed her "Life Coaching" approach to aid the actor in understanding and identifying the fears and processes that block making risky choices bold and playful.
KIMBERLY JENTZEN - LIVING THE ART INSTITUTE
kjentzen@yahoo.com
www.kimberlyjentzen.com
(818) 779-7770
Private coaching available; auditing permitted.
"Young people put so much of their energy into getting themselves in front of people, and they've got nothing to show," says Jentzen. "They need to invest in themselves." A coach for more than 19 years and an award-winning director, Jentzen incorporates Chekhov, Adler, and Meisner techniques along with insights of her own. Her style is tough yet encouraging, with on-the-mark specifics that build confidence in her students. Her classes offer professional training in cold reading, scene work, monologue work, on-camera training, and improv, with an emphasis on individual attention, using techniques to assist actors with their imagination, concentration, emotional range, choices, and performance consistency. Actors are accepted by interview only. She also holds her Cold Reading Weekend intensive regularly, as well as her Essence Weekend ntensive. Jentzen's book "Acting With Impact" will be available soon.
IRIS KLEIN
(213) 612-5224
Klein, who studied with Sanford Meisner and Janet Alhanti, offers a scene study and technique class. She also coaches actors for theater, film, and television auditions.
MICHAEL KNOWLES
michael@7aproductions.com
Writer-director-producer Knowles offers private classes and coaching by interview. He feels exceptional acting teachers realize that for the most part teaching is not much more than providing an environment for students to develop trust in themselves which develops confidence. Each actors journey is their own.
LARRY BIEDERMAN - DIRECTING AND ACTING CLASSES
www.larrybiederman.net
(818) 486-6399
Biederman's approach is to identify each artist's unique skills, then guide them to use and express that individuality more fully. He also offers scene study classes.
LARRY MOSS STUDIO
Michelle Danner
2437 Main St.
Santa Monica, CA 90405
mdannerca@adelphia.net
www.edgemarcenter.org
(310) 392-0815 or (310) 399-3666
Private coaching is available; two hour informational sessions are offered weekly.
Taught at Edgemar Center for the Arts, this program offers ongoing scene study classes, cold reading on-camera (on big screen), improv/voice/children, character technique breakdown, and script analysis. Industry showcases twice yearly.
LAURA JAMES' THE ACTING WORKSHOP
laurajames100@aol.com
(818) 562-3075
Private coaching available; limited enrollment.
Teacher-director-actor James, who has worked professionally around the world, conducts ongoing workshops and private sessions offering a technique meant to "empower the actor to communicate as specifically, effectively, and as powerfully as possible."
LaVALLE ACTORS WORKSHOP
4645 Van Nuys Blvd., Ste. 202
Sherman Oaks, CA 91403
dlavalle19@yahoo.com
www.lavalleactorsworkshop.com
(818) 788-2183, Fax: (818) 788-6981
Small class size, private coaching available; free audit class.
LaValle teaches an eclectic technique melded from over 20 years of experience in stage, film, television, and commercial work. He teaches a way of "creating a character that draws from the vast experiences that each individual actor possesses."
NATALIA LAZARUS
(310) 656-8070, ext 14
Lazarus, founder of the Promenade Playhouse and Promenade Conservatory, is a graduate of the American Academy of Dramatic Arts, NYU film program, and the Sorbonne University in Paris. Her directorial skills assist actors in character interpretation and development, and sharpen audition techniques needed to book jobs.
LENA HARRIS STUDIO
Beverly Hills, CA 90210
www.lenaharris.com, www.youtube.com/lenaharrisstudio
(310) 226-7034
10-12 per class, private coaching available; all levels; auditing not permitted; ongoing.
Legendary actor Robert Wagner said it best:
"One of the requisites for an actor is to be able to take the words off the page and make them his own. Lena Harris makes that ever so easy."
Lena Harris, an award-winning actor, author and director, was awarded the Backstage West/Drama-Logue Award (Best Actress) for her role as Elaine Nevazio in Neil Simon's "Last of the Red Hot Lovers." She began her career as an actor, dancer and model, and trained to teach acting for years prior to opening her own school and workshop, 14 years ago. The Harris workshops consist of an on-camera basic boot camp for beginners and an on-camera technique "master class" for the advanced actor that are based on the Stanislavsky System and Sanford Meisner exercises. These techniques give actors the ability to be spontaneous, alive, truthful, and in the moment. Additional workshop techniques train the actor to look at a script, memorize it, break it down, and deliver a stellar performance, that results in getting the job. Actors work on monologues, dialects, and impediments (i.e.blindness or addiction), deepening their emotional preparation and making their actions specific. Actors are taught the Stanislavsky method of using physical actions to induce feelings and emotions. Each actor is filmed every week, providing actors cumulative and diverse scenes to show agents and other industry sources around the world via a state-of-the-art online broadcast platform, that provides the ability to email each individual scene as well. The studio is also available to writers and directors. Harris' book, "Twenty-Five 5-Minute Power Scenes," published by Smith and Kraus, can be purchased at Samuel French Bookstores and online at Amazon.com.
CATHLEEN LESLIE
cathleenleslie@earthlink.net
(310) 278-8113
Based on her studies with Lee Strasberg/ the Method and Stella Adler, and work with Elia Kazan, Leslie offers private coaching and weekly classes. She looks for students who have a true passion and desire to learn their craft.
LESSAC SUMMER VOICE AND BODY TRAINING WORKSHOPS
deb.kinghorn@unh.edu
www.lessacinstitute.com
(603) 862-1963
For almost 40 years, these workshops have offered intensive training in voice, body, and text exploration. Programs are intended for those in performance, in education, in broadcasting, or in communications.
LIGHTS, CAMERA, ACTING!
www.lightscameraacting.com
(714) 356-9800
LCA offers on-camera acting classes in Orange County for children, teens, and adults, taught by visiting professional actors from Los Angeles. Students learn audition and cold reading skills and basic acting techniques for commercials, TV, and film.
LINDA BERRY'S BERRYWOOD
Linda Berry
P.O. Box 251455
Glendale, CA 91225
info@berrywood.net
www.berrywood.net
L.A. (310) 410-1836, or S.D. (619) 507-6395
Private and on set coaching also available; beginning and intermediate; auditing not permitted.
Berry offers one-on-one training at her San Diego center and workshops in Los Angeles for beginning and intermediate actors. Training includes monologue work, on-camera cold reading, and scene study.
LISA DALTON STUDIOS INC.
info@lisadaltonstudios.com
www.lisadaltonstudios.com, www.chekhov.net
info@chekhov.net, lisa@lisadaltonstudios.com
Lisa Dalton is an award-winning international actor, teacher, director, producer, and is on the teacher certification board of the National Michael Chekhov Association. She offers courses in technique, cold reading, on-camera commercials, scene study, career management, promotional skills, and soap opera.
BEVERLY LONG
(818) 754-6222
Long has worked in casting since the mid-1970s, and has worked as an actor, agent, teacher and perhaps is best-known for her work with James Dean in "Rebel Without a Cause." Long offers classes in improv, commercials, television, and film.
LOS ANGELES ACTORS CENTER
14336 Ventura Blvd.
Sherman Oaks, CA 94123
www.laactorscenter.com
(818)562-0310
free audit class.
LAAC offers a broad range for all actors including foundation classes such as Meisner, industry nuts-and-bolts classes, and one-day workshops.
THE LOST STUDIO
130 S. La Brea Ave.
Los Angeles, CA 90036
(323) 933-6944
Call for interview.
Award-winning director Cinda Jackson offers scene study and sensory classes. Classes include a four-day-per-week intensive class of scene study, sensory, and improvisation.
LYNETTE McNEILL STUDIO
www.lynettemcneill.com
(310) 274-1085
McNeill offers classes "designed to meet a wide range of professional needs. Class offerings include scene study, technique, and audition preparation.
ROBERT F. LYONS
www.insideacting.com
(818) 766-6480
Lyons is a working actor-teacher who wants his students to "learn what to apply and how to apply with actual workable technique." Students who have studied with Lyons include Juliette Lewis, Heather Locklear, Danny Masterson, Clea DuVall, Jason Dohring, and many others.
MAKING IT ON BROADWAY
jodie@makingitonbroadway.net
www.makingitonbroadway.net
All age groups (13 and up).
Making it on Broadway is a a week-long intensive where students explore the realities of what it means to be a modern Broadway professional. Participating in classes taught by Broadway professionals, students have the opportunity to work with and perform for these pros from every aspect of the business including, casting directors, agents, Broadway stars, Tony winners, directors, music directors, conductors, producers, and composers. Student sharpen their acting, auditioning, vocal, and dance techniques. Over ten different core training classes are offered as well as master classes. Students are placed into classes according to age and experience and receive one-on-one feedback, as well as the opportunity to network and find real professional opportunities.
NED MANDERINO
Manderino Workshop
P.O. Box 27758
Los Angeles, CA 90027
ned@mandarino.com
www.manderino.com
(323) 665-0123
Limited to 12 students; reasonable fees.
Manderino has been a post-Stanislavsky acting coach in Los Angeles since the 1970s. He combines total Method principles that he learned initially from Stella Adler and from his close friends and mentors Lee Strasberg and Harold Clurman.
JEFFREY MARCUS
www.jeffreymarcus.com
(323) 965-9392
Private coaching available; auditing available.
Marcus incorporates spirit-enriching methods that takes actors off the page and into their hearts. He assists actors on TV, features, and stage and accepts referrals from agents, managers, and casting directors.
MARGIE HABER STUDIOS
Margie Haber
971 N. La Cienega Blvd., 2nd fl
West Hollywood, CA 90069
www.margiehaber.com, www.myspace.com/margiehaberstudios
(310) 854-0870
12 maximum per class; foundation, intermediate, advanced; no audting.
Margie Haber Studios offers on-camera audition technique and cold reading workshops. With more than 25 years of experience, Haber is an internationally renowned auditioning coach and has taught A-list Hollywood actors her technique that is based on her book, "How to Get the Part Without Falling Apart." Among her clients: Brad Pitt, Halle Berry, Vince Vaughn, Heather Locklear, Kristin Davis, Mariska Hargitay, and Molly Sims. All of the studio's instructors train in Haber's method, Stop Acting and Start Living the Life of the Person. Actors begin with taking an "intensive" course at their level, followed by an ongoing course. Intensives $500-$650, ongoing $250. Private coaching available. Before enrolling, students must attend orientations, held at the studio every Monday at 1:30 p.m.; bring a headshot and résumé.
MARNIE SAITTA and DON PHILLIP SMITH
(323) 654-8912
Private coaching available.
Saitta and Smith offer one-day workshops and ongoing scene study, cold readings, and on-camera technique.
KATHLEEN MAZZOLA
kathleenmazzola@hotmail.com
(310) 924-9380
Class size limited.
Kathleen Mazzola, artistic director at the Malibu Stage Company for eight years, is known for her simple, direct, and oftentimes hilarious method of teaching the art of acting. Her classes focus on improvisation, scene study, and preparing the actor for auditions and a professional career.
MEGAN FOLEY CASTING
www.meganfoleycasting.com
(818) 216-9350
Foley offers one-day commercial intensives, for adults and for kids.
THE MET THEATER
1089 N. Oxford Ave.
Los Angeles, CA 90029
mettheater@sbcglobal.net
www.themettheater.com
(323) 957-1152, Fax: (323) 957-1831
Private coaching available; auditing allowed.
The award-winning MET Theater, one of the longest-running Equity-waiver houses in Los Angeles, offers a selection of ongoing and semester-structured professional theater and film labs for actors, writers, and directors. Labs are led by such working professionals as Steve Whitaker, Susan Emshwiller, Bo Crowell, Rob Tobin, Flint Esquerra, Paul Koslo, and Caroline Ducroq.
MICHAEL D. NYE DYNAMIC ACTING
(818) 509-1629
Actor-director Nye ("Carnivàle") uses innovative warm-ups, exercises, and scenes to achieve more-dynamic, powerful, and consistent actor performances for film, television (including commercials), and stage. Nye's approach dramatically increases the actor's chances to bring fresh insights into his or her work.
MILLIE SLAVIN STUDIOS
www.millieslavinstudios.com
(310) 582-3485
Slavin's training includes extensive study with Uta Hagen and Roy London. She offers a variety of services for group or private instruction, including scene study, technique, cold reading, and preparation for auditions.
LAUREN PATRICE NADLER
lpnclass1@aol.com
(818) 202-0774
Private coaching available.
Nadler is a bicoastal director, actor, and coach-teacher who has also cast projects. She is actively directing independent films while teaching and consulting, and offers classes for all levels.
NEW YORK FILM ACADEMY
film@nyfa.edu
www.nyfa.com
(818) 733-2600
This academy offers one-year and short-term programs in directing for film, acting for film, screenwriting, producing, and 3-D animation and special effects. Year-round, summer, and evening workshops available, as are hands-on total immersion workshops. The academy now offers Bachelor of Arts and Master of Fine Arts degree programs. Located in Universal Studios; branches in New York and London.
NATALIJA NOGULICH
www.natalijanogulich.com
(323) 464-1222
Auditing allowed.
An award-winning theatrical producer-director and Broadway, TV, and film actor, Nogulich has been teaching acting for over 18 years and is the founder and artistic director of the Grace Players Theater Company in Los Angeles. She offers private coaching and scene study classes focusing on the Stanislavsky approach to acting.
ORANGE COUNTY PROFESSIONAL ACTORS' WORKSHOP WITH ELIZABETH KENT
ekent949@sbcglobal.net
(949) 675-3272
10 students maximum.
In addition to Kent's directorial credits for theater in Los Angeles and Orange County, she has over 16 years experience as an acting coach for film, TV, and theater. Her students have found professional representation through her annual actors showcase in Los Angeles.
ORANGE COUNTY SONG & DANCE CO.
5860 Westminster Blvd.
Westminster, CA 92683
www.orangecountysonganddance.com
(714) 897-4475
This company offers two summer sessions for ages 9 to young adult in acting for the camera, addressing script reading, camera presence, cold reading, and audition techniques. Character analysis and portrayal will be presented in an on-camera environment.
JOE PALESE
The Actor Space
14106 Magnolia Blvd.
Sherman Oaks, CA 91423
joepalese@theactorspace.com
www.theactorspace.com
(818) 754-4442
Private coaching is available; an audit is permitted, acceptance is by interview.
Actor-director-writer Palese teaches ongoing beginning, intermediate, and advanced classes at the Actors Space. Class focuses on scene study, improv, cold reading, and sensory work.
JEFFERY PASSERO
bluntproductions@aol.com
www.jeffpassero.com
(818) 506-8400
Auditing encouraged.
A casting director, producer, director, actor, and teacher, Passero offers scene study and audition technique classes and private audition coaching. He has a successful feature film casting career of more than 50 movies and began his acting career at the Roundabout Theater before taking over the casting there for two seasons.
THE PINE CREEK BLONDE ACTING STUDIO
Gene Desrochers
10951 Pico Blvd., Ste. 203
Los Angeles, CA
problemsolvergene@yahoo.com
(310) 709-6545
Private coaching available; audits allowed.
Desrochers has studied and performed for more than 12 years. He has a background in the Strasberg method with Chuck Marra, and he has studied at the Chubbuck Studio in Los Angeles and offers comprehensive, ongoing classes on audition technique, scene study, and career counseling.
PLAYHOUSE WEST SCHOOL AND REPERTORY THEATER
www.playhousewest.net
(818) 881-6520
Free audit required.
Founded by Robert Carnegie and Jeff Goldblum in 1981, the school takes an ensemble approach to teaching. The playhouse, which has a second North Hollywood location, Playhouse West Studio Two, also regularly develops and stages plays with members of the advanced technique class.
RANDOLPH STUDIO FOR ACTOR TRAINING
randolphstudio4actors@adelphia.net
(323) 882-6669
Small classes, private coaching available.
Kate Randolph runs her own studio in Hollywood, teaching concrete, universal tools, with an emphasis on finding joy in the work, "getting out of the head and into the heart and soul." Her class environment is supportive and nurturing, and at the same time pushes each actor to take risks and go beyond perceived limitations.
DALE REHFELD
www.daleyclass.com
(818) 986-9733
Private coaching is available.
Rehfeld combines a cold reading/acting class with a hands-on showcase in an effort to create "a supportive, intimate workshop setting." Invited guests include top filmmakers, producers, and casting directors from television and feature films.
THE RICHARD LAWSON STUDIOS AT THE BEVERLY HILLS PLAYHOUSE
c/o The Beverly Hills Playhouse
254 S. Robertson Blvd.
Beverly Hills, CA 90211
richard@richard-lawson.com
www.richardlawsonstudios.com
(818) 793 -8767
Private coaching available; no auditing.
Lawson is an award-winning actor-director with 30 years' experience, having appeared in more than 50 films, 100 TV shows, and 50 plays. He has taught at the Beverly Hills Playhouse for 25 years. He offers a course titled "The On-Camera Audition and Cold Reading Class," which provides DVD documentation to students by the course's end. All levels, taught in 12-week courses that must be started from the beginning; new classes are formed every four weeks. $900 per 12-week course. Also, 16-week Boot Camp Course for advanced actors with industry experience, $1,200. Deposit required to reserve a place.
RICHARD SEYD ACTING STUDIO
4949 Hollywood Blvd., Ste. 203
Hollywood, CA 90027
studio@seydways.com
www.seydways.com
(323) 668-1475
12 students per class; auditing is permitted.
"Richard Seyd knows what he's doing. You cannot do better," says Peter Coyote. In Seyd's ongoing labs actors are able to work on every aspect of their craft.
ROB REECE ACTORS WORKSHOP
www.methodacting.com
(310) 859-9696; in San Francisco, (415) 928-8929
Free audit.
Rob Reece is a 37-year veteran of film, TV, and theater. Based in Los Angeles with classes in San Francisco, Reece teaches Progressive Method Acting, which he describes as "in-depth instrument work, craft tools described and demonstrated, understanding tension, inspiration, character work, script analysis, and the unconscious creative process."
LISA ROBERTSON
info.lisarobertson@earthlink.net
www.lisarobertsonstudio.com
(310) 826- 7466
Private coaching available; intermediate to professional levels; audit is mandatory; headshot and résumé required for all audits, referral helpful.
Robertson is a well-known coach in feature film and television. A protégé of Larry Moss, with whom she trained for nine years, Robertson is also guest faculty at the Michael Howard Studios in New York, where she teaches on-camera audition intensives. She offers ongoing scene-study/technique class, with an emphasis on stage and film. Also weekend on-camera audition intensives.
RON BURRUS ACTING STUDIO
at the Pico Playhouse
10508 W. Pico Blvd.
Los Angeles, CA 90064
info@ronburrus.com
www.ronburrus.com
(323) 953-2823
Private coaching available.
Burrus Studio offers an ongoing foundation seminar, and seminars on rehearsal/performance, film character, on-camera auditioning, and the business of acting. Burrus emphasizes imagination as an actor's primary tool and the releasing of talent through understanding and actions.
AL ROSSI
(818) 902-1538 or (323) 953-4000, ext. 2975
12 students maximum.
Rossi, a veteran actor-director, is one of the most respected acting teacher-coaches in Los Angeles. He is head of acting at LACC's Theater Academy, the oldest continuous actor-training program on the West Coast. Shakespeare is his specialty.
THE SACRED ACTOR: THE UN-LA CLASS
Josh Galitsky
The Lounge Theater
6201 Santa Monica Blvd.
Los Angeles, CA 90038
josh@sacredactor.com
www.sacredactor.com
(310) 392-8212
Josh Galitsky, M.A., tells us he is a "vibrant, humorous, and empathetic acting teacher-director," who uses his 15 years of training and therapeutic skills to guide theater artists in the mastery of their art and craft. He uses his own methodology, The Process, to help each actor draw on his or her individual strengths and realize full potential for creative freedom and expression in a safe, fun, nonjudgmental atmosphere.
JOE SALAZAR
(323) 882-6433
Salazar offers ongoing beginning/intermediate and advanced classes and works with only those actors who are willing to put in the work required to seriously start or continue and acting career. Classes focus on scene study, monologue work, character creation, improvisational skills, and audition techniques that are designed to create the environment of auditions.
SAM CHRISTENSEN STUDIOS
10440 Burbank Blvd.
North Hollywood, CA 91601
www.samchristensen.com
(818) 506-0783, Fax: (818) 506-8941
Limited to 14 students; auditing is not permitted.
Christensen, a former casting director for "M*A*S*H," teaches ongoing classes that assist actors in becoming the most confident, powerful and compelling individuals they can be.
SANDRA K. HORNER PERFORMANCE STUDIO
skhperformance@aol.com
www.sandrakhorner.com
(818) 997-6740
Private coaching available.
Horner founded the Performance Studio in Minneapolis, and has taught there and in L.A. for over 17 years. She creates a supportive environment for the actor where she demystifies the Method and helps students build confidence through a solid understanding of the acting craft.
THE SANFORD MEISNER STUDIO
4150 Riverside Dr. Burbank CA 91505
Phone: (818) 335-1140
email: themeisnerstudio@yahoo.com
Sanford Meisner believed in inspiring humanity. The Sanford Meisner Studio in North Hollywood has taken that philosophy and made it its principle mission.  The studio believes human emotion fuels the soul to achieve greatness, guiding students to reach within their hearts and find the essence of their purpose.  Students are given a strong foundation so they may build for themselves a greater horizon.  The studio connects talent with desire and embraces students as members of an organization dedicated to honoring the lives of artists. Instructor Alex Taylor was the youngest and last teacher to have worked under
Sanford Meisner. He has performed in over 60 theatrical productions. Training begins with a three-month period of intensive improvisational work, including the "Repetition Exercise" in which actors learn to take the attention off themselves and put it on their partners' real behavior, and continues through levels of advanced intensives that are by invitation only.
Limited class size.
Application includes an interview.
SANTA MONICA PLAYHOUSE ACTORS' WORKSHOP
1211 Fourth St., Ste. 201
Santa Monica., CA 90401-1391
www.santamonicaplayhouse.com
(310) 394-9779, ext. 673, Fax: (310) 393-5573
Private coaching available.
"To the actor," says co-artistic director Chris DeCarlo, " class is that special environment we create for ourselves in which we may practice the ritual of discovering our creative being." That's the kind of environment DeCarlo strives to create at the Santa Monica Playhouse in this eight-week workshop that uses improv to teach actors to make powerful and immediate choices for auditions, as well as performance work, by unleashing creativity, developing exciting characters, and conquering the critic within. He is entering his 38th year as teacher of the workshop. Acceptance to classes is by interview.
DAVID NATHAN SCHWARTZ
info@davidnathanschwartz.com
www.davidnathanschwartz.com
(310) 435-4322
Schwartz helps the actor develop and define his or her own set of flexible and practical approaches to acting and the auditioning process. Classes, private audition coaching, and on-set coaching are available.
SCOTT COLOMBY WORKSHOP
www.scottcolomby.com
(323) 650-6472
Auditing is encouraged.
Colomby's workshop was originally conceived as a class geared toward the actor's personal growth within the confines of a scene study group, but now includes showcasing and production of plays.
SCOTT SEDITA ACTING STUDIOS
Scott Sedita
Tony Rago, administrator
526 N. Larchmont Blvd.
Los Angeles, CA 90004-1300
www.scottseditaacting.com
(323) 465-6152, Fax: (323) 465-6202
16 per class; beginning, intermediate, and advanced; limited auditing is permitted. Contact the studio for specifics.
Former agent and casting director Scott Sedita, the 2008 Back Stage Readers Choice winner for best acting coach, is also the author of the books "The Eight Characters of Comedy" and "Scott Sedita's Guide to Making It in Hollywood." The Sedita Studio is where the actor's craft and career come together. Sedita developed the careers of Matt LeBlanc, Courteney Cox, and Christopher Meloni among others, and has worked with such talents as Josh Duhamel, Chase Crawford, and Brandon Routh. Sedita is best known for his one day Comedy Intensive and Professional Audition Technique class. Todd Rohrbacher heads the comedy department and teaches the On-Camera TV/Film Comedy class. Deborah Quayle teaches the On-Camera TV/Film Drama class. Patrick Munoz teaches Nuts & Bolts, an Introduction to TV/Film Acting and provides training in voice and speech. Casting director Josh Rappaport teaches the On-Camera Commercial Intensive. Elizabeth Bauman teaches the on-camera kids workshop.
SCREEN ACTORS STUDIO
Sonia Darmei-Lopes
www.screenactorsstudio.com
(310) 358-5942
Private coaching available; all levels.
Darmei-Lopes has taught for more than 15 years and has worked in casting with agents and managers. Her classes include commercial and theatrical technique, and are geared toward "turning the creative potential of the individual student into a successful audition."
SHAWN NELSON ACTING STUDIO
c/o The Actor's Workout Studio
4735 Lankershim Blvd.
Studio City, CA 91602
shawnnelsonusa@yahoo.com
www.shawnnelson.info/coaching.html
(818) 762-8439
Small class size, industry referral only.
Nelson, a coach to stars, celebrities, and working actors on both coasts, teaches small, affordable classes for the professional actor.
KATT SHEA
P.O. Box 3195
Santa Clarita, CA 91386
www.kattshea.com
(661) 268-8611
Limited class size, private and on-set coaching available; all levels.
Well-known Peabody award-winning writer-director Shea offers scene study, script analysis, cold reading, and audition prep classes, as well as private coaching at her Studio City and Santa Clarita locations.
CLAIR SINNETT
info@actorsworking.com
www.actorsworking.com
(310) 606-5626
Sinnett has been an actor, SAG agent, casting director, and faculty member of universities and performing arts schools. She offers intensive two-day TV/film audition and marketing workshops, based on her book "Actors Working-The Actor's Guide to Marketing Success."
MELISSA SKOFF, C.S.A.
www.melissaskoff.com
(818) 760-2058
Private coaching available; an audition is required.
Casting director Skoff teaches cold reading and audition technique classes for working and advanced actors. She has cast more than 100 feature films, MOWs, pilots, and series. In 2001 she was named among Hollywood's Top 20 TV Casting Directors by Ross Reports. Classes are purchased by the month; an audition is required. Skoff also specializes in private coaching. Her experience covers drama and comedy, including sketch comedy. There is an emphasis on improvisation in the class, and she has worked with many well-known comics. Skoff has been a casting executive at Warner Bros. and Fox Broadcasting, as well as casting independently. She says she has a keen eye for talent and has cast such stars as Jennifer Aniston, David Spade, Lauren Graham, Harry Hamlin, Vince Vaughn, and Michelle Pfeiffer early in their careers. She says she creates a positive environment that encourages actors to challenge their skills and make exciting choices. Several industry professionals visit and work with the class. Skoff holds a B.A. in theater from UCLA.
SOUTH COAST REPERTORY
P.O. Box 2197
Costa Mesa, CA 92628-2197
www.scr.org
(714) 708-5577
All levels.
This respected Orange County theater has an extensive education program through the Theater Conservatory, directed by Hisa Takakuwa and includes a five-year Youth and Teen Program, and an adult program for those 18 and older.
SOUTHERN CALIFORNIA CHILDREN'S THEATER
Mo Caudell
P.O. Box 2023
Malibu, CA 90265
www.childrenstheater.tv, www.myspace.com/childrenstheater
(310) 456-1763
Southern California Children's Theater offers musical theater for children, teens, and adults. Newcomers work with professional actors.
STEPHANIE LLOYD ON CAMERA ACTORS' WORKSHOP
(949) 497-8274
Private coaching available.
Billed as "the L.A. Workshop in Orange County," Lloyd's actors training center focuses on talent development, career coaching, and establishing connections in the entertainment industry.
STEPHEN BOOK ACTING WORKSHOP
stephenbook@stephenbook.com
www.stephenbook.com
(323) 461-4263
Private coaching available.
Book, a former faculty member at Juilliard and USC, teaches improvisation technique in a workshop setting that is tailored for professionals.
STEPPENWOLF WEST
www.steppclasseswest.com
Jeff Perry and Tom Irwin of Steppenwolf grew up in an actor-driven theater where trust, challenge and practice led to individual and collaborative growth. The goal for their Los Angeles classes is to create an environment where an actors' work is respected and practicing craft is paramount.
STEVE EASTIN STUDIO
10107 Camarillo St.
Toluca Lake,, CA 91602
steve@eastinstudio.com
www.eastinstudio.com
(818) 980-9828
Private coaching available; auditing permitted, admission by interview only.
Eastin's studio in Toluca Lake offers evening and daytime ongoing classes for film and television actors with an emphasis on cold reading and audition technique. Classes are taught by veteran actor Eastin, who also teaches graduate directors at USC. In 2003 he appeared in "Matchstick Men," "Catch Me If You Can," and "A Man Apart," and in 2006 he was in "The Black Dahlia" with Hilary Swank; he has appeared in "Austin Powers," "Con Air," and "Field of Dreams." On television, Eastin has made more than 200 guest-starring appearances, most recently on "Gilmore Girls" and "Without a Trace." He has 20 years of teaching experience. Free audits are allowed, but admission to the classes, which are $195 a month, is by interview only.
STUART ROGERS' ACTING STUDIO
Theater Tribe
5267 Lankershim Blvd.
North Hollywood, CA 91601
www.stuartrogersstudios.com
(818) 763-3232
Private coaching available.
Rogers has taught for the last 10 years. He offers scene study for all levels.
STUDIO C ARTISTS
John Coppola and Michael Sonntag
www.studiocartists.com
(323) 988-1175
This all-encompassing acting studio offers a curriculum of acting classes, career-related seminars, and workshops. Teachers are industry professionals who use a formula that trains each actor to use and market his or her individual talents, assets, and personality.
SUSAN GIOSA'S ACTING WORKSHOP
c/o The Santa Monica Playhouse
1211 Fourth St.
Santa Monica, CA 90401
susan@susangiosa.com
www.susangiosa.com
(310) 828-8544
Private coaching available; some previous training required; auditing permitted.
Award-winning stage actor and coach Giosa trained extensively with renowned acting teacher Larry Moss. Giosa is on Moss' list of recommended teachers. Geared to the serious performer, her ongoing classes focus on scene study, emotional memory work, sensory work, script analysis, and advanced character work. She believes the ability to tap into and use your full emotional instrument on demand is essential for achieving truthful and compelling work. She teaches a warm-up that "helps remove your fears and inhibitions and releases your full creative potential." Classes are kept small, creating an opportunity for students to work every session "in an intimate and supportive environment." She graduated magna cum laude with a B.A./M.A. in drama/ theater from NYC University, trained at RADA in London, and worked with numerous award-winning playwrights, directors, and actors, including Neil Simon, Jack O'Brien, John Tillinger, Vincent Gardenia, Joanne Woodward, Jerry Seinfeld, Shelley Long, and Dennis Franz. Classes are ongoing and held at the Santa Monica Playhouse. Giosa offers a new teen summer class in August.
JOHN SWANBECK
1731 N. Normandie #19
Los Angeles, CA 90027
www.swanbeckstudios.com
(310) 722-8463
Director of "The Big Kahuna," starring Kevin Spacey and Danny DeVito, Swanbeck offers classes limited to five people. Instruction includes how to command the camera, and how to be more powerful onscreen.
TAKE AFTER TAKE
dennis@takeaftertake.com
www.takeaftertake.com
(310) 601-3088
Veteran actor-producer-director Dennis Sakamoto offers two one-day professional workshops to prepare actors for the reality of acting on a film set.
TED BRUNETTI STUDIO
ted@@tedbrunetti.com
(310) 403-0123
8-12 per class, also private coaching; call for free audit, enrollment by interview and referral only.
Uta Hagen's protege for over 18 years, Brunetti works as faculty, guest faculty, coach, and director at prestigious directing and acting programs and institutions across the U.S. including the USC School of Cinematic Arts (graduate and undergraduate film directors); USC's Peter Stark Program (graduate producers); The American Film Institute (directors and producers); and Occidental College (directors). His acting programs include: the Ted Brunetti Studio (L.A.); H.B. Studio (NYC); the American Academy of Dramatic Arts; the University of North Carolina School of the Arts; Carnegie-Mellon University; Bennington College; South Carolina Governor's School for the Arts; SAG Conservatory (Hollywood and Las Vegas); Pittsburgh Public Theater; Actors' Theater of Atlanta; and Howard Fine Acting Studio (LA). Brunetti also worked for seven years at ABC Primetime Casting in NYC under Alexa Fogel and Bob Huber (now VP of Casting at Fox), and is an invited guest of the Actors' Studio, as well as director of Ovation-nominated "Boys Next Door." Ted also studied with: Mike Nichols; Austin Pendleton; Horton Foote; Stiller & Meara; Francis Sternhagen; Elizabeth Wilson; F. Murray Abraham. He earned a BFA from the North Carolina School of the Arts; Carnegie-Mellon; was an invited guest at the Actor's Studio, and is a recipient of an NEA Achievement in the Arts Award. As an actor, Ted has worked with: Diane Paulus, Rob Marshall, Jerry Zaks, Al Pacino, Whoopi Goldberg, Donald Petrie, Mark Brokaw, Nicholas Martin, Graciela Daniele, Uta Hagen, Pat Birch, Joel Walker, Steven Sondheim, Flaherty & Aherns, Paul Gemignani, Dana Ivy, and many other productions including Playwrights Horizons, Lincoln Center, Kennedy Center, B.A.M., the O'Neil Center, Hartford Stage, Pittsburgh Public Theater, H.B. Playwright's Theater, Bucks County, Falmouth and Pocono Playhouses, Dorsett Theater Festival, WestbankTheater Center, and Riverwest Theater. As a coach and assistant, Ted has had the honor of working with: George C. Scott, Jack Lemon, Uta Hagen, Drew Carey, Wanda Sykes, Mike Epps, Nichole Tom, Tyra Banks, Mya, Busta Rhymes, Mark Feuerstein ("Royal Pains"), Bob Koherr, Valarie Pettiford, and many other renowned actors, athletes, and musicians. Brunetti works with the major networks, studios, casting directors, agents and managers, preparing clients for auditions and performances on-set/on-location. His classes focus on the "practical professional skills and awareness" needed to build bridges from the classroom to the professional workplace, and how to "prepare to work, not audition." Currently he is the creator and executive producer of a television series/ multi-media project in development.
TERRY BERLAND - BERLAND CASTING
Terry Berland
c/o 310 Casting Studios
2329 Purdue Ave.
Los Angeles, 90064
www.berlandcasting.com
(310) 775-6608
Berland teaches an on-camera technique workshop designed to enable talent to give the small commercial space multiple dimensions and reveal depth and layers of their personality in less than 30 seconds. She says, "through becoming familiar with how to utilize space, beats, and moments, talent will then have control of their audition and be able to apply who they are and how they feel to any given situation. The end result will be a performance that is connected and involved in the scene, as opposed to a sell." Berland is a Cleo Award-winning casting director who has been casting commercials for more than 20 years, co-author of the book "Breaking Into Commercials," and called on nationally to teach commercial acting. In L.A., she offers a six-week on-camera workshop.
THEATER GROUP STUDIO
Lorinne Vozoff, Artistic Director
2653 S. Robertson Blvd.
Los Angeles, CA 90034
www.theatergroupstudio.com
(310) 839-9771
All levels.
Theater Group Studio Los Angeles teaches Method acting using the technique of objective, problem, and action, along with the "inner creative state," "super objective," and "core" as defined by Stanislavsky.
THEATER WEST ASSOCIATE PROGRAM
3333 Cahuenga Blvd. W.
Los Angeles, CA 90068
(818) 851-4839
Audition is required.
This program provides a weekly three-hour class conducted by Laura James, professional director-teacher-actor. Theater West has been a professional actor-membership theater for approximately over 45 years.
TIGERTAINMENT STUDIOS
create@tigertainment.com
www.tigertainment.com
(310) 287-1500
Director-producer Michael John 's studio offers acting workshops in cold reading, improv, scene study, audition techniques, and stage combat.
MARK TILLMAN, CSA
www.tillmancasting.com
(310) 557-2565
From "MacGyver" and "Stephen King's: It" to MTV's "Undressed" and "The Andy Dick Show," including award-winning indie films, Tillman has been casting for 25 years. He cast actors such as Cuba Gooding Jr., Hilary Swank, Brittany Murphy, and Adrien Brody early in their careers. Classes focus on understanding the character, freeing emotions, and strengthening communication to help his students in the audition.
TIM PHILLIPS STUDIO-L.A.
www.timphillipsstudio.com
(310) 772-8262
Private coaching sessions available; interview and referral required for all classes.
Phillips worked as an actor with Meryl Streep, Robert Duvall, and Klaus Maria Brandauer, and ignited the careers of Wendie Malick, Nancy Travis, and Richard Schiff, to name a few. He currently has three ongoing audition classes, monthly lectures, and a quarterly scene study class with an invited presentation at the end.
TOM TODOROFF STUDIO
www.tomtodoroff.com
(310) 428-3388
"Are you ready to change your life?" asks Tom Todoroff. "Train with those who have manifested professional work themselves." He says his actor training will put you on track and provide you with a personalized road map to reach your highest potential. He has directed, coached, produced for, or acted with Harrison Ford, Tommy Lee Jones, Kevin Costner, Helen Hunt, Samuel L. Jackson, Gwyneth Paltrow, and Liam Neeson, to name a few. Evening and daytime classes available. Actors work on scenes, monologues, audition pieces, cold reading, and on-camera technique.
TONY TORRISI'S ACTING WORKSHOP
(310) 569-1439
Private coaching available; auditing okay.
A member of the Actors Studio, having studied with Lee Strasberg in New York, Torrisi came West to work in TV. A 35-year acting veteran, he has been coaching fellow actors for 12 years and now teaches small ongoing classes in West L.A., covering cold reading, improvisation, scene work, and camera technique, for "a well-rounded approach."
THE TOTAL WORKSHOP FOR ACTING, CREATED BY MICHAEL SAVAGE
www.thetotalworkshopforacting.com
(818) 762-5769
Private coaching is available.
Savage is an alumni member of the Tony Award honoree The Acting Company, founded by John Houseman and Margot Harley and a former star of "General Hospital."
TVI ACTORS STUDIO
14429 Ventura Blvd., Ste. 118
Sherman Oaks, CA 91423
www.tvistudios.com
(818) 784-6500
All levels.
Founded in 1986, TVI Actors Studio is a nationwide resource and training center for professional and aspiring actors with studios in Los Angeles, New York, and Chicago, and conducts programs abroad at campuses in London and Sydney. TVI offers comprehensive and affordable acting classes, workshops, and seminars in all of its locations, including acting for film, television, and musical theater.
UCLA EXTENSION DEPARTMENT OF ENTERTAINMENT STUDIES AND PERFORMING ARTS
www.uclaextension.edu/entertainmentstudies
(310) 825-9064.
This program offers a diverse and comprehensive acting curriculum taught by industry professionals. Courses cover all aspects of the business, from handling weaponry onstage to managing a career.
THE VALLETTA WORKSHOP
Al Valletta
www.vallettaworkshop.com
(760) 941-3208
Valletta has taught acting for film and TV for over 30 years in the Los Angeles, Orange County, and San Diego areas. His workshop offers ongoing 12-week programs on film and TV acting, with showcases presented at the end of each semester.
THE VINCENT CHASE WORKSHOP
7221 W. Sunset Blvd.
Los Angeles, CA 90046
vcworkshop@sbcglobal.net
www.vincentchaseworkshop.com
(323) 851-4819
Private coaching also available for auditions and film assignments.
The former resident acting coach of MGM and Universal studios, Vincent Chase, along with Royal Shakespeare alumnus and current TV/film actor Morgan Sheppard, hold classes six days per week. Each student has 50-plus small-sized, mainly taped sessions available monthly at a current fixed rate of $360. These include scene study, cold reading labs and techniques, dialects and speech, commercials, comedy, improv, camera techniques, acting theory, and industry seminars, plus private coaching for auditions and film assignments.
THE VISION ACTING STUDIO
Justine Visone
(818) 506-4302
Interview required.
Visone teaches an acting workshop with partner Kurt Sinclair, an actor-teacher, using the Meisner technique word games (the repeat), improvisation exercises, monologues, and cold reading on-camera to record progress. Workshops include professional guest speakers and a professional showcase.
DERYN WARREN
deryn@sbcglobal.net
www.derynwarren.com
(323) 936-0195
Private coaching available.
Warren, a film director-writer-actor, offers ongoing classes in audition and film technique, based on Michael Shurtleff's book "Audition." Small classes include script analysis, improv, and cold readings.
DEBRA WATSON
www.yellowrosesproductions.com
(310) 500-6727
Watson, a private coach for adults, teens, and kids, teaches in the Beverly Hills area. She offers basic cold reading techniques for beginning and advanced actors which include character development and script analysis.
WCI STUDIOS-BILLY COWART
7542 Collett Ave.
Van Nuys, CA
billy.wcistudios@mac.com
www.wcistudios.com
(310) 230-5358
Private coaching available; all levels, serious students only; auditing permitted.
WCI will contradict everything you've ever been told about acting and it will confirm everything you suspected to be true," says Cowart. He leads a staff of working actors, casting directors, directors, and a therapist. Courses include on-camera auditions, "Frozen Readings," "Nailing the One Line-Wonders," script analysis, monologues, improv, commercials, goals-vision-mission-intensive, and marketing.
WEIST-BARRON-HILL ACTING FOR TELEVISION AND FILM
4300 W. Magnolia
Burbank, CA 91505
www.weistbarronhillacting.com
(818) 846-5595
All ages; auditing is permitted.
The first on-camera workshop in the country started as Weist/Barron 50 years ago in New York; Lyle and Andrea Hill opened the Burbank branch 29 years ago. Soap producer Lyle B. Hill and former commercial casting director and psychologist Andrea Hill teach an array of on-camera classes, but the centerpiece is the duo's 10-session commercial TV workshop. "We use our own cold reading technique, devised over the years," says Andrea. The workshop culminates in an industry showcase. Lyle teaches an ongoing TV, film, and soap opera class. In the children and teen division, producer Tony Christopher and manager Doug Murphy teach workshops for kids. Auditing of classes is fine.
WENDY HAINES IGNITE YOUR CAREER WORKSHOPS
www.wendyhaines.com
(310) 395-3246
Private coaching available.
Haines ("ER," "The West Wing," "Art School Confidential") developed a system to master the "inner game" of succeeding as an actor. "Discover what holds you back, effectively move beyond what keeps you stuck, and set goals to achieve what you want," she says.
CARYN WEST
carynwest@mac.com
groups.yahoo.com/group/carynwest-actorsla
(323) 876-0394
Private coaching available.
Agents and managers refer most of her students, West says. She coaches many well-known working actors. Advanced scene study (co-taught with Jessica Kubzansky) is limited to 14 and by industry referral only. In West's 11-week audition skills sessions and in her private coaching, the emphasis is on preparation, in-depth script analysis, understanding different theater and camera genres, goal setting, professionalism, creative risk-taking, the essential uses of breath, and the "freedom to play," and simulating all aspects for a real audition, not just reading the text. West, a working actor and director with extensive TV, Broadway, and regional theater credits, has taught for 20 years in New York at Michael Howard Studios (and still teaches there twice a year). Her studio is in West Hollywood. Private coaching is $90 for 75 minutes and $75 per hour to current students. She offers classes in late Jan.-May, late Aug., and early Sept.
WILLIAM ALDERSON STUDIO
1103 N. El Centro Ave.
Hollywood, CA 90038
www.aldersonstudio.com
(323) 466-0799
16 students maximum; acceptance into class is by interview only.
A successful New York actor who studied with Sanford Meisner, Alderson began teaching at Meisner's insistence and served as his assistant and associate director at the Neighborhood Playhouse for more than 20 years. Alderson came to Los Angeles in 1994 and now offers the Meisner technique in its intended two-year study period. He describes his as a "technical approach that teaches the actor specific tools so he can organically work out of himself. To act from the inside out is not easy, but once that is learned, it becomes like a religion to the talented actor, and he will not settle for less." Classes meet twice a week, and include a number of exercises that act as steps for actors to use in their instinctive and intuitive approach to character. Private audition and on-set coaching is available.
ART WOLFF
(323) 227-8363
As a teacher, Wolff spent seven years on the faculty of NYU's Tisch School of the Arts, as a director, he's helmed 15 TV pilots (including "Seinfeld") and five Broadway plays (including Penn & Teller). Academy Award winner Sean Penn said Wolff "has a special gift for getting the best out of an actor's talent."
THE WORKSHOP WITH ELIZABETH PAYNE
Sidewalk Studio Theater
4150 W. Riverside Dr.
Burbank, CA 91505
elizpayne@sbcglobal.net
www.theworkshopla.com
(323) 644-3380
Private coaching available; auditing is encouraged, interview is required.
Payne's practical approach to training helps actors identify their casting, play to their strengths for auditions, establish a professional game plan, and make their work stand out from the crowd. Class time is devoted to a combination of group and individual exercises and scene study.
WYNN MARLOW ACTORS WORKSHOP
(310) 470-7973
Private coaching and audition preparation available.
In the tradition of Michael Shurtleff, Marlow offers scene study and cold reading classes based on the "12 Guideposts" laid out in Shurtleff's acclaimed book "Audition." Marlow teaches actors at all levels how to ask the questions and make the choices that produce the truest, fullest, and most compelling work.
CLASSICAL
This listing includes coaches and institutions that almost exclusively teach approaches to classical work, especially but not exclusively Shakespeare. Many conservatories listed under "Acting Schools," as well as in other categories, also offer specialized classes in classical work. Check other categories for details.
THE ANTAEUS ACADEMY
4916 Vineland Ave.
North Hollywood, CA 91601
antaeusacademy@sbcglobal.net
www.antaeus.org
(818) 506-5436
Auditing welcome.
The Antaeus Academy offers advanced training in the classics to actors ages 18-35. A project of the Antaeus Company, the academy trains actors in classical styles in a series of 12-week scene study workshops. Classes meet weekly and are moderated by a rotating group of Antaeus Company members, directors, and acting teachers. Moderators have included: Andy Robinson, Daniel Sullivan, Dakin Matthews, Alfred Molina, Annette Bening, Gregory Itzin, Stephanie Shroyer, Tom Moore, Olympia Dukakis, Brendon Fox, Jonathan Lynn, Art Manke, Sabin Epstein, Jessica Kubzansky, Jeffrey Nordling, Andrew Barnicle, and Kate Burton, among others. Antaeus co-Artistic Director Jeanie Hackett hosts each session. Each workshop culminates in a scene presentation for invited guests, and actors who complete two 12-week sessions become eligible for promotion into the Antaeus Academy Company. All actors participating in the classical styles are eligible for casting in Antaeus Company readings, workshops, and productions. Admission to workshop by audition only; will consider professionals and beginners with strong potential. $400 if paid in full; $150 per month.
JENIFER PARKER - NO FEARE SHAKESPEARE
nofeare@aol.com
(626) 398-6301
Parker offers private coaching for auditions, workshops, and classes in classical acting. For more than 15 years, she has taught techniques designed to help the contemporary actor become more confident in handling Shakespeare, including scansion, text analysis, historical context, characterization, vocal techniques, and period customs and mannerisms.
A NOISE WITHIN
234 S. Brand Blvd.
Glendale, CA 91204
education@anoisewithin.org
www.anoisewithin.org
(818) 240-0910, ext. 5
A Noise Within is one of only a handful of theaters in North America that maintain a resident company performing in rotating repertory on a year-round basis. The internship program, offered in fall and spring, provides an opportunity for developing actors and technicians to immerse themselves in every aspect of repertory theaters and to work side by side with professionals to hone their skill.
SHAKESPEARE SURVIVAL SCHOOL
Kate Geer
shakespearesurvival@mac.com
(310) 455-4295
Limited enrollment, private coaching available.
Kate Geer, an actor with extensive theatrical credits, is a founding member of both the Will Geer Theatricum and the Carousel Stage. Geer directed "The Taming of the Shrew" in Griffith Park, where four of her students were cast. The production was free to the public. Geer plans to continue to present more free offerings of Shakespeare performed for a live audience. She offers Shakespeare workshops that stress a solid, technical foundation in the classics. Students will leave her workshops with two, contrasting monologues. Geer says once you've "conquered the classics, the rest is easy." Workshops require a minimum two-month commitment.
WILL GEER THEATRICUM BOTANICUM ACADEMY OF THE CLASSICS
Ellen Geer, artistic director
1419 Topanga Canyon Blvd
Topanga, CA 90290
academy@theatricum.com
www.theatricum.com
(310) 455-2322, ext. 222
This summer repertory company and 300-seat outdoor amphitheater in the Santa Monica Mountains is also home to a professional theater training program that was launched more than 30 years ago by actor-director Ellen Geer. For adults, offerings include a five-week, 90-hour summer Intensive Shakespeare Seminar; a four-weekend, 65-hour winter Intensive Shakespeare Seminar; spring and summer eight-week Shakespeare scene study and monologue workshops; a winter eight-week master class in classical theater (taught by Ellen Geer); a variety of technique workshops (improvisation, fencing, Alexander Technique, rhetoric, text analysis, period movement, voice, and speech), as well as an Equity-candidacy Acting Internship Program. All instructors are working professionals in the theater world. Youth and teen classes and summer camps are also offered.
COMEDY AND IMPROV
This listing includes standup comedy workshops and coaches, as well as classes and teachers who use improvisation, comedic or not, as a tool to create characters and develop material. In general we have not included those that use improvisation primarily as an acting exercise, though this distinction is often hard to make definitively. Check other categories for more details.
ACME COMEDY THEATER
135 N. La Brea
Los Angeles, CA 90036
www.acmecomedy.com
(323) 525-0233
Maximum 20 per class; all levels, some classes require an audition; auditing with permission.
ACME offers improv, sketch, and stand-up classes for all levels, including improv and sketch fundamentals, as well as advanced classes. The "Elements" and "Advanced Improv" series are four week blocks that can be taken at any time, with "Elements" eight weeks total, and "Advanced Improv" 12 weeks. Students are encouraged to take the full series, but transfer credit from training at other recognized improv schools is negotiable. The improv performance class teaches ACME's signature "Soap Opera" format, including character development and pitching, costume selection, and format structure. The 12-week class includes a performance on the ACME stage using characters developed in class. The sketch performance course is ACME's most intensive class. Students write, pitch, and perform three sets of three-week shows, over the course of an 11-week period. Students can perform every week - but not all sketches are approved, so collaboration is encouraged. The sketch comedy writing course is a collaborative class series that includes a show on the ACME stage, using sketches written in the class. ACME also offers a four-week "Stand-up Comedy Course," which includes one-on-one instruction, group sessions, and a performance at the end of the course. Each student receives a DVD of their final performance. ACME additionally offers a 12-week performance lab ($575) focusing on performance skills that requires an audition.
ACTORS IMPROV STUDIO
10707 Magnolia Blvd.
North Hollywood, CA 91601
www.actorsimprovstudio.com
(818) 790-3413
A free audit is permitted.
Bill Applebaum, founder of Actors Improv Studio, is a Chicago Second City alumnus with more over 20 years of teaching, direction, acting, and writing experience in stage, film, and TV. He offers ongoing improv workshops that help actors and writers become more creative, spontaneous, and relaxed.
BANG COMEDY THEATER
457 N. Fairfax Ave.
Los Angeles, CA 90036
www.bangstudio.com
(323) 653-6886
14 students maximum; auditing available.
L.A.'s oldest home of long-form improv, Bang's conservatory has been training Los Angeles actors (including some of the stars of "Desperate Housewives," "The Producers," "Quinceañera," and more), writers, and innocent bystanders for more than a decade. Bang is known for bringing truth to actors' comedy and its continuing semester-based improv classes take students from basics through complex character work and long-form improvisation in a little over a year.
BARB & STEVE NORTH'S COMEDY WORKSHOP
www.funnycoach.com
(818) 347-5098
Steve North ("the Comedy Coach") and his wife Barb's Comedy Workshops offer a complete comedy development environment from beginner to professional, including private lessons and three levels of workshop/performing groups. The workshops focus on the North's "comedic character" method of training performers to be comedians rather than comics, students regularly perform in the "Beyond Standup" show,
ANNE BEATTS
beattsclass@aol.com
(310) 273-1637
Beatts, the Emmy-winning original "Saturday Night Live" writer, teaches sketch comedy writing-performing in an intensive five-week course of weekly three-hour sessions that includes Internet guidance and culminates in a professional-level performance for an invited audience in a recognized comedy venue.
BOBBIE OLIVER - STANDUP ACADEMY
Bobbie Oliver
Ice House Comedy Club Main Room
24 N. Mentor Ave.
Pasadena,
bobbie@bobbieoliver.net
www.standupacademy.net
(323) 697-8287
Private lessons available; auditing is allowed; ongoing.
StandUp Academy graduates have gone on to appear on "The Tonight Show", Bravo, E!, the Aspen Comedy Festival stage, and more. Veteran comedian Bobbie Oliver teaches ongoing standup comedy classes in eight-week sessions. Over 200 L.A. comics have studied with Oliver. Private lessons are also available. Classes end with a graduation show in the Ice House main room.
TERRY BOLO
(323) 650-5968
Small class size.
Bolo was an original founding member of the Groundlings. Her half-day crash course in improv, designed for actors at any level, familiarizes people with the rules and structure and helps writers and comics develop material.
COMEDYSPORTZ LOS ANGELES
www.comedysportzla.com
(323) 871-1193
Limited class size.
This approach to improvisation organizes teams of performers in athletic-style competition. L.A.'s own 18-plus-years professional team offers beginning, intermediate, and advanced improv workshops, plus a Sunday Team that performs for the public. Workshops run in eight-week cycles, with discounts available.
THE EMPTY STAGE IMPROVISATIONAL COMEDY THEATER
www.emptystage.com
(310) 470-3560
One-time registration fee required.
Empty Stage offers basic and intermediate improv classes as well as drop-in advanced classes. There are weekend performances by the Waterbrains, the Transformers, Vodka and Donuts, Pop, Fortune Room, and Being Humans, as well as sketch shows on Thu. at 8 p.m., featuring members of the improv classes.
THE GAY MAFIA IMPROV COMEDY WORKSHOP
www.thegaymafia.net
(323) 634-2820
This workshop is led by Mike Player, director and head writer for the improv/sketch comedy troupe The Gay Mafia and a graduate of the Warner Bros. Comedy Writers' Workshop. All levels are welcome, sketch writing and standup instruction are also available.
THE GROUNDLINGS SCHOOL
www.groundlings.com
(323) 934-4747
This 30-year-old sketch comedy institution, home of the famous Groundlings performing troupe, offers improvisation classes in a "safe, structured, supportive" atmosphere. Students must audition into a basic level, which teaches the fundamentals of improvisation, a guide to improvisational choices, and self-confidence through the use of theater games and improv exercises, priced at $450 for the 12-class session. Students may also take a beginning-level class as part of the Groundlings Extension courses (no audition required), which introduces the rules of improvisation, priced at $225 for six sessions. The second intermediate level, writing lab third level, and an advanced fourth level require instructor approval. The classes are taught by current Groundlings and alumni. Sessions begin every six to 12 weeks; specific registration dates are available on the website or telephone line.
HARVEY LEMBECK COMEDY WORKSHOP
Helaine Lembeck, Artistic Director
www.harveylembeckcomedyworkshop.com
(310) 271-2831
Private coaching available; audits by arrangement only.
Emmy-winning director Michael Lembeck and his sister Helaine Lembeck took over these comedy classes 22 years ago, 19 years after the late Harvey Lembeck began the workshop. The workshop has three levels but is aimed at the trained working actor who wants to specialize in comedy. The workshop is designed to teach the actor how to play comedy legitimately in a scene. It uses improv as a tool to enhance comedic skills for sitcoms, TV, and film. The students participate onstage three or four times each night. Audits by arrangement only. Critiques by teacher only. Private coaching available. Former students include Robin Williams, Penny Marshall, John Ritter, Kim Cattrall, Bryan Cranston, John Larroquette, Jenna Elfman, Ted McGinley, Marilu Henner, Mary Kay Place, Lenny Clark, Alan Rachins, Scott Baio, David Leisure, Sally Kirkland, and Sharon Stone.
IMPRO THEATER
1727 N. Vermont, Ste. 211
Los Angeles, CA 90027
www.improtheater.com
(323) 401-6162
15 students per class, master classes are also offered.
The focus of this nonprofit improv company, home of LA Theatersports, is telling stories. The company teaches all levels of improv classes, including an improvising plays and films class in which students study film genres, playwright styles, and time periods, and then improvise from there.
IMPROV COMEDY WAY WITH ANDY GOLDBERG
www.offthewallcomedy.net
(310) 283-4027
Private coaching available.
A member of the Off the Wall improv group since 1975 and author of "Improv Comedy" from Samuel French Press, Goldberg has been teaching for more than 20 years. His ongoing classes emphasize character development through exercises, games, and scene work.
IO WEST
6336 Hollywood Blvd.
Hollywood, CA 90028
www.iowest.com
(323) 962-7560
Born in Chicago 25 years ago, IO is best known for its long-form improvisation, including the signature form "The Harold" (and for its alumni: Mike Myers, Andy Dick, Tina Fey, Chris Farley, and Andy Richter, to name a few). IO West offers six levels of improvisation classes and three levels of writing classes. Improv and writing classes meet once per week for eight consecutive weeks. Additional workshops include sitcom writing, musical improv, and audition workshops. Stage time is guaranteed with showcase and performance opportunities in the improv and writing classes. New classes begin every eight weeks.
JACQUIE LOWELL'S IMPROVISATION CLASSES
www.jacquielowell.com
(858) 581-0050
Lowell has taught improv in San Diego for the last 30 years and has performed with and directed several improvisational comedy performing troupes, which currently include Creative Urges (www.creativeurges.com) and Mission Improvible (www.missionimprovible.com). She teaches creativity workshops for business and education.
JUDY BROWN'S STAND-UP COMEDY WORKSHOP
judybrowni@usa.net
(310) 396-8425
Advanced coaching for comedians also available.
Brown's workshop is designed to help students learn how to turn their natural sense of humor into a professional comedy act, as well as to showcase their performance skills. Along the way, she says, they'll learn comedy timing, delivery, and joke writing, and graduate with a comedy monologue (also suitable for auditions).
JUDY CARTER'S STAND-UP COMEDY WORKSHOPS
www.comedyworkshops.com
(310) 915-0555
"I tell people, 'Your life doesn't suck; your life is a joke, and you can make money from being funny,'" says Carter, a veteran of 55 television shows and author of the book "The Comedy Bible". She teaches how to transform life experiences into a standup comedy act, a one-person show, or a sitcom script and offers three levels of standup classes.
L.A. CONNECTION COMEDY PRODUCTIONS
13442 Ventura Boulevard
Sherman Oaks, CA 91423
www.laconnectioncomedy.com
(818) 710-1320
Artistic Director Kent Skov, a member of the DGA and WGA, trained with the Committee and with Second City founder Paul Sills. L.A.'s longest-running improv company offers performance and training for all ages, including an adult improv repertory company that provides four levels of training and allows members to perform (with pay) before a live audience on a weekly basis.
MERILYN CARNEY: BUILD YOUR CRAFT AND CAREER - CLASSES AND PRIVATE COACHING
Theater Banshee
3435 W. Magnolia Blvd.
Burbank, CA 91505
www.merilyncarney.com
(323) 620-1689
Call for interview.
Carney specializes in guiding actors to trust their instincts, overcoming nerves, and anxiety. Actors learn to give a full performance in a cold reading, to create truthful characters on the spot, to not judge themselves, and to follow their impulses.
JODI MILLER
(323) 525-0202
Miller is a veteran of standup at venues such as the Improv, the Comedy Store, and the Ice House, and offers a standup course separate from the curriculum at the ACME Comedy Theater, The class consists of four group classes, three private lessons, and a final performance, after which the student receives a DVD of his or her five-minute routine.
MUSICAL IMPROV WITH MICHAEL POLLOCK
www.michaelpollock.com
(323) 466-1714
Pollock is the author of "Musical Improv Comedy: Creating Songs in the Moment" book and CD, now in use at the Second City Training Centers. He is music director of Second City Los Angeles and teaches musical improv classes.
PAUL RYAN'S CBS ACTING ACADEMY AND TV HOSTING STUDIO
paul@paulryanproductions.com
www.paulryanproductions.com
(818) 788-2190
Through his innovative comedy improvisations and revolutionary comedy scene techniques, Ryan "stretches the actor in every way possible to become comedically free." He has worked as a comedy consultant and sitcom director in Europe and teaches the "CBS TV Hosting Intensive" once a month.
SANDI C. SHORE'S STAND UP COMEDY WORKSHOP
sandi@sandishore.com
www.sandishore.com
Shore offers four- and eight-week sessions. A textbook is required: "Sandi Shore's Secret to Standup Success," available at online bookstores or wherever books are sold. Workshops are held at the Comedy Store at 916 Pearl St., La Jolla. (858) 454-9176.
THE SECOND CITY TRAINING CENTER
6560 Hollywood Blvd., 2nd floor
Hollywood,
training.la@secondcity.com
www.secondcity.com/tcla
(323) 464-8542
The Los Angeles Training Center offers classes in improvisation and sketch comedy year-round for actors of all ages. Called the "Ivy League of Comedy," the Second City has trained many of the country's leading comedy actors, writers, and directors. Its alumni include John Belushi, Bill Murray, Alan Arkin, Tina Fey, Stephen Colbert, Sean Hayes, Steve Carell, Harold Ramis, and more.
STEVE KAPLAN'S COMEDY INTENSIVE
skcomedy@aol.com
www.kaplancomedy.com
(818) 718-7570
Limited enrollment.
Kaplan's Comedy Intensive is a two-day comedy workshop designed specifically for actors and solo performers. The workshop is designed as a hands-on performance workout where the tools and techniques of the course are explored through exercises, improv, and theater games.
COMMERCIAL ACTING
The following institutions and individuals specialize in training for commercial work. Many of the larger institutions listed under "Acting Schools and Classes" and "Acting Coaching" also offer commercial training; check those listings for a complete look at training in this area.
CAROLYNE BARRY'S COMMERCIAL, IMPROV, AND ACTING WORKSHOPS
www.carolynebarry.com
(323) 654-2212
Interview is required.
In her 30-plus years in the business, Barry has been an audition teacher, appeared in more than 400 national TV commercials, cast hundreds more, published tape programs for actors on the market, and directed an Off-Broadway musical. Barry's programs offer commercial, improv, and acting workshops.
JEFF GERRARD CASTING INTENSIVE FOUR-WEEK COMMERCIAL WORKSHOP
www.jeffgerrard.com
(818) 782-9900
10 students maximum, private theatrical coaching also available.
Jeff Gerrard Casting has been offering this commercial intensive class for over 25 years. The four-week workshop is offered four times a year and covers the business and technical side of commercial acting, including specific kinds of commercial demands: eating, singing, m.o.s., props, cue cards, dialogue-driven spots, and improvisations with fellow actors.
MICHAEL DONOVAN CASTING COMMERCIAL CLASS
www.michaeldonovancasting.com
(323) 655-9020
Small class size, private coaching available.
Busy film, television, theater, and commercial casting director Michael Donovan teaches a three-week commercial technique class. Classes are taught on-camera.
ORANGE COUNTY COMMERCIAL ACTING WORKSHOP
Rod Michaelson
www.occaw.com
(714) 832-1895
Private coaching is also available; audits are allowed.
Ron Michaelson, the "Ditech Guy" and a working actor for more than 20 years, teaches beginning and advanced on-camera commercial classes. His school, based in Tustin, also offers an improv class, a cold reading technique class, and a scene study sitcom class.
SANDRA MERRILL COMMERCIAL CLASS
www.sandramerrill.com
(323) 662-7720
A former casting director and talent agent, Merrill teaches on-camera commercial classes and offers an insider's perspective into the casting process and successful audition techniques.
STUART STONE CASTING
www.commercialacting.info
(323) 866-1811
Call for interview, wait list available.
A casting director for commercials, voiceovers, film, print, and television, Stuart Stone has created a commercials workshop to teach actors how to audition for the audition and excel in booking jobs, with a variety of techniques designed to help forward your career through your auditions. He is the author of "Acting Out: Your Personal Coach to a Money-Making Career in Television Commercials." His workshop is an intensive taught over four weeks, one class per week, and is designed to help students learn what advertisers and directors are looking for, how to get callbacks and turn the callbacks into bookings, find the inside understanding of what makes a successful working commercial actor, and more.
CONSERVATORIES AND UNIVERSITIES
The following schools offer two-year acting programs. Many offer other shorter programs in a variety of plans and performing-related areas.
ACADEMY OF ART UNIVERSITY
Acting School
www.academyart.edu/ep/acting-school/index.html
(800) 544-2787
Founded by artists for artists, the Academy of Art University, San Francisco, offers an expanded and accredited A.A., BFA, and MFA programs. These classes assume a love and dedication to the acting craft. All classes are taught in world-class facilities with top industry professionals.
AMERICAN ACADEMY OF DRAMATIC ARTS - LA
1336 N. La Brea Ave.
Los Angeles, CA 90028
www.aada.org
(323) 464-2777 or (800) 222-2867
12-25 students per class.; no auditing; ongoing.
The oldest acting school in the English-speaking world, the Academy was founded in 1884 on the East Coast to train actors in the basics of their craft, and the Los Angeles branch, founded in 1974, continues the tradition with its two-year conservatory program, culminating in an Associate of Arts degree in acting. Areas covered in the conservatory program are acting, voice and speech, movement, theater history and styles, fencing, makeup, musical theater, and Shakespeare, among others. There's also an on-camera class in the second year where actors apply what they've learned to filmed media. A select group of students are accepted into a third-year repertory company, which produces plays. Additionally, a six-week program for younger actors ages 14 and older is offered over the summer. Also in New York: 120 Madison Avenue, New York, NY 10016 (800) 463-8990.
AMERICAN CONSERVATORY THEATER
30 Grant Ave., 6th fl.
San Francisco, CA 94108-5800
mfa@act-sf.org
www.actactortraining.org
(415) 439-2350
Class size varies; all levels; ongoing.
A consistent leader in actor training according to U.S. News & World Report rankings, ACT graduates participate and provide leadership at all levels of the entertainment industry. The Conservatory trains actors of all ages and levels. Its Master of Fine Arts program is for individuals who, after serious consideration and self-evaluation, have chosen acting as a profession. This highly selective graduate program offers a rigorous three-year course of training designed to educate and stimulate the most creative, promising young actors, selected through nationwide auditions. The Summer Training Congress offers professional training to students ages 19 and older with prior theater training or experience. The STC consists of one eight-week intensive and one two-week classical studies course, ending in a class presentation for fellow students, conservatory faculty, and staff. Studio ACT is the company's part-time evening and weekend acting program designed to provide affordable and convenient classes for beginning through professional-level students. ACT's Young Conservatory for ages 8-19 offers classes in acting, musical theater, voice, speech, audition, improv, movement, and more. The STC, Studio ACT, and Young Conservatory teaching staff consists of members of its regular conservatory faculty and distinguished guests. All instructors are working professionals. ACT is accredited by the Accrediting Commission for Senior Colleges and Universities of the Western Association of Schools and Colleges.
CALARTS SCHOOL OF THEATER
24700 McBean Parkway
Valencia, CA
www.calarts.edu/ and http://theatercalarts.com/home
(661) 253-7853
8-15 per class; auditing by special permission only.
The Cal Arts School of Theater is one of the nation's leading professional training programs with a training environment designed to support the creation of new work and original interpretation. Productions and class work complement each other, challenging students to redefine performance on the basis of an appreciation for theater traditions. The school encourages students to develop skills, take risks, and fully commit to the collaborative process.
EAST WEST PLAYERS ACTORS CONSERVATORY
Marilyn Tokuda
120 N. Judge John Aiso St.
Los Angeles, CA 90012
mtokuda@eastwestplayers.org
(213) 625-7000, ext. 15
8-12 students per class; auditing permitted with permission of the arts education director; ongoing.
East West Players, the nation's premier Asian Pacific American theater, offers classes and a year-round Conservatory that provides a comprehensive curriculum for those honing their craft as professional actors or those seeking a means of personal expression. Students range from 17 to 65 years of age, have skill levels from beginning to advanced, and are of diverse ethnic and economic backgrounds.
ORANGE COUNTY HIGH SCHOOL OF THE ARTS
1010 N. Main St.
Santa Ana, CA 92701
www.ocsarts.net
(714) 560-0900, Fax: (714) 664-0463
Class size varies; auditing not permitted.
Celebrating over 20 years of excellence, the Orange County High School of the Arts is nationally recognized as a premier arts school. OCHSA embraces and encourages artistic creativity and academic excellence. This innovative public charter school provides bright and talented students with a nurturing environment focused on individual growth, opportunity, and diversity.
PACIFIC CONSERVATORY OF THE PERFORMING ARTS
at Allan Hancock College
800 S. College Dr.
Santa Maria, CA 93454-6399
www.pcpa.org
(805) 928-7731
15-25 per class; auditing by permission only.
The PCPA Theaterfest (Pacific Conservatory of the Performing Arts) has trained theater professionals for over 40 years, gearing its conservatory program toward serious students. Each year, 30 actors enter its two-year program. PCPA's faculty of resident artists are made up of working professionals and dedicated educators. Students graduate with approximately 76 units of lower-division drama credit, useful for transfer. PCPA also has articulation agreements with public and private universities around the country.
PROMENADE PLAYHOUSE AND CONSERVATORY
1404 Third Street Promenade
Santa Monica, CA 90401
www.promenadeplayhouse.com
(310) 656-8070, Fax: (310) 656-8069
Class size varies; auditing permitted.
The Promenade Conservatory offers full- and part-time programs for actors and industry professionals and private consultation, providing a warm and supportive atmosphere that encourages risk-taking, commitment, and discipline. Its American International Program for Film, Television, and Stage Artists is a member of the National Association of Schools of Theater and is registered with the Bureau for Private Post Secondary Education. Admission by interview only.
THE RUSKIN SCHOOL OF ACTING
3021 Airport Ave., Studio 113
Santa Monica, CA 90405
info@ruskinschool.com
www.ruskinschool.com
(310) 390-4212, Fax: (310) 397-4920
John Ruskin was Sanford Meisner's apprentice, first studying with him in New York, continuing in Bequia, then teaching for him at the Neighborhood Playhouse in New York. Ruskin then founded the Ruskin School of Acting in Los Angeles in 1986 as the West Coast representative of the Neighborhood Playhouse. Acting teachers here were trained directly by Meisner and/or Ruskin. The school in Santa Monica offers a two-year course of study in the Meisner technique, as well as a master class for those who have completed the two-year program at either Ruskin or the Neighborhood Playhouse. Professional actors from outside the school are considered as well. Anthony Hopkins has taught the master class and worked with students on Chekhov, Shakespeare, and Pinter as well as contemporary plays. Other guest teachers and lecturers include Anthony Franciosa, Dylan McDermott, Carol Burnett, and Eve Ensler. The school offers classes in Alexander technique, commedia dell'arte, voice, and movement, as well as an introduction to the Meisner technique at various times throughout the year. Additionally the school offers classes for young adults and children. The Ruskin Group Theater produces a season of plays with its company members and includes outreach programs in the community. Admission to the school is by interview with Ruskin.
THE SANFORD MEISNER CENTER
5124 N. Lankershim Dr.
North Hollywood, CA 91601
admissions@themeisnercenter.com
www.themeisnercenter.com
(818) 509-9651
Class size varies; auditing is allowed.
Founded in 1987 by Sanford Meisner, this is the only school founded by Meisner and authorized to use his name. Headed by Martin Barter, the center's technique is taught in a two-year program; students must be invited back for the second year. Classes are taught by Barter and Alex Taylor. Four-week intensives are also offered, as well as graduate-level scene-study classes. The center now also offers classes on the business of acting, screenwriting, and directing.
STELLA ADLER STUDIO OF ACTING - LOS ANGELES
A Studio for Actors
6773 Hollywood Blvd., 2nd fl.
Hollywood, CA 90028
www.stellaadler-la.com
(323) 465-4446, Fax: (323) 469-6049
8-12 students per class; all levels; auditing is permitted; ongoing.
Founded by one of the world's most respected acting teachers, the Stella Adler Studio offers a two-year conservatory program and individual classes. With six terms each year, classes include: acting technique, film/stage scene study, script analysis, theater to film audition technique, styles of acting, voice, movement, improvisation, Shakespeare, Chekhov, stage combat, dance, dialects, accent reduction, and commercial skills, all culminating in a play/film production. Ongoing professional class instructors include Benicio Del Toro, Holland Taylor, Mark Ruffalo, Kate Mulgrew, and Anthony Zerbe.
MUSICAL THEATER
The following teachers and schools offer training and coaching primarily for musical theater. Other organizations and individuals throughout this issue also offer training that applies to musical theater; check other categories for details.
AUDITION SUCCESS WITH MICHAEL SARTOR
musicinla@msn.com
(818) 763-4898
L.A./NYC vocal coach and frequent audition pianist for shows such as "Seussical," "Mamma Mia!," "The Producers," and "Bombay Dreams," Sartor has coached thousands of performers seeking to develop musical theater performance skills. Students explore all aspects of performing musical theater material by developing their skills in voice, acting, and movement.
BILL HALLER-VOICE TEACHER
http://anuptempoandaballad.blogspot.com
(818) 780-8240
Bill Haller trains singers in pop/Broadway belt technique. He was named one of the top private coaches in Back Stage West's 2006 Best of L.A. readers' poll.
CAROLE D'ANDREA
www.caroledandrea.com
(310) 281-7116
Audits allowed.
D'Andrea's 50-year career includes the original Broadway "West Side Story" (also the film) and "Gypsy." She has directed productions of "Company," "Bye Bye Birdie," "Guys and Dolls," and "Damn Yankees," and offers courses on singing performance, scene study, cold reading, monologues, and exercises.
BOB GARRETT
www.bobgarrett.net
(818) 506-5526
Master class also available.
Garrett offers private voice classes and musical theater workshops. His techniques focus on breath control and support, expanding range, voice placement, calming nerves, and preparation of audition-technically, emotionally, and presentationally.
DAVID RISHTON
drishton@att.net
(323) 461-5204
Rishton offers private piano and voice coaching with an emphasis on musical theater, "to capture the heart of the audience." He trained at McCune School of Music in Salt Lake City, Utah, and was a member of Utah Opera Company in the 1980s.
OTHER
This is a grab bag of various performance training-related teachers and programs that didn't seem to belong squarely in any of the previous categories.
THE LEARNING ANNEX
www.learningannex.com
(310) 478-6677
Premier producer of seminars, lectures, workshops, and expos for adults. One-night classes offered on a variety of subjects.
LIZA MONJAUZE PRODUCTIONS
Los Angeles, CA
lizamonjauze@mac.com
www.lizamonjauzeproductions.com
(310) 384-9424
Based on production; ages 8 to 18; by sessions.
Liza Monjauze Productions have created a place for children and young adults to build confidence, improve theater skills, and create lifelong friendships. They believe participation in a fully staged musical is an enormously rich experience for all young people, providing them immeasurable social and emotional benefits. Beginning with a prepared audition, working through a precise and demanding rehearsal schedule, depending on others before a live audience, and exchanging tears and hugs at the closing night cast party, the Monjauze productions kids not only learn the traditions of musical theater but have created memories and friendships that may last a lifetime. Children are provided a creative and supportive environment where they gain firsthand knowledge, confidence, and a true sense of success. Multiple productions are staged throughout the year. All those who pre-register will be cast.
MAKE-UP DESIGNORY
129 S. San Fernando Blvd.
Burbank, CA 91502
information@makeupschool.com
www.mud.edu, www.makeupschool.com
(818) 729-9420
Make-up Designory was formed in 1997 by a group of school administrators and instructors to bring excellence to makeup education. The school is a nationally accredited (ACCSCT) private postsecondary institution that provides makeup training, studio hairstyling, and portfolio development for those who wish to have a career in the film, television, and print industries.
OVATION EARPROMPTER TRAINING AND SALES
www.earprompter.com
(888) 327-7766
The Earprompter allows you to deliver your lines without memorizing or notes, and with minimum preparation time. Actor, public speaker, and consultant Brian Collins has been conducting his one-day Earprompter seminar for actors and corporate speakers for over 20 years.
PROFESSIONAL LIFE COACHING
Morgana Rae
www.charmedlifecoaching.net
(310) 704-9566
Morgana Rae is a certified master results coach, published author, and seminar leader with over 10 years experience helping entertainment professionals leverage their strengths and thrive in the business. She co-leads workshops with transition coach and talent manager Heather Rem titled "Take Command of Your Career: Mastering the Inner and Outer Game for Success in the Entertainment Industry."
SINGING MADE EASY
www.stagesingingsecrets.com
A two-hour video workshop (DVD or VHS) offers tips on stage presence, confidence and ease, body language and hand gestures, audition skills, camera technique, creative song delivery, and the like.
THE STUTTERING FOUNDATION
www.stutteringhelp.org
(800) 992-9392
As this organization reminds us, stuttering hasn't stopped actors like Nicholas Brendon (Xander in "Buffy the Vampire Slayer") from making their mark in Hollywood.
PHYSICAL THEATER/MOVEMENT
This listing includes groups who use markedly physical approaches to performance, to create material and/or to hone the acting instrument. You may perceive an overlap with the "Comedy and Improv" or "Combat" listings; make sure to check those too, to be sure you find what you're looking for.
BODY SPACE
www.kinepathics.com, www.tantrawisdom.com
(310) 471-2934
Through visionary impressions, imagination, voice, tantra yoga, and movement improvisations, Anita DeFrancesco teaches her students to "learn to characterize presence and form, while exploring 'in the moment' consciousness through sensation, breath, emotion, intuition, and 'thoughted motion.'
DANCE FOR THE ACTOR - THERESA HAYES
Theresa Hayes
8205 Santa Monica Blvd., #1-132
West Hollywood, CA 90046
dancefortheactor@aol.com
www.dancefortheactor.com
(310) 923-4787
Offers dance classes specifically for performing artists. Theresa Hayes ("Sophisticated Ladies," "Dreamgirls," "The Tap Dance Kid") is a cum laude graduate of UCLA, where she received her B.A. in theater arts. Weekly and private classes available.
MIME THEATER STUDIO
www.mimetheaterstudio.com
(866) 444-MIME
In the only year-round mime classes in Los Angeles, MTS teaches actors, dancers, comedians, singers, and storytellers how to "make the invisible visible," using the body to express thought and emotion, and how to physicalize the actor's interaction with his environment. MTS director Lorin Eric Salm is a three-year graduate of the Marcel Marceau Paris International School of Mimodrama and has been teaching for over 15 years.
SOLO SHOWS
The following programs specialize in developing one-person or solo shows for performers and writer-performers.
IRENE PINN: THE ART OF THE ONE-PERSON SHOW
pinnwheel@earthlink.net
(323) 650-2391
Weekly classes in writing and performing a solo show are taught by Emmy and Theater World Award-winning director-producer Irene Pinn.
STACIE CHAIKEN WHAT'S THE STORY? STUDIO
whatsthestory2@mac.com
www.whatsthestory.us
(310) 450-1312
The workshop was designed by Chaiken as an opportunity to develop solo work in a group process, and try things out in front of a friendly audience on a regular basis. The class is useful for actors who want to create solo work, writers who are wrestling with autobiographical or historical material, and storytelling artists who want to bring greater depth and immediacy to their work.
TRAVIS-JOHNTZ
solo@travis-johntz.com
www.travis-johntz.com
(323) 848-9800
For the past 16 years, Mark Travis and Frederick Johntz have been involved in the development of solo shows for hundreds of actors and performers. They offer workshops, seminars, and private coaching.
TRUTH, LIES AND MEMORY: CREATING THE ONE-PERSON SHOW
Terrie Silverman
www.creativerites.com
(310) 281-3175
10-week sessions, private coaching, and script consultations available.
Terrie Silverman leads the program designed to guide actors through the process of developing and performing a solo play, whether the actor is looking for a way to begin, continue, or polish material in a supportive, safe environment. Spontaneous writing exercises, movement, music, and drawing allows students to write and create organically with the class culminating in a works-in-progress performance.
SPEECH/VOICEOVER/DIALECT/SINGING
The following institutions and individuals specialize in training for voiceover, vocal production, singing, and dialect training. Many acting schools and coaches also offer training in this area; check other categories for details.
ACCENT ON ACTING - ADAM LeGRANT
www.accentonacting.com
(323) 878-2288
Admission by interview.
LeGrant trains the non-native English speaker in speech and drama, including accent reduction and speech training in Standard American English, audition preparation, and cold reading techniques. He also offers monologue and scene work.
ACCURATE ENGLISH
13101 Washington Blvd., Ste. 231
Los Angeles, CA 90066
www.accurateenglish.com
(310) 568-0077
One-on-one classes.
Lisa Mojsin, M.A., speaks five languages, has an acting background, and has taught at the college and university level. She helps her students learn to speak accurately and clearly, and to "gain confidence to go after the roles they really want."
ALISO CREEK PRODUCTIONS - WILLIAM WILLIAMS
www.alisocreek.net
(818) 954-9931
4-6 students; free studio visit with consultation is available.
Williams has been producing commercials for 20 years. His six-week classes in commercial and animation voiceover meet in a recording studio under real-life performing conditions.
ANGEL DIVA MUSIC
www.angeldivamusic.com
(818) 888-5885
Accomplished actor, singer, songwriter, and record producer, Jan Linder Koda creates radio-ready recording packages for motivated singer-songwriters. She specializes in artist development, writes or co-writes songs with clients, and records songs in her state-of-the-art Pro Tools studio.
ROWENA BALOS
www.rowenabalos.com
(310) 285-8489
Balos offers short-term and ongoing workshops and private coaching in voice production, speech, accent reduction, and Shakespeare. She has taught at many acting studios, universities, and theater companies around the world, including, NYU, UCLA, CalArts, the Howard Fine Acting Studio, the Stratford Shakespeare Festival, the Sydney Theater Company, American Conservatory Theater, and Antaeus Classical Theater Company.
BEATRICE
(310) 273-5940
A graduate of Northwestern University with a B.A. in speech and music, Beatrice teaches vocal production, how to increase power and range, diaphragmatic breathing and placement, and self-confidence for auditions in all styles. She has appeared on television with Janet Jackson, Steve Allen, and Melissa Manchester, and is the teacher of two winners of the Heroes and Legends Scholarship Awards.
BEVERLY BREMERS' VOICERCISE
www.voicercise.net
(949) 874-0616
Private consultation available.
Working voiceover professional Bremers offers voiceover classes and pro workouts in Orange and San Diego counties and also produces voiceover demos and house minutes. Bremers additionally offers classes in accent reduction, singing, songwriting, and cold reading.
BONNIE BIZOZA
(818) 783-0473
On-set coaching available.
Through her company "Accent on Accent," Bizoza offers accent/dialect training and accent reduction for beginners and established professionals. She is a licensed speech therapist and an experienced dialect coach who provides private training using a multisensory approach adapted to the student's learning style to achieve authentic, natural speech patterns.
LUCILLE BLISS
(415) 824-8188 or (323) 667-1169
"Working legend" Bliss teaches private voice-acting lessons. Her work focuses on career training, interpretation, mike techniques, audition procedures, and animation.
BREATH
Natsuko Ohama
breathnatsuko@aol.com
www.natsukoohama.com
(818) 754-2400
Natsuko Ohama, a teacher of Kristin Linklater's approach, conducts private coaching and group classes. She uses exercises that involve breath, sound vibration, physical work, emotions, thought, and text, and works with actors to "undo habits and inhibitory blocks that limit them."
ADELE CABOT
(818) 368-1365
Cabot is a designated Linklater voice teacher and acting coach. Her other specialties include audition coaching and acting Shakespeare.
CAROL TINGLE VOICE STUDIO
www.caroltingle.com
310-828-3100
Tingle, a performer and voice teacher for almost 40 years, works with singers of all ages, levels, and styles. She offers private instruction and performance workshops in her Santa Monica studio where emphasis is placed on the development of the voice within the style of the singer, as well as safe, healthy vocal production, audition preparation, and alleviating performance anxiety.
LOUISE CHAMIS
(818) 985-0130
Chamis' workshops are a place for voiceover actors "to learn, to work out, and to stretch." Students analyze copy to find out what they are selling and how best to sell it. She has been teaching for over 26 years and is the voice of the Queen in "Snow White" in all current Disney projects
CORFF VOICE STUDIO
Bob Corff
www.corffvoice.com
(323) 851-9042
Veteran performer and voice/performance coach Bob Corff is author of "The Bob Corff Speakers Voice Method" on CD or tape and "The Bob Corff Singers Method" on CD or tape. Along with his wife, Claire (with whom he has written and produced the CD and workbook "Achieving the Standard American Accent"), Corff offers private and group lessons on how the voice works and how to make your speaking voice work for you in the best possible way.
DAVE & DAVE INC.
4421 Lankershim Blvd.
Toluca Lake, CA 91602
www.everythingvo.com
(818) 508-7578, Fax: (818) 508-5830
Publisher Dave Sebastian Williams of www.VoiceOverResourceGuide.com offers "One Stop for Everything Voice Over": recording studios, website design, home studio installation, VO studio equipment, and graphic design for DVDs, CDs, packaging, post cards, and stationery. In the business "for good" since the 1970s, "we care about our industry," says Williams.
DEBORAH ELLEN VOCAL STUDIOS
info@deborahellen.com
www.deborahellen.com
(310) 422-9166
All levels.
Deborah Ellen has been involved with the Seth Riggs Speech Level Singing Technique for over 11 years. She offers private lessons in vocal technique and artistry.
DEBORAH SHULMAN VOICE STUDIOS
www.deborahshulman.com/teaching.html
(323) 851-7344
Private coaching available.
Whether you need to extend and improve your vocal range, eliminate a stubborn vocal break between registers, improve resonance in the speaking as well as singing voice, or learn how to sell a song, there are practical solutions to each specific problem. Along with vocal technique, Deborah Shulman teaches performing strategies, how to find your own performance personality, and, most importantly, she helps you increase your self-confidence as a complete performer. Shulman has been a performer, teacher, director and producer in Los Angeles and New York City for many years. She has performed and taught successfully in all styles - from classical to pop, stage to rock, to the recording studio. Private and group classes are available.
DIAMANTE VOCAL STUDIO
(323) 466-7881
Edward Diamante teaches a speech-level technique that has supported 112 Grammy Award winners while they were recording. He helps actors who don't sing professionally but who want to learn to control their voices through exercise, or who have injured their voices through laryngitis or other vocal illness.
DOLORES DIEHL VOICEOVER CONNECTION INC.
www.voconnection.com
(213) 384-9251
Small class size; all levels; ongoing.
Voiceover Connection Inc. offers workshops, workouts, and seminars in the areas of commercials, animation, narration, audiobooks, audio drama/comedy. Levels are basic through pro. Courses are directed by Diehl and taught by voiceover agents, casting directors, publishers, and producers. "Individual feedback from every director." Located at sound studios in Hollywood, Valley Village, North Hollywood, and Santa Monica. Offers make-ups for sessions missed.
JESSICA DRAKE
(323) 662-1831
The Juilliard-trained Drake has been coaching actors in dialect and speech for more than 20 years, with credits that include "Memoirs of a Geisha," "The Pink Panther" with Steve Martin, "Catch Me If You Can," "L.A. Confidential," "Forrest Gump," "The Green Mile,"" HBO's Band of Brothers," and "Six Feet Under." She also coaches actors for Shakespeare.
ROBERT EASTON
(818) 985-2222
Easton is best-known as the "Henry Higgins of Hollywood Inc." for his extensive and highly specialized dialect coaching, which has resulted in many nominations and awards, including Oscars, Emmys, Golden Globes, SAG, and Cannes Film Festival awards. In addition to his dialect workshops, Easton has also taught more than 2,600 students comedy improv, characterization, and cold reading.
ELISABETH HOWARD'S VOCAL POWER ACADEMY
www.vocalpowerinc.com
(800) 829-7664
Howard, founder of the Vocal Power Academy, is an internationally acclaimed vocal technician and vocal stylist. A Juilliard graduate and on the vocal staff at Pepperdine University, she has conducted vocal technique workshops in 10 countries.
ELIZABETH BURNETTE
elizburnette@aol.com
(310) 967-4405
Small classes, private coaching available.
Burnette specializes in teaching english to actors without any detectable accent for film, television, and stage. She has been coaching in L.A. for 10 years.
ELOCUTION SOLUTION
harriet@elocutionsolution.com
www.elocutionsolution.com
(800) 597-9691
Free evaluation.
Elocution Solution's speech pathologists offer individual or group sessions in voice and diction for actors, including breathing, relaxation exercises, pitch adjustment, projection, resonance, and voice care. They also work with actors on reducing or acquiring accents and learning specific speech patterns such as those associated with hearing difficulties, strokes, and stuttering. Additionally they specialize in articulation and tongue thrust therapy. Free evaluation. Located in the San Fernando Valley.
LEIGH GILBERT
leeleethevoguru@aol.com
(323) 692-5704
Gilbert offers privates and group classes.
GODEANE GRACE EAGLE, M.A.
(310) 450-5735
Eagle teaches singing, speech, pitch training, and stage voice.
DEREK GRAYDON
(323) 656-9356
Graydon is a Juilliard-trained star of Broadway and opera. He offers the "bel canto" technique. Dame Judi Dench says he is "unsurpassed," John Travolta calls him "magic."
HOWARD AUSTIN'S VOCAL POWER SCHOOL
vocalcoach@borntosing.com
www.vocalpower.com
(800) 929-7464 or (818) 895-7464
Howard Austin, creator of the Vocal Power Method, says training with him will develop your voice control (breath control, support, focusing tone, vibrato pulse, resonance control, eliminating register breaks); personal style (phrasing and creative improvisation in any style); and performance power (mike techniques, lyric interpretation, and dynamic staging).
JEFFREY ALLEN VOCAL STUDIO
www.vocalsuccess.com
(818) 782-4332
Allen offers professional voice-strengthening and problem-solving for speech or singing, onstage, and in the studio, as well as audition/demo preparation. All ages, levels, and styles.
JULIE OSBURN'S VOICE RE-TRAINING
(310) 989-2803
Osburn teaches a combination of body work: breathing exercises with Pilates and Alexander to strengthen support muscles and release tension in the body, then vocal therapy exercises together with singing exercises, that use the body's relaxed strength to center and focus the sound.
KALMENSON & KALMENSON VOICE CASTING
105 S. Sparks St.
Burbank, CA 91506
www.kalmenson.com
(818) 377-3600
The owners of Kalmenson & Kalmenson commercial voice casting service have spent over 25 years educating actors. Voiceover classes are available for all levels and are taught in the same full-service recording studios where auditions are held daily. Improv and scene study classes also offered.
KELLY REITER: REEL ENGLISH
www.reelenglishcoach.com
(323) 957-4758
Assessment interview required.
Standard American dialect specialist Reiter has been coaching actors in L.A. since 1989. Her character study approach gives her students the tools, confidence, and professional American voice they need, from getting an agent to getting the part.
PHILIP KING (KROOPF)
(310) 276-7587
King, formerly with Joseph Papp NY Shakespeare Festival, director of the New York School of Announcing and Speech, and founder of AMAS Repertory Theater, has years of teaching experience in New York and Los Angeles, and offers one-on-one coaching in cold readings, interp, dialect, and speech.
DARLENE KOLDENHOVEN
darlene@darlenekoldenhoven.com
(818) 980-2840
With a master's in music education and voice, Koldenhoven offers vocal coaching and techniques for projection, diction, breathing, pitch, and rhythm. She is the author of the book "Tune Your Voice" and teaches all styles, levels, and ages.
M.J. LALLO
4020 W. Magnolia Blvd, Ste. K
Burbank, CA 91505
www.creatingvoices.com
(818) 980-6576
10 students maximum.
Award-winning voiceover artist Lallo has worked for Disney, Universal Interactive, Fox Kids, TV Guide, GNC, and has done more than 100 commercials, CD-ROMs, and feature film ADR. She has been teaching commercial and animation voiceover for 12 years.
LISA POPEIL'S VOICEWORKS
lisa@popeil.com
www.popeil.com
(818) 906-7229
Private coaching available.
Training in "all things voice," is how Popeil describes her work. She works on vocal control, range, power, creating emotional magic, speech improvement, vocal projection for acting, vocal health, sight singing, demo recording, performance coaching, audition preparation.
MARC CASHMAN-CASHMAN COMMERCIALS: THE CASHMAN CACHE OF VOICE ACTING TECHNIQUES
www.cashmancommercials.com
(661) 222-9300
Audits encouraged, payment plan available.
This Clio-winning casting director and producer instructs beginning, intermediate, and advanced actors on the tricks of the trade in developing a successful radio/TV voiceover career.
MARJORY TAYLOR'S VOICE MASTERY
(310) 246-1743
Marjory Taylor has operated her own voice school, The House of Voice (now known as Voice Mastery), for over 18 years. She teaches voice building, diction, broadcast english, commercials, cold reading, accent correction, and other aspects of communication and performance.
SANDI MASSIE
(818) 903-4016
Massie is a coach for voice, speech, dialects, and accent reduction. She has been a coaching of theater, television, and film for the past 20 years and teaches relaxation, breath support, resonance, diction, and many other aspects of voice.
MARY McGREGOR
(818) 762-0309
McGregor works to combine the necessary techniques to help you "free your sound." Says McGregor, "In acting and in singing it is necessary to understand what your instrument can do for you."
MENTOR LANGUAGE INSTITUTE - MICHAEL BUCKLIN
mail@mentoresl.com
www.mentoresl.com
(310) 887-0777
Private coaching available.
Bucklin, who is a graduate of Neighborhood Playhouse taught by Sanford Meisner and a professional voiceover talent from New York, combines the Meisner technique with original accent reduction exercises to help non-native speakers of English learn basic acting technique while improving their language skills.
VANESSA MIZZONE
vmizzone@hotmail.com
(310) 968-7631
Mizzone holds an MFA and is a Santa Monica College Theater Arts adjunct faculty member and former voice and speech instructor at UCLA. She offers private voice and speech coaching for actors based in the Linklater method with a Skinner approach to speech.
MUSIC 1 ON 1
geraldwhite@music1on1.com
(310) 430-4802
Vocal coaching, sight singing, and group classes. Open to all.
ORIGINAL VOICE BANK
George Crowell
(818) 846-2002 or (800) 500-6661
George Crowell has run this coaching and training facility since 1980 under the name Voice Bank (later changed to Original Voice Bank). Crowell is a veteran voiceover performer with more than 20 years of experience who teaches two tracks: first, the basics ("good, intelligent interpretation of the written material"), and second, characterization.
CARLA PEREZ
cjperez-gtn@charter.net
(818) 409-9619
Carla Perez has a master's degree in voice performance and has been teaching and singing for a very long time. She teaches beginners through advanced students a "full-body presence" technique-singing from head to toe - addressing vowels, breath, support, musicianship, interpretation, and stylistic nuance.
PROFESSIONALLY SPEAKING WITH JULIE DANIELS
(818) 623-8960
All levels and ages.
Professionally Speaking offers private coaching in voice, speech, and accent reduction. Emphasis in training includes proper breathing techniques, articulation, projection, and interpretation, with the goal being "a fully textured voice that sells your strengths as an actor."
RICHARD FREDRICKS: I TEACH ANYONE HOW TO SING!
metbariton@aol.com
www.richardfredricks.com
(310) 838-3355
Fredricks' career started in a Santa Monica nightclub, moving to musical comedy, the New York City Opera, and the Metropolitan Opera as a leading baritone. Fredricks has brought back the voices of Andy Williams, Howard Keel, Pat Boone, and Renata Scotto, among others.
RICK ZIEFF'S UNBELIEVABLY FUN VOICEOVER CLASS
(323) 651-1666
Rick Zieff teaches mike technique for TV and radio commercials, animation, narration, and audiobooks. As a busy voiceover actor, director, and casting director, he emphasizes the importance of character development, text analysis, and making strong creative choices at the microphone. He guides actors through preparing a demo that will be their "calling card" to the voiceover world. He cast the Academy Award-winning animated short "The ChubbChubbs!" and directed the animated feature "Steamboy" (starring Patrick Stewart and Alfred Molina). Rick coaches adults and children at his studio in West Hollywood. Rick's fun, fast-paced style makes him one of L.A.'s most sought-after teachers for adults and children.
ROY SAMUELSON
THE VOICE OVER WORK OUT LOUNGE (VOWOL)
roysamuelson@gmail.com
www.vowol.com
(310) 439-9036
VOWOL offers a "playful and positive gym" for actors to work on recordings at a recording studio, learning from guest hosts.
SANDY HOLT/VOICECASTER
(310) 271-8217
Private coaching available.
Sandy Holt, a Chicago Second City alum, teaches a voiceover workshop that covers sharpening audition skills and booking the job, making the copy your own and being original, making money, having fun playing different characters, and improvising and learning recording techniques. Holt produces demos custom-made to the actor's talents.
ALAN SHATERIAN
(310) 824-2720
Shaterian has a Ph.D. in linguistics and phonetics, and offers private coaching in speech and dialect, foreign languages, and character preparation.
THE STEVEN MEMEL STUDIO
www.stevenmemel.com
(818) 789-0474
Memel has had a multifaceted career as a singer, actor, and director, as well as an internationally acclaimed teacher. He has experience in all areas of the arts and has worked onstage, in film, on television, and in the recording studio.
SUSAN BLU and CYNTHIA SONGÉ
voiceoverworkshops@gmail.com
www.blupka.com
(818) 763-8500
Small classes; all levels.
Susan Blu, voiceover actor and voice director, and Cynthia Songé, casting director at Blupka Productions, teach classes in voiceover for commercial and animation. Students get tons of booth time.
VOCAL STYLINGS
lisa@vocalstylings.com
www.vocalstylings.com
Vocal Stylings offers private singing lessons and in-studio vocal production to free the artist in you, helping you perform with greater passion, power, emotion, and energy. Styles include rock, R&B, show music,and pop with areas of specialization include vocal power, breathing techniques, extension of range, and style development.
VOCAL YOGA
Heather Lyle
www.vocalyoga.com
(310) 200-0506
Vocal Yoga offers technique for singing, acting, and public speaking.
THE VOICECASTER VOICEOVER WORKSHOPS
1832 W. Burbank Blvd.
Burbank, CA 91506
casting@voicecaster.com
www.voicecaster.com
(818) 841-5300, Fax: (818) 841-2085
Private coaching available; no auditing.
The Voicecaster is celebrating its 30th year casting for radio and television commercials, as well as industrials, animation, narration, CD ROMS, voices of toys, and more. Huck Liggett, owner and head of casting, and his staff work on voiceover skills from microphone technique to translating and breaking down copy, as well as introducing the most current trends in advertising. Says Liggett, "Our approach is focused on exploring and discovering the strength of each individual so that he or she would have a better idea of how to approach VO professionally. We meet each student at the level they bring to a class and help them build from that point." Courses meet in four- and six-week sessions, $300-$550. No auditing. No requirements for admission to beginning levels; higher-level classes require prior professional VO training.
WALLY BURR VOICEOVER
www.wallyburr.com
(818) 763-2618
The casting and voice director on more than 2,000 TV episodes ("GI Joe," "Jem," "Transformers," "Inspector Gadget," "My Little Pony:), and commercial producer-director for Kellogg's, Pillsbury, and Green Giant, Burr offers voiceover instruction and demos.
WARREN B. MEYERS
11615 Addison Street
Valley Village, CA 91601
wbmvo@aol.com
www.wbmvo.com
(818) 985-1359., Fax: (818) 985-1342
Meyers teaches techniques for a successful career in voiceovers. He has over 25 years of experience hiring and directing voiceover talents for national and local radio and TV spots, narrations, promos, books on tape, and interactive CD-ROMs. Meyers is now accepting a limited number of talented beginners (adults and children), as well as working professionals. Sessions are available by appointment only. Meyers offers a free introductory meeting, affordable rates, in Valley Village. Meyers is considered one of L.A.'s most experienced voiceover directors.
YOUNG VOICES
(323) 651-1666
This voiceover training class for performers ages 7-17 incorporates TV and radio commercials, animation, improv, theater games, and technical exercise to create this marketable craft. Classes are taught by casting director Alison Stuart (Academy Award-winning animation short "The ChubbChubbs").
STAGE COMBAT/ STUNT
The following institutions and individuals train performers in stage combat exclusively, but other schools offer combat classes as well. Check other categories for details.
ACADEMY OF THEATRICAL COMBAT
c/o Swords Fencing Studio
2115 N. Glenoaks Blvd.
Burbank, CA 91504
info@theatricalcombat.com
www.theatricalcombat.com
(818) 364-8420
All levels; auditing by permission, an introductory fight seminar is held every other month.
Dan Speaker and Jan Bryant ("Master and Commander," "Hook," "Army of Darkness") are among the top experts in fight design, action choreography, and weapons combat for the motion picture industry. They offer classes that begin at the basic level, covering safety and the primary techniques of hand to hand combat (including rolls, falls, and throws), broadsword, quarterstaff, cutlass, and theatrical saber.
COMBAT AT BEVERLY HILLS FENCERS' CLUB
combat@robertabrown.com
www.swordcombat.com
(310) 266-5151 or (310) 204-0085
Private coaching available; all levels; auditing by permission.
Instructors are professional fight directors and swordmasters whose screen credits include "Charlie's Angels," "Master and Commander," and "ER." They provide classes, workshops, and private coaching for actors in combat for screen and stage, with a particular focus on swordplay.
DAVE LEA'S MOTION PICTURE STUNT/FIGHT-TRAINING
6318 San Fernando Rd.
Burbank, CA 91201
daveleastunt@earthlink.net
www.davelea.com
(818) 603-9696
The level of screen fighting has been raised. Students can advance their on-camera fighting skills in various fighting styles-including weapons, fine-tune hand combat, kicks, and kickboxing.
FILM FIGHTING L.A.
www.filmfightingla.com, www.taowesttaichi.com
(310) 447-8438
The club is a group of people learning to safely but realistically act action scenes for film, television, and theater. Classes include a stunt fighting class. Monthly workshops include European swords, Asian weapons, Filipino weapons, Shao-lin and Hong Kong fighting.
SAMURAI ACTION STUDIO
www.samuraiaction.com
(310) 849-1466
Michi Yamato teaches Japanese stage combat include karate, sword fighting, gymnastics, and trampoline techniques. He is a former member of the original "Power Ranger" stunt team and coordinated more than 100 episodes as a stunt coordinator.
SWORDPLAY FENCING STUDIOS
www.swordplayla.com, www.timweske.com
(818) 566-1777
Tim Weske's SwordPlay, with locations in Burbank and Reseda, teaches all edged weapons, including Olympic-style fencing. Ongoing film and stage-combat classes and private lessons focus on extreme detail to safety, balance, footwork, and confidence in memorization of choreography.
YOUNG PERFORMERS
The following institutions and individuals train young people exclusively, or nearly so, but many schools and coaches in all fields, listed elsewhere in this issue, also offer programs for young people. Check other categories for details.
ACTING FOR CHILDREN & TEENS AT EDGEMAR CENTER FOR THE ARTS
2437 Main St.
Santa Monica, CA 90405
www.edgemarcenter.org
(310) 399-3666
Private coaching available.
Edgemar, made up of two state-of-the-art theaters in Santa Monica, offers on-camera, cold reading, and acting and improvisation classes for ages 6-17. Students perform in a showcase for parents and agents at the end of the eight-week session.
BARB NORTH THE KIDZ KOACH
22647 Ventura Blvd., Ste. 422
Woodland Hils, CA 91364
barb@funnycoach.com
www.funnycoach.com
(818) 347-5098
North works privately with children and their parents in what she calls "a fun and nurturing environment." She teaches children acting and audition strategies, and works with parents "to help navigate the business."
BB'S KIDS ACTING WORKSHOP WITH BELINDA BALASKI
Belinda Belaski
www.bbskids.com
(323) 650-5437
10-16 students per class.
Balaski has been acting since age five and has more than 40 years of experience in the business. She earned an L.A. Drama Critics Circle Award, two Robbies, and several Emmy nominations. For the past 18 years she has been teaching kids and teens in a variety of eight-week classes: Commercial Workshop (5-18), Adult Commercials (18 and up), TV & Film Acting (9 and up), Music Video/theater (7 and up), Tot's Acting (4-8), Monologues (8 and up), Shakespeare Classics (10 and up), Sitcom (10 and up), Dialects & Voiceovers (8 and up), Teen Improv (10 and up), Modeling: Print & Runway (8-25), Auditions with Casting Director (10 and up), and parent seminars. Classes are limited to 10-16 students. All classes are taped, with live/tape showcases at graduation for agents and parents. The eight-week sessions start in January, April, July, and October.
CARTER THOR STUDIO "ON THE MARK" YOUNG ACTOR CLASS
12417 Ventura Ct.
Studio City, CA 91604
(818) 760-9426
The studio now offers a class for young actors, 9-18, that it describes as "revolutionary." The goal is to help young actors develop confidence and fluidity in front of the camera through the understanding of scene study, script analysis, and cold reading.
HARRIET GREENSPAN
(818) 266-6698
A casting director for over 20 years, Greenspan currently casts for the Nickelodeon network and offers private coaching and intensive workshops for kids, teens, and young adults.
SEAN HOWSE
sean@actingforteens.com
(323) 309-7718
All levels; auditing allowed.
Howse has been teaching acting to teenagers for over a decade and trained under Joanne Linville and Stella Adler. Classes run in three-month semesters and incorporate the Adler technique.
JOY THEATER - JOSH and JANIECE JARY MINNICK
The Raven Playhouse
5233 Lankershim Blvd.
North Hollywood, CA 91601
jnj@joytheater.com
www.joytheater.com
(818) 505-9355
Joy Theater offers classes in comedy geared to give young actors the tools and confidence for onstage performance and in their personal world. Joy has ongoing weekend and after-school programs, as well as an on-camera class.
K12
www.k12.com
(866) 968-7512
K12 is an online curriculum provider for students in grades K through 12. It has a patented system for virtual schooling that includes online lessons, built-in assessments, planning tools, and traditional materials such as books, art supplies, and scientific equipment. "If you need a school or learning program designed to meet the needs of young professional performing artists, K12 can provide you with one, no matter where you live or how often you travel," say the folks at K12.
KIDS ON CAMERA
Phil De Champlain
stopdreaminactors@yahoo.com
www.stopdreamin.com
(818) 500-0037
Phil De Champlain's coaching is based on his own experience as an actor, writer, and director for over 15 years. Classes focus is on on-camera auditioning, cold reading, improvisation, film and TV scene study, helping students discover what makes them unique inside.
LAGUNA PLAYHOUSE - YOUTH THEATER
donna@lagunaplayhouse.com
www.lagunaplayhouse.com
Donna Inglima, (949) 497-2787, ext. 202
Special summer theater session as well.
This acclaimed regional theater offers a variety of acting and creative drama classes ongoing for youths ages 6-18. Classes are taught by theater professionals in 10-week sessions after school.
MARNIE COOPER SCHOOL OF ACTING INC.
www.marniecooper.com
(818) 760-8009
An acting teacher and coach with over 20 years of experience, Cooper offers advanced classes (ages 5-21), private coaching, on-set coaching, and weekend workshops. She specializes in audition preparation and recently published a how-to acting book for children and their parents (available at www.howdoiact.com).
QUIT ACTING!!
5312 Radford Ave., #5
Valley Village, CA 91607
www.quitacting.com
(818) 437-1911
Laura Lasky's ongoing monthly sessions for kids and teens are designed to help her students "find out what's holding [them] back and quit it." Her small classes and private coaching emphasize on-camera and audition training, "because the audition is the job."
STACY REED
reed@theblank.com
(323) 662-7734
Producer of the award-winning Blank Theater Company, Reed teaches an ongoing class for children and teens at the 2nd Stage Theater. These classes combine professional training with creative dramatics in an environment that is challenging and nurturing and include: slating and interviewing, energy and personality, mock auditions, listening and memorization, self-expression, commercial skills, hitting marks, working more effectively with props and partners, direction and adjustments, and set etiquette.
THE SANTA MONICA PLAYHOUSE EDUCATION CONSERVATORY
theater@santamonicaplayhouse.com
www.santamonicaplayhouse.com
(310) 394-9779
This conservatory, now in its 46th year, offers extensive training for actors from beginners through professionals, year-round. A variety of workshops for all ages, preschool through adult, focus on audition technique, communication skills, musical theater, character development, movement for the stage, voice, and performance, with a new theater skills crash course. Alumni bring their youngsters so that they can share in the process. "I could not wait until tomorrow came so I could go again," says Jeffrey, age 9. "I made my stage debut at Santa Monica Playhouse," says Kate Hudson.
TOTAL IMPROV FOR KIDS
totalimprov4kids@aol.com
www.totalimprov.com
(818) 481-8072
Premier improv school for children, ages 8-21, that teaches the art of improvisation from beginning to adult level. Students have successfully performed in some of L.A.'s hottest comedy clubs and national festivals.
TRACY MARTIN/KOACHING KIDS & TEENS
mstracyco@aol.com
www.tracymartin.com/koachng.htm
(818) 752-8487
10 students maximum per class, private coaching also available; auditing for agents and managers only.
Since Martin's classes began in 1998, over 20 agencies and managers have referred young students to her. Many of her students are series regulars, guest stars, and co-stars on TV, or leads and co-leads in films. Martin offers a teen cold reading class, acting class, and one-day intensive voiceover classes.
THE YOUNG ACTOR'S STUDIO
5215 Lankershim Blvd.
Los Angeles, CA
www.youngactorsstudio.com
(310) 281-7545
Adult classes also available; auditing is allowed.
Class Act offers coaching and training for young actors, ages 4-18, and uses the basics of the Stanislavsky system to help them learn to use their personal unique qualities in their acting. A full conservatory day or a choice of individual classes that include stage combat, comedy, improv, voice, audition technique, acting technique, and production are available.
YOUNG ACTORS SPACE
info@youngactorsspace.com
www.youngactorsspace.com
(818) 785-7979
Private coaching available.
This school for young professionals, started in 1979, offers weekly classes for students, ages 5-adult, in scene study, improvisation, audition techniques, and sensory work. Patrick Day, director, has coached hundreds of actors in starring roles in television, film, and stage.
Compiled by Laura Butler