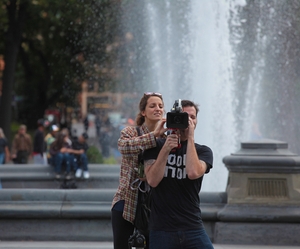 Filmmakers may love the summer months for easy access to gorgeous sunsets and beach scenes, but aspirants may want to use the warmer months to add some valuable coursework to their résumés. Here are some schools with exciting summer film classes.
TISCH SCHOOL OF THE ARTS
NYU's art school offers a few classes over the summer, including filmmaking, producing, and screenwriting. Certificates are given to students who complete at least three required courses over one year or two consecutive summers.
NEW YORK FILM ACADEMY
The great thing about NYFA intensive workshops is that whether you have a few days or an entire summer available, there are plenty of options ranging from a two-day film camp to 12-week workshops.
VANCOUVER FILM SCHOOL
VFS is another great option if you're pressed for time, as it offers five-day intensives. And with a five-day commitment, you can use the weekend as a vacation!
SCHOOL OF CREATIVE AND PERFORMING ARTS
SOCAPA—which has schools in New York, L.A., and Vermont—offers great summer filmmaking programs for teens. Over the summer, two days of the week are spent learning the basics with the other three days spent creating films.
COLUMBIA COLLEGE HOLLYWOOD
Another good pick for high school students looking to earn some college credits in filmmaking. Students do everything from screenwriting to filming to editing in three-week sessions.