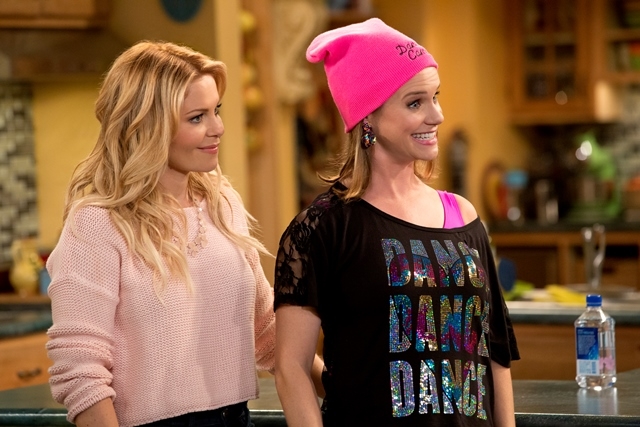 The trend to capitalize on known brands doesn't seem to be going anywhere. Following the successful reboots of "Hawaii Five-0," "Full House" (now "Fuller House"), "The X-Files," and "Gilmore Girls," studios and networks don't seem to be slowing down with the reboots.
Although "Charmed" fans will have to keep waiting for a second chance at another life—the witchy prequel's pilot was pushed back, as was "The Lost Boys"—there will still be plenty of familiar themes and worlds this season.
In the vein of the recently axed "Girl Meets World" (the progeny-based byproduct of Cory and Topanga from "Boy Meets World") and "Fuller House" (Tanner family 2.0) comes the second round of "That's So Raven." This time, the nostalgia focuses on Raven Baxter's life as a divorced mother of two. The currently untitled reboot stars original lead Raven-Symoné, along with Anneliese van der Pol, and is being assembled by casting directors Howard Meltzer and Tracy "Twinkie" Byrd.
Following the success of "Hawaii Five-0," CBS launched a fresh take on the Sherlock Holmes story with "Elementary," and this season offered a new perspective on the classic jack-of-all-trades series "MacGyver," focusing on a younger Angus "Mac" MacGyver. "Lethal Weapon," "24: Legacy," and "Prison Break" are bringing around their reincarnations as well. Casting on a reboot can be a challenge, especially when you have iconic characters like MacGyver, Mulder and Scully, or Jack Bauer, who are so tied to the original actors' portrayals. "24: Legacy" avoided any potential comparisons by taking Bauer out of the equation, and "The X-Files" opted to bring back original leads Gillian Anderson and David Duchovny. For "MacGyver," executive producer–director James Wan noted at Comic-Con that the hardest part of rebooting the show was overcoming the perceptions fans of the original had about MacGyver. "Everyone has seen MacGyver as Richard Dean Anderson. He's so synonymous to this character, right? So we looked at a lot of people…and then finally Lucas [Till] showed up, just beaming with charisma, and his hair was kind of long as well. He had a bit of that mullet thing going on, too, and so I kind of just fell in love with this guy."
But network channels aren't the only ones feeling the nostalgia bug. Netflix is continuing the trend it started with "Arrested Development," "Fuller House," and "Gilmore Girls" with its new resuscitation of "Lost in Space," which is currently shooting its first season in Vancouver, British Columbia. The series is a remake of the 1960s drama in which a family is sent into space to colonize but gets knocked off course when their mission is sabotaged. The series stars Parker Posey, Taylor Russell, Ignacio Serricchio, Toby Stephens, Mina Sundwall, Maxwell Jenkins, and Molly Parker and is being cast by Automatic Sweat.
TV Land, not wanting to miss out on the action, is launching a series based on the '80s teen grunge film "Heathers." The contemporary remake revolves around a new age group of popular and evil teens all named Heather. The project stars James Scully, Jasmine Mathews, Melanie Field, Brendan Scannell, Shannen Doherty, and Grace Victoria Cox, with Felicia Fasano and Venus Kanani on board for casting.
CBS is banking on the recently deceased hit "The Good Wife" to help launch its original digital content with spinoff "The Good Fight." The series focuses on a young attorney and her mentor, Diane Lockhart (Christine Baranski, reprising her role from the original series). Mark Saks is shepherding "The Good Fight," filling it with new faces as well as some notable returns from "The Good Wife," which he also cast.
"Sons of Anarchy" fans are also in luck—FX ordered the pilot spinoff "Mayans MC." Set after the finale of "Sons of Anarchy," "Mayans MC" takes place on the California/Mexico border. The project hails from "Sons of Anarchy" creator Kurt Sutter, who has teamed up with Elgin James for the pilot being cast by Wendy O'Brien.
With the many procedural drama franchises out there ("CSI," "Criminal Minds," "NCIS," "Law & Order," Dick Wolf's "Chicago" brand, and "The Blacklist"), CBS is taking a stab at launching a comedy franchise, ordering the pilot "Sheldon." "The Big Bang Theory" prequel will further delve into fan favorite Sheldon Cooper's teenage years. ABC is following suit, ordering spinoff pilots of two of its hit comedies: "The Goldbergs" and "Black-ish."
In an age of instant access, shows have little time to hook audiences; taking an existing world and cast of characters makes it easier to engage an audience immediately, so it's no surprise that this season continues with the growing trend. But does it change pilot season for actors?
Here are a few tips from the casting director of the untitled "That's So Raven" pilot and the "Girl Meets World" pilot, Howard Meltzer:
Be aware of the tone.
Not all reboots are on the same network as the original, so be cognizant of the fact that the tone might change from network to network. For example, "Boy Meets World" was on ABC in the '90s while "Girl Meets World" aired on Disney Channel from 2014 to 2016. Meltzer warns actors to "be thoughtful of the network [on which] it's going to be airing," and aware that "the tone of half-hour comedies were a little different than they are today." It's equally important to note that even if the network remains the same, not all shows on a network have the same tone. Meltzer provides the example of the CW's "The 100" versus "Jane The Virgin." A multicamera comedy on Disney Channel would have a different tone than a single-cam.
Do your research.
While the advice for a reboot isn't that different from any other project, there just might be more research material to draw from. Meltzer says, "If you're auditioning for a TV series [and] it's already aired, you should probably go online and watch an episode to get the tone of the show. If it's a show that's never aired, you should research the writers... For the reboot for 'That's So Raven,' definitely watch the original series, but look and be thoughtful to the current writers and showrunners, which are Jed Elinoff and Scott Thomas. Sample the work they've done recently. There's a show [of theirs] on Disney Channel that's called 'Best Friends Whenever,' and you can get an idea of the tone and the style of the comedy."
Study the writers.
In addition to reading the script, Meltzer notes the importance of studying the writers. Visit their IMDb pages to see their previous work. "I always want actors to be thoughtful of the writers of every show…. Look at the writers and see what other things they've worked on. It's the most basic advice I give actors all time," he says.
Don't imitate.
Own the role yourself. Even if you are playing the same character that was in the original show, no one wants an imitation. Meltzer notes that while he's looking for skilled young comedians to play Raven Baxter's children on the reboot, he's not looking for a "Raven-Symoné" type, as she's unique. He encourages actors to give the characters their own fresh take.
Have fun.
Meltzer encourages actors not to come into an audition trying to get the job, but instead, view the audition as an opportunity to act for two to five minutes.
To find out who's casting your favorite TV show checkout Call Sheet's Production Listings!