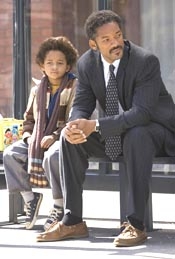 Will Smith (The Pursuit of Happyness) is looking to produce another film based on a real-life rags-to-riches story. Smith is planning on adapting Jeff Henderson's memoir, Cooked: From the Streets to the Stove, From Cocaine to Foie Gras, for the big screen. Cooked deals with the redemption of Chef Jeff, an ex-con/crack cocaine dealer who learned gourmet cooking while serving his prison sentence. He later went on to become the executive chef at the Cafe Bellagio in Las Vegas. Columbia Pictures has optioned the book. It is not certain if Smith will star in the project, as Henderson is not African-American, unlike Chris Gardner, the man Smith portrayed in Happyness.
Titanic stars Kate Winslet, Leonardo DiCaprio, and Kathy Bates are set to be reunited in DreamWorks' Revolutonary Road, an adaptation of the 1961 novel by Richard Yates. The project was written by Justin Haythe and tells the story of a '50s suburban Connecticut couple who stifle their own dreams to conform to the American Dream. Winslet's husband, Sam Mendes, is directing the feature, which begins shooting this summer.
M. Night Shyamalan is bringing his next film to 20th Century Fox. The studio has greenlit The Happening, a thriller about a family fleeing a natural crisis, which will be Shyamalan's first R-rated film. It will reportedly begin filming in Philadelphia sometime in August. After completing that project, Shyamalan is expected to work on MTV Films/Nick Movies' Avatar: The Last Airbender, a family movie based on the Nickelodeon animated series.
The Usual Suspects director Bryan Singer and screenwriter Christopher McQuarrie are reteaming for a still-untitled thriller being produced by Tom Cruise and Paula Wagner's United Artists. The multi character ensemble project is supposedly set in World War II, but other details are a mystery. The film is the first collaboration for the Usual Suspects team since that project and the second movie greenlit since Cruise and Wagner took control of UA in November. Cruise has a role in their first project, Lions for Lambs, which is being directed by Robert Redford and is scheduled for a November 9 release.
Chicago, Dreamgirls, The Producers, and the upcoming Hairspray are just some of the Broadway musicals recently adapted into theatrical films. Now word comes that Chicago director Rob Marshall and the Weinstein Company will reunite on another musical as they look to bring the Tony-winning musical Nine to the big screen. Nine was written by Mario Fratti, based on the stage book by Arthur Kopit. The original production won best musical at the 1982 Tony Awards, where it beat, among other productions, Dreamgirls. Nine, inspired by Fellini's painful, personal, and beautiful film 8 1/2, focuses on a world-famous film director as he balances the many women in his life. The late Raul Julia and Anita Morris starred in the original production, while Antonio Banderas played the lead in the 2003 revival. There are no official details on the cast or a production start date.
Another popular Broadway musical, Mamma Mia!, is also headed to a theatre near you.
Universal Pictures and Playtone have tapped Pierce Brosnan, Amanda Seyfried, Meryl Streep, Colin Firth, Stellan Skarsgard, and Christine Baranski for major roles. Mamma, based on the screenplay and show book by Catherine Johnson, is set on a Greek island on the eve of a daughter's wedding. According to the industry trade papers, Brosnan, Firth, and Skarsgard will play three men, one of whom might be the girl's father; Seyfried will play a daughter; Streep is set to play the rebellious mother who raised her daughter alone; and Baranski is set to play a 40ish party girl who's had lots of plastic surgery. Filming is scheduled for June in London, and then in Greece, with Phyllida Lloyd set to direct.
Louis Leterrier (Transporter 2) has signed on to direct The Incredible Hulk, which is being billed as a reimagining of the franchise rather than a sequel to Ang Lee's 2003 Hulk feature. Edward Norton, already attached to play Bruce Banner/Hulk, will now be joined by Liv Tyler, William Hurt, and Tim Roth. According to media reports, Liv Tyler will be stepping in for Jennifer Connelly as Betty Ross. William Hurt will play Thunderbolt Ross, Betty's father and a military officer who vows to capture the Hulk. Tim Roth will play Banner/Hulk's adversary Emil Blonsky (a.k.a. Abomination) in the Zak Penn-scripted film. Fans of the Hulk legacy know Blonsky as a KGB agent who deliberately becomes exposed to the same gamma radiation that turned Banner into the Hulk. His initial exposure is far greater than Banner's, thus Blonsky's Abomination is larger, mightier, and greener than Hulk. Universal is distributing, with Marvel producing The Incredible Hulk independently. Filming will begin this summer in Toronto for a possible June 2008 release.
Marvel Studios is also looking into the possibility of making a movie about the superhero team the Avengers. Penn is reportedly working on a script for a live-action feature. The Avengers first came together in a 1963 comic book version. The team included Ant-Man, Wasp, Thor, Iron Man, and Hulk and premiered three years after DC Comics presented its own heroic team, the Justice League of America. In addition to the Hulk film, an Iron Man film will star Robert Downey Jr., a Thor script by Mark Protosevich has been written, and writer-director Edgar Wright (Hot Fuzz) has been attached to Ant-Man. In all probability, the Avengers film won't go into production until the other Marvel superheroes have been launched.
Eddie Murphy will be collaborating with Norbit scribes Jay Scherick and David Ronn on Columbia Pictures' big screen adaptation of the hit TV series Fantasy Island. Fantasy Island aired on ABC from 1978 to1984 and featured Ricardo Montalban as Mr. Roarke, the charming, white-suited proprietor of a mysterious island on which guests could live out their fantasies for a price. At his side to welcome guests and assist was Tattoo, played by the late Herve Villechaize. Malcolm McDowell played Roarke in ABC's 1998-1999 short-lived revival. As in some of his past films, Murphy will use the film as an opportunity to play multiple roles, though it's not clear whether he will take on the role of Tattoo as well.
Thought we heard the last of The Terminator? Think again. The Halcyon Company has acquired the rights to the Terminator franchise and is putting a fourth film into immediate pre production. It is hoped the new film will serve as a launching pad for a new trilogy. John Brancato and Michael Ferris are working on a script treatment and hope to have a new Terminator film in early 2009. Arnold Schwarzenegger and original franchise director James Cameron are not expected to be involved.
Paul Walker and Linda Cardellini are starring in The Heaven Project. Currently in production in Winnipeg, The Heaven Project is described as a supernatural thriller about a death-row prisoner, played by Walker, who wakes up from lethal injection in Oregon. Alive again and working as a groundskeeper at a mental hospital, he's informed he was given a second chance by God. Cardellini plays Walker's character's love interest. John Glenn (Not the Astronaut) is directing the film, which marks the first movie produced under Walker's Be Good production banner.
Brendan Fraser is getting a new love in Universal's upcoming third installment in the Mummy franchise. Maria Bello has been cast as the female lead, replacing Rachel Weisz, who left because of scheduling conflicts. Bello will play Evelyn O'Connell, the adventurer wife of Fraser's character. Production begins this summer for a tentative 2008 release date. The Mummy 3 will also feature Aussie actor Luke Ford as the O'Connells' son and potential caretaker of the franchise. Miles Millar and Alfred Gough's (Smallville) script transfers the action to the Orient, where our heroes meet a new mummy, an ancient Chinese emperor (Jet Li) cursed by a witch (Michelle Yeoh).
Al Pacino and Robert De Niro, two Oscar-winning icons, are starring in Righteous Kill, an independent film produced by Nu Image's Millennium Films and Emmett/Furla Films. Jon Avnet (The Starter Wife), who directed Pacino in the upcoming 88 Minutes, will direct a script by Russell Gewirtz. Pacino and De Niro appeared together in two scenes in the 1995 film Heat, but this outing marks the first time the two will be appearing in an entire film together. Production begins in August, shooting in Connecticut and New York City.
Viewers hoping for the Sex and the City movie may be in luck. Speaking on the news magazine Entertainment Tonight, series star Sarah Jessica Parker said she is "hopeful and very excited about it." The project has been on again and off again for the last three years. Parker played Carrie Bradshaw on the hit HBO show and was a co-executive producer when it ended in 2004.
Viewers still disappointed that the CW didn't pick up Veronica Mars for a fourth season may be able to still enjoy the adventures of the teenage private eye, but not on the small screen. According to series creator Rob Thomas, the sleuth may be seen in a major motion picture or perhaps in the pages of a comic book. While at the Banff World Television Festival in June, Thomas expressed his ambition in writing a screenplay and mentioned a meeting that took place with DC Comics about continuing Mars Season 4 as a comic series. At the CW upfronts in May, Thomas proposed fast-forwarding Veronica's adventures a year and placing her in the FBI Academy. While that storyline didn't make the cut for the series to return, the concept seems to
be a perfect fit for comic-book treatment. In the meantime, Thomas will be joining the ABC midseason series Miss/Guided as show runner. Judy Greer stars as a high school guidance counselor.
Supergirl will be the latest hero to join the cast of Smallville when the CW series returns for its seventh season in the fall. A national casting call is currently underway for Kara, Clark's (Tom Welling) not-so-country cousin. Kara also has superpowers, including the ability to fly, which Clark is still developing. Green Arrow, Aquaman, the Flash, Martian Manhunter, Cyborg, and Brainiac are among the many DC Comics characters who have made appearances the past six seasons.
Joel Silver and Warner Bros. have acquired the rights to the popular '80s cartoon He-Man and the Masters of the Universe for a live-action feature. The story deals with Prince Adam, son of the rulers of Eternia, a man who harnesses the powers of Grayskull to become the stronger and differently dressed He-Man. Accompanying He-Man are his allies Man-at-Arms and Teela, in addition to Cringer, a giant feline who becomes Battle Cat during He-Man's own transformation.
The team faced off against Skeletor and other forces who tried to claim the power of Grayskull for themselves. The series premiered in the early 1980s and expanded with a line of kids' toys, a comic-book series, and a spin-off called She-Ra. Twenty years ago Dolph Lundgren appeared as He-Man in a feature, which also starred Frank Langella as Skeletor. The new film will be adapted by Justin Marks.