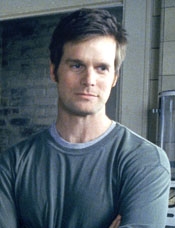 With the networks announcing their 2007-2008 TV schedules in two months, one pilot appears to be the first to get a guaranteed time slot for the fall season. Fox has given a 13-episode order to Action News, a multi-camera comedy starring Kelsey Grammer (Frasier) and Patricia Heaton (Everybody Loves Raymond). The show features the two Emmy winners as news anchors who are reunited at a local TV station. Action News is being produced by 20th Century Fox Television and executive produced by Christopher Lloyd (Frasier) and Steven Levitan (Just Shoot Me!).......
Following is a breakdown of some of the other pilots that are being developed and considered by the major networks for the fall.
ABC
Peter Krause, last seen on Six Feet Under and more recently the Sci-Fi miniseries The Lost Room, has been cast as the lead in Dirty Sexy Money. The pilot marks the return of Krause to network television. He starred in the network's Sports Night from 1998 to 2000. Krause is playing a lawyer who inherits a wealthy, law-bending family as clients from his late father. Glenn Fitzgerald is also set to star. Greg Berlanti (Brothers & Sisters) is executive producing the pilot, which was written by Craig Wright.......
Louise Lombard (CSI), Michael Michele (Kevin Hill) and Steve Sandvoss will star in Judy's Got a Gun, about a single mother and detective with a suburban police department. Matt Lanter (Heroes) is also set to play an undercover cop who's posing as a high school student........
Miranda Otto (The Lord of the Rings) and Frances O'Connor have been cast in Cashmere Mafia, a dramedy that focuses on the friendships among a group of four successful women. Otto is playing one of them, a cosmetics firm executive. Darren Star (Sex and the City) is executive producing and Peyton Reed (Bring It On and The Break -Up) is directing.......
Aubrey Dollar has been cast as a crime reporter who solves cases with her friends-a detective, a prosecutor and a medical examiner - in Women's Murder Club, based on the series of novels by writer James Patterson.......
David E. Kelley (Boston Legal) is bringing another project to ABC: Life on Mars, an adaptation of the BBC series about a detective who suffers a present-day trauma and wakes up in the early 1970s. Rachelle Lefevre is set to play a female detective. The project is being directed by Dwight Little, who worked with Kelley on several episodes of The Practice......
Very rarely does a TV adaptation of a hit theatrical film work, but ABC is giving it a try with Mr. & Mrs. Smith, a pilot based on the Brad Pitt-Angelina Jolie film. Martin Henderson and Jordana Brewster are stepping into the roles for the TV version. Bridgette Wilson-Sampras will play a neighbor who takes a shine to Mr. Smith, and Rebecca Mader (Justice) will play Mrs. Smith's fellow assassin. The pilot takes place several months after the events of the film, and has movie writer Simon Kinberg and director Doug Liman performing the same duties on the pilot. They will also be executive producing with Dave Bartis.......
Lucy Lawless (Battlestar Galactica), Gabrielle Union (Night Stalker), and Kiele Sanchez (Lost) have signed on for Football Wives, the adaptation of the British hit Footballers' Wives, about the wives and girlfriends of professional soccer players....
Michael Ealy, last seen on Showtime's Sleeper Cell, is set to play a dedicated cop in Suspect, a crime drama that introduces viewers to possible suspects in a case and then narrows them down to the actual criminal.......
Victor Garber, who earlier this season starred on Fox's Justice, will once again play a lawyer in ABC's Eli Stone. The former Alias star joins previously announced Jonny Lee Miller and Loretta Devine (Grey's Anatomy). Garber will play the father of Stone's fiancée and a senior partner at the law firm where Eli works. Natasha Henstridge and Sam Jaeger are also joining the cast. Garber's former Alias co-star Michael Vartan is also returning to ABC. The still-untitled Michael Vartan project was created by Jon Feldman (Reunion, Tru Calling) and has Vartan starring as a newly installed chief executive of a big company, who's supposed to be the "moral center" of the series.......
Jason O'Mara, who has had a recurring role on ABC's Men in Trees this season, is stepping into the role of gumshoe Philip Marlowe in the pilot Marlowe. Raymond Chandler's detective was previously played by Humphrey Bogart and Dick Powell. This marks the third TV project about the private eye. ABC had a 1959-60 series, which starred Philip Carey, and Powers Boothe played Marlowe in an HBO series in the early 1980s. Universal Pictures is also developing a feature film based on the character with Clive Owen attached. The ABC venture will be set in present-day Los Angeles and is being written by Greg Pruss and Carol Wolper. The two are executive producing with Sean Bailey, Daniel H. Blatt and Daniel Pipski.......
The network also has several comedy pilots in development. The first is The Call, created by David Hemingson (Kitchen Confidential), about a group of L.A. paramedics, with each episode taking place in real time. John Francis Daley who starred in Kitchen Confidential last season, stars. Robert Cochran, Joel Surnow and Howard Gordon, executive producers of 24, will executive produce the pilot with Hemingson.......
There is also an untitled Shana Goldberg-Meehan (Friends) pilot in the works, a comedy soap set in Washington, D.C. .......
See Jayne Run is a single-camera show from Alana Sanko (Nickelodeon's Just for Kicks) and producer Peter Traugott (Jake in Progress), which follows a successful career woman trying to balance the demands of her job and her family.......
Carpoolers, about a group of guys who ride to work together, was written by Bruce McCulloch (Saturday Night Live, The Kids in the Hall). He's executive producing with David Miner, Darryl Frank and Justin Falvey.......
Family of the Year is about a New Mexico clan whose string of awards for their town's outstanding family is challenged by another family. Dina Waters is set to play the wife in the rival family. Erica Rivinoja (Grounded for Life) is executive producing with Pam Brady (The Loop) .......
The Middle deals with the matriarch of a middle-class Midwestern family. The pilot was created by Eileen Heisler and DeAnn Heline (How I Met Your Mother) .......
Sam I Am, about a woman who wakes up from a coma with no memory of her prior life, comes from Donald Todd (Ugly Betty, Brother's Keeper) and novelist Cecelia Ahern.......
British writer Victoria Pile has written a still-untitled comedy pilot for the network that deals with a group of eccentrics in a police station. Pile previously created the British hospital comedy Green Wing and is a veteran of the sketch show Smack the Pony.......
ABC has also picked up a comedy from Josh Sternin and Jeff Ventimilia (That '70s Show) based on the how-to book called Nice Girls Don't Get the Corner Office.
Like the book, the show will focus on a woman trying to climb the corporate ladder.
Lastly, the network has also greenlit a comedy from Gabe Sachs and Jeff Judah (Freaks and Geeks, Life As We Know It) about friends competing to make partner at a law firm. Ashley Williams is taking one of the lead roles.......
CBS
CBS is going back to the drawing board with 22 Birthdays, a pilot originally developed for last season. Peter Noah (The West Wing) and Bill Oakley and Josh Weinstein (Futurama) wrote the pilot, which focuses on the intertwining lives of wealthy Los Angeles parents whose kids are in the same first-grade class and see each other regularly for birthday parties. Doug Liman will be producing along with Dave Bartis of Dutch Oven.......
CBS also has its eye on Twilight, which focuses on a vampire who works as a private detective. The pilot is from Trevor Munson, Ron Koslow (Beauty and the Beast) and Joel Silver (Veronica Mars) and is being produced by Warner Bros. Television .......
CBS also has in development Babylon Fields, which looks at what happens when the dead are resurrected and try to resume their former lives. Produced by 20th Century Fox, the pilot was written by Gerald Cuesta and Michael Atkinson. Cuesta is directing the pilot and executive producing.......
Gabriele Muccino has been recruited to direct Viva Laughlin!, the network's musical transplanting of the BBC hit Viva Blackpool!. The series is being executive produced by Hugh Jackman, who will appear in a recurring role. Carter Jenkins (Surface) and Ellen Woglom are set to star. British actor Lloyd Owen was previously announced to play the lead. Muccino directed the recent Will Smith theatrical film The Pursuit of Happyness.......
Greg Garcia, creator of NBC's My Name Is Earl, is developing Fugly for CBS. Todd Holland, who won Emmys for directing episodes of Malcolm in the Middle and The Larry Sanders Show, has been tapped to direct the project.......
Also on order is an untitled Cynthia Cidre project, which was formerly known as Los Duques, a nighttime soap that focuses on a multi generational Latin American family working in South Florida's rum business. Jimmy Smits has been signed to play Alex Vega, an outsider given control of the Duque Rum works. Writer Cynthia Cidre (The Mambo Kings) is executive producing with Jonathan Prince (American Dreams), Jimmy Iovine and Polly Anthony.......
Janeane Garofalo, seen last season helping to get Jimmy Smits elected president on NBC's The West Wing, has signed to star in a pilot about a team of public defenders. The project was written by Barry Schindel (Law & Order, Numb3rs). It is a reworked version of Law Dogs, which he originally developed for NBC several seasons ago, about the personal lives of lawyers who work in the public defender's office. Garofalo will be playing the head of that office. Also starring will be Mark-Paul Gosselaar, who will play a privileged young attorney who opts for a gig in the public defender's office rather than taking the opportunity to run for Congress. The untitled project will be executive produced by Schindel and Numb3rs' Ridley and Tony Scott and David Zucker.......
Stephen Dorff is executive producing and has the title role in the pilot Skip Tracer, which focuses on a man who finds people who are trying to disappear. Oscar-nominated director Stephen Frears (The Queen) has been signed to helm the project.......
Another CBS pilot, Demons, comes from Barbara Hall (Joan of Arcadia) and centers on a psychologist and former Jesuit priest who performs exorcisms. Hall is executive producing Demons with Joe Roth, and the series marks a trip back into religious themes for the Joan creator. Ron Eldard, Harold Perrineau and Jaime Murray are set to star.......
Eric Balfour (24), Steve Harris (The Practice) and Monica Potter (Boston Legal) have signed on to star in the drama Protect and Serve, which focuses on street cops in suburban Los Angeles. Balfour is playing an intense and emotional officer on the force, while Harris plays a veteran cop and Potter a female officer.......
Fran Kranz is set to take on the lead in the comedy The Captain, where he'll play a young filmmaker whose writer's block is unplugged by eccentrics in his apartment building.......
Mike Kelley (The O.C., One Tree Hill) has developed Swingtown, about couples who experiment with open marriage and partner-swapping in 1970s suburbia. He'll be executive producing the pilot and be joined by Alan Poul, who will direct. Poul was an Emmy nominated producer and director of HBO's Six Feet Under. Set to star as the leads are Grant Show (Melrose Place) and Jack Davenport (Pirates of the Caribbean). Show is an airline pilot in an open marriage, while Davenport's character is a businessman happily married to his high school sweetheart. Also starring is Miriam Shor, who will play an insecure housewife involved in neighborhood politics.......
LL Cool J and Melinda Clarke will be starring in the drama The Man, about an undercover cop, who becomes a father to an orphaned boy, and a sexy policewoman.......
NBC
Kim Raver, recently of ABC's The Nine, will be starring as a magazine editor in the pilot Lipstick Jungle, based on author Candace Bushnell's novel. Brooke Shields (Suddenly Susan) heads the cast for the show, which deals with a group of powerful female friends. Chris Wiehl (Love Monkey) is set to play her husband.......
Mark Valley (Boston Legal) has signed on to play an amoral salesman in Business Class, a comedy about two rival salesmen who live their lives on the road.......
Bobby Cannavale is set to star in M.O.N.Y. (working title) about the Big Apple's new mayor. The project comes from Tom Fontana and Barry Levinson and will be directed by Spike Lee.......
Josh Schwartz, creator of The O.C., and producer-director McG are extending their relationship beyond the just-cancelled series. The two have teamed for the NBC pilot Chuck, a drama about young spies. Zachary Levi (Less Than Perfect) is playing the title role, with Adam Baldwin also starring. Schwartz and Chris Fedak wrote the script, with McG serving as director and also executive producer. Fedak and Peter Johnson are co-executive producing.......
Matthew Lillard (Scream) is set to play an Air Force colonel in charge of watching over a captured alien in Area 52, about government employees at a secret facility in the desert. Jane Lynch also stars. The project is being produced by Dean Parisot for NBC Universal Televison.......
Christopher Thornton, Kevin Daniels and Daryl "Chill" Mitchell have been cast as the leads in I'm With Stupid, based on a British show that centers on a down-on-his-luck guy who moves in with his wheelchair-bound friend at a group home.......
Also at NBC, Moon Bloodgood, formerly of Day Break, has joined Journeyman as the ex-fiancée of Kevin McKidd's time traveler. Reed Diamond (Homicide: Life on the Street) is set to play the time traveler's brother. Alex Graves is set to direct.......
Natasha Richardson has joined the NBC pilot The Mastersons of Manhattan. It will be her first American series, in what is being described as a comedic soap opera about two sisters from an upper-crust New York family. Gary Janetti (Will & Grace, Family Guy) wrote and is executive producing the pilot, which will be directed by Will & Grace executive producer/director James Burrows.......
James Badge Dale (24), Dania Ramirez, Michael Rispoli (The Sopranos), David Call, Elias Koteas (Zodiac) and Viola Davis (World Trade Center) will star in the cop drama Fort Pit, about a derelict precinct in Brooklyn........
Damian Lewis headlines the cast of Life, an NBC drama about a cop who rejoins the force after serving time for a crime he didn't commit. Adam Arkin (Chicago Hope) also stars as an inside trader who befriends Lewis' character in prison and now rents a room from him. Melissa Sagemiller (Sleeper Cell) is also attached to the project.......
NBC is doing an updated version of The Bionic Woman with British actress Michelle Ryan taking on the title role. David Eick (Battlestar Galactica) and Laeta Kalogridis are the creative team in charge. The original series starred Lindsay Wagner as Jamie Sommers and premiered on ABC in January of 1976. After being broadcast on the alphabet net for two seasons, the series was cancelled and switched to NBC, where it lasted only one more season.......
Famke Janssen (X-Men) has signed to play a police officer in an untitled NBC pilot from House creator David Shore and scribe Peter Blake. This marks Janssen's first starring role in a TV series. The show mixes procedural stories with ongoing character development. Xander Berkeley has been cast as Janssen's boss.......
Rocky Carroll (Chicago Hope) has signed to star in the comedy The IT Crowd, an adaptation of the Britcom of the same title, where he will play the smug supervisor of three computer techies (Joel McHale, Jessica St. Clair and Richard Ayoade) .......
Fox
In addition to Action News, Fox has several pilots in development, including NSA Innocent, from Bob Cochran, co-creator of 24, and directed by Emmy winner Jon Cassar; and Philadelphia General, a medical drama about the lives and loves of a group of staff nurses. Ramon Rodriguez has been cast as a confident male nurse.......
Speaking of nurses, Sara Rue, last seen on ABC's Less Than Perfect, will be one of the titular medical professionals in the comedic drama Nurses, playing a married woman who still frequents online dating sites. Katheryn Winnick also stars, playing a young woman who puts aside her rebellious past to begin working at the hospital where her father has some authority.......
Amy Sherman-Palladino (Gilmore Girls) is bringing the comedy pilot The Return of Jezebel James to Fox. Parker Posey is set to play a successful children's book editor who asks her estranged sister to carry a child when she learns that she can't conceive. Scott Cohen has also been cast as the boyfriend of one of the two sisters.......
Julianna Margulies (ER) and Trieste Dunn (United 93) are set to star in Canterbury's Law, a legal drama about Elizabeth Canterbury, an edgy defense attorney. Margulies will get a producer credit and Mike Figgis will be directing the production, which is being produced by Denis Leary (Rescue Me) .......
Supreme Courtships is a legal drama about the lives and loves of a group of Supreme Court clerks. So far, Shane West, currently a regular on ER has booked a leading role, along with Zachary Knighton (Life on a Stick), Leslie Odom Jr. (Big Day) and Kurtwood Smith (That '70s Show). Ian Toynton, who has directed episodes of 24 and the recently cancelled The O.C., is directing the pilot.......
Fox dramas in development include New Amsterdam, which stars Danish actor Nikolaj Coster-Waldau as a New York City cop who's an immortal and has thus been working his beat for several hundred years. Christian Taylor (Six Feet Under) and Allan Loeb created the pilot, which is being directed by Lasse Hallstrom (The Cider House Rules) .......
Shawn Hatosy has been cast in the drama pilot The Apostles, about the off-duty lives of cops in the Simi Valley.......
The network has also asked for pilots for The Cure and K-Ville. The Cure revolves around a group that cuts through the red tape of medical bureaucracy to get care to those who need it most. Esai Morales and Garcelle Beauvais (NYPD Blue) and Anson Mount (The Mountain) are set to star. The script was written by Patrick Massett and John Zinman and the show is executive produced by Oscar-winning screenwriter Akiva Goldsman. K-Ville, from writer-producer Jonathan Lisco (NYPD Blue), is a buddy cop drama set in New Orleans in the aftermath of Hurricane Katrina. Cole Hauser and Anthony Anderson have been cast in the lead roles.......
Also in development is Hackett, from Sony Pictures Television. Denise Moss (Frasier) wrote the pilot, about a former literary whiz kid who leaves Yale in scandal and goes to teach at a public high school in Ohio.......
Craig Bierko and Rashida Jones have taken the leads in the comedy pilot The Rules of Starting Over. Bierko is playing a single man entering the dating pool and relating to his similarly divorced friends. Jones is playing a lawyer who is looking for a man.......
Kirstie Alley returns to network television in the Fox pilot The Minister of Divine, where she plays a former wild child who returns to her hometown as a minister. Malcolm Barrett (Kelsey Grammer Presents: The Sketch Show), W. Earl Brown (Deadwood) and Riki Lindhome (Gilmore Girls) also star. The series is based on the British comedy The Vicar of Dibley.......
The CW
Three new projects are joining The CW's development slate. Rutger Hauer (Sin City) has been cast as the lead in Wild at Heart (working title), as the father-in-law of a New York veterinarian who moves his family to South Africa. If picked up, the project would shoot on location for as long as it runs.......
The next is Reaper, about a young man who is a bounty hunter for Satan, capturing souls who've made their way back to Earth from hell. Michele Fazekas and Tara Butters (Law & Order: Special Victims Unit) wrote the pilot and will be executive producing with Mark Gordon and Deborah Spera (Grey's Anatomy) .......
The last is Gravity, from writer Caleb Kane and executive producers Darryl Frank and Justin Falvey, which focuses on a group of rookie cops in Los Angeles.......