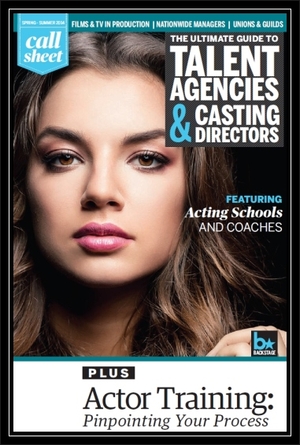 Call Sheet features details about hundreds of casting directors, talent agents, managers, and production companies.
The online version of Call Sheet is fully searchable and includes tons of exclusive listings, including literary agents and managers. The online database is updated daily, and the companies can now be sorted from A-Z or by the most recently updated listings. You can access all of the great resources from Call Sheet by visiting Backstage.com/CallSheet.
Call Sheet (formerly known as Ross Reports, and the successor to The Hollywood Creative Directory) is a comprehensive resource directory and searchable database of entertainment-industry companies and contacts, spanning film, television, theater, commercials, new media, and more.
And now the new Spring-Summer 2014 issue of Call Sheet is available at a bookstore near you. This issue marks the debut of Call Sheet's impressive new biannual format, featuring over 300 pages of valuable entertainment-industry contacts and data. That's double the size of the old Call Sheet issues!
The current issue of Call Sheet also features an insider's guide to finding the best acting schools and coaches in New York and Los Angeles. Plus, you can read new how-to guides to help you get the most out of Call Sheet's listings.
Subscribe to Call Sheet today. Check out the Call Sheet database online at Backstage.com/CallSheet. Or download the latest Digital Edition of Call Sheet and entertainment-industry mailing labels.