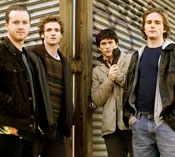 The new ABCs series Six Degrees opens by introducing six distinct characters who, during the course of their everyday lives, significantly affect each other. The first words spoken by a narrator may indicate why the setting was so pertinent to the show: "In New York City they say you walk by the person you are going to marry on the street three times before you ever meet them." This quote, summing up the drama's underlying premise, suggests exactly why Gotham is such a rich place to film. Series co-creator Stuart Zicherman (along with Raven Metzner) describes New York's unique culture as one in which "lives rub up against each other." Perhaps this is one major reason studios are dramatically increasing the number of New York-based television shows.
NBCs Law & Order brand of programs has remained the dominant network staple of work for New York-based actors, and was, for a while, the only prime-time network show in town. Now the police drama franchise is being joined by six promising newcomers. ABC, CBS, and NBC are all contributing new dramas and comedies, including NBCs The Black Donnellys, 30 Rock and Kidnapped, and ABCs The Knights of Prosperity and Six Degrees, and CBS's 3 lbs., a mid-season medical drama.
Over the last few years, network television has been raising the bar with enhanced writing and acting. Combining formulaic elements and some adventurous strides, this exciting crop of shows celebrates New York's fascinating culture, reminding us why our rent is so high.
Still, this proliferation of New York-based shows is largely due to the tax breaks offered to the studios by the city and state. Indeed, the rumor on the street, as reported by the Times (NY Times, March 2006), is that the tax incentive program has worked so well that city officials are looking to curtail the program a bit. This would be an unfortunate move in light of the unprecedented increase in industry-related jobs that this filming heyday is creating.
Many New York actors who want to break into film and television assumed they would inevitably have to do their L.A. stint. And a fair number of actors do relocate to Los Angeles during pilot season. L.A. may still be the 800-pound gorilla, but many actors now are also finding their TV gigs in New York.
Billy Lush, a principal cast member of NBC's new show The Black Donnellys, who has done his time in L.A., is now thrilled to be living his dream in New York, which he views as the "greatest city."
"In L.A. you can go days without talking to someone," explains Lush, who has already spent an immense amount of time with his fellow cast members on the Donnellys to create that fraternal element. Lush plays Kevin, one of the Donnelly brothers.
With the many new projects on the horizon, casting directors have become busy shuffling their talent to auditions around the city. Marc Hirschfeld, executive vice-president of casting for NBC, as well as an Emmy Award winner, agreed that NBC has been screen-testing actors in New York for California roles for years, but never before has there been such opportunity for up-and-coming actors to build their resumes with minor roles and guest slots in New York. Geography gives New York actors an advantage that L.A.-based actors have historically benefited from when it comes to film and television. In addition, according to Stu Zicherman of Six Degrees, studios are allowing their writers to work on this coast — persons traditionally based in Los Angeles.
Increased production in New York has whet the palates of heavy-hitting producers, directors, and actors. Hirschfeld explains that "New York has always been a sort of a lightning rod for talent". To add to this talent pool is an impressive array of men and women listed in the credits of this season's fresh New York television shows — some of whom have at one time been called to the stage to receive an Oscar or an Emmy.
Oscar-winning screenwriter Bobby Moresco, who won the Academy Award for his feature-film project Crash, is producing, along with Paul Haggis, The Black Donnellys, a drama about a band of young Irish brothers in organized crime. Quality people make quality work environments for up-and-coming actors. Billy Lush, of the The Black Donnellys, says that "Bobby Moresco is a perfectionist when it comes to portraying his vision on film. Yet the inviting set of the Donnellys made him "feel an immediate acceptance."
"Bobby is always telling people not to act," explains Lush, adding that Moresco reminds the actors that "you know you are there when you forget you are." Casting director Pat McCorkle points out that this surge in quality filming in New York has truly provided "a great opportunity for New York talent."
Alaine Alldaffer, casting director for The Knights of Prosperity, describes the local talent search as a search for "actors who seem like real people" coming "from a place of real honesty." She also adds that the search is on for "people with natural comedic ability who aren't shticky."
A Thumbnail Sketch
So here's a look at the new shows.
Kidnapped, a crime thriller, centers on the kidnapping of a fifteen-year-old boy from a prominent Upper East Side family. Creator Jason Smilovic says he came up with the idea for Kidnapped while watching the movie Low and High. "It occurred to me at the end of the movie that kidnapping offers an amazing platform to tell a story from. The immediacy of the abduction and the impact on people's lives change everyone's perspective. The idea of crime as an equalizing factor was intriguing to me," says Smilovic. The kidnapping is the "catalyst" for the narrative that unfolds", explains Smilovic.
A main character in the show, Conrad Cain, played by Oscar winner Timothy Hutton, is the boy's billionaire father with a dark past who enlists the help of a rogue private investigator, Knapp (played by Jeremy Sisto), who specializes in returning abducted children. Ellie Cain, the angry, equally well-to-do mother, is played by Emmy Award winner Dana Delany. The narrative emerges from the edgy interaction between all parties in the pursuit of the abducted boy. Other cast members include Delroy Lindo, Mykelti Williamson, Linus Roache, Carmen Ejogo, and Will Denton.
Tina Fey, the Saturday Night Live queen, will star in her newly created sitcom, 30 Rock, which also features Alec Baldwin and Tracy Morgan. The show is set in a New York television studio, where Tina Fey plays Liz Lemon, the head writer for a variety program. Lemon's life is turned upside down when a network executive (played by Baldwin) interferes by casting an eccentric movie star in the already cast production starring Morgan. Those hoping for an SNL reunion, don't hold your breath. Network reps are keeping the door closed, as major cast developments are taking place on the still- developing show.
The Black Donnellys, alluded to earlier, is a New York crime-family story, but it breaks the mold with its "coming-of-age factor," explains Lush. The characters "loss of innocence" makes Donnellys different from such shows as HBO's The Sopranos, featuring mature characters who have been criminals for decades. The endearing, loyal band of Irish brothers stumbles into crime out of necessity, and as the season proceeds, they work to shed their training wheels and rule the neighborhood. In addition to Lush, the cast includes, in a case that also includes Kirk Acevedo, Thomas Guiry, Keith Nobbs, Michael Stahl-David, Jonathan Tucker, and Olivia Wilde.
The Knights of Prosperity centers on New York working-class guys — add one gun-slinging sex kitten, played by Sofia Vergara, and a nerdy college kid, played by Josh Grisetti — who decide to rob the opulent Central Park West home of Mick Jagger. The show boasts two Emmy Award winners — Rob Burnett, executive producer of The Late Show with David Letterman, and Jon Beckerman, a former supervising producer of Letterman. ABC describes this comedy as a story about a band of "affable new-age Robin Hoods." They are clearly a band of misfits, though their intentions are arguably not as noble as those of the legendary Sherwood Forest bandit and his gang. They plan to keep at least some of the loot for themselves. The doltish band leader, Eugene Gurkin — played by Donal Logue — wants to start his own bar, which would serve down-to-earth cocktails such as Mad Dog and warm gin. This show evokes a Wal-Mart version of Ocean's Eleven, with a Rolling Stone thrown in for good measure.
In contrast to the comedy in Knights, Six Degrees depicts how lives — though seemingly not-connected — are actually profoundly connected. The New York setting for this show is paramount to the story line. The parallel plot lines of the show continually dip and dive throughout the streets of New York, culminating in an inevitable collision.
Six Degrees stars the Latino heartthrob Jay Hernandez, who recently starred in the controversial thriller Hostel, which premiered at the Toronto Film Festival and opened No. 1 at the box office in January. Also in the cast are Bridget Moynahan, Erika Christensen, Dorian Missick, Campbell Scott, and Hope Davis.
CBS's new show 3 lbs. is a Grey's Anatomy with a cerebral twist. In a New York neurological hospital, a high-performance medical team delves into the mysterious subject matter of the human mind, as well as stumbling upon the supernatural. The idiosyncratic quirks of a group of brain surgeons are brought to life in this intriguing ensemble cast, which includes Stanley Tucci and Mark Feuerstein playing characters who are full of ego, ideals, and academic achievement.
A Good Time To Be in New York
Undoubtedly, it's a good time to be an up-and-coming actor in New York City. So how does one take advantage of the television industry's New York presence? Marc Hirschfeld, of NBC, offers some advice to those lusting for their break in front of the camera. "Get out there, get an agent, do some theater or standup. Put your short film on Youtube.com," he urges, underscoring the importance of having an agent. "It's too hard as an unrepresented actor to know what's going on."
Most interviewed do not have a strong inclination toward any particular school of acting; however, as Pat McCorkle, casting director for 3 lbs. puts it, "Not a lot of people make it without some sort of studying." When looking at an actor's résumé, Ms. McCorkle says, "I like to look at where they studied as an actor. I can then understand what type of training they've had." McCorkle emphasizes that "theater training really gives an actor a core on how to develop his or her characters." In contrast, she says regarding on-camera training, "Film and television requires familiarity with the camera, and the best way to do it is to see yourself on camera." She explains that a common mistake that young actors make is "transitioning between stage and film." "Acting is acting," says McCorkle, "In the theater it is just projected a different way." "Seeing ourselves on film may be painful for many of us, but if it is, you may be in the wrong business."
Jason Smilovic, the creative mind behind Kidnapped, adds that an actor's pedigree doesn't necessarily correlate with success. Hirschfeld, who emphasized the number of newbies cast by NBC with little or no acting experience, says that getting cast "is all about the audition. Can they [the actor] inhabit the character?" Smilovic, on the other hand, says he is most impressed with actors who "jump over the line with both feet and commit to something."
It's important to know the don'ts of auditioning as well. If you want to irritate a casting director, change the script. Jason Smilovic says one of the greatest turnoffs is when actors "change the dialogue. Words to me are a template — a starting point," he says, echoing many great acting theorists. "Performance is under the words." So, stick to the script.
Landing a gig is never easy. Nonetheless, as rents climb in New York, so do the opportunities to get acting work. Casting directors on both coasts respect the craft of New York actors. With such an established stage presence in the city and scores of other live performance opportunities, actors learn how to bring something real to the set, they all insist. Now, more than ever before, is a great time to seek television opportunities right here in New York.
Editors: Note: At press time, NBC said Kidnapped will not be produced beyond its' original 13 episode order. Over at CBS, with the cancellation of Smith, the network would likely move 3lbs. for a November debut, rather than mid-season.