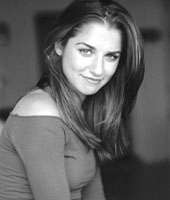 Back when you were in high school and college, the heady, sweaty days of summer generally meant sleeping in, going out, and hitting the beach instead of the books. But for dedicated actors, summer is the perfect time to pursue short term studies in any number of artistic disciplines -- all of which share the ultimate goal of creating a stronger, better prepared, more confident performer.
Colleges and universities, obviously, have summer classes available, but they tend to be regular curriculum courses and not focused, intensive trainings. However, there are theatre companies and conservatories which offer excellent opportunities for summer intensives, and summer stock remains one of the most time-honored means of gaining an exciting, concentrated experience in putting up a show (or shows, if you're with a rep company) and deciding if you're cut out for the show bizzy way of life.
Intensive summer trainings are a great way to gain new skills and hone existing ones. Three years ago, Leo Marks already had a resume full of film, television and theatre credits when he was accepted into the Stanislavski Summer School. The six-week program was being led by instructors from the Moscow Art Theatre (MAT) and was presented on the American Repertory Theatre (ART) campus of Harvard University in Cambridge, MA. Although Marks had been accepted to ART for grad school, he ultimately decided against it. But when the Stanislavski Summer School was suggested as a substitute program, he decided this intensive, short-term approach would fulfill his needs without the enormous debt that would have accompanied a full grad school commitment.
"I wanted an immersion," says Marks. "I wanted to spend my whole day thinking about, and working on, my acting. I'd never had that before. I helped start, and was part of, a theatre company in New York right out of school, and I'd always learned by doing -- which has generally meant balancing it with various jobs. So I wanted that kind of full immersion experience, but I didn't want it to involve $60,000 of debt, which is what ART would have cost. So I felt being offered this alternative for a limited amount of time would give me a real taste of what ART and MAT had to offer -- and I could afford it. It felt like I couldn't afford not to do it; it was something I really knew I needed to do, artistically, so I did it."
The program involved a rigorous morning workout combining circus techniques, stretching, yoga and more. "Increasing your flexibility and your capacity to move and control your movements, and to ultimately let a psychological impulse find it's way through your body in a way that is maximally expressive to the audience, is what it's all about," he explains.
Afternoon classes in acting technique and theatre games followed, as did scene study classes which focused largely on Chekhov and the importance of details -- time, season, weather, etc. -- all of which are deeply felt in Chekhov's works.
"The main thrust of the whole thing was 'given circumstances,' knowing every single logistical fact about the scene you're entering into and discounting nothing," recalls the actor. "Doing that has definitely improved my work. I had all these ideas about the great masters of this art form -- they ponder, they think, they torture themselves -- and while all of that's true, they also don't see any reason why you shouldn't start right now. Work with your whole self, all your skills, all your ideas, right now -- today. They have no patience for, "Oh, I'm not ready yet. I haven't done enough research‌" No! Rehearsal is now, so do it now. And that's kind of great, actually, because it demystifies the whole thing. And as far as I know, it's the only approach you can take to a process where, as in television, for example, you often have two days or less to prepare. Sometimes that can be really exciting."
It is the "environment of excitement" created by an intensive situation that appeals to veteran actor Barry Lynch, who has appeared in dozens of stage productions, television shows and feature films. "When you're excited about the work, I think your instinct comes to the forefront," he says. "And when you're in an intensive situation, you don't have time to think. The plaque over Sanford Meisner's desk said, 'Act before you think.' Hence that theory that the very first reaction you have to something is your truest response."
Lynch now lives and works in Los Angeles, but his earlier work was on the east coast, including five years with the famed Circle Rep in New York. "Circle Rep was a non-stop theatre factory from September to May. I constantly had three plays on me: one I was doing, one I was rehearsing, and one I was going to audition for. You really hone your skills doing that. It seems like you're working with more material, but it becomes easier because you're doing it every day."
Circle Rep was also connected with the summertime Dorset Theatre Festival in Dorset, VT, and Lynch spent two summers working there as well. Four shows were put up throughout the season, each with only two weeks rehearsal.
"You ate, slept, drank theatre," he laughs. "You rehearsed for eight hours a day straight through from the day you arrived until opening night. And doing that teaches you the skill of making a choice relatively quickly and sticking to it, because you know that show is going up in two weeks no matter what. So I now have the ability to make a choice, make it fast, and be confident about it. And the actor who is confident about his choice is then open to anything anyone in the room says to him. If they say, 'That was terrific, but can you try it this way?' the person who hasn't made the strong choice will think, 'Oh, they hate me! They didn't like the choice I made.' No, what that means is they do like you, and they want to see what else you can do.
"I remember an audition when I first got to California, and the casting director said, 'Thank you for being so prepared.' What? Of course I'm prepared! How else am I going to walk into this? When you audition for film and television -- especially television -- you're not auditioning for one part. You're auditioning for 500 parts. So when you walk in confident and prepared, you're a step ahead of the overwhelming majority of those who are not. And they don't prepare because they've never been taught to do it."
Preparation is what 22-year-old Jodie Weiss is learning. The young actress already has a commercial and an indie film that went to Sundance under her belt. She's spent the past few summers studying at USC, American Conservatory Theatre, and at the Piero Dusa Conservatory at the 3rd Street Promonade Playhouse in Santa Monica, CA. It was at the Conservatory where she received specific technique training in film, television and commercials, as well as the acting disciplines of Meisner and Stella Adler. Now a student at Santa Monica College, Weiss found her summer training a good way of keeping in shape between regular classes, and getting ahead in her studies. It also afforded her the chance to make connections and make friends -- both important for burgeoning young performers.
"As actors, we are very vulnerable and we put ourselves out there," she observes. "We have to really know ourselves, and we have to share ourselves with others, so there's a quick bond that forms with an acting class because you have to be supportive. Summer programs are especially great, I think, if you're young and just getting started. You always find out more about yourself and who you are and you grow as in individual, whether in your craft or as a human being."
Ahhh... from out of the mouths of babes.