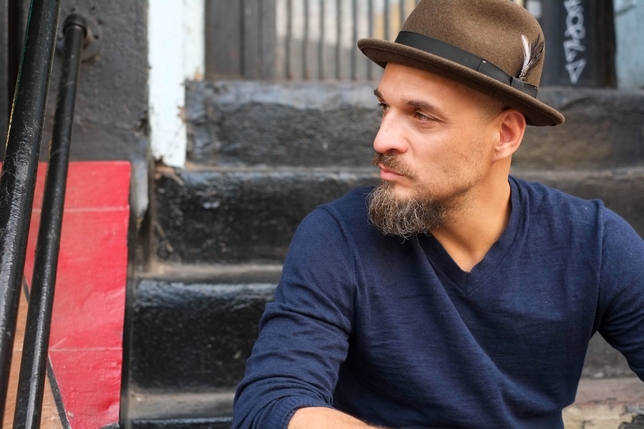 New York filmmaker Rodney Ferrer drew inspiration for his black-and-white short film series "City of Mercy" from his experiences and encounters growing up in New York City and from one of his favorite shows, "The Twilight Zone." And then he just let his imagination run wild. "You imagine following some stranger home and finding out who they are and you create this fictitious, dark and dangerous secret about them. It's the dance of folklore and truth. If New York is not a playground for the imagination, then I don't know what is," Ferrer says.
"This city is a kaleidoscope of race, culture, religion, and philosophy, and for me 'City of Mercy' is that city," says Ferrer. The city led to a natural emergence of an ethnically diverse cast. "Personally, anything less would be very uneventful and not worth writing about. I never look at this city as a one-dimensional place. So my casting just mirrored the world around me," he explains. So while some of the characters were created with a certain ethnic background in mind, Ferrer was always open to other possibilities that might strengthen his story.
To find his perfect cast, Ferrer needed well-seasoned actors to bring life to his series. In addition to auditioning them, he also took them through an interview process. "I wanted risk takers and actors that had a good sense of circumstance when they read the sides. When an actor auditioning makes me look at my own writing in a different way that is engaging and exciting, it's a wrap!" he says. Although Ferrer had an idea what he was looking for, he can't deny that the actors did influence who the characters became. "There were some auditions that altered the way I looked at the characters. I always love when actors do that. You go in with this very embedded, preconceived idea of who this character is in detail and some actor comes along and breaks that mold. They bring a layer of themselves that adds to the story."
Having used Backstage himself as an actor when it was still a newspaper, Ferrer was excited about all the options he found on Backstage for casting his project. However, he says it was also daunting. "As challenging as this was, I still enjoy the process of searching for those actors. My producer and I must have looked at every actor's reel and read every resume during this process." But his efforts were rewarded with Backstage actors Liz Tancredi, Shivantha Wijesinha, Judy Alvarez, Tom Hair, Walter Parks, Ilissa Jackson, Greg Partsinevelos, Madelyn Blair Reilly, Anwar Uddin, Rob Barba, Soleidy Mendez, and Daniel Montesano to play the principal roles in the series of short films.
Ferrer says he is constantly learning more about casting. "I think all directors should have a real sense and feel for what the acting process is. I studied at the Acting Studio - New York, twenty years ago and now I've returned to teach acting for the camera there. So I've always approached directing with an actor's eye. The more a director understands what acting is, the more effective and more productive the whole casting experience will be. Delegating is paramount in putting the whole thing together. Get the right personnel to help you and always go with your gut instinct."
The series is available on Vimeo on Demand.
Inspired by this post? Check out our Los Angeles audition listings!