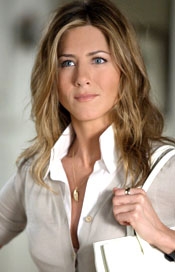 An October production start date has been planned for Nothing but the Truth, a film that mirrors the case of outed CIA agent Valerie Plame. The drama focuses on a female reporter who reveals a CIA agent and goes to jail for refusing to give up her source. According to the industry trade papers, Kate Beckinsale (Underworld) is in talks to play the reporter, with Edie Falco (The Sopranos) being her editor. Matt Dillon (Crash) is slated to play the prosecutor who goes after Beckinsale's character, while Vera Farmiga would play the outed agent. Alan Alda is also expected to come aboard as the lawyer who fights for the rights of the reporter. Rod Lurie is directing the feature, which will be produced by Marc Frydman with the Yari Film Group financing the project. Another film is being produced by Warner Bros. which is expected to deal closely with the actual Plame case...
Oscar-winning Director Gavin Hood (Tsotsi) will be directing Wolverine, the X-Men spin-off starring Hugh Jackman. Hood recently finished production on Rendition, the political thriller starring Jake Gyllenhaal and Reese Witherspoon. David Benioff wrote the Wolverine script, which is expected to trace the origins of the mutant character with retractable claws. Twentieth Century Fox is planning to have the feature ready to begin production sometime in November for a possible 2008 release...
Seth Rogen, who wrote, produced and appeared in Columbia Pictures' summer sleeper hit Superbad, is in talks to write, produce and star in the long-developed Green Hornet feature.
Evan Goldberg, Rogen's writing and producing partner, would also come aboard as executive producer. Before Rogen became involved, many different types of actor became attached to the project, including Jake Gyllenhaal, Mark Wahlberg and George Clooney. A number of filmmakers were also attached to the project, including most notably Kevin Smith (Clerks), who backed out because he didn't feel comfortable directing an action movie. Rogen's next project is the comedy The Pineapple Express, which is expected to be released in the summer of 2008...
Columbia Pictures is also developing Edwin A. Salt, the spy thriller, as a vehicle for Mission: Impossible star Tom Cruise. Cruise would play the CIA officer accused of being a Russian sleeper spy. Salt is forced to go on the run and clear his name. Terry George, director of Hotel Rwanda, is in talks to direct the film, which is based on a script by Kurt Wimmer (Equilibrium)...
James Earl Jones is in talks to lend his voice to the fairy tale feature Jack and the Beanstalk as the story's villainous giant. The film will also star Katey Sagal (8 Simple Rules), Wallace Shawn (The Princess Bride), Gilbert Gottfried (stuff), Chevy Chase (Fletch) and Christopher Lloyd (Back to the Future). Colin Ford is playing the young Jack. The feature comes from Avalon Family Films and will be directed by Gary J. Tunnicliffe from a script by Flip Kobler and Cindy Marcus. Jones has also lent his voice to Click, Scary Movie 4 and The Benchwarmers...
Emmy-nominated actor Ricky Gervais (Extras, Stardust) is set to star in Early Retirement, a Warner Bros. high-concept comedy from Mark Perez (Accepted). Gervais plays a man who quits his job to spend more time with his family. Perez will serve as executive producer, with Mosaic Medias Charles Roven and Richard Suckle producing...
DreamWorks Animation has selected May 21, 2010 (of course, Memorial Day weekend), as the release date for The Next Shrek (working title), the fourth Shrek film in the franchise. The popular CG-animated films are based on the children's book Shrek! by William Steig. The third film, Shrek the Third, left off with the ogre couple free to begin raising their triplet ogre babies. It's assumed that the fourth installment will pick up with these offspring...
Director Lexi Alexander (Green Street Hooligans) will take over the reins of the Punisher franchise. The film also gets a new star in Ray Stevenson, who takes over the starring role previously held by Thomas Jane and Dolph Lundgren. Stevenson is perhaps best known for his work on the HBO series Rome, where he played Titus Pullo. The Lionsgate production is expected to begin production in October...
Jack Black is set to star in Universal's comedy The Lost Adventures of Stone Perlmutter, Jr.
Peter Huyck and Alex Gregory are writing the script, which takes a mock look at adventurer Perlmutter, an Indiana Jones wannabe, who goes in search of such legends as the Abominable Snowman, Jesus' tomb and El Dorado. Black will also be producing with Ben Cooley through their Electric Dynamic production company...
Jennifer Aniston (The Break Up) and Steve Zahn (Rescue Dawn) are attached to star in Sidney Kimmel Entertainment's romantic comedy Management. Aniston plays a traveling saleswoman who spends the night with an assistant hotel manager (Zahn), who then begins to pursue her around the country. Stephen Belber wrote the screenplay and will be making his feature film directorial debut with this project...
Production is slated to start in October on Frank Miller's adaptation of the classic Will Eisner comic series The Spirit. Lionsgate will be distributing the film, which marks Miller's first solo directing assignment after Sin City, which he co-directed with Robert Rodriguez. Gabriel Macht (The Good Shepard) is playing the lead, the mysterious vigilante formerly known as Denny Colt, who battles evil in a suit and fedora. His main adversary is Octopus, a role that Samuel L. Jackson has been attached to. The film is expected to be released in 2009...
Production is underway in Connecticut on the Tim Allen (Wild Hogs) and Elisha Cuthbert (24) film The Six Wives of Henry Lefay, in which they are playing father and daughter. The family comedy-drama revolves around a salesman (Allen) who is presumed dead after disappearing in a skydiving expedition. While arranging his funeral, his daughter (Cuthbert) discovers the widow and five ex-wives of various ages, who are now fighting over the will. S. Epatha Merkerson, Andie MacDowell, Kelli Garner and Paz Vega are among the six spouses. Howard Gould, who worked with Allen on his hit ABC series Home Improvement, will be making his feature film directing debut from his own script...
Viggo Mortensen, Ed Harris and Renée Zellweger are teaming up for New Line Cinema's western Apaloosa, based on the acclaimed novel by Robert B. Parker. Harris will also be involved in the production side of the project. He'll be directing the feature after writing the screenplay with Robert Knott. Harris and Knott are also producing. Shooting is scheduled to begin in New Mexico on October 1...
Classic Hanna-Barbera adventure cartoon Jonny Quest will be coming to the big screen in the form of a live-action feature courtesy of Warner Bros. The original series aired on ABC prime time for only the 1964-65 season due to the high cost of producing the show. It later became a fixture on Saturday mornings and was eventually revamped for the Cartoon Network in the '80s and '90s as The Real Adventures of Jonny Quest. Dan Mazeau is writing the screenplay, which will be produced by Adrian Askarieh and Daniel Alter. Quest is the latest cartoon created for live action from the Hanna-Barbera library. The others have been The Flintstones and Scooby-Doo. A live-action Jetsons film has been in development at Universal for several years...
Eddie Murphy and Thomas Haden Church are currently in Los Angeles working on NowhereLand, a new feature comedy from Paramount Pictures. The project centers on a struggling businessman (Murphy) who tries to resolve his problems at work-including his rival (Church)-with the help of his 6-year-old daughter and her imaginary world, NowhereLand.
Karey Kirkpatrick is directing the film...
Patrick Wilson, Jackie Earle Haley, Matthew Goode, Billy Crudup, Jeffrey Dean Morgan, Malin Akerman and Carla Gugino are among the cast in Watchmen, which starts production this fall in Vancouver. Based on the Hugo-winning limited comic series, the feature takes place in an alternate 1985 during the Cold War between America and the Soviet Union. The series dealt with a grittier, more human depiction of costumed crime fighters and their assorted neuroses. After one of them is murdered, the other heroes work through their differences to find the assassin.
Warner Bros. is producing the project, which is being directed by 300 helmer Zack Snyder...
Russian-born actor Anton Yelchin (Alpha Dog) has been cast as Chekov, the navigator of the U.S.S. Enterprise, in director J.J. Abrams' Star Trek. Walter Koenig played Pavel Andreievich Chekov in the original series, but did not join the show until the second season. Yelchin is the second actor to join the film. Spock was the first to be announced - being portrayed at different ages by Zachary Quinto (Heroes) and Leonard Nimoy, the original half-Vulcan. Still to be cast are original characters James T. Kirk, Leonard "Bones" McCoy, Nyota Uhura, Hikaru Sulu, Montgomery "Scotty" Scott, the film's Federation captain and its villain. No storyline has been revealed, but it's assumed that due to the younger casting the film will focus on the Enterprise crew during their time at Starfleet Academy. Star Trek is scheduled for release on Christmas 2008...
Bradley Cooper, Thomas Haden Church, Sandra Bullock and Ken Jeong have signed on for the quirky romantic comedy All About Steve. The film centers on a crossword puzzler (Bullock) who goes on a date with a CNN cameraman, Steve (Cooper), and then stalks him across the country along with his crew and new producer (Jeong). All About Steve is produced by Bullock's Fortis Films production arm, with Phil Traill directing...
Andy Garcia (Ocean's Thirteen), Alfred Molina (The Hoax), Aishwarya Rai (Bride & Prejudice) and John Cleese (Shrek 3) have all signed on for the Pink Panther sequel, joining Steve Martin, who once again dons the mustache as the bumbling Inspector Clouseau. Garcia, Molina and Rai will play a group of private eyes and experts who join Clouseau to catch a crook who's been stealing artifacts throughout the world. Cleese is playing the role of Chief Inspector Dreyfus, Clouseau's rival, who was played by Kevin Kline in the first installment last year. In addition, Jean Reno and Emily Mortimer will reprise their roles as gendarme Gilbert Ponton and Nicole.
Produced by Columbia Pictures and MGM, The Pink Panther 2 is being directed by Harold Zwart (Agent Cody Banks) and is expected to be released in February of 2009...
Production is currently underway in Toronto on Mike Myers' latest film, The Love Guru. In his first original character since his Austin Powers days, Myers plays an American who was left at the gates of an ashram as a child and raised by gurus. When he arrives back in the U.S., his spirituality makes him popular with the self-help crowd, particularly arguing couples. Jessica Alba and Verne Troyer also star in the Paramount Pictures feature, which was written by Myers and Graham Gordy. Marco Schnabel is directing the production, which is scheduled for a June 2008 release...
Director Matthew Vaughn (Stardust) has been tapped by Marvel Studios to direct Thor, based on the comic book character created by Stan Lee. Thor is loosely based on the Norse god, the blond-haired, hammer-wielding god who comes to Earth to help mankind. The screenplay is being adapted by Mark Prostevich (I Am Legend) and, the film is expected to begin production this winter...
Director/producer McG (Supernatural, Chuck) is also joining the comic-book adaptation bandwagon. Warner Bros. has picked up the rights to Maintenance for McG's Wonderland Sound & Vision to produce and possibly direct. The comic series, from Oni Press, centers on two janitors who clean toxic spills and repair machines at Terrormax Inc., which supplies equipment and devices to supervillains. Joe Ballarini is adapting the screenplay, which is based on Jim Massey's creation and Robbi Rodriguez's illustrations. Warner Bros. recently adapted another Oni project for the big screen-Whiteout, based on the graphic novel, with Kate Beckinsale starring and a 2008 release date scheduled...
Salma Hayek (Ask the Dust) is set to star in and produce an untitled romantic comedy for Walt Disney Pictures. The Emmy-nominated actress will play the object of desire of two men-her fiancé, a conservative doctor, and an ex-boyfriend who wants her back. The screenplay was written by Ed Decter and John Strauss (of the Santa Clause films)...
Channing Tatum (Stop Loss) and Columbus Short (Stomp the Yard), stars of two recent sleeper dance films, are joining forces for a still-untitled buddy action feature. No storyline was available, but Columbia Pictures and Neal Moritz's Original Films are producing, with David Elliot and Paul Lovett (Four Brothers) writing the script.