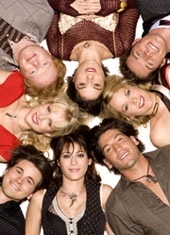 It's funny how things happen. One day you're just cleaning out the basement, going through stacks of dust-covered bags and boxes, when the contents of one of them catches your eye. The next thing you know it's two years later and you have a hit TV show on your hands. And it's all because you found an aging envelope marked "Third Grade" inside a box, pulled out the class photo it contained, and wondered, "Whatever became of these kids? They all look so happy and innocent; I wonder how they turned out?"
Such was the unassuming genesis of The Class, the new Monday night CBS comedy from writers-producers and life partners Jeffrey Klarik and David Crane. Klarik has written and produced for Mad About You, Dream On, The Naked Truth, Ink, Boarding School, and created the hit comedy Half & Half. Crane also created Dream On before creating and writing numerous episodes of the political comedy The Powers That Be. He then served as an executive producer for Veronica's Closet (which he also co-created) and Jesse at the same time he was executive producing and writing hundreds of episodes for another co-creation — a decade-long laughfest called Friends.
Klarik recalls that after finding Crane's class photo two years ago, the two did some detective work to see if they could discover what had happened to any of the kids in the picture. "We found out that the guy who looked like the biggest loser is now this international lawyer," he laughs. "And the very good-looking 8-year-old boy is now a 40-something-year-old woman. It's like, wow, you look at these kids and you have no idea where the future will take them."
And so it was those basic questions-"What happened to these kids?," "Where are they now?," "Who got to be happy?"-that inspired Crane and Klarik to create The Class, the story of a hopeless romantic named Ethan Haas (Jason Ritter) who wants to do something special to celebrate the 20th anniversary of the day he met his fiancée, Joanne (Kasey Wilson), which just happened to be the first day of third grade. He tracks down as many of the students from Mrs. Klinger's class at Woodman Elementary School in Philadelphia, Pa. as he can, and invites them to a surprise anniversary party. He even hires the former cafeteria cook to prepare typical school fare, like fish sticks, sloppy joes, and Jell-O, just the way she did 20 years ago. But at the party, Joanne feels overwhelmed and smothered by all the attention and breaks up with Ethan in front of everyone. From that moment on, The Class follows Ethan and several of his classmates as they begin to sort out their adult lives, tentatively reconnect with their old pals, and consider whether or not to establish new relationships. The classmates include Lina Warbler (Heather Goldenhersh), who was recently dumped but still remains optimistic about love; her sharp-tongued twin sister, Kat (Lizzy Caplan), whose acerbic nature is merely protective armor for a gentler side; shy Richie Velch (Jesse Tyler Ferguson), whose life since third grade has gone downhill and lost all meaning; heartthrob Kyle Lendo (Sean Maguire), who now happily lives with his boyfriend, Aaron (Cristián de la Fuente); Kyle's high school girlfriend Holly Ellenbogen (Lucy Punch), now married to prissy Perry (Sam Harris) and diligently working at her career as a news anchor; once-popular Duncan Carmello (Jon Bernthal), who still lives, and fights, with his mother, Tina (Julie Halston); and pretty girl Nicole Allen (Andrea Anders), who once loved Duncan but now finds herself the unfulfilled trophy wife of legendary football star/BBQ grill spokesman Yonk Allen (David Keith).
"The interesting thing for us is that most of the people who go to this party aren't really looking forward to it," explains Klarik. "Some are doing it out of curiosity, and some because they've got nothing better to do. And that one night ultimately changes the course of all of their lives, even though it doesn't seem that evident at first. Kat, for example, doesn't want to go in the worst possible way, and she seems the most guarded and sarcastic and hostile. And yet at the end of the party, after Ethan gets dumped, she's the one who ends up staying with him and taking care of him. Suddenly they've got a relationship, and they're the last two people you'd expect to end up together. And Richie, who's considering suicide that week, goes to the party and meets Kat's sister, Lina, who, in turn, was going because she had a crush on Kyle Lendo, who is now gay. So things don't turn out the way anyone foresees, and yet it all sort of turns out for the best."
Two years ago, none of the cast could have foreseen that they would be part of a new sitcom produced by Crane and Klarik. Indeed, even Crane and Klarik would have been surprised. Although the pair had previously written together, they had never collaborated on a project as creators and producers. Finding Crane's class photo ultimately changed everything for them, just as attending the surprise party ultimately changed everything for the characters they created.
The Class became a high-priority project for Warner Bros., and casting director Bruce H. Newberg, who also cast The Closer for that studio and who has a strong background in casting for Los Angeles theatre, was recommended for the job. At first Newberg was hesitant to even be interviewed; he had just signed a pilot-season consultant deal with Werner/Gold/Miller Productions and was committed to casting their pilot, Twenty Good Years, with John Lithgow and Jeffrey Tambor. But eventually he was convinced to take the meeting with Crane and Klarik, and then everything changed for him as well.
"I thought it was one of the best pilot scripts I had ever read," Newberg recalls. "I couldn't believe the character detail work, and having good characters to cast is what's so interesting to me as a casting director. It helps if the show is funny and well-written and holds your interest, but from a pure casting standpoint, it's great to get roles that are so rich, so full, and so specific. And then beyond that, David and Jeffrey and I met for about an hour and a half and we just connected. Now, I've been on a lot of interviews that I felt good about, but I was absolutely certain that this one was going to work. And it did."
Ultimately, Newberg was hired not only to cast the pilot but to cast the series as well. Work on the pilot began in October 2005 and lasted five months, finally wrapping up in March 2006. And although none of the roles were written with any specific actors in mind, Newberg immediately thought of Jason Ritter, young co-star of the too-soon-lost Joan of Arcadia, for the pivotal role of Ethan. He coordinated with New York-based casting director Meg Simon to audition the actor in Manhattan, where he was performing at Lincoln Center with Dianne Wiest and Charles Durning in the late Wendy Wasserstein's most recent play, Third. Then, that December, Newberg, Crane, and Klarik and flew to NYC to see Ritter other actors, and to catch as many shows as possible in their search for fresh, fairly unknown faces.
The one-week trip brought them amazing results. In addition to Ritter, three other actors — a full one-third of the 11 series regulars — were eventually hired after being seen that December in Broadway shows: Jesse Tyler Ferguson was spotted p-e-r-f-o-r-m-i-n-g in The 25th Annual Putnam County Spelling Bee, Heather Goldenhersh made believers out of Newberg and the producers as a questioning young nun in Doubt, and Julie Halston sang and danced her way into their hearts during Hairspray.
Of course, those four actors — and all the others — still had to go through the process of reading for, and being approved by, both the studio and the network. No one was even considered unless they were willing to read. And high-profile, name actors, though seen as a courtesy, were generally resisted. The Class was meant to be an ensemble vehicle. Some familiarity was acceptable in a few roles, but the show was never intended to be star-driven, and that is part of its inherent charm.
In terms of casting guest stars and other roles, Newberg takes his cues from Crane and Klarik, who both readily admit to being very hands-on with the process and receptive to the unexpected. "We're open," insists Klarik. "If somebody brings a different color to a part, and we didn't expect that, it makes it even more interesting for us."
"In some ways," adds Crane, "and this is true with both the guest cast and the principals, people have come in and read things in ways that make you go, 'Oh, my God!' Heather Goldenhersh, for example, has such a specific and unusual voice, and we had never imagined Lina being that quirky a character, but the minute she read we couldn't imagine it being played any other way."
"First and foremost, David and Jeffrey want people who are funny," Newberg explains. "There are a lot of jokes in the show, and they want actors who can handle that. And then secondly, their skill as an actor is really important. Most of our cast are funny people, but they come from the theater, so they're really good actors. I don't want to use anyone who isn't on a par with them, because otherwise the balance of the show will be off.
"Also, David and Jeffrey are telling stories based on their own childhood, so the cast reflects their particular childhood. David grew up in Philadelphia, where the show is set, and Jeffrey grew up in Connecticut. But always, whenever I'm casting, I have a mind toward ethnic diversity. So as the guest star roles come up, I'm always trying to cast a minority because the regular cast is very Caucasian. That said, almost every week, one of our guest stars have been African-American or Asian or Hispanic. I haven't gotten around to a Native American yet, but I will!"
As of this writing, The Class had passed the test and been approved for 19 episodes. Hopes are high for additional episodes to be ordered soon. For their part, Crane and Klarik are very clear about the directions these people will take in their lives.
"We have very specific trajectories for each of the characters," says Crane. "We have a sense of where they're going to go, and how their lives are going to surprise you, and intersect, and that's one of the things that excites us about this project is that it is a show about ongoing stories. It's not just what's funny this week; it is very much moving forward. And we have ideas that relate to each of the specific characters. And part of it is how this network of people becomes more involved and intricate, and their lives become connected in ways you're not expecting."
Jason Ritter and Andrea Anders were amongst the few actors who came to The Class with enough previous television exposure that audiences were likely to recognize them. Anders not only had a selection of guest star roles under her belt, she had been recurring on Oz and spent two seasons as a regular on Joey, the short-lived follow-up to Friends.
"I've been doing television consistently now for two and a half years, and it's been amazing," exclaims Anders. "I absolutely love it. And I'm ridiculously fortunate to get a chance to experience the sitcom world. The schedule is extremely easy, and you get fed as an artist because you're not only working on a project, but you get to work with cameras and you get the audience there. It was difficult to see Joey go away, but the experience was a blast to me. If our call time was 10A.M., then I'd get there at 6A.M. and just hang out. I just love being welcomed onto a lot to go do your job. Every day you see the security guards, and you think, 'Oh, this is so wonderful!'"
In addition to guest-starring roles on assorted dramas, Ritter spent two seasons as a damaged teen in a wheelchair learning to adapt to his changed life on Joan of Arcadia. The Class is his first comedy series, and he was especially taken with the show's funny but very flawed characters.
"I liked the idea of people reconnecting after all that time and seeing where they are and how they have, or haven't, grown," says Ritter of why the show appealed to him. "And I like how not all the characters are happy. In fact, only one of them is. Maybe. I like that; it's a funny show, but that gives it a little depth."
Ritter also feels a bit of kinship with the overly indulgent, rather clueless Ethan. "I feel like we both probably care a bit too much about what other people think of us," he acknowledges. "And I feel like I have some level of his obliviousness sometimes. I think I'm a little bit more savvy, but I share an aspect of his personality where I can just allow myself to be happy, even though I'm not constantly. I'd like to see him grow a little spine about certain things, though. That's another place where he and I are similar — we sometimes get scared of standing up for ourselves."
The significant difference between Ritter and his character seems to be focus and awareness. Ritter admits he willingly puts the emphasis on others and tends to overdo his caring for them, while Ethan tends to relate to people in proportion to the size of the spotlight they shine on him. He cares more about their opinions of him than he cares about them as people with problems of their own.
"Throwing that surprise party was a romantic gesture," explains Ritter, "but it was almost like Ethan knew that other people would find it romantic, but not necessarily that his fiancée would. It has less to do with her and more to do with saying, 'Look, everybody, I'm doing great!' and 'Aren't I so romantic?' He's not actually paying attention to what she really wants.
"It's like he's following a textbook. Up to the point of the pilot, he's been doing everything like you're supposed to do: He went to school, he's got a job, he's making money, he's got a nice apartment, and now he just needs his fiancée and his dog and kids. He's checking things off his list of An Ideal Life, and that's one of the things that interested me in the character. It starts off at the first day of his education about how the real world is, and I liked that. I was excited for the journey that he's inevitably going to have to go through."
Both Anders and Ritter have backgrounds in drama — she went to college in her native Wisconsin and grad school at Rutgers; he attended NYU and studied primarily at the Atlantic Theater Company — but both find a special pleasure in doing comedy. "Doing drama is a challenge for me," confesses Anders, who also admits to having, and relishing, "a flair for the silly." "Most of my training at graduate school was geared towards drama, so I feel good about it, and I can do it, but it requires a lot more work from me. I feel like with drama...well, with all acting, really, you need to honor the truth of the situation. And when you're honoring someone's devastation, it's important to me to hit the mark, to get it right. For some reason, comedy just comes easily to me, and I feel like I can do it. I don't have any doubt. When I work on drama, there's always a sense of 'Did I find this person's truth at the bottom of this?' And it's hard to tell sometimes."
Despite his experience in dramatic programming, Ritter, of course, was already familiar with the world of television comedy thanks to his dad, legendary comic actor John Ritter. "What I love about the sitcom," says Ritter, "is that having the audience there really intensifies the experience. When you're doing TV or a movie, you can walk around in ignorant bliss and go, 'Okay, well, I don't have to be there when the audience watches. If they don't like it, well, I won't know.' But having the audience there, when you say a joke and it bombs, you know it! At the same time that's really helpful, because then the writers jump in and they write you a new joke and you, hopefully, get the laugh. It's just nice to have that immediacy. But I think comedy scares me a little bit more for that reason, too. With comedy, there's one specific response that you're hoping to elicit from people, whereas in a drama, as long as someone is thinking, you've done your job. There's a larger scale of success or failure by which to judge yourself in a drama. But I like doing them both."
Of his famous family, Ritter says, "My parents were both actors and they were really encouraging of me, but always in a smart way. It was never like, 'You can do anything you want, you just have to want it.' It was like, 'You can do anything you want, you just have to learn as much about it as you can and really be voracious about studying and learning new things. If you want to learn how to do this, then watch people you like and respect, and really figure it out.' So with comedy, it's just about trying to hold on to some thread of the reality of the situation — even if you're going big! — and make it about that. The intention has to be real, as opposed to the intention being 'I'm trying to make people laugh.' That can be very dangerous."
The intention is real with The Class — to see what would happen if your past became part of your present, and maybe even your future. And if it makes you laugh, no matter if it's at a joke or in recognition of something familiar (or yourself), well, then, so much the better.
Editor's Note: Congratulations to The Class for winning Best New Comedy Series Tuesday night (January 9th) at The 33rd Annual People's Choice Awards.
"The Class" Goes Live with Two Webcasts
For those interested in television production, "The Class" will also be in session online. On Monday, January 15th, fans will be able to get a behind-the scenes look at the new series. Log on to theclasstv.com to watch a live webcast (2 p.m. ET/11 am PT) featuring the cast, producers and writers of the series conducting a table read of an upcoming episode. Two days later, on Wednesday, January 17th, a second webcast (4 p.m. ET/1 pm PT) will take viewers behind-the-scenes of the first rehearsal performance on stage. These are events you are not going to want to miss. The Class airs Mondays at 8:30 p.m. ET/PT on the CBS Television Network.