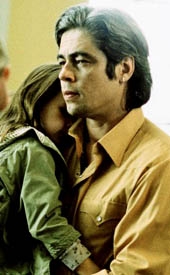 Universal Pictures was famous for those monster movies produced during the 30s and '40s. Now, several of those horror classics are getting remade once again for the big screen.
Mark Romanek (One Hour Photo) is slated to direct Benicio Del Toro's update of The Wolfman, which was originally made in 1941 and starred Lon Chaney Jr. in the title role. Andrew Kevin Walker scripted the update, which is being produced by Scott Stuber and Mary Parent. Rather than change the locale of the classic, the updated version of the film is expected to maintain the same period as the original, with Lawrence Talbot returning to his homeland of Victorian England, getting bitten by a wolf, and undergoing a transformation when the moon is full. Production is expected to begin this fall.
A remake of the 1954 classic Creature from the Black Lagoon is another film scheduled to begin production later this year. The movie is now slated to be released in 2008, with Breck Eisner directing the script by Gary Ross and Tedi Safarian. Ross of Larger Than Life Productions, is producing the updated version, with it being more akin to Alien, according to Eisner.
Production begins the end of this summer on The Mummy 3, with Brendan Fraser set to return and Smallville's Alfred Gough and Miles Millar writing the script. The film is being produced by Bob Ducsay, Sean Daniel, James Jacks, and Stephen Sommers, who directed the first installment. Most notably absent will be Rachel Weisz, whose character is being written out, and the scribes are promising a new pass on the screenplay to take Weisz's absence into account. The film is also being set in China and features Jet Li as the main villain. Rob Cohen is directing the third installment, which is scheduled for a summer 2008 release.
Speaking of Smallville, remember Eric Johnson, who played Whitney Fordman, Lana Lang's boyfriend, during season one and later died in combat in a second-season episode? Well, Johnson has landed the starring role in the new Sci-Fi Channel series Flash Gordon, based on the 1930s comic book franchise about a popular adventurer. The new incarnation will be a contemporary update of the intergalactic exploits of Flash, Dale Arden, and Dr. Hans Zarkov, whose rocket-building genius allowed the trio to travel in space. Production has begun in Canada on the first 22 episodes of the hour long RHI Entertainment series, and it's scheduled to premiere in August.
Columbia Pictures, the same company that brought Spider-Man to the big screen, is attempting to bring the long-stagnant The Green Hornet project to life. The studio has optioned the rights to the crime-fighting franchise, with Neal Moritz's Original Film producing. Although the franchise's best loved incarnation maybe the 1960s short-lived TV show starring Van Williams and Bruce Lee, the character actually debuted on radio in 1936, before moving to comics in 1940.
Production begins this summer on a reboot of The Incredible Hulk, with Edward Norton stepping in for Eric Bana, who played Bruce Banner in Ang Lee's 2003 film. The new movie is not a sequel but does pick up with Banner on the run, and battling the big green giant that lurks within. Louis Leterrier is directing the Marvel script by Zak Penn, which will be filmed in Toronto.
Teen private eye Nancy Drew, starring Emma Roberts, makes her big screen debut on June 15, and without a single box-office receipt Warner Bros. already wants a sequel. According to the industry trades, Roberts, director Andrew Fleming, and producer Jerry Weintraub are looking to plan further investigations. The first feature has Nancy and her father visiting Los Angeles and getting caught up in a murder mystery. Fleming reportedly has already written a script entitled Rodeo Girl, involving a rodeo competition.
Warner Bros. is also hoping to give the classic Sherlock Holmes his own cinematic franchise and return to the big screen, with screenwriter Michael Johnson and director Neil Marshall. The studio has teamed with producer Lionel Wigram, using Wigram's Sherlock Holmes comic book as a starting point. It is hoped that Marshall can give the film the sort of dark, gritty twist that made Batman Begins so successful, and perhaps play on Holmes' adventuresome side, rather than the intellectual aspects of the character, as created by Arthur Conan Doyle. Doyle introduced the Victorian sleuth in the story "A Study in Scarlet," and he was featured in four novels and 56 short stories.
With only a few weeks to the live-action adaptation of Underdog, actor Jason Lee, who voiced the canine superhero, is ready to take on another TV cartoon. The My Name Is Earl star is set to play Dave Seville, the human companion to the singing rodents in Fox 2000's Alvin and the Chipmunks movie. Alvin, Simon, and Theodore, the singing chipmunks, will be CGI-animated courtesy of 20th Century Fox Animation. The long-awaited film will be directed by Tim Hill, who also mined Garfield: A Tail of Two Kitties.
Larry and Andy Wachowski's adaptation of the classic Japanese cartoon Speed Racer is already moving at record speed. The two have cast Emile Hirsch in the lead role of Speed Racer. His parents are being played by Oscar winner Susan Sarandon, who's set to play Mom, and Golden Globe winner John Goodman, who has signed on as Pops Racer, top-flight auto engineer and designer of Speeds Mach 5. Christina Ricci will play Speed Racer's girlfriend, Trixie. Another key role, the mysterious Racer X, has yet to be cast. Production on Speed Racer is set to begin this summer in Germany. Warner Bros. has already staked out a May 9, 2008, release date for the movie. The original anime series was created by Tatsuo Yoshida and premiered in Japan in 1967. American audiences took a liking to the speedy dubbing and catchy theme song in the show's opening and closing credits. The cartoons story centered on a teenaged Speed Racer, who finds himself in intrigue and danger on his road to racing glory. Always on hand were his parents, girlfriend Trixie, little brother Spritle, his monkey Chim Chim, and the mechanic Sparky.
Two weeks after Speed Racer's 2008 release date, Paramount is distributing the Lucasfilms Ltd. production of Indiana Jones and the Quest for Profit (working title), with a May 22, 2008, release already scheduled. Production is set to begin in June, and reteams Harrison Ford, Steven Spielberg, and producer George Lucas. Specifics regarding David Koepp's script are top-secret, but according to published reports, Cate Blanchett is booked for a crucial role, and Shia LaBeouf is rumored to play the son of Ford's title character.
Adam Sandler and Rob Schneider are set to collaborate on yet another film, as the two star in Columbia Pictures' You Don't Mess With the Zohan. Sandler will portray a Mossad agent who discovers that intelligence isn't really for him. He devises a plot to fake his death and move to New York so he can realize his dream of becoming a hair stylist. Schneider is set to play an East Yistannen cab driver. Sandler, Judd Apatow, and Robert Smigel wrote the project, which is being produced by Sandler's Happy Madison. Production begins this summer in Los Angeles and New York for a summer 2008 release.
Will Smith (The Pursuit of Happyness) is looking to produce another film based on a real-life rags-to-riches story. Smith is planning on adapting Jeff Henderson's memoir, Cooked: From the Streets to the Stove, From Cocaine to Foie Gras for the big screen. Cooked deals with the redemption of Chef Jeff, an ex-con/crack cocaine dealer who learned gourmet cooking while serving his prison sentence. He later went on to become the executive chef at the Cafe Bellagio in Las Vegas. Columbia Pictures has optioned the book. It is not certain if Smith will star in the project, as Henderson is not African American, unlike Chris Gardner, the man Smith portrayed in Happyness.
Titanic stars Kate Winslet, Leonardo DiCaprio and Kathy Bates are set to be reunited in DreamWorks' Revolutonary Road, an adaptation of the 1961 novel by Richard Yates. The project was written by Justin Haythe and tells the story of a '50s suburban Connecticut couple who stifle their own dreams to conform to the American Dream. Winslet's husband, Sam Mendes, is directing the feature, which begins shooting this summer.
M. Night Shyamalan is bringing his next film to 20th Century Fox. The studio has greenlit The Happening, a thriller about a family fleeing a natural crisis, which will be Shyamalan's first R-rated film. It will reportedly begin filming in Philadelphia sometime in August. After completing that project, Shyamalan is expected to work on MTV Films/Nick Movies Avatar: The Last Airbender, a family movie based on the Nickelodeon animated series.
The Usual Suspects director Bryan Singer and screenwriter Christopher McQuarrie are reteaming for a still-untitled thriller being produced by Tom Cruise and Paula Wagner's United Artists. The multi character ensemble project is supposedly set in World War II, but other details are a mystery. The film is the first collaboration for the Usual Suspects team since that project and the second movie greenlit since Cruise and Wagner took control of UA in November. Cruise has a role in their first project, Lions for Lambs, which is being directed by Robert Redford and scheduled for a November 9 release.
Chicago, Dreamgirls, The Producers, and the upcoming Hairspray are just some of the Broadway musicals recently adapted into theatrical films. Now word comes that Chicago director Rob Marshall and the Weinstein Company will reunite on another musical as they look to bring the Tony-winning musical Nine to the big screen. Nine was written by Mario Fratti, based on the stage book by Arthur Kopit. The original production won best musical at the 1982 Tony Awards, where it beat, among other productions, Dreamgirls. Nine, inspired by Fellini's painful, personal, and beautiful film 8 1/2, focuses on a world- famous film director as he balances the many women in his life. The late Raul Julia and Anita Morris starred in the original production, while Antonio Banderas played the lead in the 2003 revival. There are no official details on the cast or a production start date.
Another popular Broadway musical, Mamma Mia!, is also headed to a theatre near you.
Universal Pictures and Playtone have tapped Pierce Brosnan, Amanda Seyfried, Meryl Streep, Colin Firth, Stellan Skarsgard, and Christine Baranski for major roles. Mamma, based on the screenplay and show book by Catherine Johnson, is set on a Greek island on the eve of a daughter's wedding. According to the industry trade papers, Brosnan, Firth, and Skarsgard will play three men, one of whom might be the girl's father; Seyfried will play a daughter; Streep is set to play the rebellious mother who raised her daughter alone; and Baranski is set to play a 40ish party girl who's had lots of plastic surgery. Filming is scheduled for June in London, and then in Greece, with Phyllida Lloyd set to direct.