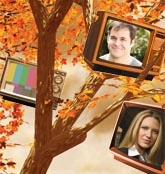 Like so many working actors, Elizabeth Reaser has endured her share of maddening pilot seasons. "Oh my God, it was just insane: pounding the pavement, going on a gazillion really bad auditions, and just being humiliated day in and day out and never even getting a test or a callback or anything," she recalls. "Just complete desperation followed by despair. It was years of that."
Things went a little differently this time around. Fresh off her Emmy- and Screen Actors Guild Award-nominated turn as troubled Grey's Anatomy amnesiac Ava/Rebecca Pope, Reaser landed the lead role in CBS's buzzy new series The Ex List. And yet she doesn't feel all that removed from the crushing lows of previous years. "I don't feel like, 'Oh, cool, I'm here, it's done,' " she says.
At least two of this season's other potential breakout stars also can't quite believe they've come so far. Kyle Bornheimer, who plays a disaster-prone nice guy in CBS's Worst Week, confesses that taking center stage on a soon-to-premiere show is a little surreal. "We start shooting Episode 2 in a few weeks, and I still feel like I'm auditioning," he says, chuckling.
And Anna Torv, who nabbed the central role in 端ber-producer J.J. Abrams' much-anticipated sci-fi series Fringe, notes that the anxiety she felt stepping onto the set the very first day of filming hasn't necessarily abated. "I still get nervous," she says, laughing. "I do. I don't know why."
All three actors worked hard to reach this thrilling career moment: a leading part in a high-profile new series. For the Australian-born Torv, who traveled halfway around the world for the opportunity, it's a reminder that even the most far-fetched dreams are ultimately possible. "You always think that things are so far away — so out of reach," she says. "But they're not."
The Next List
On The Ex List, Reaser plays Bella, a successful business owner who's thrown for a loop when a psychic reveals that she's already dated her future husband. What's more, if she doesn't track him down within the next year, she'll be alone forever. Reaser was instantly taken with the show's pilot script, which is based on a popular Israeli series called Mythological X. "I hadn't seen anything like that on television or any pilot script like that ever," she says. "I just love that the character is someone who is really looking to fall in love and connect. It's very unapologetic. I feel like, as a woman, you're not supposed to want a man. [It's] some sort of dirty little secret that you might want to have a boyfriend, you know?"
Astute couch potatoes are already familiar with Reaser, thanks to her tour de force performance as Rebecca, a Grey's Anatomy patient who loses her memory after a disfiguring accident. The role was initially supposed to last only a handful of episodes, but it morphed into a full-fledged recurring part. Reaser recalls that she initially got wind of the gig from casting director Linda Lowy, who was a fan of the actor's series-regular stint on the short-lived TNT drama Saved. Reaser went in to meet with Grey's executive producers Shonda Rhimes and Betsy Beers but had no idea they were seriously considering her for the role. "They just said, 'It's going to be amazing, this part,'" she recalls. "They're telling me all this stuff, and I'm like, 'Why are you telling me this? You're just making me want to do it.' When I was leaving, I said, 'Cool, well, maybe you guys should take a look at some of my stuff.' They were like, 'Oh, we've seen your stuff.' " Two hours later Reaser was informed that she'd booked the job.
One of the biggest challenges of playing Rebecca, notes the actor, was the heavy, disfiguring makeup she had to wear. "[I would be] on set in that makeup surrounded by, like, McDreamy and McSteamy and [Justin] Chambers and the most beautiful women," she says, chuckling. "And I'm shuffling around in a bathrobe and this disfigured face. Psychologically, it was kind of mind-blowing. But it was great for the character."
The recognition from Grey's has definitely "bumped it up a little bit" in terms of the work Reaser has been offered. The actor is repped by United Talent Agency and Perri Kipperman of Kipperman Management. "It also gave me the courage to be more specific with what I wanted to do," she says. "[I realized] that, 'Okay, maybe I can have the courage to wait for something I really want to do that really interests me as opposed to just what people are interested in me for.'"
That meant looking for a project where she felt "very well used." She says, "I've done things before where I sit around a lot, and it's not good for me. I need to be busy. I wanted to be doing a role where I was really showing up and having to work. I wanted to be challenged, and [The Ex List] is a huge challenge."
Reaser's love of a good challenge stretches back to childhood, when she first realized that the oft-difficult actor's path was for her. She fell in love with theatre after seeing plays on family trips to New York. "I remember walking by one of those little shops in New York where they have all the 'I Love New York' paraphernalia, and there was a license plate that said 'New York Actress,' " she says. "I was, like, 12, and I made my dad buy it for me, and then I had it up on the wall in my room. And he still has it up there."
After graduating from Juilliard, she forged her career bit by bit, part by part. "I don't know if I ever had [a big break]," she muses. "I just kept getting little things here and there. Someone would turn something down, and then another person would turn it down, and then, like, I might get an audition."
One breakthrough came about thanks to a lead role in the indie hit Sweet Land, which garnered Reaser critical kudos and an Independent Spirit Award nomination. Still, she doesn't take success for granted. There have been plenty of times, she says, when it was tough to stay encouraged, when succumbing to bad food and bitter feelings was all too easy. One thing that's gotten her through is a bit of advice from playwright Adam Rapp; Reaser starred in his critically acclaimed play Blackbird.
"[He said], 'You have to remember why you want to do it, what the kernel of that is, and really hang onto that,' " she recalls. "I would be so bitter and frustrated and falling apart, and he was kind of a hard-ass about it, you know? He was like, 'What is it you really want? If you want to tell stories and move people and be moved and have that experience, you don't really need to get a pilot. You can just keep plugging away and find the joy in that.' It was a very humbling way to look at it but very true."
Elizabeth Reaser:
Served time as an extra on Guiding Light; other credits include Puccini for Beginners, The Family Stone, and the upcoming Twilight
First tried out for Juilliard at age 17: "I didn't even get a callback; it was a complete bust. Two years later I re-auditioned, and I got called back, and I got in, and I still kind of can't believe it."
Moved from New York to Los Angeles for Grey's Anatomy; currently shooting The Ex List in San Diego
The Accidental Actor
Bornheimer's path to the acting life was quite a bit different than Reaser's; the dream didn't begin with childhood. Instead, Bornheimer set his sights on becoming a filmmaker. At 19 he dropped out of college and relocated from Indiana to Los Angeles. For the first few years, he pursued writing and directing and made a short film. Then, somehow, he ended up in an acting class. "I think I had it in my mind that I would go to an acting class to learn how actors think or something," he says. "[I thought] there was some great secret that all directors needed to unlock at one location. The acting coach kept goading me to go up there and try it, and eventually I did. I loved it right away, and I got some positive feedback right away. I almost instantly completely changed gears."
Bornheimer did theatre and showcases while toiling away at the typical actor-friendly day jobs: waiting tables, working at a video store. He was Taft-Hartleyed into the Screen Actors Guild thanks to a Coors beer ad, which led to a string of successful commercial work. Folks on the street still recognize Bornheimer from some of his more memorable spots, such as last year's T-Mobile ad wherein he struggles to leave a normal-sounding phone message for a prospective girlfriend — with entertainingly disastrous results. "One guy just started yelling at me: 'You're so stupid you can't get anything right!'" Bornheimer recalls with a laugh. "I didn't know what he was talking about. My wife said, 'I think he's probably talking about that commercial.' I was like, 'I hope.' I was coming out of an ice-cream parlor, I thought maybe I had ice cream all over me."
Bornheimer, who is repped by Marion Campbell at Talent Works, Brady McKay at Flutie Entertainment, and Emily Hope Webster at Acme Talent & Literary, has been through several pilot seasons. Last year he booked a CW pilot called Dash 4 Cash. It didn't go to series, but he took that positive experience with him into this year's rounds of auditions. He felt an immediate connection to Sam, Worst Week's hapless yet well-meaning protagonist, who keeps messing up in his quest to impress his future in-laws. The actor says he and show creator Matt Tarses had a sort of "Aha!" moment about the character early on. "Sam's not neurotic as much as he's just a really good guy and he wants life to be full of wonderful moments, and he sees the best in everyone and everything," explains Bornheimer. "He's almost so eager to get outside and play with everybody that he runs right into the screen door without knowing that it's closed."
Worst Week was one of the first pilots Bornheimer auditioned for this season, and he was cast relatively early in the process. Producers asked him to come in and read with actors who were trying out for other roles in the series' ensemble — including That '70s Show's Kurtwood Smith, who was eventually cast as Sam's future father-in-law. "I didn't know he was coming in," relates Bornheimer, sounding every inch the excited fan. "They said, 'Can you come by and read with some of the actors?' And I come in and see Kurtwood Smith. And Martin Mull came in at one point. I just talked their ears off. I unabashedly loved talking to all of them. That was probably the best experience of this pilot season, was being able to do that."
Though it's been said that casting for new TV shows has moved more and more toward "name" actors, Bornheimer says relative unknowns need not be discouraged. "Even when they have a star that they're going after, casting directors love, if anything, just the excuse to see people," he says. "They like to have a dugout full of actors that they can go to. There's always going to be [situations] where they want the name actor. That'll always be, and it always has been. But the mere fact that there is a pilot season and there are shows being cast, that's enough to get actors in the door to see casting directors. I think there is an open mind for the right talent to compete."
Kyle Bornheimer:
Born and raised in South Bend, Ind.
Other credits include guest spots on Monk and Breaking Bad and a small role in Blades of Glory
Has also appeared in popular commercials for Geico, Staples, Sprint, and Imodium
Relocation, Relocation, Relocation
While Reaser and Bornheimer were experiencing the pilot-season gauntlet, Torv was half a world away, chilling out in her native Australia. She was initially thinking of journeying to the States for pilot season, but when the writers strike hit, she decided to hold off. "I thought, I'm just gonna save my money and sit it out, maybe go over later," she recalls.
The move proved to be fortuitous. Australia-based casting director Tom McSweeney, who has worked with Torv before, got a call asking him to put actors on tape for the Fox series Fringe. He sent in an audition Torv had done for another show. A couple of rounds of auditions later, she had the part. The actor is quick to sing the praises of McSweeney and Fringe CD April Webster; without them, she says, she wouldn't have nailed it. "I've lived in the U.K. and in Australia, and you're always testing for things overseas," she says. "Tom's on the Gold [Australia's East] Coast, which is where my mother is, and sometimes if I'm on holiday with Mom, I'll pop in, and he'll help me put things down on tape and send them off. I really credit that warm kind of environment with being able to do good work."
This is Torv's first American role, and it's a doozy. She plays Olivia Dunham, a flinty FBI agent who teams with a possibly insane scientist (John Noble) and his estranged son (Joshua Jackson) to investigate unexplained phenomena. "She's ridiculously focused and ridiculously determined," says Torv. "She's living in a man's world, and it's quite fun to not be constantly playing the love interest. That's what you get a lot of the time; you're playing these flirtatious scenes or you're going on dates or you're dressed up. I love that she's practical. She wears suits, and she doesn't wear lipstick; she just does her job."
Torv, who is repped by Endeavor, is a veteran of Australian TV, with regular roles on popular series such as The Secret Life of Us and Young Lions. She initially wasn't sure if her experience would translate to American television, particularly because Fringe is laden with big sci-fi story lines and special effects. "Lots of the stuff that I've done in Australia's been really kind of conversational drama, set in apartments over a coffee table," she says. "But as far as the actual technicality and the working of it, it's kind of the same, really: You hit your mark, and it takes the same people to make it, so all the jobs are the same. [That] was a massive relief. Then you go, 'I can do that.'"
Torv can't remember when she was first inspired to start acting. "I hate it when people answer [that question] and they'll go, 'Oh, I just one day decided,' " she says, chuckling. "You go, 'God, I worked really hard! How did you fall into it?'"
She recalls performing in amateur theatre on the Gold Coast and was eventually accepted into the National Institute of Dramatic Art in Sydney. "It's a great school, because you have voice classes and movement classes, and you get little tidbits about all the different kinds of methods and techniques, but then fundamentally, you just actually perform plays," she says.
These days she's just trying not to think too hard about all the expectations attached to Fringe thanks to Abrams' high-profile name. Instead she'd rather marvel at the way the world of auditioning is evolving, allowing talented overseas thespians like herself to land projects that might have previously been out of reach. Thanks to technical advances like, say, the ability to tape and email auditions in the blink of an eye, the opportunities aren't as rare as they might have once been. "It's a really new and fantastic world," she says.
"An audition you've done in Australia, they can watch it in the States within an hour. But also, I think, the world's opening up. It's exciting for [Australians] because you keep seeing more and more people that are working internationally in lots of different countries — and not just the big massive movie stars like Mel Gibson but, you know, jobbing actors. It's become more fluid, I think."
Anna Torv:
Recently relocated from Australia to New York, where Fringe is shot
Did motion capture for the video game Heavenly Sword alongside Andy "Gollum" Serkis
Other credits include the British series Mistresses and the upcoming World War II miniseries The Pacific, executive-produced by Steven Spielberg and Tom Hanks
Write to the author at sarahkuhn@backstage.com.