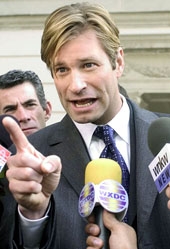 In selecting the Top 20 Casting Directors for the Films of 2006, Ross Reports took into account both critically-acclaimed and popular films. We considered casts, genres, and challenges that each film presented. Although we made mention of select films, the following casting directors are honored for films released in 2006. The list includes both individuals and partners, film casting directors of dramas, comedies, adventures, studio releases, science fiction and everything in between. Wherever possible, we have included some of their thoughts on the casting process, experience with the films they've worked on, the challenges in casting various roles, and what they seek from actors who might audition for them.
Lisa London, Catherine Stroud (Los Angeles)
Critical Pick: Grandma's Boy
Select Past Projects: Hannah Montana (pilot), Arli$$: The Art of the Sports Superagent
Upcoming Projects: Strange Wilderness
How did you both become casting directors?
Lisa: I worked as a production assistant, so I got to sit in on some casting sessions with the casting directors. I would voice my opinion to Lynn Stalmaster and Toni Howard, the casting directors who worked on the show at the time. It was a pilot called Hotel. While I was a production assistant, those casting directors offered me a job as their assistant casting director.
Catherine: I sort of fell into casting. I went to college as a theatre major to study directing. I met Lisa London, she offered me a job, and I was an assistant with her for two years. I later went to Paramount and worked on The Brady Bunch Movie and Tommy Boy, and then we came back together as partners. By having the directing background and theatre background training, I found out that I was actually pretty good at working with actors and getting good performances out of them in the audition room. So, I guess you can say I sort of found my niche by accident.
What do you love most about casting films, and casting in general?
Lisa: The thing I like the best is when you discover somebody-meeting the actors and finding the talent. That's the most fun for me. That's why I've been doing it all these years.
Catherine: It's breaking somebody out. It's being able to recognize that "it" quality. We found Miley Cyrus-the Hannah Montana star. At the time, the Disney Channel wasn't sure-she
had no credits. She was a complete unknown. She was a little young, and it took us persisting
for months to convince them, and now look at her-she's one of the biggest teen stars out there. We sometimes understand what they want, but we might see something that's not exactly what fits the picture, and it's up to us to be passionate about it, push it, and help them see it.
How do you select the projects you work on, and what do you look for in a good script?
Catherine: We look for the people that are involved-the producers, etc. We like to know what kind of people they are, what kind of company it is, and, of course, the material they want us to cast.
Lisa: On the material, we look for what kind of story it is. Is it funny, or is it inspiring? Is it something that's fun or exciting that we want to cast? If it is, we say, "Yeah, this is something cool and we can do a good job with it."
Catherine: If it doesn't inspire us, then it's hard to inspire others to be in it. If somebody hires
us, we want to do the best job we can. If we don't feel we can do a great job, then we don't
feel we're the right people for the project.
What do you enjoy most about the casting process, and what do you find most challenging about it?
Lisa: For me, the most fun is finding the talent. That's the nicest part of the job. The most challenging is sometimes getting producers or network executives to see your point of view. Sometimes it takes a lot of persistence. Sometimes they may not see what we see in a
particular actor and what they can bring to the part or character. But we see it. Catherine and
I had to persist to get Miley Cyrus hired, and then we persisted with Billy Ray Cyrus, her father, because they weren't sure if he could do the role. They weren't originally going to let him read. So it was definite persistence. We brought Miley in six times. We were kind of like a broken record, but we had the foresight to see Miley was going to be a star. Now they thank us and recognize who she is and all the success she's brought to the network.
What was your experience like in casting Grandma's Boy?
Lisa: It was one of the most fun jobs I have cast in a long time. The script was very funny. It's just great when you can find people who can even enhance the part and make the words even better. Jonah Hill, who played Barry-originally I read him for the J.P. role, and I didn't feel he was right for that role, but I said, "He's so funny, he's got to be in the movie." When I brought him to the producers, they said, "Yeah, you're right, we're giving him this role of Barry." They saw it too!
It was a great collaborative effort.
You really had interesting choices, with Doris Roberts, Shirley Jones and Shirley Knight.
Lisa: In the original meeting, we said the one to play the grandmother is Doris Roberts, and they said she would never do it. We said, "sure, we got you there, but she's perfect, and we're going to pursue it." The producers' response was, "Yeah, but you'll never get her she's won several Emmys and a Screen Actors Guild Award. We said, "Okay, never say never to us, that's for sure." She did have some concerns about the script because it was more racy than anything she'd done before. So she had a meeting and talked to the producers about her concerns. It took a couple
of conversations, and they handled her concerns, but they were always open. Some producers aren't open to change, but these producers were very open. They weren't the kind of producers you work with that are sometimes, "Oh, my God, how can you bring us that person?"
Was there a particular part or character in Grandma's Boy that was difficult to cast?
Catherine: Yeah, J.P. [played by Joel David Moore] because he had to be crazy and you didn't want to like him, but he also had to have a sympathetic side. Also, to an extent, Doris Roberts' character was difficult to cast because the movie's called Grandma's Boy, and if you don't have the right grandma, you don't have a movie.
What do you look for when watching a film cast by another casting director?
Lisa: Just somebody new, that they found and we didn't.
Catherine: We're like, "Why didn't we get them?" [Laughs] No, but seriously, we look for someone that we didn't know, because it's not usual that there's somebody we don't know.
How do you seek new talent?
Lisa: We've done a lot of searches, so we have looked at all kinds of places, like schools, theatre companies, shows, and improv groups, etc., across the country.
Catherine: We will go outside the agency pool depending on what we are looking for-just anywhere and everywhere, as well as out of state and Canada, because we had a lot of success doing that. We enjoy doing it as well.
Lisa: We like to feel like we've turned every stone. If we don't feel like we've turned over every stone or looked in every corner, then you're always thinking, "Well, what if?" So you always want to know, "This is it! This is the person!" It is a great feeling to have that certainty.
What advice would you give an actor who might audition for you?
Catherine: Be prepared, and be prepared to make a strong choice, and go for it. Don't be afraid to take a risk!
Lisa: Yes, being prepared is not just knowing the sides, but knowing the show. Because if you know the kind of project you're going in on, you can play it correctly. Our show The Suite Life of Zack and Cody is a different kind of comedy than, say, a show like The Office. Doing your research is part of being prepared. Don't be afraid to make strong choices and go for it.
Catherine: Even when their impulses are not right. If you go with your impulses, even if it isn't exactly what we want, we can always direct you.
Lisa: We can direct you, but if you don't bring in something, there's nothing to grab on to and direct. Just go for it!
What is your next project?
Lisa: We're finishing the last season of The Suite Life for the Disney Channel, and then we are also waiting to hear on a couple movies. We also have another movie that we cast coming out
in September entitled Strange Wilderness.
Catherine: It's being produced by Happy Madison and Level One Entertainment, and it's another one of those outrageous comedies. It stars Steve Zahn, Allen Covert, Justin Long, Jonah Hill, Ashley Scott, Jeff Garlin, and Kevin Heffernan. It has a bunch of really funny people in it.
Bruce B. Morris
Mindy Marin (Los Angeles)
Critical Pick: Thank You for Smoking
Select Past Projects: The Family Stone
Upcoming Projects: Juno, Wanted, 9
When you began casting Thank You for Smoking, were you looking for actors who fit the specifications of the script, or were you open to different interpretations? Did your perception of the roles change at all based on the energy and qualities of the people you auditioned?
When we began casting for Thank You for Smoking, it was in a different incarnation. I had been introduced to Jason Reitman by my friend Jim Lemley, who at the time was working with Mel Gibson and Bruce Davey at Icon. Icon had the rights to Chris Buckley's novel, and Jason had written an adaptation for Icon that was excellent. The process had actually begun four years before the movie became a reality. Jason and I would meet and talk about various cast ideas, mostly for the role of Nick Naylor. Without Nick, there is no there there. As our business is one that often takes years to ignite a project, Thank You for Smoking languished until Jason got a call from a financier saying he had read the script and wanted to fuel it himself. It wasn't until then that the project found its footing. Once we knew that the money was real, it wasn't long at all before the pieces of the puzzle came together.
When films you've cast are nominated for, or win, any prestigious awards (e.g., the Golden Globe, AFI, Oscar), how does that affect future casting jobs?
When films are nominated for awards, it definitely expands the playing field in terms of doors opening. I am still working towards the win factor, but the striving is the magic of the experience. It isn't about the awards, more the rewards of the life one has the privilege of living in this vocation. Awards are the icing on the cake, and certainly I look forward to the possibility of tasting a piece of it one of these days. As far as how it affects other work opportunities, it's human nature to be drawn to the winner's circle, so the notoriety a film gets by virtue of its appeal can be an additional bonus on a resume. I still have to work as hard as the next guy to get jobs out there, though.
What is your general casting process for feature films?
Roles always change and morph as you have the opportunity to meet and read actors. One must always be open to surprise. That is one of the key factors to doing this job. Staying open and imagining that someone you least expect can hit it out of the park. It is because of that reason this job is still compelling to me after all of these years. I love to watch the artistry of acting, and I am always honored when an actor shows up with an angle or interpretation that shows the parallax view. I love my job and feel grateful every day that I have it.
How much of a role does the studio play in casting?
There was no studio involved when we cast the film. It was so liberating to have the opportunity to decide creatively how we wanted to paint the landscape. Jason Reitman, David Sacks, and I would conceptualize and discuss the merits of each casting idea until we decided who to approach. And then we approached them. As the process evolved, so did some of our ideas as to who we wanted. Such is the case with casting: keeping our minds open and creating a space that is compelling to the right kinds of artistry. None of that can take place, however, without a compelling piece of material, which Jason wholeheartedly produced.
The first person we cast was Aaron Eckhart for the role of Nick. Aaron was the perfect mix of devilish handsome, a guy that could sit on the wrong side of the fence, smile, and convince you to join him. I cannot imagine anyone but Aaron delivering all of that clever dialogue in quite the same winning way. He was the first person to commit, and this was after Jason and David Sacks, the financier, flew to Canada to meet him. They called from the airport after their meeting and both agreed he was our man. We cast almost the entire film before the studio came on board.
Who was the most difficult character to cast in Thank You for Smoking, and why?
The most difficult character to cast was Nick Naylor. If we didn't get Nick right, there wouldn't be the bones to hang the movie on. Aaron was really the necessary DNA for building the rest of the cast. One of the most fun roles to cast was Robert Duvall, who is not a man you approach with the no money factor. Nor should he be. Duvall is my all-time favorite, and it was an adventure lassoing him to the project. I have known him from other projects and have loved him throughout the years. I knew that he was a great fan of tango and that we would have to be creative to get his attention on our little film with a big message. Bobby was in Argentina, and I mentioned to one of our producers, David Sacks, how much he loves tango. Coincidentally, David's mother is friendly with a host of well-known Argentine dancers. David and I concocted a plan whereby his mother called all of them and had them sign their photographs to Bobby. We then put a script in a book we made with signed pictures of the dancers and sent a letter to Duvall's hotel inviting him to come tango with us. Happily, he did, and that is how we cast our tobacco king.
What was your favorite memory from making Thank You for Smoking?
My favorite memory from making Thank You for Smoking was participating in all of the activities in Toronto having to do with opening the film. The first screening I saw of it was at a big theater during the Toronto Film Festival in a packed house. It was so enjoyable that during the screening of it, I was so lost in the story it didn't occur to me that I had actually worked on it. I was just a member of the audience along for the ride.
What is your next project?
We have just completed casting on Jason Reitman's new film, Juno, for Mandate films and Fox Searchlight. The next one that begins shooting soon is a very exciting project called Wanted, for Universal and Marc Platt Productions, being directed by a Russian director, Timur Bekmambetov, starring James McAvoy, Morgan Freeman, and Angelina Jolie. I am also producing a project with my friend Jim Lemley, based on a book called Vamped.
-- Bruce B. Morris
Roger Mussenden (with Ann Robinson)
(Los Angeles)
Critical Pick: Superman Returns
Select Past Projects: The Wedding Singer, X-Men, Anger Management
Upcoming Project: Get Smart
For this interview we spoke with Roger Mussenden.
How did you become a casting director?
I was an agent first for about five years and didn't like selling. An actress friend talked me into opening a business being a casting director in commercials. I did that for another five years. Then I decided that I wanted to move into film, so I moved to Los Angeles from New York and got a job with Jane and Janet. And my commercial casting abilities were getting to a lot of people quickly. So I helped them on a couple of searches, and I just kept going from there. I like the movie pace a lot more than the commercial pace. It wasn't about a cookie. You actually had something at the end of the product.
What do you love most about casting films?
The variety. It takes me into worlds that are different. I get to live through them. Live through historical lessons, live through fantasy. It's just fun. To me it's a byproduct of what I love to do, which is go to movies, watch TV, go to plays, and read magazines.
How do you select the projects you work on and what do you look for in a good script?
I relate to them. They come from different points of view. I'm a comic-book geek, so I do always pay attention to the comic-book movies, but I like the reality and I like to hear what the director's take is on the reality — on how he plans on bringing it to life. This brought me to X-Men. I like a comedy and I like to laugh. When I met Adam Sandler, he was a very nice man and looked like a lot of fun. I've been working with him since Wedding Singer. It was just about laughing and having a good time, as well as getting a nice piece of work out there.
What do you find most challenging about it?
You know — when they come up to me and they ask me for a one-legged ancient man to sing and play the ukulele. That's really challenging. And honestly, at certain times, what's really challenging is finding a beautiful, funny woman. It can be as common as that.
What was the experience like in casting Superman Returns?
It was awesome. It was an amazing thing. I grew up reading the Superman comics, so right away I was thrilled to have gotten that job. To me it was a dream come true. All those comic books that my parents yelled at me for reading came to the front. There was a reason for it. It was a team like no other team — an experience like no other experience. Bryan Singer and I had worked on X-Men & X2. This was something that both of us had always talked about, and our dream came true. It was amazing and difficult at the same time.
What made it particularly difficult?
It was just Superman. Finding Superman. I wanted to change the look of Superman — to update him. And Bryan wanted to keep true to the look in the comic book. I wanted to change up the cast a little bit as well. Bryan said, "No we have to stay true to the original, because the comic book core — those that read the comics — are going to want that."
Superman Returns was the first film that continued the Superman theatrical franchise that ended in 1987. Did you refer back to the four films that featured Christopher Reeve, or did you feel you wanted a fresh approach?
I think Bryan referred to the first two only. We didn't even look at the other guys. We figured that this was number three. I didn't refer that much to them because I didn't want to get tainted; I wanted a fresh view in my head. I wanted to keep it clear.
What do you look for when watching a film cast by another casting director?
First and foremost, I go to a film to enjoy it. Then things happen. If I'm bored, then I'll start looking at the cast, or listening to the words, or observing the costumes — I try to find something. If not, then I walk. Certain casting directors have really great taste and I love what they do and how clever they are in casting people in something that you don't normally see them in.
How do you seek new talent?
I go to the theater, I watch TV, I watch commercials, I read magazines, I listen to people, I have a network. I've been doing this for 15 years, so I have people out there with taste that help me do this. I have staff members that are great up-and-coming casting people. We all talk about MTV shows, or bands, etc. They [talent] come from everywhere.
What about showcases?
I don't do showcases anymore, but I make sure other people do them for me.
What advice would you give an actor who might audition for you?
Be yourself and be prepared. Nothing is more annoying someone coming in and saying, "the dog ate my homework." I heard that in high school. Don't come to me then. I'd rather you call me and say, "I can't make it because I have a problem." Then fine, I can reschedule, or I'll say that I can't wait and that you have to get in here. So just be prepared — it's really, really important. And look like your headshot.
What is your next project?
Not really sure, but Bryan Singer may have something coming up or another Adam Sandler movie.
— Eric P. Berger
Richard Pagano (Los Angeles)
(with Coreen Mayr and Heike Brandstatter)
Critical Pick: X-Men: The Last Stand
Select Past Projects: Hotel Rwanda, 88 Minutes
Upcoming Projects: Tortured, A Woman's Secret
Richard Pagano spoke with us for this feature
What are the challenges involved in casting a sequel to a film cast by someone else?
RP: The biggest challenge was that they set a bar that was so high. They cast actors who were not only movie stars, but who were terrific actors: Hugh Jackman, Halle Berry, Patrick Stewart, Ian McKellen, Anna Paquin, Famke Janssen, James Marsden, etc. So we had to find people who not only looked right for the role, but who also were terrific actors.
Because you were doing a sequel, were there pre-set casting conditions from the previous films to which you had to adhere?
RP: Yes, to the extent that there were characters created in the original comics. Plus, all the guys at Marvel and producers Avi Arad, Lauren Shuler Donner and the other producers had a sense of the style of the piece, so we did have to deal with that, absolutely.
Was there any leniency in casting an actor who came in and gave you an interpretation of a role that was different from what was originally conceived?
RP: Ben Foster, who was cast as Angel, is a perfect example of someone who came in and didn't look like what they had originally thought of for the role and yet was brilliant. But he gave a tremendous reading and got the part.
What did he do that was different from what had been envisioned?
RP: It just may be that some people, like Ben, have a more original, quirkier, idiosyncratic imagination, and they approach all of their work in that way. So I think it has more to do with the particular kind of person that Ben is. I'd like to think that anybody can do what he did, but I don't know. Maybe not.
Does the horror/sci-fi genre present any different kinds of casting challenges versus casting a more typical mainstream comedy or drama?
RP: Well, sure. There's a kind of "Quick, grab the gun!" thing going on. It's my metaphor for what you have to do in these kinds of films. The scenes are often shorter, and sometimes there is action involved. And they're much more difficult to audition for because the actual writing is more compressed, so you don't necessarily have a two-page scene that an actor can use for his audition. You may only have three or four lines. The other thing is that in the case of a film like X-Men III — or any of these really large, tent-pole movies that have a large following — they're often very secretive about how much of the script gets put out there into the world. So the actors don't have the advantage of looking at the full script in advance.
Who was the most difficult character to cast in X-Men: The Last Stand, and why?
RP: Probably Kitty Pryde. I think, in general, that we're always a little tougher on our female roles than on the male roles. Everybody had a different notion of what Kitty Pryde should look like, and we found good actresses who didn't quite look like the role, and we found some people who were terrific and had the right look but were too old for it, etc. We also changed directors in midcourse, so the actresses that the first director liked were not necessarily the choices that Brett Ratner liked. Brett had a whole different vision of it, so we had to go restart our engines.
What was your favorite memory from making X-Men: The Last Stand?
RP: I don't know that I have a favorite memory. Casting a big movie has its pleasures, and one of them is getting the big-movie paycheck! But the truth is that it's just the work, and it's nice to see people. Big movies allow you to meet a lot of actors who are always willing to come in because they know it's a big movie, it's a payday, it's one of the "important" movies of the year, etc. So one of the great pleasures for me was just getting to meet a bunch of actors I knew about but had not yet met. And it's also an opportunity to meet a lot of new young actors, the next generation of young talent.
How much of a role does the studio play in casting?
RP: It's not a secret that the studio has a lot of pull. But it's also true that with a director like Brett Ratner, we end up having someone whose opinion is going to carry quite a lot of weight with the studio. So very often a lot of it was Brett going in and lobbying for the people he wanted. I think it's fair to say that one of the people who was very much in favor of Ben Foster getting the role of Angel, for example, was Donna Isaacson [executive vice president, feature talent, at 20th Century Fox]. She and I both very much believed in him, and Brett loved him too. The question was just whether or not we could make him look a little more like the Angel that the studio and that Marvel had imagined — and I think we were able to do that.
When films you've cast are nominated for, or win, any prestigious awards (e.g., the Golden Globe, AFI, Oscar), how does that affect future casting jobs?
RP: My guess is that I got X-Men III because of the casting on Hotel Rwanda.
Does it bring you another level of awareness within the community of the level of work you can do?
RP: Sure. Of course. But that only lasts a little while. We're only as good as our next film. We used to say that you're only as good as your last film; I think we're only as good as our next film.
What is your next project?
RP: There are a few movies we're working on now: one with Laurence Fishburne called Tortured; another coming in from Europe called A Woman's Secret; a thriller called Casualty; and a film adaptation of Shakespeare's The Winter's Tale. There's also a movie about the wine industry that we're supposed to be shooting in the Napa Valley this summer, but it's still untitled.
--Terri Roberts