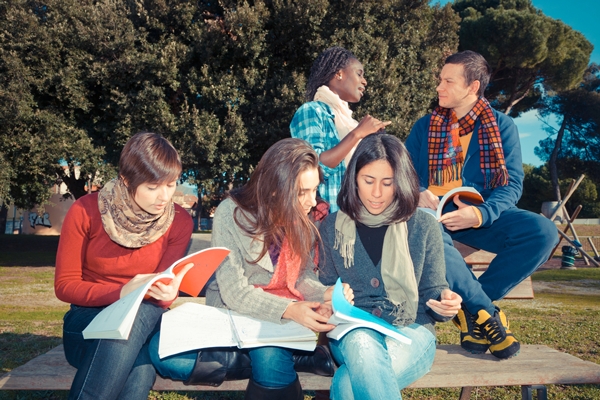 American Conservatory Theater: Summer Training Congress
act-sf.org
Admissions: The application deadline for the five-week conservatory is May 17; the two-week intensive deadline is July 12. If applying for financial aid, both applications are due April 19. Applicants must have two letters of recommendation. Although no audition is necessary for acceptance, there is a placement interview for students.
Dates: June 17–July 19 (five-week conservatory) or July 22–Aug. 23 (two-week intensive)
Tuition: $2,750 (five weeks) or $1,150 (two weeks); financial aid and scholarships available
The American Conservatory Theater in San Francisco offers professional training options through its two-week intensive or five-week conservatory programs, which focus on classical acting and developing core skills. The five-week conservatory centers on acting, speech and voice, movement, and audition technique, culminating in a showcase performance. The two-week intensive focuses on the craft of performing classical texts such as Shakespeare. Students in both programs will have the opportunity to meet industry professionals as well as attend master classes with the ACT acting company.
Atlantic Acting School
atlanticactingschool.org
Admissions: The online application is due by May 1, with two letters of recommendation as well as a headshot and a résumé, followed by an audition and an interview.
Dates: July 8–Aug. 16
Tuition: $3,000
New York City's Atlantic Acting School's summer intensive is designed to provide students of varying skill levels with in-depth professional training of the sort they would receive during their first year of an undergraduate program. The intensive will teach its Atlantic Technique script analysis, coupled with learning the International Phonetic Alphabet when studying a script. Students will also rigorously tackle voice and acting. The school is not concerned only with previous acting experience but rather on an interest in the philosophy of the institution and a clear dedication to the profession.
Maggie Flanigan Studio
maggieflaniganstudio.com
Admissions: Admission is by interview with Maggie Flanigan. The application is to be handed in at the time of the interview.
Dates: June 14–July 26
Tuition: $1,300
The Maggie Flanigan Studio in New York City introduces aspiring performers to the Meisner technique through a six-week intensive program. Three times a week, students will work closely with the professional, experienced faculty, learning more about the Method with the intent to allow the student to decide if the technique is the right choice for him or her and to understand the profession as an art form. Students choose between morning, afternoon, or evening enrollment.
The New York Conservatory for Dramatic Arts
sft.edu
Admissions: After submitting the online application, applicants must have an in-person or phone interview followed by an audition.
Dates: June 8–July 6 (Summer Session 1) and July 13–Aug. 10 (Summer Session 2)
Tuition: $5,277 (not including housing fees); scholarships available
To provide college and high school students with a taste of professional training, the New York Conservatory for Dramatic Arts prepares students to tackle different types of acting technique. The program, which has two sessions, is designed to give students rigorous training in on-camera performance, commercial basics, TV basics, improvisation, and more.
Yale Drama Summer Conservatory for Actors
summer.yale.edu
Admissions: Online applications must be received by May 1, accompanied by a relevant résumé and a letter of recommendation from a drama teacher or theater professional.
Dates: July 8–Aug. 9
Tuition: $6,400; scholarships and financial aid available
Intended for college students and high school seniors, the Yale Summer Session in Drama in New Haven, Conn., is intended to shape the actor's craft based on the principles of Stanislavsky. This five-week program will train students thoroughly with classes focused on play analysis, acting, vocal production, improvisation, and mask, movement, and scene study.
Want more acting tips? Watch below:
Inspired by this post? Check out our audition listings!