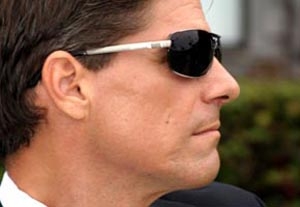 According to an Internet that never lies, the very first gift was a wheel made of stone. It was given by one caveman to another as a way of saying thanks for saving his life. I believe a hungry saber-toothed tiger was involved. Then a few years later, three wise men showed up at a manger with a gift basket made of gold, frankincense, and something called myrrh. That inspired the French to send us a copper statue that weighs 225 tons. Unfortunately, they forgot to include a pedestal, but hey, it's the thought that counts.
Not much has changed since those days. The act of giving gifts continues to be a vital part of our lives, especially during the holiday season. We still buy one another all kinds of presents, large and small, as retailers cheer us on. Some of those gifts make an impression; others get re-gifted in perpetuity. That's how society functions, and by "society," I mean the entertainment industry.
As 2011 crawls to an end, it's time for you to start thinking about who deserves some holiday cheer. It doesn't matter whether you're an established actor or you're just starting out. Showing gratitude is an important part of this business.
So let's start with the obvious choices: your agents, your managers, and their underpaid assistants. They all deserve a little something, unless you're planning to jump ship in the new year.
Here's some advice on choosing the right gift. Don't go with wine unless you know the difference between a Riesling and a Chardonnay. (Hint: It has to do with sweetness.) You should also be cautious about giving those generic gift baskets that weigh in at 85,000 calories. Most of us have an inch or two we'd like to lose.
Instead, try to make an impression. I've received everything from healthy, homemade treats to a special-edition DVD of "National Lampoon's Christmas Vacation." Last year, a client gave me a few unique tree ornaments, and another surprised me with a fascinating book about the late-night TV wars. Those were all memorable gifts.
By the way, I'm always surprised when a client has a holiday present shipped to my office. Where's the fun in that? If you're going to spend money on your agent, you might want to deliver the gift in person. You get more brownie points that way.
Now let's move on to less-obvious choices for your gift-giving list. Did you meet a casting assistant at a workshop who brought you in for an audition? Has your acting teacher made a big difference in your life? Or do you have an actor friend who always goes out of his or her way to share valuable information? These people are part of your team, and they all deserve to be remembered.
I hope none of you is shaking your head at the cost involved in playing the part of Santa Claus. Gifts are a legitimate expense, just like your headshots, reels, and classes. It's called being smart about your business. And there's no need to spend a fortune. Clients have surprised me with everything from a Starbucks gift card to an expensive 90-minute massage. It really is the thought that counts, and no, I'm not just saying that.
A few years ago, a client gave me a homemade CD of cheesy holiday music performed by actors who aren't known as singers, such as William Shatner and Tony Danza. I enjoyed it so much that I made copies for all my friends. That gift cost next to nothing, but here I am, still thinking about it as I write this column.
So have fun choosing holiday presents for your industry friends. And if you're really not sure what to get someone, buy that person an official Red Ryder carbine-action 200-shot range model air rifle. Who wouldn't love one of those?