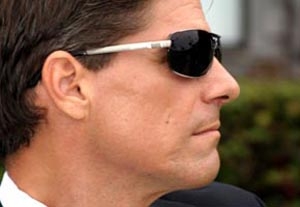 The economy's in the toilet. People are losing their homes. Everyone's unemployed. And you, the innocent actor, have just realized that you don't have enough dead presidents stashed away to buy your industry friends a little holiday cheer. Yes, that's a dilemma, but never fear! Secret Agent Man is here to help you make an impression without having to break the bank.
There's no rule that says you have to give your agents (and their assistants) a Christmas gift, but you'd be a fool not to. It's good business sense to show some end-of-year gratitude to the people responsible for helping you achieve your goals. Agents work hard, and a holiday thank-you is always appreciated. Besides, we keep a list of every present that comes in the door, so we can send a thank-you email in January. Wouldn't it be kind of weird if your name weren't on that list?
While we're at it, you should also keep your manager, publicist, lawyer, casting friends, acting teacher, plastic surgeon, and other industry types in mind while you're making your list and checking it twice. This is actually a great way of measuring your success. The longer the gift list, the better you're doing.
First the bad news: Gifts cost money. Now the good news: We know that. So you don't have to spend a fortune to get noticed. A little creativity can go a long way. You're actors, so I'm assuming some of you are creative. If not, here are some fine examples of presents I've received that inspired me to go the extra mile for the gift giver.
A few years ago, I had a client make me the world's greatest mix CD. The songs were all from movie soundtracks. The CD was a blast to listen to, and it cost the actor next to nothing.
Another client once put in some serious hours in her kitchen and came in with a batch of healthy treats that everyone could enjoy. Even the calorie watchers in my office were impressed.
I represent an actor who is a wiz with his Mac. He knew I was a big fan of the show "Lost," because we used to always chat about the plot twists when he dropped by my office. So last year, knowing the show was going off the air, he gave me an amazing DVD that he cut together himself. It was 10 minutes' worth of the greatest scenes from "Lost." I still have it, and I still watch it.
A client who is a talented ukulele player once serenaded the entire office for 10 minutes. How cool is that?
One of my actors has a great day job: She works as a massage therapist. So, you guessed it. Every year, she comes in and gives everyone a 15-minute chair massage. She even brings her own music. God, I love that woman.
This last one is going to sound silly, but it made me laugh my ass off. A client who could barely afford to feed himself came in the week before Christmas and gave everyone a picture of what he would buy them if he had the money. I got a trip to Vegas. Score!
If you look back at these examples, you'll see that the actors not only kept their expenses down; they also made the gifts personal and a reflection of their own personality. The fact that I still remember these presents says a lot about how much they were appreciated.
So now it's your turn. Put on some holiday music. Drink a little eggnog. Watch "It's a Wonderful Life" again. Then start thinking up all the creative ways you can make an impression on your industry friends this year.