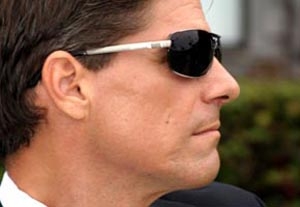 Note to readers: Secret Agent Man is not available this week. He is on a medical retreat in Northern California. We received the following information from his psychiatrist, Dr. Jeffrey Newbauer.
Email No. 1: After treating Secret Agent Man for a period of six months, I have diagnosed him as suffering from what is commonly known as burnout, a popular term for mental and physical exhaustion after a period of chronic, unrelieved, job-related stress. During our last session, I insisted that he take some time off to address this serious condition. Secret Agent Man (whom I will call Sam for the sake of brevity) was extremely resistant to the idea. He claimed that the town was full of sharks that would prey on his clients if he was not in constant touch. I convinced him that this was a paranoid delusion brought on by fatigue. Sam relented and agreed to spend one week at a retreat center, where he could embrace peace, serenity, and reflection. His last words to me were, "I'll crush you like a bug if you tell Nikki Finke about this!"
Upon Sam's arrival at the facility, there was an unfortunate incident when he refused to give up possession of his BlackBerry, claiming he had agreed to take a break, not travel back in time to the Middle Ages. Aside from that, I am told my patient has adjusted well to his new environment, and I am of the opinion he will return to his life as a talent agent in a much healthier state of mind.
Email No. 2: I am afraid my prediction for Sam's quick recovery was somewhat premature. The staff at the retreat center has informed me that instead of taking responsibility for his condition, my patient has started accusing his clients of plotting against him. For example, Sam states that he spends half his life asking actors to perform simple tasks like getting new photographs, updating their demo reels, and signing up for specific classes. He claims that the actors ignore his requests as a way of driving him mad. This is an obvious falsehood. Why would actors not do everything they can to advance their own careers? Surely no group of people could be that self-destructive.
Sam has also told the staff fanciful stories about clients begging him for important auditions and then getting lost on their way to those auditions. He feels that those actions represent an active conspiracy that threatens his very existence. As I said before, his tales strike me as nothing more than the wild creations of a mind suffering from exhaustion.
I will follow Sam's condition closely, and I will inform you of any changes.
Email No. 3: I am pleased to announce that Sam has turned the corner in his treatment and is making excellent progress. This is partly due to a friendship he has established with another guest at the center, a famous actor who also required time away from the entertainment industry. I have been told that Sam's attitude improved dramatically the moment he spotted the well-known performer. Since this actor already has representation, I am sure that Sam is only bonding with him on a brotherly level, with no ulterior motives.
I can honestly say it has been a pleasure treating such a prominent member of the Hollywood community. Much to my surprise, our time together has sparked a dormant creative impulse that has been resting inside me since childhood. My mother feels that I have an uncanny resemblance to Kevin Spacey. Perhaps the time has come for me to consider taking an acting class. I must speak to my patient about this when he returns.
In any case, you can expect a new and improved Secret Agent Man to report back to work next week, with a brand-new, positive outlook on the acting profession.