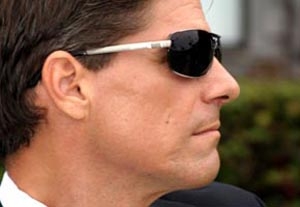 Last night, I had a dream I'd like to share. I was dressed like Indiana Jones, and I was making my way through a dense jungle, desperately searching for hidden treasure. After several close calls, I found myself at the foot of a towering mountain. There was an ancient door carved in the rock, but there was no way to open it. So I stepped back and shouted, "I am an agent!" In response, the door creaked open, and much to my surprise, I walked into a brightly lit studio where an acting class was in progress. Everyone turned to stare. I told them I was searching for young talent. Then a girl in her early 20s stood up. She was made of gold. I smiled. The treasure was mine.
This is a common fantasy among agents. I know because we all talk about our dreams in group. (There's a guy at Gersh who's obsessed with "The Wizard of Oz," but not in a good way.)
At my office, most of the clients are experienced performers with long résumés. It's easy to make money off them because casting directors know their work. Those actors are worth their weight in commission checks. But the entertainment industry is always hungry for fresh faces. This goes double during pilot season. That's why agents sign and develop young talent. We're all hoping to strike oil.
It doesn't take much effort to find young, attractive actors with a little bit of talent. They're everywhere, especially if you work in New York or Los Angeles. Here on the West Coast, if I throw a stick down Melrose, I'll probably hit 10 dudes who look like Taylor Kitsch.
My favorite methods for unearthing these diamonds in the rough are the obvious ones. I go to showcases, especially the college ones in June. Those are a terrific way to find young actors with four years of solid training. I also attend workshops, plays, and comedy shows, and I sometimes sit in on acting classes. Hell, I've even stopped people at the mall. Have you ever been to the Beverly Center on a weekend? It's like the cast of "Gossip Girl" in there!
But when all's said and done, the most effective way to find a young, attractive actor is to put the word out that you're looking. I do this by calling every manager, teacher, coach, photographer, and casting director I know. You never know who's going to give you a solid lead. Even my clients have introduced me to promising actors.
For an agent, signing a young actor who's just starting out can be very exciting. It makes you feel like you're the first one to set foot on an uncharted island. The thrill of discovery can be exhilarating, and that sort of fire is what keeps us going in an extremely difficult business.
Now here's the thing. Any agent with half a brain can track down fresh faces and sign them. That's easy. But you can't just throw those actors into the casting fire and hope for the best. That's bad all around.
An agent has to develop young talent, bringing actors along at just the right speed, helping them build their confidence and audition skills. That takes time. Unfortunately, some agents are lazy and have no patience. Not me. I know how to play the game. Signing established actors is all about short-term gains. Developing young talent is about long-term gains. They're both valuable in different ways.
To prove my point, make sure you read next week's column. Using one of my clients as an example, I'm going to take you through the whole development process, step by step, so you can see for yourself how slow-and-steady really does win the race.