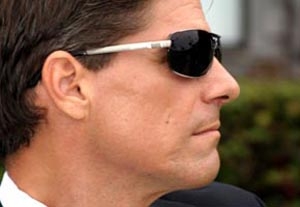 A lot of actors think that once they find representation, they can just sit back and wait for the auditions to start pouring in. Nothing could be further from the truth. Signing with an agent is a major step forward that signals a new phase in your career, but it doesn't mean you get to stop being an active participant. If anything, this is the time to double your efforts.
Now, here's what you need to understand: When you first sign with a talent agency, you're nothing more than a name on a list. Unless you bring a lot of credits and money to the table, your agents will view you as the new actor in a certain age category, and that's about it. Naturally, they have every intention of working for you, but like it or not, you're the new client whom no one really knows. In a sense, you're being given a blank slate to prove yourself, both as an actor and as a person. And this is where most of you drop the ball by disappearing off the face of the planet.
I can't begin to tell you how many times this has happened to me: I have a meeting with an actor who makes a terrific impression. Excited, I introduce him to the other agents in my office, who like him too. So we agree to represent the guy, hoping our instincts pay off. The actor comes in with an excited smile pasted on his face, signs the contract, drops off his pictures and reels, and then he's gone—never to be heard from again.
If you want to have a successful relationship with your new agents, you have to give them a chance to get to know you as a person, not just as an actor. That's how you become more than a name on a list. If your agents start seeing you as a real human being, with a life outside the industry, they'll be more likely to start working harder for you. Needy actors with no lives are boring to us. Real people aren't.
Now don't get me wrong. I'm not suggesting you act like a pest, dropping by the office all the time, calling every hour to ask what's going on. That would be a major mistake. You need to be smart about how you cultivate a relationship with your new reps.
Here's my advice: Invite each of your agents to lunch, one at a time, so you get some valuable face time with everyone. Just don't waste this golden opportunity by talking about your career. Instead, try to create an environment where there's a lot of back-and-forth about each other. Ask as many questions as you answer. Get to know each other as people. You want your agent to go back to the office and tell everyone how much fun he or she had at lunch with you. Trust me, that kind of positive energy will pay off big time.
You can also find excuses to drop by the office every now and then, so you can see your agents in person. Just the other day, my assistant told me a new client was in reception and wanted to tell me how great his audition for "Grey's Anatomy" went. So of course I stepped out of my office to say hello and hear the great feedback. By doing that, the actor showed me his gratitude for the opportunity, and that made me feel good as a person. Mission accomplished.
Remember, agents get 10 percent while you get 90 percent. So you have to work harder than us if you're going to succeed. That means staying in class, having great headshots, networking, doing well at auditions, and, most of all, being more than a name on your agent's list.