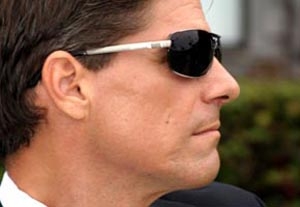 When it comes to technology, I'm not what you'd call an early adopter. I'm more of a late adopter, if ever. A lot of my friends can't wait to purchase the latest gizmo from that company up in Northern California. Not me. I've never streamed anything, and my books are made of paper, thank you very much. I do acknowledge there's a lot of cool stuff out there, but I've always found better ways to spend both my time and money.

The last decade has been rough on an old-school cat like me. Ever since Al Gore invented the Internet, computers have invaded every part of our lives. It's like I can almost feel Skynet taking over. But there is a positive side. Thanks to this new industrial revolution, my life as an agent has improved a million times over.

For example, back in the day I used an overpriced messenger service to deliver VHS demo reels. Remember those? When a casting director called asking for one, I had to pay an illegal immigrant to hurry over, pick up the reel, and then race it across town to the casting office. Depending on the location and time of day, the whole process could take a few hours. And it wasn't cheap. All those deliveries used to add up at the end of the year.

Now, when a casting director wants a reel, I simply press a few buttons on my keyboard, and the material is on her desk in less than a minute at zero cost to yours truly. Even I have to admit that's pretty damn cool.

Technology has also spared the lives of about a billion trees. You see, back when dinosaurs walked the earth, agents used to burn through a whole forest copying scripts for their clients. I remember how one busy pilot season almost wiped out the entire Amazon. And when all those scripts were finally ready to go, clients had to rush over in person to pick them up. But thanks to the magic box on my desk, I don't need to piss off the Na'vi anymore. Scripts are digital files that I can email to clients in seconds. And hey, I'm all about saving time, money, and a few pine trees.

Technology has also made hard-copy headshots obsolete.

Back when TV sets weighed more than a Buick, my clients had to provide me with at least a hundred copies of each picture I was using. Doing this several times a year was expensive. Actors would often volunteer for medical experiments so they could pay for all that printing.

Now clients have something called JPEGs that they post on my Breakdowns page. A click of a button allows me to submit them on any project I want. What could be easier?

And speaking of headshots, when it was time for new ones, my clients would come see me in person with their contact sheets. The images were so tiny, I had to use a magnifying glass to see them clearly. Oh, and all the images were in black and white, just like the weird French movie that won the Oscar this year.

That's over. These days, clients either give me a disc or they send me a link to a website where all their pictures are posted. This allows me to really consider each shot carefully. And guess what? They're all in glorious color.

So yes, I'm the first to admit technology has improved my life as an agent. But I'm not a fool. It's only a matter of time before the robots show up. That's why I'm saving up all my commission checks so I can buy some heavy-duty firepower. And I just met an interesting woman named Sarah Connor. She seems nice.