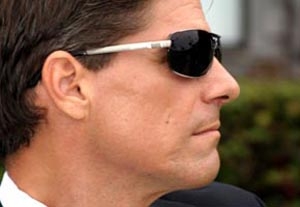 Acting is a tough business, maybe the toughest, and I know how hard you guys work to advance your careers. I also know that no one can succeed in this industry without a little help from a lot of people. That's why, as we enter the holiday season, I'd like to urge all of you to give thanks to those who have helped make your path a little bit easier.
Here's a great example of what I mean: I have an actor friend named Jill who recently told me she's thinking of quitting the business. She explained that it's driving her nuts. The only part she still enjoys is her acting class. Going to class for her is like taking a vacation. So this teacher is obviously making a big difference in her life. I asked Jill if she has ever told him that. Her answer was no. Knowing how much she loves to bake, I urged her to make him some Christmas cookies, and then she could express her appreciation when she hands him the present. Jill loved the idea. And I'm willing to bet all my marbles that her gratitude is going to make this guy's day a whole lot merrier.
Think about it. How often do we take the time to look someone in the eye and say thank you for being there? It's a rare thing, but doing this will have a profound effect on both individuals. (Trust me. I know this from experience. Secret Agent Man had a recent tragedy in his life and when the dust cleared, I followed my own advice, and I'm thrilled with the results. Acquaintances have become friends, and friends have become family.)
Maybe you have a geeky pal who's really, really good with computers. I think we all have someone like that in our lives, right? Did this person help you create your acting website? Does he or she come over all the time to help you make adjustments and revisions? Then you should take this person out for a holiday meal and let the nerd know how much you appreciate having him or her around.
The same thing goes for your agents and their assistants. It kills me how rarely clients take the time to say thank you. Sometimes I think the word "gratitude" does not exist in an actor's vocabulary. It always makes my day when a client calls up to thank me for an audition. Think about it. A few sincere words can go so far toward making you stand out from the rest of the client list. And it takes almost no effort on your part. (Stay tuned for my next column, in which I discuss the right and wrong kinds of Christmas presents for your reps.)
Are there any casting directors or associates who bring you in for auditions on a regular basis? Well, you need to include those people on your gratitude list. They're the ones who will help you build up your résumé so that you can finally attract the right agent. Get them a little something to show your appreciation. It doesn't have to be expensive; just let them know how much you value their support.
And that brings us to you. Actors are so tough on themselves. You guys beat yourselves up over nothing. But you know what? I'm sure each and every one of you did something this year that you're proud of. Maybe you received some positive reviews for that waiver play or showcase you did. Or maybe you finally got the perfect headshot. I don't care what it is. You did it, and that's pretty damn cool. So please don't forget to acknowledge yourself. Go get a massage or something. You're so worth it.
Happy Thanksgiving! I wish all my readers a safe and wonderful holiday season.