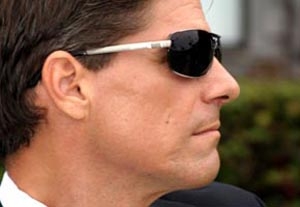 Always be grateful for what you have.
Two years ago, one of my favorite clients tried to kill herself. She used a kitchen knife, the kind we all have in our homes. After drinking a glass of wine, Amy ran the blade across her left wrist and sliced open her vein. Then she went into the bedroom, put on some soft music, and waited for death to arrive. If her roommate hadn't come home early from a bad date, Amy would've died on that bed, alone, still believing she had nothing to offer this world. She was 27 years old.
I met Amy at the opening-night party for a play I didn't want to attend. My girlfriend at the time insisted I go because her best friend was the lead. Her best friend was also the kind of actor who makes you want to rush the stage with a torch. After the misery was over, I was obligated to join the cast backstage for some wine and processed cheese. Naturally, all the actors knew I was an agent, and they weren't shy about approaching me for representation. The only cast member who didn't put me on the spot was Amy. She had a supporting role in the show. Her performance had reminded me that a talented actor can still shine in a bad production. As the party was wrapping up, she came over with a big smile on her face. She wanted to know what kind of person wears a tie to an Equity waiver show. And that was it. She had me at hello.
Amy and I worked together for almost two years. She was always a pleasure, nothing but positive energy. All the agents in my office loved her. But she couldn't book. Amy would constantly go down to the wire, but then someone else would get the job. Her feedback was always positive, so I couldn't figure out what was wrong. We tried different teachers and coaches. We even tried different looks. But nothing changed.
I could tell that Amy was getting more and more frustrated. Like most actors, she had struggled for years to find a good agent, and now that she had one, everything seemed to be going wrong. I explained that she had to keep the faith. I told her every actor is one audition away from the job that changes his or her life. Amy would smile and agree, but I could sense there was some darkness behind those pretty eyes.
During the time we knew each other, I learned that Amy had left a loving family back East to pursue her career in Hollywood. Money was tight, so she wasn't able to visit them much. Amy didn't have many friends, and she had gone through a few bad breakups. I always had the feeling she didn't belong in this town. Maybe that's what made her special.
I had to wait two days before I could visit Amy in the hospital. The whole time I was there, she kept her left wrist hidden under the sheets. I learned her parents were taking her home. Amy didn't think she'd be coming back. I told her that if she did, I'd be proud to be her agent. She looked me right in the eye and called me a liar. I haven't heard from her since.
Thanksgiving marks the traditional start of the holiday season. This is the time to be grateful for what you have. Are you surrounded by people who love you? Then share that good fortune with others. Do you feel like you're alone in the world? Trust me. You're not. Reach out and you'll be surprised by who offers to take your hand.
Secret Agent Man would like to wish all of you a happy Thanksgiving and a blessed holiday season.