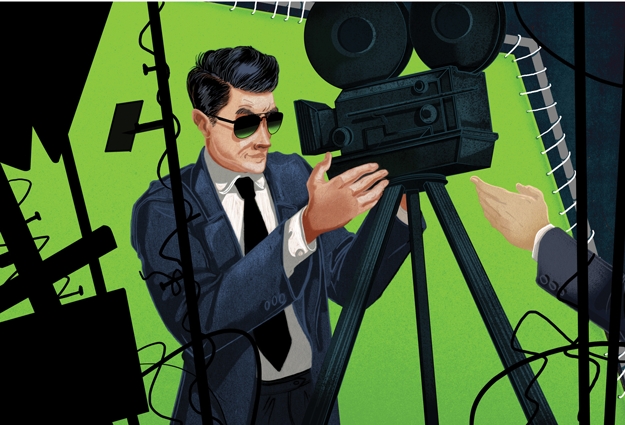 Why are agents such a minority as characters?
One of my closest friends is an attorney named Michelle. She works at the corporate level, and her firm has nothing to do with the entertainment industry. That might be one of the reasons I enjoy her company so much.
During a recent game night we got to talking, and Michelle told me she's never seen a movie that depicted her profession correctly. I explained it would be too boring. Real-life depositions and litigation can drag out for months. It's dull stuff. Michelle agreed. And then she proceeded to kick my ass at Monopoly.
On the way home, I started thinking about how agents are portrayed on film, but I could only come up with a few examples. That surprised me. Are my people not worthy of depiction?
The first three movies that popped into my head are all comedies.
"The Big Picture" (1989): This one is an underrated gem about Nick Chapman (Kevin Bacon), a film school grad who makes an award-winning short that gets him a meeting with a smarmy agent played by Martin Short. This is the line Short's character uses to sign Nick: "I'm not going to bullshit you. I don't know you. I don't know your work. But I think you're a very, very talented young man, and I'm never wrong about these things."
I'm not sure this would work in real life, but I've been in meetings where it's obvious one of the agents knows absolutely nothing about the actor in the room. In those situations, the agent throws out a lot of empty compliments and that usually seals the deal.
"Life With Mikey" (1993): Michael J. Fox plays a former child star who runs a small talent agency specializing in kids. When a cute street urchin tries to pick his pocket, Fox ends up representing her and becoming her surrogate father.
This isn't the greatest film in the world, but it works because the personal connection between agent and client feels very real. On the other hand, I didn't appreciate the movie's tag line: "He's a talent agent. She's a thief. Looks like they've already got something in common."
"My Giant" (1998): Billy Crystal plays a down-on-his-luck agent named Sammy Kamin who ends up being fired and dumped while in Romania. As luck would have it, that's when he meets a 7-and-a-half-foot giant, played by NBA player Gheorghe Mureşan. Desperate, Sammy brings the enormous man back to Hollywood and tries to sell him as a villain for action movies.
This isn't the greatest film either, but I like the way it shows how agents can stumble across talent when they least expect it.
Two other titles came to mind. "Jerry Maguire" (1996) is about a sports agent, but there's a lot in the story that applies to the acting world too. I also enjoyed an obscure indie called "Ivansxtc" (2000). It's about the last day in the life of a Hollywood agent who's dying of lung cancer. Danny Huston is the lead, and Peter Weller plays his star client. Believe it or not, the film is based on Tolstoy's "The Death of Ivan llyich."
The bottom line is, if you want to find an accurate and entertaining depiction of a Hollywood agent, you have to look at the small screen. Yes, I'm talking about the character of Ari Gold on "Entourage" (2004–2011). His story arc reveals a lot about the inner workings of a talent agency, especially the ones that deal with A-list talent. You can learn a lot from this show.
And now, if you'll excuse me, I have to go work on my pitch for the Secret Agent Man movie…