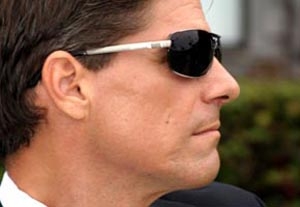 Last month, I announced the first-ever Secret Agent Man contest. My theory was that most actors don't know how to pitch themselves to agents. So I challenged you to prove me wrong. The results were fascinating.
Out of 110 submissions, four entries were disqualified for coming in late. How can I expect you to be on time for an audition if you can't handle a three-week deadline? Another six entries were disqualified for going over the 100-word limit. Greta S. deserves special mention here. Her pitch came in at a whopping 375 words. I'm always put off when actors can't follow simple directions.
On the plus side, I was pleased to see that four kids took the time to write in. Faith Godfrey (age 10), Jack Ernst (10), Khalia Kincey (14), and Arielle Sitrick (15) didn't win, but they all did a fantastic job. (And I totally agree, Jack. Nothing sounds better than macaroni and cheese and Reese's.)
That leaves 96 submissions, of which I liked only six. That's right, six. My theory is correct. Most actors don't know how to pitch. Now let's see what went wrong.
The Biggest Blunder
The biggest blunder you guys made was boasting about your skills while making empty promises.
"I can't pitch in 100 words about how talented I am, because 100 words isn't enough." (Why do I get the feeling 1,000 words still wouldn't be enough?)
"I am the sun rising in Hollywood that'll soon be illuminating all of humanity." (And I am the face of reality, laughing at your bloated ego.)
"Offer me an agent as compelling as I am eloquent and audacious, and our Oscar can have joint custody." (This actor clearly doesn't understand the meaning of "eloquent.")
"I doubt you want to pass on signing the next big star, do you?" (I'll take my chances.)
"I know in my heart I can make you money." (Every actor wants to make me rich. I cringe when I hear stuff like this.)
"If you're driving a Porsche, then I want to help put you in a Bentley." (I'm very happy with my Porsche, thank you very much.)
The Opener Is All
When you're pitching yourself, the opening line is everything. It can make or break you. Here are two that caught my eye:
"In San Diego, I am well known to be the very BEST black actor in town." (That line alone is a perfect pitch. It tells me everything I need to know.)
"I come from the Faroe Islands; you might know us as the Vikings." (That's a strong opening. It made me Google the Faroe Islands.)
And here are a few that did absolutely nothing for me:
"I was born and raised a devout Jehovah's Witness, and now I want to experience everything Satan has to offer!" (There's a difference between being funny and trying to be funny.)
"Finding the next star is like finding a needle in a haystack. I am the needle throwing off the hay and saying, 'Here I am!' " (Now that's what I call a mixed metaphor.)
"I know you want someone that is dynamic, capable, and carries the scent of money. Truth is, I'm a raw beginner without an ounce of credits who lives 3,000 miles from L.A." (Don't tell me why I shouldn't sign you.)
"I could skate by on my looks, but I'm that rare kind of girl who doesn't realize it." (Sorry, no sale. You can't say "I could skate by on my looks" and then chase it with "but I don't realize I've got looks.")
Odious Comparisons

Why do actors always compare themselves to famous people? Just take a look at these entries and you'll see what I mean:
Jerry T.'s high school drama teacher believed that Jerry was the second coming of Christian Bale and Daniel Day-Lewis. It's bad enough Jerry isn't British, but I'm stunned that he thinks an agent would care about the opinion of a high school drama teacher.
Mario M. pitched himself as Kevin Kline meets Jim Carrey crossed with Al Pacino, three men who have absolutely nothing in common.
Deborah N. described herself as "Robin Williams with one train of thought" meets "the girl next door." Thanks, Deb. Now I'm picturing my cute neighbor covered with gorillalike body hair.
Aaron M. claims to have the wit of Martin Short, the range of Ed Norton, and just a pinch of Jamie Kennedy. I can only imagine the Frankenstein monster that would result from such a bizarre combination of people.
Notable Patterns
Looking back at all your entries, I discovered several patterns that are worth noting:
72 actors had weak opening lines.
28 actors promised I would make tons of cash with them.
24 actors asked me to be part of their team or take a journey with them.
19 actors mentioned that they have no credits.
16 actors threatened, "You'd better take me or you'll wish you had later!"
11 actors compared themselves to famous people.
If you can avoid those six mistakes, you're halfway to writing a winning pitch that just might get you in the door.
The Winners
And now it's time to announce the winners!
Third place goes to L.A. actor Bethany Orr, who proved her creativity by formatting her pitch like a casting breakdown:
"[BETHANY ORR.] 23 TO 28. Attractive A list–bound character actress. Self-possessed, bright, and charming. Grew up in a small town but took to the city like a bee to honey. Committed, resilient. Well-respected in the indie film market. Stars in a popular Web series. Has produced and directed an original film soon to be screened at top festivals. Fearless and funny, with a "city girl next door" quality. Strong desire to build lasting relationships. Seeking a well-established go-getter for mutual career longevity, Bethany enters a pitch competition and wins."
Second place goes to Merrick McCartha. I already mentioned his strong opening, but the rest of his pitch is just as good:
"In San Diego, I am well known to be the very BEST black actor in town. I've won multiple awards and I'm highly sought after by local filmmakers. My agent books me 90 percent of the time, and 30 percent of those I didn't even have to audition. It's time for me to move into the L.A. market, and I want the right theatrical agent. One short meeting is all it takes. Seeing my unique yet distinguished look in person, a quick sample of my talent, you can decide then if you are ready to sign the next Denzel Washington."
What I like about Merrick's entry is that he demonstrates his confidence without having to boast. It's a fine line, but he walks it well.
And finally, the moment you've all been waiting for. The winner is Maria Grigoreva, an NYU student who needed only 14 words to capture my heart:
"I'm a charming, ambitious 20-year-old Russian ballerina who likes to take chances."
In one short sentence, this young lady reveals her age, heritage, and winning personality. She also paints a picture that has a bit of mystery. This pitch would look great on a cover letter. It would definitely get my attention. Nice job, Maria. Pozdravleniya!
I'd like to thank everyone who took the time to write in and enter this contest. Next week, we'll take a look at some impressive runners-up, and a screenwriting teacher will chime in with his opinion about some of your pitches.