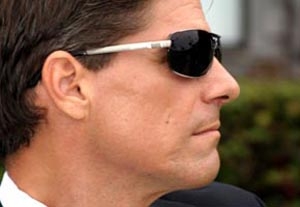 If you want to succeed in this business, you should listen to those who have come before you. I'm talking about successful actors who are now in a position to offer valuable advice. They've made it, so they must know what they're talking about, right? Well, yes and no. I guess it all depends on who's saying what.
Jenna Fischer (from her blog): "I was doing a very strange play—a musical adaptation of the movie 'Nosferatu'—at a small theater in Los Angeles…. I worked all day as a temp doing mind-numbing data entry for a medical company and then went to rehearsals for five hours a night, often getting home past midnight. One night an agent came to see the play and left his card at the box office asking to meet me. He became my first agent."
I love this little story. It's so perfect. Jenna put herself out there, and it came back to her in a big way. That's why I always advise actors to perform as often as possible. It helps you develop your craft, and you never know who's going to be in the audience.
Verdict? Honest.
Michael Caine (from his book "Acting in Film"): "You're your first best audience long before anybody else hears you. So don't be an easy audience. Keep asking for more."
He's right. Actors always settle for good when they should be striving for great. Caine's advice should inspire you to work hard and elevate your craft to a whole new level.
Verdict? Honest.
Sarah Jessica Parker: "I think every audition is like a victory. I always tell my friends that audition, 'Who cares what happens? Never forget what a victory it is to just audition, and if you feel good when you walk out, then nothing matters.' "
I understand what Carrie Bradshaw's trying to sell, but I don't buy it. It's true that auditions aren't always about booking the job. They're more about creating relationships with casting directors. But let's get real. They're also about callbacks and getting work. Good feelings won't advance your career.
Verdict? Misleading.
Harrison Ford (from Back Stage, Jan. 21): "It's statistically impossible to make a living as an actor. You have to love it, and even your love for it is not going to make it happen. What is going to make it happen is luck and tenacity. I never made a living until I was 35 years old. I came out here when I was 24. But one thing I knew and recognized was that people all around me were giving up and going home. I just, quietly, never gave up."
Han Solo gets it half right. He's spot on about the role luck and tenacity play in an actor's career. My fear is that his late success in life might inspire other aging actors to keep pursuing a goal they can never achieve. Ford hit it big in a very different time, and I'm not so sure his life would play out the same way in today's ultracompetitive industry.
Verdict? Mixed.
James Cameron: "There will always be 20 bean counters and 20 logicians standing around waiting to tell you why you can't do something. It doesn't mean you can't do it."
No, he's not an actor, but leave it to the most successful filmmaker on the face of the planet to get it right. Pandora's creator is a living example of what a talented, intelligent, and persistent person can accomplish in this business. I'm all about being realistic, but when you're just starting out, you have to ignore the doomsayers. All that negative energy will crush your soul.
Verdict? Honest.
Have any quotes you'd like me to vote on? Just post them on the Back Stage message board, and don't forget to join the fun on the Secret Agent Man fan page at Facebook!