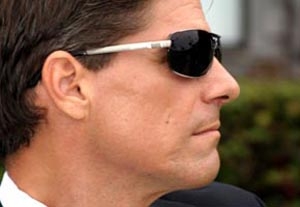 As an agent, I need to understand what's going right in a client's career so I can build on it and create more opportunities. For example, I represent a New York stage actor who just made the move west to pursue more film and television work. His background tells me the guy can handle difficult language, especially the kind found in procedurals such as "Criminal Minds" and "CSI." So my plan is to target those lab tech roles first, and after he books a few, he'll be established in L.A. and ready for more interesting parts.

Now let's look at the flip side. It's twice as important for me, as an agent, to know what's going wrong in a client's career. So if an actor's constantly running late for auditions, I need to find out why so I can address the issue.

Here's one of the biggest problems every agent has to face. A client goes out on a long series of auditions. The feedback's always positive. He gets a lot of callbacks. But he never, ever books. That's called a slump, and I've seen them go on for months. They can break an actor's spirit.

When this happens, I know it's time to call in a coach.

A lot of actors believe a teacher and a coach are the same thing, but nothing could be further from the truth. A teacher is someone you study with on a regular basis. A coach is someone who helps you prepare for an audition.

For the sake of clarity, let's be more specific. A teacher works with you in a classroom setting, surrounded by other actors. The goal is to develop your skills over an extended period of time. A coach works with you one-on-one. The goal is to book a job.

Yes, it's possible to use the same person for both needs, but I think that's a bad move. There's a lot to be said for a fresh eye, especially when you need help breaking a slump. A coach might have enough distance to spot problems that aren't always apparent in class.

As you probably know, there are a lot of people in this industry who promise more than they can deliver. This is especially true when they're holding out their hands for your hard-earned money. Over the years, I've come across more bad photographers than good ones. The same is true for coaches. So how do you find the right one?

It's my experience that the best coaches are working actors because they're actually out there auditioning. That means they know how the game is played. The last person you want coaching you is some loser who hasn't faced a real casting director in years. That's like asking a monk for advice about sex.

Another good choice is an experienced, respected acting teacher -- as long as that person isn't your acting teacher. Granted, most teachers don't audition, but they've spent their lives around actors and their insights are valuable.

When you find the right person, you need to make sure you're ready for your first session. That means sending the coach all the material in advance. Also, you should prepare those sides like you're going in for the actual audition. That way, the basics are done and the coach can focus on your choices.

By the way, the best time to coach is a few hours before your audition. That way, you'll go in all warmed up, and that can make all the difference in the world.

Yes, coaching is an extra expense when you're strapped for cash, but it's money well spent. Nothing beats a private, one-hour intensive. Best of all, the skills you pick up during those sessions can be used over and over again for future auditions.