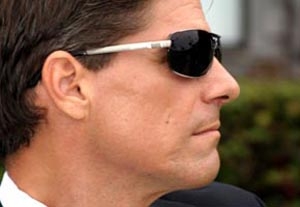 Secret Agent Man headquarters took a hit this week. We had one of our most promising clients stolen by a larger agency, the kind with three letters in their name. This happens all the time, but the sting of betrayal never goes away. I know exactly how King Arthur felt when he found his wife jousting with his best friend at a medieval Holiday Inn.

This client, whom I'll call Judas, is a guy in his late 20s with more looks than talent. And no, that's not me being bitter. It's the truth. Everyone at my company agrees but hey, there are plenty of roles for actors like him. Just take a look at any show on the CW and you'll see my point.

Anyway, I've been taking a personal interest in Judas for years with very little to show for it. He's booked a job here and there, but nothing that made an impression. I've gone out of my way to be supportive, and when he lost his Venice Beach apartment, I spent an entire weekend helping him find a new place to live. Why did I put myself out like that? The truth is, I liked him. Judas reminded me of my little brother. And I also had a gut feeling that sooner or later, he would hit in a major way.

Well, my instincts were spot on because a few months ago, a pilot crossed my desk with his name all over it. Best of all, the casting director was a fan. So after a few auditions and a network test, Judas booked the lead. Then we discovered the pilot had a six episode order, which means it's definitely going to series. My client's life was about to change in a major way.
Judas fired us one week into the shoot. He sent us an email from location. The guy didn't even bother to call.

Now here's the thing. Judas can leave, but the money stays. He's under contract so we'll commission his work on the series for up to six years, assuming it runs that long. His new agency knows this, so it's banking on the show being a hit so it can renegotiate his deal. And if the show fails, it also knows its new client will be in an excellent position to book another series, since he's already done one. That's smart thinking on the agency's part. And I hope his agent burns in hell.

Every agent has a story like this. That's why we always smirk when we're in a meeting and some actor explains that he's very loyal and will never leave if we sign him. That statement alone is enough reason for us to pass.

The story about Judas is an especially painful one, but betrayal comes in all shapes and sizes.
A few years ago, I represented a woman in her 50s who used to work a lot when she was younger. You wouldn't know her name but you would definitely recognize her face. Let's call her Vickie.

Vickie was desperate to get back on track, so I asked her to cut a new reel that we could use to sell her. Vickie agreed to do it, and then she begged for my help. So yours truly spent the better part of a Sunday helping her assemble the right scenes. Then I sat in an editing room for a few hours, giving notes to the editor. The final product came out great. I had no doubt it would be effective.

A week later, Vickie used the reel to get a new agent.

I like to think of myself as a knight in shining armor, fighting to help his clients succeed. But it's hard to fight with honor for a group of people who sometimes have none.