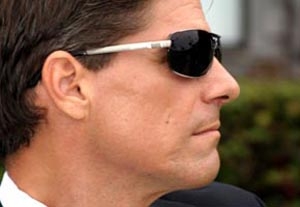 Last week we took a close look at the four blockbuster agencies that control this business and what they can (and can't) do for you. Now it's time to take the Hollywood elevator down a floor so we can check out the next level of representation. This is where we find companies like Gersh, APA, Paradigm, Innovative Artists, Buchwald, and a few others. Their doors aren't exactly open to new actors either, but if you can find a way in, you'll be off to a very promising start.
I started at one of these agencies, so I know for a fact that they're interested in developing talent, especially if that talent is under 25 and easy on the eyes. Getting one of their agents to take a chance on you is far from easy, but if you can pull it off, you'll find yourself exposed to the same level of representation you'd get from the big boys, but with a more personal touch. Sounds good, right? The only catch is that you can't show up at the party empty-handed. You need something to attract their attention. Some actors do it with an impressive degree, from a school like Yale or Juilliard. Others create their own showcase as a way to show off their talent. I'm talking about a stage show that receives amazing reviews or a Web series that attracts a ton of attention.
Another way to get in is to sign with an established manager first. For the most part, managers are more receptive to new actors and tend to seek them out. Agents don't always have time to scout talent, but they'll definitely take a meeting if a manager they know calls about a client who's getting impressive reviews for his or her one-person show.
Now, don't get me wrong. You're still shooting pretty high if you decide to target one of these companies. So let's get back on the Hollywood elevator and visit the next, more realistic level of representation.
Have you heard the term "boutique agency"? I hope so, because that's the sweet spot when you're trying to find the right agent to get you started. The word "boutique" doesn't mean the agents cut hair. It means the company has only a few agents, who represent a small but first-rate group of actors. George Clooney isn't at GVA or Stone Manners, but a lot of clients there have familiar faces and quite a few are series regulars. Since boutique agencies have lower overhead than their larger counterparts, they're able to take more chances on new talent.
The best way to get a meeting at one of these companies is through a referral. Someone has to call on your behalf. That someone can be your manager, your acting teacher, a casting director, or even an actor friend who's already a client. You could also roll the dice and send in a submission. Those are always long shots, but you never know.
And now we board the Hollywood elevator one last time and take it all the way down to the basement. This is where starter agents lurk. They're usually one- or two-person shops that sign hundreds of clients across the board, hoping someone will book. Actors have to begin somewhere, and if you can't do any better, one of these companies might help you get started. The trick is not to stay too long, because if you do, you could end up trapped in day-player limbo.
As you start searching for the right agent, don't be afraid to aim high. Just don't lose sight of reality. Sending CAA a submission is a complete waste of time. But there's nothing wrong with approaching an agent who's just out of reach. You never know. The entertainment industry favors those who take chances.