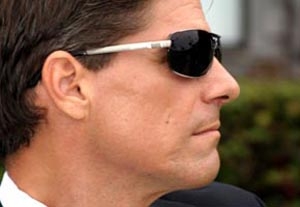 I've been a Hollywood agent for more than 10 years. During that time, I've worked with the big boys and a few boutique agencies. That mix of experience has allowed me to understand how the business works at several different levels. I've learned that signing with the right kind of agency is crucial if you want to succeed as an actor. So when you're looking for representation, you need to know exactly what size company you're approaching and what it can (and can't) do for you.
The way I see it, there are four levels of agencies in this business. Starting at the top, we have the power brokers. These are the companies that run everything. I'm talking about CAA, ICM, WME, and UTA. Those four agencies have something in common, and no, I'm not talking about initials. They represent the majority of A-list talent. James Franco is a client at WME, and Brad Pitt's over at CAA. Get the picture? They have offices all over the world, with multiple departments that handle directors, writers, producers, show runners, musicians, athletes, and just about any kind of talent you can imagine.
You're probably thinking that's where you belong, right? If you could just find a way to attract the attention of an agent from one of those blockbuster companies, you'd be able to fast-track your career in no time. Well, let me knock you back down to reality. I can't think of a worse idea. Those agencies are about money. They have extremely high overhead, and the agents are expected to bring in more than their share of commissions to help pay for those fancy offices. If they don't, they're gone. That's why agents who work at this level aren't interested in developing talent. It takes too much time and there's no immediate gain. An agent at CAA would rather let smaller companies sign new actors, so he or she can swoop down and steal those clients when they start to work. Ugly but true. (Trust me. I've been on both sides of that game.)
For the sake of argument, let's say you starred in a one-woman show that scored amazing reviews and, even better, caught the eye of an Ari Gold
wannabe who works at a top-tier company. The next thing you know, you're signing with one of the biggest talent agencies in town. What can you expect to happen?
On the plus side, you now have an enormous stamp of approval on your résumé. That big agency name opens doors. As a client, you'll be set up on generals with all the studio and network casting executives. These are the people who oversee the casting directors who work on individual projects. Your new agent will also get you auditions for series-regular roles on pilots and substantial parts in big studio movies. If you can play at this level, you might just become a star.
On the negative side, you're probably not ready for this kind of representation. All those big-shot executives will forget your name if you don't start booking high-profile work quickly. Granted, you'll have plenty of opportunities to book that work, because your agent will be sending you out on exciting auditions. The only problem is that you have to compete with super-experienced actors for those parts, and that ain't easy. Are you starting to see how this situation can turn ugly? Your agent should be grooming you, building up your résumé with auditions for smaller roles, but he or she won't do that because there's no money in it. The agent would rather swing for the fences. So instead of being developed, you find yourself trapped in a sink-or-swim mentality. And if you haven't scored real money inside of a year, this story ends very badly.
Next week, we'll take the Hollywood elevator down to the next, more realistic level of representation.