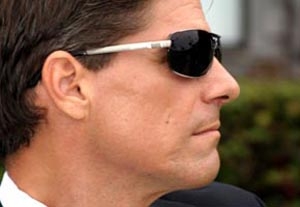 The first thing you need to know about soap operas is that no one in the industry calls them soap operas. We call them soaps. And they're a great way to kick-start your career. Don't believe me? Just ask Alec Baldwin, Kevin Bacon, Sarah Michelle Gellar, Shemar Moore, Marisa Tomei, Hayden Panettiere, Josh Duhamel, Julianne Moore, and my favorite desperate housewife, Eva Longoria.
Now, let's be honest. Aaron Sorkin doesn't write this stuff. Soaps are what they are. They target a very specific demographic. But being a regular on one of these shows will help you develop chops you never knew you had. Look at it this way: One episode of a network drama like "The Mentalist" takes eight days to shoot. Soaps shoot an entire show in one day. That's five episodes per week. This is commando-style acting, folks. You go in, block, rehearse, shoot, and move on. There's no time for multiple takes. Soaps are like boot camp but with better haircuts.
Right now, there are six soaps on the air. "General Hospital," "Days of Our Lives," "The Bold and the Beautiful," "All My Children," and "The Young and the Restless" all shoot in L.A. "One Life to Live" is produced in New York. These shows have large casts and hire new actors all the time. If you're a regular, you can make a lot of money while gaining all that valuable work experience.
So what's the process for joining the cast on a soap? First, you have to go through a series of auditions, and if those go well, you'll be asked to test at the network, just like you would for a prime-time show. At that point, you sign an agreement that outlines the terms of your deal. This is a legal document and it's binding. Let's examine the major deal points.
The first thing you have to understand is that most of these agreements are four years long. (Prime-time shows are six.) You can be released at various points during that period, but if your character is getting a positive response, they have the right to keep you for the term of the contract. That's fine, because when you're done, you'll have a ton of money in the bank. Being flush with cash means you won't need a day job as you pursue the next phase of your career.
Speaking of money, let's discuss compensation. If this is your first time under contract, you can expect your agent to negotiate at least $1,200 per episode in the first year, with hundred-dollar bumps in subsequent years. That may not seem like much, but it adds up over the long run, especially if your character is part of a major storyline and you're shooting four or five episodes every week.
That compensation is tied to the average number of guaranteed episodes per week. In the agreement, this number is listed as a fraction. Most new actors are promised 1.25 shows every week during their first year. This is the absolute minimum you can make. So at $1,200 per episode with a 1.25 guarantee, you know you're taking home at least $1,500 every week. That's a nice safety net if they're not using you much.
Now let's discuss the test. It's a little different from your typical audition. Soaps test actors on their actual sets, reading with a cast member while a full crew shoots the audition. This is their way of seeing how you handle a four-camera setup. The tape is then reviewed by the producers and network executives. You'll learn the outcome inside of two weeks.
Remember, there's no stigma attached to working on a soap. Everyone has to start somewhere. Just think of these shows as steppingstones that can lead to a rich and rewarding career. Just ask Meg Ryan and Brad Pitt.