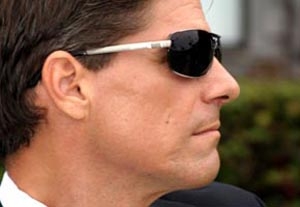 Show me an agent who submits on breakdowns without making follow-up calls and I'll show you an agent who can't afford the kind of car I drive. This whole business is about chasing what you want. Only suckers sit around waiting for the phone to ring.
As an agent, a large part of my job is creating opportunities for my clients. That means setting up auditions. How do I do that? The first step is submitting on all those breakdowns that are released throughout the day. I've been doing this a while, so I know a lot of casting directors. That means they look at my submissions. So the odds are I could do nothing and still get appointments. But that's not the way you judge an agent's worth. It's all about picking up the phone and pitching.
Every agent has a different approach. I try to make friends with everyone in the casting office, including the assistants and the associates. I also like to use humor. There's a time for aggression, but I've always felt you're halfway home if you can make someone laugh. The bottom line is that agents need to know how to sell without sounding like we're selling. It's an art form. The good ones can kiss your ass without leaving a mark.
Knowing how to pitch is especially important when you're trying to introduce new actors to the casting community. Sure, if I submit a client with an extensive résumé, the casting director will recognize him and he's probably going to get an audition. But that's not the case with fresh faces. So I have to get on the phone and pitch. I need to let the casting director hear the passion in my voice.
The same is true when you're trying to help an actor break type. Let's say I represent an older man who's known for suit roles. I'm talking about doctors and lawyers and businessmen. My client can make a good living doing just that, but as a change of pace he might enjoy playing a barfly or a mook in a pool hall. To make that happen, I can't just submit him for those parts. No one would respond. So I have to get on the phone and pitch. I need to let the casting director know he can do it. How? By explaining that I've seen him break type on stage. Or maybe I'll be so annoying that casting will give me the audition just to make me go away.
In the entertainment industry, everyone's in a constant state of pitching. It's all about persuading someone to give you what you want. That's why an agent who can't pitch is like a leopard that can't run. Sooner or later, they're both gonna starve.
It has been my experience that even the most talented actors aren't very good at pitching themselves to agents. Do you disagree? Well, this is your chance to prove me wrong, because I'm thrilled to announce the first-ever Secret Agent Man Contest. All you have to do is pitch yourself to me in 100 words or less. Explain why I should sign you. Tell me what makes you so deserving. Convince me that my career cannot go on without your name on my list.
To enter, just send your pitch to bsweditorial@backstage.com and make sure you write "Secret Agent Man Contest" in the subject line. All entries must be in by Friday, March 11. By sending in your pitch, you are granting Back Stage the right to publish it in a future column. The winner will receive a one-year online subscription to BackStage.com. The second- and third-place entries will each receive a six-month online subscription.
Good luck! I look forward to reading each and every one of your pitches.