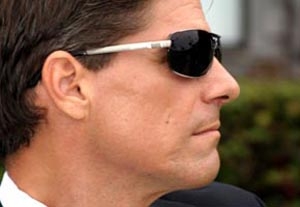 I've been going over the rejects from last week's contest, and I realize that a lot of you don't know how to express yourselves. This shocks me, because language is one of your most important tools. It can make or break your career.
Because pitching is all about the use of language, I asked Jeff Bollow, a well-known screenwriting teacher, to chime in with his opinion on your entries. "It's amazing to me how many of them have a complete lack of awareness about the power of their words," he says. "I would bet dollars to doughnuts that less than 5 percent of those you've forwarded have even read their pitches a second time, much less tweaked them before clicking Send. They just shoot them off without thinking. But their words make an immediate impact, which is the whole point of your pitching contest. The actors don't put two and two together to see that's why they aren't getting noticed. Every word paints a picture in the reader's mind. In a pitch, they need to paint pictures that serve the other person's needs, not their own."
Bollow makes a solid point. Words do have power, and as actors you need to learn how to use them, especially when you're pitching yourself to an agent. Here are a few entries that definitely know how to use words. They all came very close to winning the whole enchilada.
Eric Kan: "Since moving to Hollywood, I have completed principal work on 28 episodes of television. Everything from one-hour dramas to sitcom pilots. From cable to network. I booked most of this work without the help of an agent or manager. Imagine what we could do together."
This pitch doesn't tell me much about Eric as a person, but it did capture my attention. He made me want to know more, and that's a good thing.
Caroline Ordonez (who is 22): "I believe you should represent me because 'I am too young to know better.' I am at an age where my foolish youth and inexperience can excuse any faux pas. Because of this, I am fearless to seize opportunity, step on toes, and knock on the doors I have no right to knock on. If knocking is too discourteous, I will ring the doorbell. Regardless of how, I will try, and if I fail, it's not my fault. After all, I'm just 'too young to know better.' So why not give it my best shot?"
I love everything about this pitch. It's a clever and creative piece of writing. Nice job, kid. You've got a promising future.
Tim Intravia: "Sorry, I already have the best agent. This year he's sent me to 22 EPAs, netting six callbacks, two jobs. He got me seen for 'Boardwalk Empire' thrice and for a lead in a major film. He makes me meet CDs at showcases, and from his efforts I've had callbacks with four regional theaters, a national Amazon and a Coors Light ad. He never stops prioritizing me. Wait, this just in: He's willing to let you represent me too, but if you're the kind of agent who wants to work super hard, sorry, he's already done most of the work. He=Me!"
It's a little wordy, but I like the payoff at the end. Tim found an interesting way to get his point across without having to boast or make empty promises.
And that's all she wrote for the Great Pitching Contest of 2011. Thanks again for your entries, and I wish you all the best of luck next time you're out on the mound, writing a cover letter to someone like me.