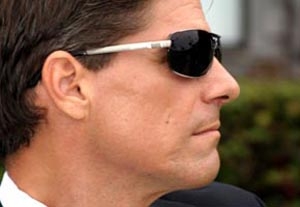 The Oscars are less than three weeks away, but I just can't wait that long. So I've decided to create my own awards to honor all the stellar acting work that graced the silver screen last year. The actual trophy is a golden male figure, naked, with a cell phone pressed against his ear. I call it the Sammy. Enjoy.
Best Under-the-Radar Actor:
The award goes to Barry Pepper for his work in "Casino Jack" and "True Grit." A Canadian actor who first came to my attention in "Saving Private Ryan," Pepper always delivers, and these two characters in particular—a slick lobbyist and a Western bad guy—demonstrate the wide range of his talent.
The Who Is That Guy? Award:
"The Last Exorcism" is a creepy little movie with a flawed ending and a terrific lead performance by someone named Patrick Fabian. (Who is that guy?) I took a look at his résumé, and it turns out he has been working since the early '90s. Listen up, casting directors! Fabian's work in this film proves there are a lot of undiscovered actors out there who have the chops to do a lot more than they're given.
Best Child Actor:
This one's obvious, but Hailee Steinfeld's performance in "True Grit" is so strong that I just had to throw some gold her way. This kid handles extremely difficult language with ease and grace. Most grownups I see in workshops couldn't do this stuff. (Second place is a tie between Elle Fanning for "Somewhere" and Chloe Moretz for "Kick-Ass" and "Let Me In.")
The Chameleon Award:
It's fairly obvious that Christian Bale made some sort of pact with a Welsh demon that allows him to transform from Bruce Wayne to an emaciated crack addict without batting an eye. The man's talent scares me. He's making American actors look bad, and he must be stopped.
Most Surprising Performance:
And the award goes to Nicole Kidman for "Rabbit Hole." I've never been impressed by this gorgeous Aussie performer, but her work in this little movie is definitely worth noting. Kidman actually made me cry, and I haven't cried since the writers strike.
The Best Foreigner Headed Our Way Award:
Noomi Rapace kicked some serious ass as Lisbeth Salander in the Millennium Trilogy. Her work in those movies is the perfect example of total immersion in a character. This girl may not have a dragon tattoo in real life, but she's definitely got Secret Agent Man's heart in her pocket. (Yes, I know these films were made in 2009, but they were released here in 2010.)
Most Dependable Actor:
This one was a no-brainer. Mark Ruffalo gets the Sammy for his outstanding work in "Shutter Island" and "The Kids Are All Right." Putting some Ruffalo in a movie always makes it a little bit better. The man's like garlic.
Best Overall Cast:
You probably haven't seen "Barney's Version," but you should. The movie's a flawed gem, but the cast is a director's wet dream. From Paul Giamatti to Dustin Hoffman to the stunning Rosamund Pike, every actor does impressive work in this one, creating a Jewish reality that holds our attention from start to finish. (And let's be honest: Has Giamatti ever given a bad performance? He's like the Muppet version of Philip Seymour Hoffman.)
And there you go, folks. The 2011 Sammy Awards are over, and it didn't take four hours for you to find out who the winners are. In case you're wondering about my picks for those other awards, I'm going with "The Social Network" for best picture, Colin Firth for best actor, Natalie Portman for best actress, the scary-talent guy for best supporting actor, and Amy Adams for best supporting actress. Good night.