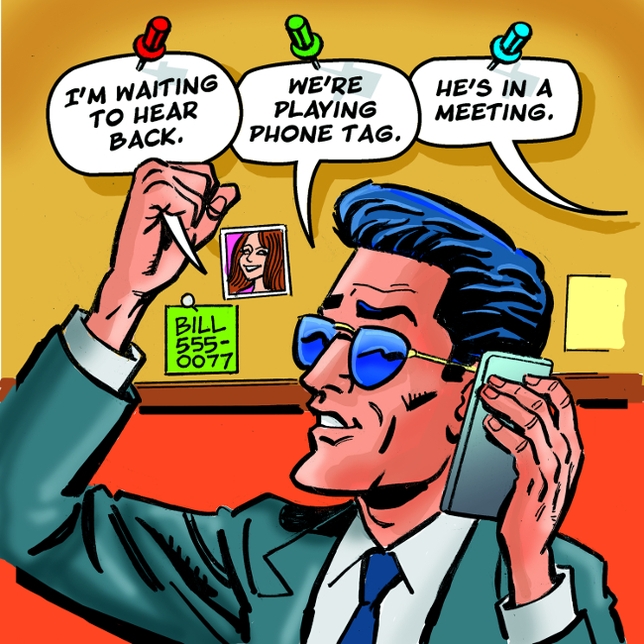 Actors have no idea what's going on inside their agent's mind. And maybe that's best. Sometimes the truth can do more harm than good.
For example, agents have a language of their own. When a client calls to ask how an audition went, I usually respond by saying, "I'm waiting to hear back," or "We're playing phone tag." This really means, "I don't have time to get feedback on all your damn auditions, so let's just assume you didn't get it and move on with our lives."
See? It's a fine line.
Assistants are also trained in agent talk. When a client calls to talk to me, my assistant will say something like, "I don't have him right now," or "He's in a meeting." Those are both lies. The truth is, I don't want to talk to you because you're not that high up on my list of important clients.
(Now let's be clear. None of this applies to actors who are bringing in the big bucks. They get treated with a lot more respect—right up to the day they stop making money.)
Agents also love to set up general meetings for their clients. These are worthless. I'll explain why in a moment.
A general is a sit-down meeting with an industry professional, usually a casting director. There's no reading involved. You just sit there and chat. The idea is to be memorable so this person you've never met will keep you in mind for a future project. This should be easy because as an actor, you're trained to impress strangers in a short period of time with nothing more than your personality, right?
In a perfect world, the casting director has watched your reel before you arrive, but as we all know, this world is far from perfect. So why have they agreed to take a general when they haven't even seen your work? They're doing it because someone like me called on the right day and they needed to fill their calendar.
I've always felt generals are worthless because most actors aren't that memorable. God forbid any of you ever learn how to have a normal conversation that doesn't reek of desperation. The best way for an actor to make an impression is to audition. Sitting there and making small talk isn't.
There are times when generals matter. Let's say you booked the lead in an amazing pilot that isn't getting picked up. That puts you in play, and casting executives at the studios and network will want to meet you. Or maybe you just did a live show that has received nothing but love from the critics, and you're extending the run for a third time. Or maybe that little indie you did for no money has become the hit of Sundance. In these types of situations, taking generals is an effective way of getting your face in front of the right people.
But if that's not the case, don't get your hopes up. The odds are the person you meet will forget you by the next lunar cycle.
This begs the question: Why do agents bother to set up generals? I don't know. It's something to do. Generals keep clients busy. It makes them think they're special. And despite my negative view on the whole concept, these limp meetings sometimes lead to more. You just never know.
But I can promise you this. If you call me after a general to ask how it went, I will respond by saying "I'm waiting to hear back," or "We're playing phone tag."